Here are some examples of laps I've dyed and spun into funky (and maybe some normal) yarns! If you need any hints, tips, etc. regarding dyeing or spinning laps, get in touch with me!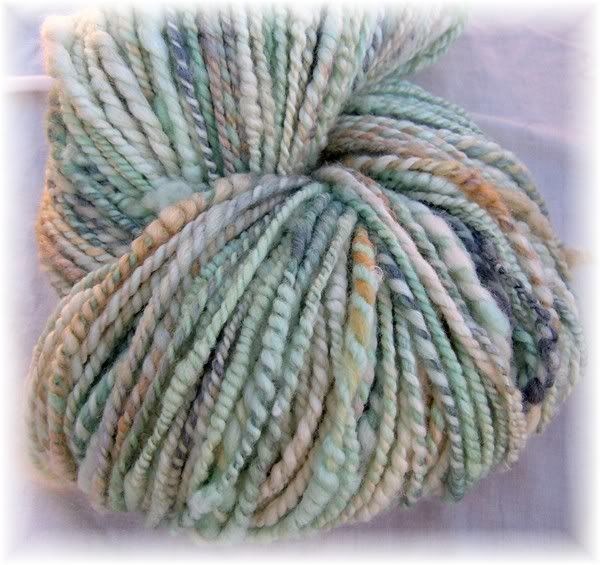 This is spun from the merino/tussah silk waste that I sort out of the laps before selling them to you. This one is a bit tamed down with some light carding but the coils hide the slubbiness in a way. If I can do this with the WASTE, imagine what you can do with the good stuff!!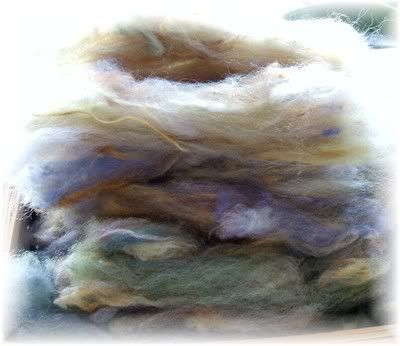 This is what the yarn above looked like after I carded it some. Remember...the waste is REALLY gnarly and you'll get much better results from dyed good laps than this. Mostly because you're probably better at hand-carding than me or you have a drum carder. Oh, and your laps won't be a snarly tangly knotted mess like the waste is :)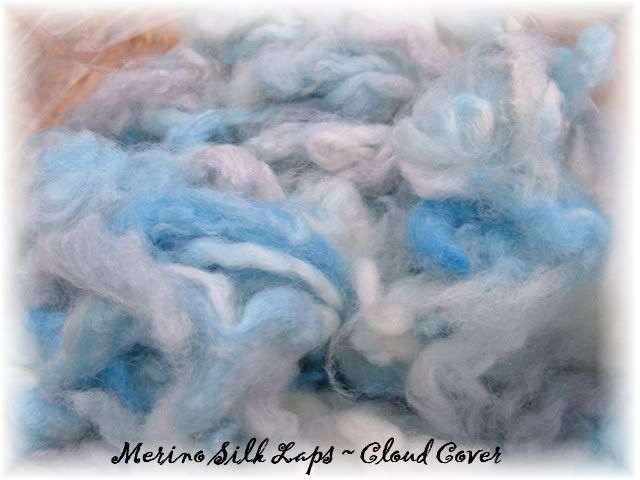 This is what the good laps look like dyed and then hand-teased some. You'll end up normally with some white variation as the silk doesn't like to get wet all the way through, although I was actually shooting for a heavy white content in this batch. You can soak the fiber overnight and that will help the silk get thoroughly wetted through.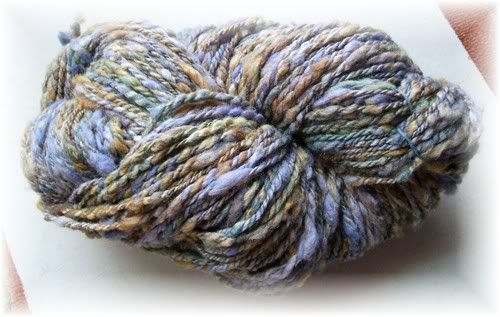 More wool/silk waste! I dyed some really gnarly waste and then spun it after roughly carding it. Very soft, funky, slubby stuff. If you dye the laps they'll change a bit and you can either spin them as they come out of the dyepot for a textured yarn like this or you can card them for a smoother, more blended and more civilized yarn! I have to knit this someday :)
Here it is (remember ~ WASTE and not a representation of what you'll receive when you purchase the good laps!) in the "before" stages after dyeing...pretty rough!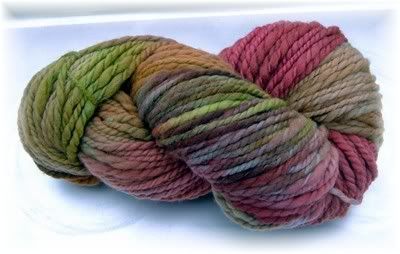 I spun this chubby skein from the good stuff (100% merino, which I don't have in stock anymore) and I didn't card it or anything, just spun it the way it comes. I'm not really great at spinning merino so I was shooting for a chubby, bulky slubby yarn. I hand-dyed the skein after it was spun. Talk about a lovely squishy thing!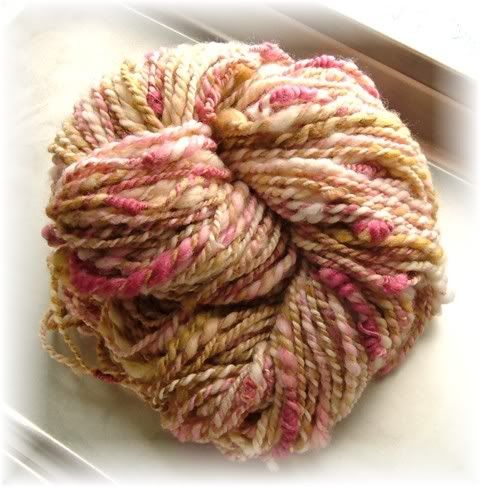 One of my all-time favorite skeins! This is wool/silk waste as well, dyed in my A'la Mode colorway, and spun slubby thick and thin then coiled. If you're interested in having me dye some laps, please get in touch (yarnoratale AT gmail DOT com) and I'll happily do so. The laps change a bit when they're dyed so it will be easy to get a funky, textured yarn if you spin them without carding first
Here's a well-behave little skein ~ awesome luster, eh? :) I spun some of the very special "birds' nests" laps that I sometimes get. I dyed them first and spun this on a drop spindle. It's like smooth pieces of top when I'm lucky enough to find them in the bag and I sell them occasionally, when I get them. I never know...every now and then they show up in a bag :)