(If you arrived on this page directly from a link on a search engine or another website and want to take this online vintage images tour of Waterbury from the beginning or create your own customized tour, click here)
VIEWS OF THE BIG THREE AROUND TOWN
View the slideshow introduction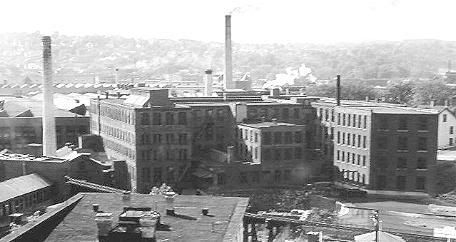 Scovill Manufacturing, American Brass, and Chase Brass & Copper were Waterbury's largest employers for over 100 years.
The Scovill Manufacturing Company, founded as Abel Porter & Company in 1802, was originally a brassworks that manufactured brass buttons, sewing hardware, and other brass and copper items in their factory that was formerly the John Hopkins Grist Mill on the Mad River at Mill Street.
The first Scovill Manufacturing Company buildings on Mill Street in the early 1900s and the 1980s. The company retained its corporate headquarters there during the 175 years it was in Waterbury. After standing abandoned and empty for twenty years, the buildings were demolished for the Brass Mill Center Mall in 1996.
In 1840, with the introduction and spread of daguerreotype photography in the United States, Scovill began to manufacture the silver-plated copper sheets used in the process, and then added other photographic equipment to their line of goods. Scovill was primarily a distributor of photographic equipment and supplies, but in the 1860s acquired the American Optical Company which at that time owned the manufacturing facilities of Nelson Wright, John Stock, and C.C. Harrison, all famous names on their own. American Optical became the manufacturing division of Scovill and produced all of the Scovill Waterbury cameras, as well a separate line of somewhat higher quality equipment under the American Optical name. From the 1840s through 1900, Scovill and the Anthony company followed parallel lines of growth, and each was the other's major competition. Much of their professional and amateur equipment had similar features, and most designs were introduced by one, or the other, to directly compete against a similar piece of gear. In 1899, one of the officers of Scovill took over the company, and the name was changed to Scovill & Adams, and in 1902, the firm merged with E. & H.T. Anthony becoming Anthony and Scovill.
Scovill incorporated in 1850, becoming The Scovill Manufacturing Company. The company enjoyed prosperity and tremendous growth through the years. In 1923, Scovill purchased the American Pin Company on Thomaston Ave., the Oakville Pin Company on Watertown Ave., and the Hamilton Beach Manufacturing Company of Racine, Wisconsin
Totally self-sufficient, Scovill had its own fire and police squads, a water-treatment plant, forges, and a power plant paid for during World War I by Czar Nicholas II of Russia in return for munitions that he could not produce at home.
The Century Brass Products Company was formed in the late 1970s and bought some of the old Scovill buildings in an attempt to revive the failed brass industry in Waterbury, but curtailed operations in 1985.
Scovill celebrated its 150th anniversary in Waterbury in 1952 as an industry giant, but celebrated its 200th anniversary as the significantly smaller Scovill Fasteners Company in Georgia.
Scovill Brass: Buttons, Cameras, and Cartridge Cases
---
The Waterbury Brass Co., Ansonia Brass & Copper, and Coe Brass Manufacturing formed the American Brass Company on December 14, 1899.
In 1834, Gordon Webster Burnham formed a partnership with Aaron Benedict, and established what became the Benedict & Burnham Manufacturing Company, the largest manufacturers of brass and copper appliances and fixtures in the United States. By 1895, the company employed 967 people and was producing over 4 million pounds of brass sheets, wire and tubing annually. Benedict & Burnham became part of the American Brass Company in 1900.
McGill's Fasteners, manufactured by Holmes, Booth, and Hayden, were the father of the modern paper clip and staple. They were T-shaped brass strips that were driven through multiple sheets of paper by a special press. These particular flat head fasteners were very plain, but some of the many (100 according to the container) were very ornate. The company became a part of American Brass in 1901. The modern-shaped paper clip was patented on April 27, 1899 by William Middlebrook of Waterbury.
The American Metal Hose Company on South Main Street was also an American Brass company.
The site has been dormant since 1999.
The Randolph & Clowes brass and copper rolling mill also became part of the American Brass Company.
The American Brass Company factories complex on South Main Street in the 1930s.
Recent photos of the area surrounding the former American Brass factories on South Main Street
The American Brass Co. broke ground for a new research center in Waterbury in 1960
---
Chase Brass & Copper began life in 1876 as the Waterbury Manufacturing Company on North Main Street, producing thousands of goods for consumer and industrial markets. In 1929, the Chase Companies (as they were known by that time), were acquired by the Kennecott Copper Corporation, and in 1936 the company was renamed the Chase Brass & Copper Company. Throughout most of the company's earlier life, production centered around consumer and industrial products including copper pipe, buttons, screening, and novelties. By 1930, however, the Chase Companies recognized the demand for low cost, quality housewares, particularly products reflecting the modern style of the period.
The Chase Metal Works plant on Thomaston Avenue in Waterville was known as "The Mile Long Mill"
The Chase Metal Works plant on August 20, 1955, the day after the Great Flood of 1955.
---
Times for Waterbury's brass industry became grim following World War II. Starting in the 1950s, the brass industry suffered from declining demand, with plastic and aluminum increasingly being used as cheaper substitutes. Further, workers were displaced by automation as machines lightened the work and the work force. Waterbury had all its economic eggs in the brass basket, and the collapse of the brass industry led to Waterbury's economic collapse in the 1970s. The brass industry, which once provided more than 50,000 jobs in the Naugatuck Valley, declined to less than 5,000 by 1980. In Waterbury, the Valley's largest city, official unemployment in the mid-1970s at times exceeded 15%. Connecticut Magazine described Waterbury as "a dying city" and The New York Times declared that the closing of the Scovill, Anaconda and Chase plants had made Waterbury "a ghost of its former self," a "depressed old New England factory town". The Brass City hit bottom in 1992, when Money Magazine rated the quality of life in 300 U.S. metropolitan areas and declared Waterbury number 300 - the worst.
Many Scovill Manufacturing Company buildings on their 90 acre site between East Main Street and Hamilton Avenue stood abandoned for twenty years until they were demolished for the Brass Mill Center Mall in 1996.
Two of the buildings were spared from the wrecking ball and now house the Timexpo Museum.
Many of the now abandoned American Brass buildings are still standing at their South Main Street and Freight Street sites.
The Chase Metal Works plant in 2008
Scovill Brass: Buttons, Cameras, and Cartridge Cases (Scovill Mfg Co. History)
Read the Connecticut Dept of Labor 1997 Report on the transformation of the Waterbury area
---
Sometimes the smallest things can trigger the greatest memories. For father and son Robert Zabit, senior and junior, it's a coin. But not just any coin.

This particular one evokes Waterbury when it was a manufacturing powerhouse, the once vibrant Brass City where, as Bob Jr. put it, "people worked hard and played hard."

Minted by the Scovill Manufacturing Co. in 1952 to commemorate its 150th anniversary, the shiny brass coin honors an industry's history on one side and a hard-drinking culture on the other.

He placed the coin, which is about the size of a 50-cent piece, face down on a counter, held it between thumb and forefinger and spun it like a top. When the spinning disk came to a stop, an arrow inscribed "YOU PAY" pointed in his direction.
"I guess I buy the round," he laughed.

This is a bar coin, an emblem of a bygone era when factory workers filed into their favorite joint at the end of their shift and, if lucky, could have three or four beers without paying for any of them.

"But you had to stand at the corner of the bar when you spun it, so everyone had a chance of getting stuck with the bill," Zabit explained.

"I remember that," recalled Waterbury's Joseph Begnal, who owned Joe Begnal's Brown Derby right across from the entrance to Scovill's main plant on East Main Street. "We always kept one in the drawer."

Bob senior, a tool setter in Scovill's cosmetic division, was one of "the last three to walk out the door" before the factory closed for good. He still lives nearby. The coin and a key chain inscribed with the exact date the plant closed Nov. 3, 1989 are mementos from 40 years of work he has turned over to his son.

"We share Waterbury's manufacturing history," said Bob junior, 55, who worked for Eastern Color Printing before buying Larry's Wines & Spirits in Middlebury 15 years ago.

The coin is not only rare, but handsomely designed; tactile proof of the company inscription that reads "150 years of craftsmanship in metals." Barely visible within a embossed scene of Scovill's original 1802 plant is a slightly protruding axis point so precisely centered that the coin spins without quavering for nearly a full minute with an easy flick of the fingertips. On the reverse side, along with that fateful arrow, is written: ROUND & AND ROUND SHE GOES, WHERE SHE STOPS NOBODY KNOWS

"By the time that thing stopped, there were a half-dozen pints already on the bar," said Zabit.

---
OTHER PROMINENT WATERBURY MANUFACTURERS OF THE EARLY 1900s
Waterbury Farrel Foundry and Machine Co.
American Pin Co. | A W Haydon Co. | Brown & Elton, manufacture of sheet brass | Plume & Atwood Manufacturing Company, sheet brass, wire, kerosene burners, etc | Waterbury Button Company | The Waterbury Manufacturing Company, makers of brass articles | Waterbury Buckle Company | Mattatuck Manufacturing Company | Waterbury Clock Company | Oakville Company, maker of safety pins, wire goods, etc | Steele & Johnson Manufacturing Co., gilt and plated metal buttons | Novelty Manufacturing Co., mountings | Smith & Griggs Manufacturing Co, metal goods | Platt Brothers & Co., metal buttons | Patent Button Co. | Blake and Johnson, maker of wire goods | Thinsheet Metals Co. | American Mills Co., elastic and nonelastic webbing | Blake Lamb & Co., Blake patent game traps | E.J. Manville Machine Co. | Matthews & Willard Manufacturing Co., saddlery hardware | Standard Electric Time Co. | White & Wells Co., maker of paper boxes | American Ring Co. | Hellman Brewing Co. | The Waterbury Watch Co. | Sound Specialties Co.
Profiles and images of many of these companies can be seen later in this tour.
Waterbury and her industries. Fifty attractive and carefully selected views of the many leading manufacturing establishments, public buildings, churches, residences, park, street and general bird's-eye views of Waterbury, Conn in 1889.
Brass Valley: The Story of Working People's Lives and Struggles in an American Industrial Region. The story of the brass workers of Waterbury and the Naugatuck Valley, told with the collaboration of those workers themselves. It tells the conditions they experienced at work and in their communities; and the ways of life they created for themselves.
---
2OTH CENTURY INDUSTRIAL POLLUTION MESSING UP CITY'S FUTURE
In Waterbury, crumbling brick factory buildings seem to sprout like mushrooms from polluted soil. These relics of the city's prosperous industrial past have become millstones around the neck of its economic future.
In the past decade, Waterbury has enjoyed a few successes rebuilding these "brownfields" -- the name given to contaminated commercial and industrial sites. Mostly the successful efforts were high-profile projects, extremely well funded by state and federal agencies. But the key to unlocking the bulk of Waterbury's complex web of woes has proved elusive, despite city-led efforts costing hundreds of thousands of dollars.
It doesn't take long to find an old factory with windows broken or boarded up, graffiti on the walls and trash strewn about the yard. Hulking dingy looking factories depress surrounding property values, projecting blight onto their neighbors. The sheer number of these structures illustrates the city's need, experts say.
"All you have to do is drive down South Main Street, you see all abandoned or underused manufacturing facilities," said Gary O'Connor, an attorney for the city's development arm, the Waterbury Development Corp. "Or Freight Street. Or Thomaston Avenue. North Main Street..."
Unofficial estimates count about 300 contaminated industrial and commercial properties in the Brass City.
Last summer, Texas Roadhouse Inc. quietly pulled out of a deal to build a 7,135-square-foot restaurant on a pair of brownfields parcels on the edge of downtown Waterbury, citing the condition of the site. The decision by Texas Roadhouse, a national restaurant chain with a Western theme, not to build on the two parcels at 60 Benedict St. and 96-100 Benedict St. came about six months after an elaborate Jan. 10, 2006, press conference trumpeted its plan to invest more than $3 million to clean up the contaminated parcels. Slated to be built on land abutting the Home Depot Plaza parking lot on Bank Street, the new restaurant was expected to open in early 2007 and employ about 80 mostly full-time workers.
A fear of costly cleanups has turned many brownfields into hot potatoes that both their owners and city officials have been reluctant to tackle. Many owners of these properties owe millions of dollars in property taxes, but city officials say they aren't likely to foreclose anytime soon for fear of becoming responsible for cleanup costs.
Click here to continue your tour >>> Around Town Views