WREATHS of LEAVES
SUPPLIES NEEDED
A tube and an image of your choice - The tube I'm using in the foreground
is one I purchased waaaaay back by Rion Vernon when he was still with GILD
Hence, the use of my old License Number :)
I was too much of a tightwad to re-purchase tubes that I'd already bought as
Rion is now known as PinUpToons and his work can be purchased from CILM
Anyway, tube of your choice and image of your choice (for the fill of the wreath)
I'm using one from Stock Xchng
Autumn Leaves - these are a free Picture Tube tool download from Corel
Check your Picture Tube Tool, you may already have them in there - if you don't
go to the Corel site and download the Autumn.exe file (about halfway down the page HERE)
and install as instructed.
Wordart - by me HERE
Mask - by Chelle (WeeScotsLass) HERE
It's WSL_Mask167
Thank you Chelle xx
Eye Candy 4000 HSB Noise
Mura Meister Copies
Xero Porcelain (optional)
________________________________________
Open a New Image in PSP - 600 x 600 with a White Background
or floodfill with White
Go to your Picture Tube Tool and find the Autumn Leaves
Scale 65
And now, stamp out 2 or 3 leaves in the centre of the canvas
Do it on seperate layers if you want to move them around
Once happy with the placement, hide the White back and
Layers, Merge Visible
Unhide white back
On your leaves layer, go to Mura Meister's Copies
Look for the Encircle Preset in the drop down menu
Change the Shift X and Shift Y from 50 to 60
And the Number slider to about 15
Apply (OK)
On the wreath layer - Adjust, Sharpness, Sharpen
Move the wreath more to the centre of the canvas if needed and
now, we want to add more leaves around the circle
So, you may want to add them on seperate layers again
and perhaps move the Scale on the Leaves tube to 80, have some on 90 or so
or smaller if you'd prefer
We're looking for some variation and we dont want it too uniform so if
you have lots of stalks on the outside like I did - you may want to cover them with a few leaves
On my 2nd example, I had leave edges on the outside, which looked good too
So, get creative lol!!
It's ok, I'll sit here with a cup of tea whilst you're doing that
*tum te tum*
___________
ooooh, you're back :)
Right, are you happy with the placement of the leaves and how it's looking?
Hope so hehee
So, hide the white back again
and
Layers, Merge Visible
now
if needed
On the wreath layer - Adjust, Sharpness, Sharpen
(NB. If you want to take a duplicate of your created wreath to use in other autumnal/seasonal tags,
Shift + D to duplicate and save as a PSPImage)
OK, on with the tut...
Taking our Magic Wand tool on Mode: Add
Match Mode: RGB
Tolerance: 40
Feather: 0
Click inside the wreath circle
Selections
Modify
Expand
20
Don't worry if there is a gap here or there where the leaves are placed
you can add extra leaves to cover that - I had gaps on my first wreath but none on my 2nd example.
Keep Selected
and
Add a New Layer below the leaves and above the white back
Using your Dropper tool, select two colours from the leaves
(you know where this is going don't you? lol!)
Once you have two different colours showing in the Materials Palette colour boxes
Right click on one of the boxes, hit Other
then
choose Gradient from the folder tabs
and find your Foreground/Background gradient
Have it on Style Linear
Angle/Repeat on 0
and Invert not ticked
Hit OK
and you should see your Gradient in the Materials Palette now
On the new Layer
Floodfill with the Gradient
Keep Selected
Now open your chosen Image/Close Up/Tube sized as it comes/Stock image whatever
Paste as a new layer
Position in the centre however it looks best
Selections, Invert
Delete
Selections None
Now, apply Xero Porcelain to it (default settings)
and either drop the Opacity on that layer (like I did) or perhaps
change the Blend mode of the layer to suit the image - Soft Light or Multiply etc
Now, if you had a gap or two where the floodfill didn't quite reach etc - add your new leaves
now.
Open the main tube you've chosen to use
Copy and Paste as a New Layer
Place in the centre-ish of the wreath (see mine for ref)
Now if you're using a half bodied tube
Duplicate
and move the bottom tube
under the leaves wreath
and apply a drop shadow of choice to the bottom one only
Back to the top tube layer
and taking your eraser tool, erase the bottom of the tube that overlaps the leaves
if you do this, she should look like she's covered with leaves and coming out of the wreath
If you're using a full bodied tube, you may just wish to have her on the top of the wreath as is.
OR you can use the above method and erase the legs of both tubes
Use your creativity to decide which you'd like to do
OK
Now taking two other colours from the leaves
Make a new gradient as before
Add a New Layer above the white back
and flood fill with the gradient
Now apply Chelle's Mask WSL_167
Layers, Merge Group
Move the mask layer slightly over to the top left
Duplicate
Image
Mirror
(Leave like that if you like it that way - if you want to keep going then)
Image
Flip
Adjust or move the mask's positions to best suit your tag
Open the Wordart I've provided
Copy and Paste and Place as a New Layer
above the wreath layer
(If your tube's head or scraps you might use get covered by the wordart, move the wordart below the tube layer too)
Use your Deform tool/Pick Tool to reshape the wordart to better fit your wreath if needed
Once you're happy with the placement of the wordart
Add the following dropshadow to it
Vertical 2
Horizontal 1
Opacity 76
Blur 3.00
Colour Black
Don't be tempted to add a gradient glow of white before you add this shadow
I know the words don't show up much, but I tried a white GG and it was too WAAAAAH in yer face!!
So we're going subtle hehee
If you really don't like the subtleness of the wording, try adjusting Brightness and Contrast
once you've added the HSB Noise
Try Brightness on 48 and Contrast on 11 and see if you like that...I just added the shadow again for extra definition.
Now once the shadow is applied to the wordart, it's time to decide if you want an animated tag or not
so if you're not Animating -
go to Eye Candy 4000 HSB Noise
and apply the following settings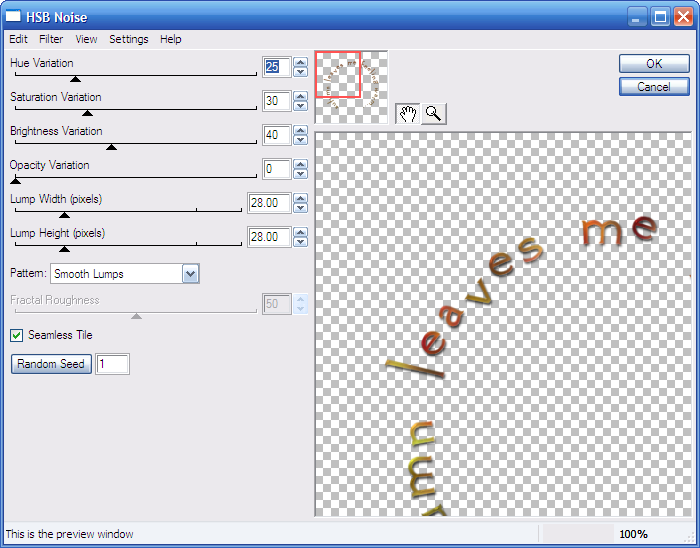 If you are Animating - make sure you
duplicate the wordart twice to total 3 layers before you apply the
HSB Noise
and when applying HSB Noise to each layer - again, use my settings and then
hit Random Seed before each application
I've done this tag without any scraps for my first example - but if you'd like to add bows,
or buttons etc - add them now.
I really went for it with my 2nd example, tube, scraps the lot lol!
It's up to you what you'd prefer to do
Add your name in font, colour, position of your choice
Add any artist copyright info etc now.
Crop any excess canvas if able
now Animate the usual way for a three layered animated tag
(see my How to page if unsure)
and don't forget that Animation Properties in Ani Shop should be Opaque, White
(to help avoid the dreaded slightly there box around your finished tag)
and the Frame Properties should be on 45 or slower/faster as you prefer
Save as .GIF
All done!!
You could even dig out some country or thanksgiving tubes nearer the time
and make a holiday wreath with them...
or if you decide there's too many colours going on and you think that your Ani Shop
settings will go beserk, then have it as an un-animated tag and save as .PNG
Like this one...
Tube by Gary Ham (formerly at CILM) and scraps used were from
a kit I purchased last Autumn - Ronna Penner's Autumn Magic
But
Whatever you do, enjoy xx
XXXXXXXXXXXXXXXXXXXXXXXXXXXXXXXXXXXXXXXXXX
This tutorial was written on 4th September 2008 by Vix
It is a tutorial based on a tag of my own design and
any potential similarities to other tag tutorials that
may be available is wholly unintended and completely coincidental.
Any items supplied to use to create your own tag with this tutorial are supplied
in good faith - if I have used something not intended
for usage in this way, please contact me via email.
Any items created by me for the purposes of this tutorial MAY NOT be used in
any other tag tutorials.
Links to tube/scrap supply sites are added either through necessity or courtesy
and it is entirely up to the individual if they choose to visit these sites.
Scraps used in my tutorials that I've obtained from PTU scrap sites are NOT supplied
in my tutorials
This website is intended for educational/entertainment purposes only
NO linking to my tut examples, screen shots, files or graphics permitted
All of my tutorials are registered with TWI