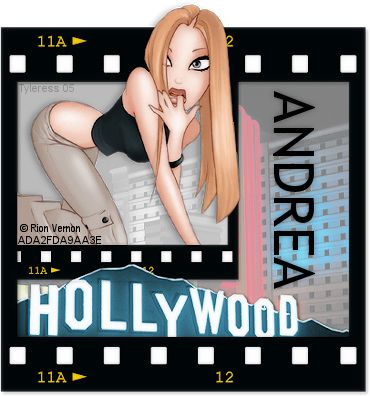 For this tutorial, you will need :

Tube and Font Of Choice
For this tube, visit the artwork tubes of Rion Vernon aka PinUpToons over at CDO
My Supplies :
Hollywood Strip Tube
Film Strip
Created by Becky
Secrets Of The Imagination


1. Open new image 400 x 400.

2. Open up the Film Strip
Copy, paste as new layer.
Duplicate the layer, activate the bottom copy
Go to IMAGE....RESIZE...65%...ALL LAYERS Unchecked.
Position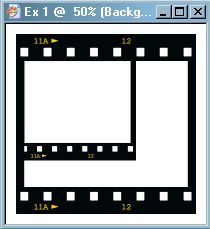 X out any background layer
Merge Layers Visible

3. Open up the Hollywood Strip Tube
Activate the bottom layer of the tube
Copy, paste as new layer
Lower the layer opacity 50



4. Activate the SELECTION TOOL...RECTANGLE...FEATHER 0
Create the section as shown
Go to ADJUST...HUE / SATURATION...COLORISE
Hue / Saturation 0


NOW
Go to SELECTIONS...PROMOTION TO SELECTION LAYER
Activate the Hollywood image layer and hit delete
Selections None
Activate the SECTION we have just made and lower the layer opacity 35.

5. Back to the Hollywood Strip tube
Activate the top layer
Copy, paste as new layer
Move the layer to the top of the palette
Position the tube over the Hollywood sign.

Lower the layer opacity down so you can see the film strip below.
Using a method of choice
I chose to use the Selection Tool...Point to Point
Remove the overhang on the sign, so it fits into the film strip.
Opacity back up.



6. Go to EFFECTS...3D EFFECTS...DROP SHADOW
Vertical -1
Horizontal 2
Opacity 45
Blur 9



7. Activate the PRESET SHAPES...RECTANGLE
Set the colour boxes to white
Draw a rectangle so it covers the image
Convert to raster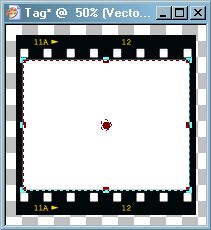 Move the layer down under the whole image layer.
Make sure any background layer is Xed out
Layers Merge Visible.
Go to EFFECTS...DROP SHADOW
Vertical / Horizontal 0
Opacity 65
Blur 9

8. Open up your tube of choice
Copy, paste as new layer
Resize if needs be
Position your tube so it fits into the small filmstrip.
Lower the tube opacity
Make a section like before and remove any tube overhang, so your tube fits nicely into the box.


Up the opacity
Add the same Drop Shadow as before.
Layers Merge Visible

9. Onto the text.
As we are going to rotate the text, make sure you name isn't too big!

I chose to use
TrebuchetMS..Size 42...Black
Go to IMAGE..ROTATE...90...RIGHT
Add a Drop Shadow
Vertical / Horizontal 0
Opacity 35
Blur 9

Layers Merge Visible

SAVE
Please feel free to print it out for your own personal use or link too, but do not copy it in anyway to put on-line, pass out or re-write without any permission. Any resemblance to any other tutorial like this is purely coincidental.
This tutorial was written by TYLERESS, JANUARY 9TH, 2006
TAG ORIGINALLY CREATED NOVEMBER 3RD, 2005