TUTORIAL - TRIO OF HEARTS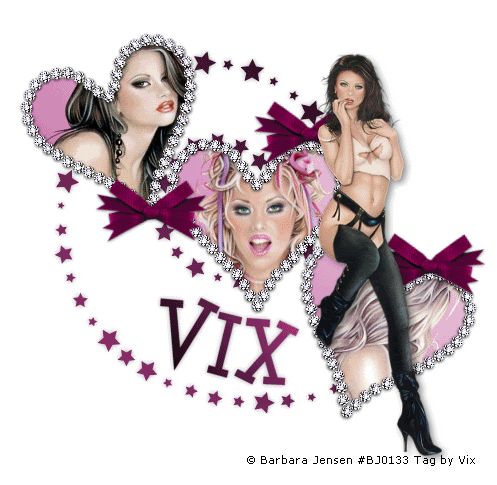 Have you guessed by now that I am fond of purple? LOL!
OK - this is a simplish little tut - more explaination that
screen shots.
SUPPLIES NEEDED
Tubes of choice - 3 for the hearts and one
for the main image. Yep, you've guessed it, I'm using
Barbara Jensen - beyond gorgeous art!
Need a licence to use Barb's art - not got one?
Pop over to Barb's site
and see the stunning collection of tubes available.
Heart Accent - by Melissa at Scrappy Expressions
Her Yahoo group is HERE and the accent is on my 4shared HERE
Bow of Choice - I'm using one of Melissa's but
you can use whichever you'd prefer
Twirl brush - the one I am using is by KCS Designs HERE
Go to You, Goodies, Brushes, and find the set called Twirl - awesome!
DBX Flux Bright Noise - is there anyone who hasn't got
this filter - highly unlikely LOL!
Not got it? Give it a Google.
____________________
Ready?
OK...
New Image 550 x 550 White Background
Open your Heart Accent - copy and paste as a new layer
Duplicate twice
Image Rotate one of them 20 degrees to the left
Adjust, Sharpness, Sharpen
Image Rotate the other one 20 to the right - repeat Sharpen
Position thus...
Take your Magic Wand - click inside the first heart
Selections, Expand by 4
Now, copy and paste your first tube, place within the heart
Selection, Invert, Delete.
Deselect
Move this tube below the heart layer.
Repeat this for the other two hearts.
OK, taking shape!
Right - now, hide all layers, except the hearts and
merge visible
Do the same with the tube layers.
Now, using magic wand, click inside all
three hearts
and a new layer just above the white but
below the tube layer and
flood fill with a colour of your choice - I used #e7b5d6
Deselect
Now open your Bow tube and main tube and position where liked.
See mine for reference.
Add dropshadow if desired.
Time for yer brush!
New Layer above the white
and I created a F/G B/G gradient using Black F/G and #b4398a B/G
Angle 45 Repeat 0 - Move the Gradient to the top box.
Find the twirl you'd like to use (I used kcs_twirl1)
Stamp out your brush where liked
subtle dropshadow 0 0 35 7
Now, add your name and any copyright info etc
I used the same gradient for my name - 0 stroke width.
subtle dropshadow 0 0 35 7
Crop the canvas to your taste.
Now, Duplicate your heart layer twice
On heart Layer 1,
add DBX Flux Bright Noise - Mix -
but change the Intensity to 40
Layer 2 - change to 36
Layer 3 - change to 44
Animate my usual way
(if you've not done one of my tuts
before - check out my How to... page)
but keep the Frame Properties on 10
Save as .GIF
All done!
Thank you for trying it xx
This tutorial was written on 21st February 2007 by Vix (blendyvix in MSN)
It is a tag tutorial of my own design, and any similarity to another
tag tutorial available is completely coincidental and wholly unintended.
Font used - Malihini Cuban BTN
Pixel Fonts - Pixelette and FFF Star