TUTORIAL - TEXT TWINKLE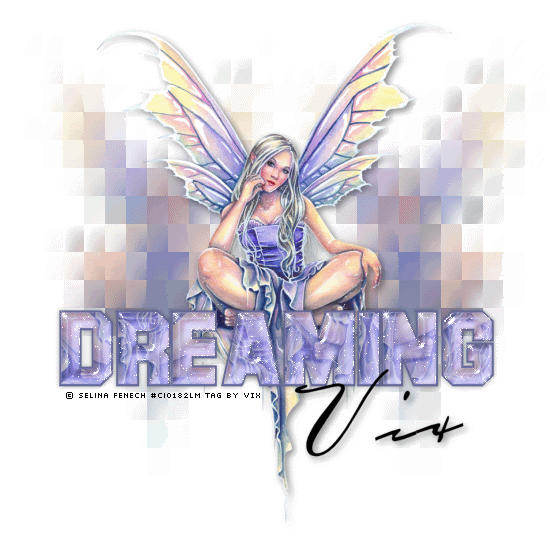 This is based on a tag I made a few months ago...
SUPPLIES NEEDED
Tube of Choice - I'm using one by Selina Fenech
Gorgeous!
To use Selina's art - you must be licensed
Go to CILM for more information HERE
Flaming Pear Super Blade Pro
using the Coconut Ice Preset
Xenofex 2 Constellation - this is a paid filter
Italian Editors Filters - Mosaico
________
Open a New Image 550 x 550 White Background
Take two colours from your tube
darker for the foreground, lighter for the background
Using a nice block or fat font, Stroke Width 2
type out your word.
Stretch to liking
Convert to Raster Layer.
Now, click inside each letter with Magic
Wand on 0 Tolerance
Copy and Paste your tube a couple of times to
fill the inside of the word.
Selections, Invert and Delete
the excess.
Deselect.
Merge the tube layers together and change
the blend mode to Soft Light.
Select the inside of the word again as before
Duplicate twice
Keep Selected and return to your
first word layer
SuperBlade Pro Coconut Ice preset
do this to the other two word layers
Back to your first word layer
Xenofex 2 Constellation with the following settings...
2
6
8
1
100
85
Twinkle Rotation 45
Keep Original Image
Apply
Do this to the two other word layers, but
change the Random Seed settings on each one.
Deselect!
Now add a subtle drop shadow to each
word layer.
You'll now have something a bit like this...

Open your tube, copy and paste
as a New Layer
Duplicate and resize by 80 percent
Hide your main tube for now.
Duplicate the resized one and Image, Mirror
Position on either end of the word
Layers, Merge these two tube layers together
Adjust, Blur, Gaussian Blur by 10
Then apply the Italian Editors Effects Filter - Mosaico
on the default settings but change the Border Cell On/Off to 255
to get rid of the black edging.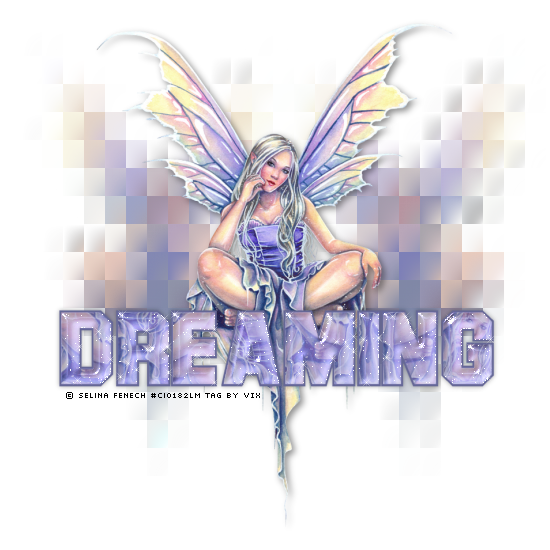 Unhide the main tube and add a Drop Shadow.
Add any copyright information etc
Now, using a scripty font - add your name.
Ready to Animate?
Good.
Animate my Usual Way (see How To...)
but
change the Frame Properties to 15 or 20
Save as .GIF
You're all done
Hope you enjoyed this tutorial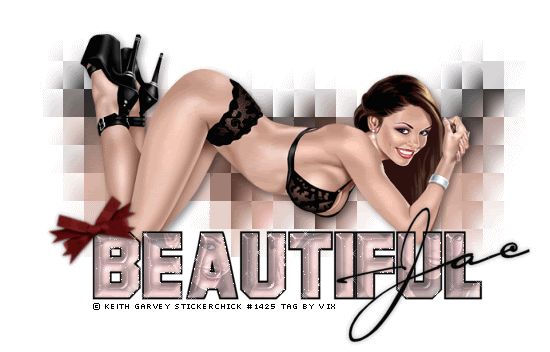 This tutorial was written on the 24th February 2007
by Vix (blendyvix in MSN)
It is based on a tag of my own design, this
tutorial is my creation and any similarity
to another tag tutorial is wholly unintended and
completely coincidental.
Fonts used - Font and Carpenter ICG
Please do not use my screenshots as tags or hotlink to them or
this page - thank you xx