TUTORIAL - FLOWER ARRANGING
This tutorial is dedicated to my pal Angel Fee (she who makes those gorgeous wee Fuzzles)
Fee also adores daisies so it seemed ideal to make this one for her
SUPPLIES NEEDED
Photograph of Choice - I used a stock photograph from
the fabulous Stock Xchng - www.sxc.hu
Corner Brushes of Choice
Scraps/Embellishments of Choice - I'm using some of Melissa's from Scrappy Expressions HERE
Mask - I'm using one of Becky's masks from Secrets of the Imagination HERE
(if you'd like to use the same one - go to my Bon Nuit tut and follow the link to get the Mask)
Filter Used - penta.com Jeans
This is a fairly simple tut - but the results depend on your finishing touches
OK - let's start...
Start with a nice big Canvas, we'll crop it later
I used 600 x 595 White Background
Now, with your image - it's probably a massive image?
So, we'll resize twice to get two images to work on (one for the masked Background
and a smaller one for the tag main)
Shift D to duplicate from the original. Close the orignal now.
First, on your duplicate, resize to a nice size (500 x 400 or near to that)
This will be the one we use the mask on for the B/G
Duplicate again by hitting Shift D
Now Resize more - another 80% perhaps...look at my tag to see the
sort of thing you're after.
OK. Now with the larger one, copy and paste onto our working canvas.
It should be large, but not touching the edges. OK, apply your Mask
and Merge Group. Move this to the top left of the canvas - again not touching the edge of the canvas
Duplicate this layer and move this towards the bottom right
You should now have something like this...
Adjust, Hue and Saturation, Colourize 0 and 0
Now, add your penta.com Jeans effect (default settings but change the amount to 32)
Now, on your smaller copy of the image - add borders,
Image, Add Borders, 2, Black
5, White
OK - now copy this and paste onto your working canvas and place
on the top right area
Add a subtle dropshadow - 0, 0, 35, 7
Taking shape LOL!
Right, duplicate this layer and resize 80% Smart Size
Image, Rotate, Left 20
you may need to sharpen it as it usually goes a bit blurry in rotate.
Position
Add New Layer
Brushes of Choice - add them to your layer and place where liked.
Now add your text and credits.
With my text I used Stroke Width 1 white for F/G - B/G was a colour from the image.
Add a nice subtle inner bevel and then dropshadow. 1, 1, 50, 5
I used another scripty font for the words
Place where liked...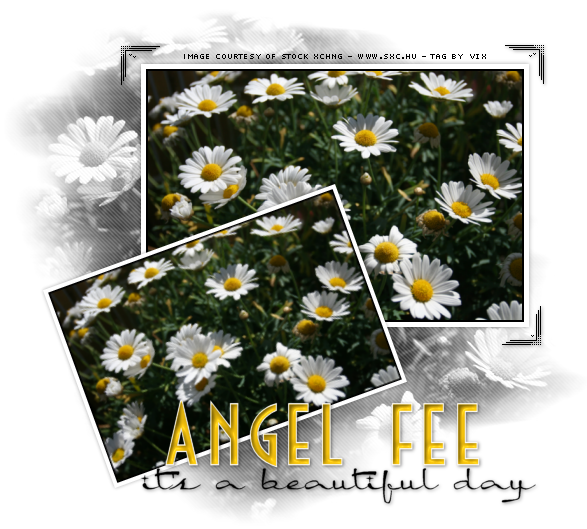 Right - at this point I cropped my tag - but BEFORE
I did that, I decided my Background Mask layer was huge and
wouldn't allow me much cropping lol!
So, I went to my Mask Layer and resized just that layer 80%
Better!
OK - now for your scraps/embellishments etc.
Place as few or as many as you'd like - add subtle dropshadows to give
them some depth.
You're all done!
Save as .PNG
Thank you for tying this tutorial xx
Here's another result with this tut...I used two different images though...
This tutorial was written on 15th February 2007 by Vix (blendyvix in MSN)
It is a tutorial of my own design and any similarity to another
tag tutorial is coincidental and wholly unintentional
Fonts used - Guest Check and Kitchenette