OH YOU BEAUTIFUL THING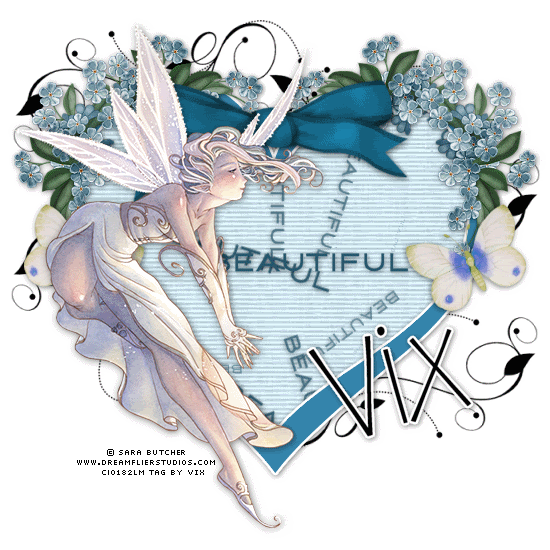 SUPPLIES REQUIRED
Tube of Choice - For this tut I am using
Artwork © Sara Butcher
In order to use the image in this tutorial you MUST purchase it from
If you don't wish to purchase it, please feel free to use a different tube/image.
For this tut, I'm not supplying anything - this one is
for you to rummage through your files and folders and find...
Preset Shape of Choice
Bow of Choice
Flower Accents of Choice
Butterfly tube of Choice
DoodleArt of Choice
Filters needed
Mura Meister Copies
Eye Candy 4000 Gradient Glow
________________________
Take your Shape of choice
I'm using a heart by Mz Kels - I've used in my other
tuts before, so if you want this one
go to my Blues and Twos tut and get the link from there
Foreground Null, Background on a colour of choice
Don't worry about Line Width - it doesn't apply
If using another shape - change
to foreground or background colour
as needed and Line Width on 14.00
Draw out the shape
Objects, Align, Centre in Canvas
Convert to Raster
Choose a second colour
Type out your word
Size between 20 - 40 as liked
Convert to Raster
Add a subtle shadow and
duplicate the word layer to total 3 layers
Now back to the shape layer
Click inside with Magic Wand
Selections, Modify, Expand by 4 or 5
Keep Selected for the next few steps
Make sure your word layer/s are below your shape layer
Go to the first word layer
Apply the following Mura Meister's Copies
on Wallpaper (Perspective)
Default Settings
See the dropdown menus
The top one
Drop down where it says Random
and select Random
It will move the placements of words
about
Keep doing that till you're happy with
the placement
and then OK
Do this for the 2 other word layers moving
the placement of the words each time
Add a New Layer below the word layers
and floodfill with a light gradient or very light colour
to compliment the heart and words
Apply a texture if liked too - I used
one from Filters Unlimited 2 - Paper Textures
Selections None
Open a Flower corner of choice
I am using Rainbow Coffi's ForgetMeNotAccents
(again - 'cos I love them!)
Copy and Paste and place at the top of the heart
Duplicate
Image
Mirror
Add a dropshadow to both flower corners
and then Merge them together
Open a bow of choice
Colourize if needed
Resize too
Copy and Paste
and place as mine
Open your butterfly of choice
Resize and colourize if needed
Copy and Paste
Place as mine
add shadows where needed
Open the tube you've chosen to use
Copy and Paste
Place as mine
Add dropshadow of choice
Back to the heart layer
apply Eye Candy 4000 Gradient Glow
Glow Width 3.00
Soften Corners 0
Opacity 100
White
Repeat the subtle dropshadow you
used for the elements
If you are using a doodle
copy and paste just above the white background
(I used one of Melissa's SE Doodles - se_doodleart6, but I can't share it - sorry)
Place where looks best
Duplicate
Image
Mirror
Flip if liked
Merge the doodle layers together
Crop the canvas now and add copyright info
Add your name in a font of choice
Repeat the Gradient Glow and Shadow as before
Place to the right of the tag
Now, animate the tag the usual way for a three framed animation
Change the Animation Properties to Opaque, White
and the Frame Properties 45
Save as .GIF
That's it - all done xx
On the 2nd example, I typed out the word
but duplicated it a couple of times
on the same layer
then I duplicated this layer twice
and applied the Mura's at this point.
Result - lots more words lol!
I also used 3 flower clusters (again, by Rainbow Coffi)
and used butterflies instead of bows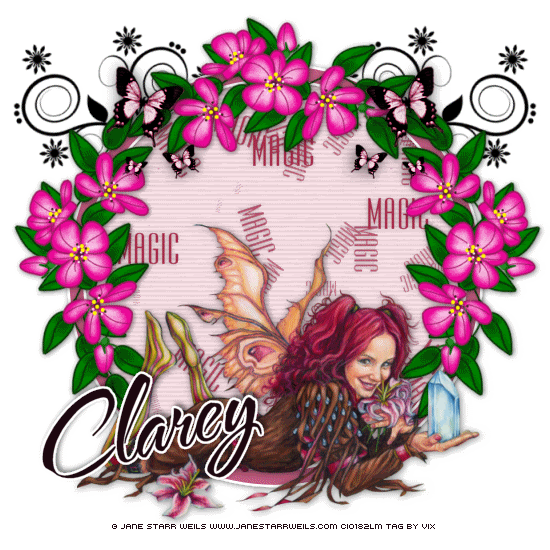 This tutorial was written on 29th March 2008 by Vix
It is a tutorial based on a tag of my own design and
any potential similarities to other tag tutorials that
may be available is wholly unintended and completely coincidental.
Items supplied to use to create your own tag with this tutorial are supplied
in good faith - if I have used something not intended
for usage in this way, please contact me via email.
Links to supply sites are added either through necessity or courtesy.
This website is intended for educational/entertainment purposes only
NO linking to my tut examples, screen shots, files or graphics permitted
All of my tutorials are registered with TWI