FORUM STYLE X

SUPPLIES NEEDED
Tubes of your Choice - one small and one larger one
I used Emo Kitty - Artwork © PinUpToons
If you wish to use the same tube you must purchase it from CILM
However feel free to use whatever you have!
Filters Needed...
Filters Unlimited 2 - Pattern Generators
Xenofex 2 Constellation
Eye Candy 4000 HSB Noise
Mura Meister Copies
Greg's Factory Output Vol 2 Pool Shadow
Optional: Texture of Choice, I used one of my own from HERE
Optional: Sparkles of choice - I used some by Bel Vidotti which are part of her kit HERE
Please leave some love if you download either
____________________
Open a new Image in PSP - 675 by 250 or whatever is your preference
Add a New layer, floodfill White
Take two colours from your chosen tube using Dropper Tool
I went with a light pink and an off-white
Make the ol' usual Foreground/Background gradient
Have it on Linear
Angle 30
Repeats 2
Floodfill a new Layer with this Gradient
Hide for the Moment
Now add a new layer above this one
and floodfill once more with the Gradient
then
go to Filters Unlimited 2
Pattern Generators
and look for Barcode Generator
and apply these settings of mine (they're just the Default settings with the bottom 3 sliders dropped to 0)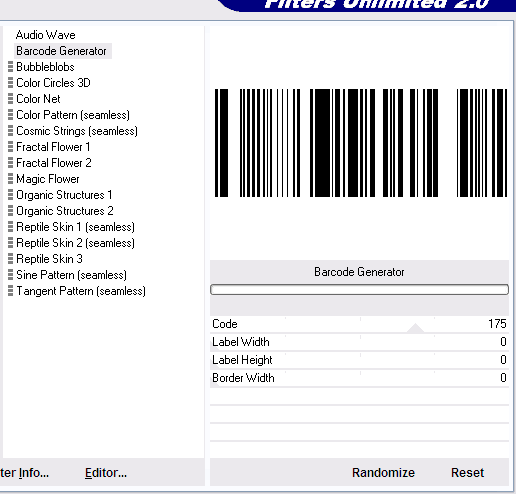 Click Apply
then
Add a New layer
Floodfill with Gradient once more and back to Pattern Generators, but this time
Move the bottom 3 sliders to 0 once more, and move the Code slider to 173 (from 175)
Apply
Then
have a guess?
lol! Yup, add another new Layer
Floodfill once more with gradient
and Apply Pattern Generator once more
With the settings as before except this time - Code slider on 171 from 175
OK?
Cool
Now then...
Back to the Original Gradient layer and unhide it
Should be just above the White back
and
On this gradient layer
With your Background colour on White and your Foreground Nulled out
Draw out a small heart shape using Preset Shapes
Once placed on the canvas, convert to Raster layer
then
Go to Mura Meister Copies
Apply Tiling on the default settings except Change the tile gap to 2
apply
then
Greg's Factory Output Vol 2 Pool Shadow on the default settings to this heart layer
Crop to canvas size
Then Layers, Merge Down and it should merge this layer with the Bottom Gradient layer
On this merged layer
Apply Adjust, Blur, Radial Blur on these settings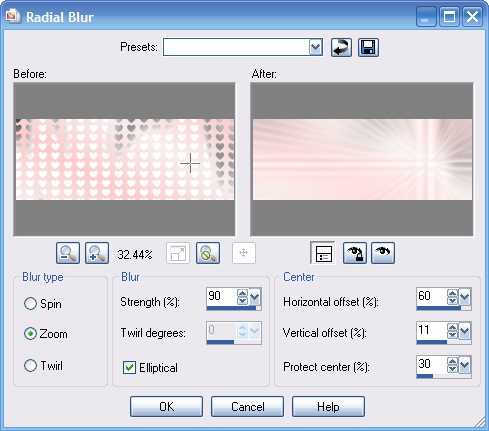 Click OK
Now, on the first of the Code layers (the bottom one)
Change the Blend Mode to Multiply
and then on this layer, apply Xenofex 2 Constellation on these settings

Repeat this for the other two Code layers (Multiply for the blend mode and then apply Xenofex - don't forget to
hit Random Seed a couple of times before Applying the constellation)

Optional: At this point, I also added a texture layer to my tag
Pasted just above the original gradient layer
and changed my Blend Mode to Multiply for this texture then Cropped to canvas size
But, this is optional

Now open your Chosen tube...finally lol!!
Copy and Paste and Place on the left of the tag
Above the Code layers (so it's at the top of the Layer Palette)
Apply a favourite tube shadow to this tube
then
Duplicate
Image
Mirror
and on this right hand side tube
Change the Blend Mode to
Screen
Now
Paste your smaller version of the tube a couple of times
One to show the lower body content
and place near the middle of the tag canvas
and one that shows the face
and that's more over to the right
(See my tag for placement reference)
Once placed as liked
Apply dropshadow to these two tubes
and crop to canvas size again
For funzies, I also changed the Blend Mode of the body content tube to
Multiply
Now
With your text tool, choose a favourite font
Stroke width on Black 2.00
and fill on a colour from the tag
Type out the word of choice
Apply
Place where liked
Add same dropshadow as before
I moved mine below the main small tube to add some depth
Add a new layer above all the others
Selections, Select All
Floodfill with the original gradient once more
Selections, Modify, Contract by 6
Hit Delete
and you should have the central part of the tag showing and this has given us
a simple 6 pixel border?
Selections None
Then, Selections, All
Selections, Float, Selections, Defloat
and on this border layer
Eye Candy 4000, HSB Noise on the Factory default
Now back to the border layer
and apply
Adjust, Add/Remove Noise, Add Noise, Random on 28 Monochrome ticked

OK now here's the rub
My tut writing means I write as I go when I make the tag and it was at this point I decided something needed
changing...so I changed it! So here's what to change...
I changed the BLEND MODE of the Code Layers to Soft Light (all three of them)
and
I added a new Layer just above the main smaller sized tube
And did a Floodfill Black, Select All, Selections, Modify, Contract by 8 and hit Delete
Selections None
thus giving me a two pixel border, inside the gradient, HSB noise one
then
Above the Main border layer
I added a new Layer
Floodfill this with Black and repeated the above steps for making a border but this
time I only Contracted by 1 pixel then hit delete

I was happier with the results then lol!!
OK
So now, on we go
Apply your name to just above your text layer
using a favourite scripty font of choice
Add a gradient glow finish and same dropshadow as before
then
At this point I also added a layer with a sparkle
Above the Soft Lighted layers but below the left tube - but this is optional too :)
Add artist info in a place where it will show clearly (!)
Apply same gradient glow if necessary
and
NOW!
Animate the Usual Way for a 3 layered animated tag
Go to my How To page (up there in the Nav Bar) if you're unsure how to do this
And for this tag, Have the Frame Properties on 15
Save tag as .GIF
and there you go - hope you enjoyed this latest Forum Style tut of mine
If so, please send me your tags and I'll display my favourites down below this tut
Hugs xx
This result is from Sammi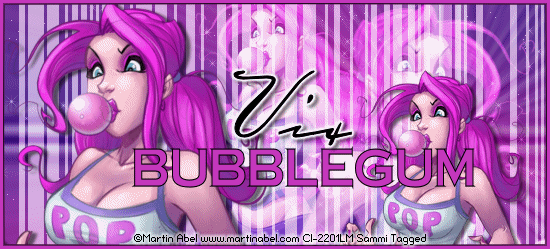 This result is from Vixen

This result is from Tiggs
This tutorial was written on 13th August 2010 by Vix
It is a tutorial based on a tag of my own design and any potential similarities to other tag tutorials that
may be available is wholly unintended and completely coincidental.
Any items supplied to use to create your own tag with this tutorial are supplied
in good faith - if I have used something not intended
for usage in this way, please contact me via email.
Any items created by me for the purposes of this tutorial MAY NOT be used in
any other tag tutorials.
Links to tube/scrap blogs or sites are added either through necessity or creator courtesy,
and it is entirely up to the individual (ie. You!) if you choose to visit these sites and/or download/purchase from them.
Scraps used in my tutorials that I've obtained from PTU purchased scrap kits are NOT supplied
in my tutorials supplies.
This website is intended for educational/entertainment purposes only
NO linking to my tut examples, screen shots, files or graphics permitted
All of my tutorials are registered with TWI