FORUM STYLE IX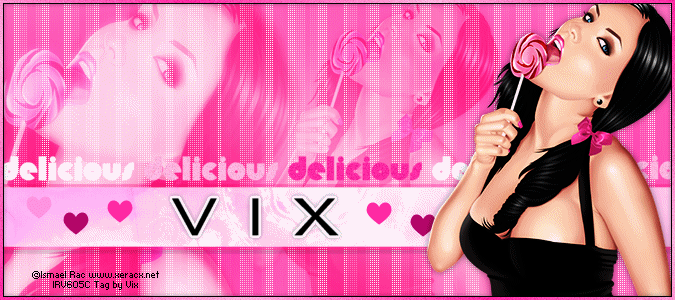 Supplies Needed
Tube/s of Choice - I'm using Cinda by Ismael Rac and can be purchased from Rac's store HERE
Texture of Choice
Fonts of Choice
Brushes (optional)
Animation Shop
___________________________
Open a New Image in PSP - 675 x 300 pixels
OR
Adjust to your own preference/forum rules etc

Add a New layer
Floodfill White
Add a New layer
Apply a favourite two colour gradient or make one using the Foreground/Background gradient in PSP
Use two colours that will compliment your tube, one darker shade that the other
Floodfill this new layer with your gradient using
Angle 45, Repeats 3 on the linear setting

OK
Now, Blur, Radial Blur and apply these settings of mine...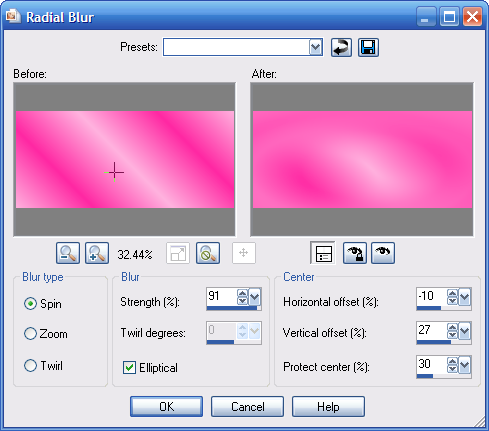 So, we're going to sort the Animation backgrounds first so
Duplicate the floodfilled gradient layer twice to total 3 layers
then
On the bottom one, go to Xero Graphics - Soft Vignette
and apply these settings of mine...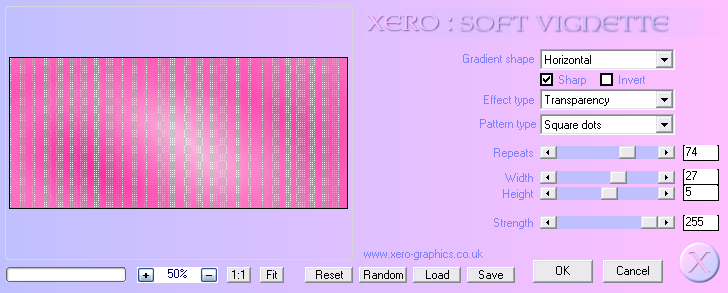 On the 2nd layer up (the middle one)
Apply to this layer BUT change the Repeats slider to 72
and
on the 3rd layer up (the top one)
Apply but this time change the Repeats slider to 70

OK, leave that for now :D
So, open a couple of tubes you'd like to use
Copy and Paste them onto your image canvas
Move and place where liked and apply a favourite effect to your tubes
(Maybe duplicate, blur, blend mode change etc or effect)
Whatever you've used and liked
For my left hand side tube, I duplicated, blurred the top one Gaussian on 5 then applied a Xero Radience to the top
tube and then changed the blend
mode to Soft Light, and then changed the bottom tube blend mode to
Screen and dropped the Opacity to 69 but have a play and see what you prefer!

Now, with your paler shade as the Foreground colour and your darker shade as your Background colour
Take your Preset Shape Tool, set to Rectangle with a Line Width of 4
and draw out a long rectangle across the image canvas
Don't worry if you go over the edge...good! You're supposed to :D
OK
Once drawn out, Objects, Align, Center in Canvas
And you should see that at the sides, you can't see the lighter shade edge?
Excellent
Convert to Raster layer
and move down the tag canvas using Move Tool
Once happy with placement
Drop below the right hand side (in my case) or your Main tube image
Click inside the rectangle using Magic Wand on my eternal settings lol!
Which are, Mode: Add, Match Mode: RGB, Tolerance 0, Contiguous Ticked, Feather 0 and Anti-alias ticked
and set to outside
Add a New layer above the rectangle layer
and Copy and Paste a favourite texture onto the tag canvas
Once positioned where like
Selections, Invert
and then on the texture layer
Hit Delete
Selections None
And change the Blend Mode to something suitable for your tag - I used Screen
then
On the Rectangle layer
Change the blend mode to
Multiply
OR
One that compliments your tag
then
on this Rectangle layer
Apply the following dropshadow

Now, take a contrasting colour and place in the Background box
Have the Foreground on Null
and
With your Text Tool, set to Create as: Vector (always lol!)
choose a favourite font and type out a word...I used delicious
Don't apply, when you've typed your word
Whizz over to the Background box, right click it and up will come your colour palette
choose one of your previous colours from the tag and type the word again, then repeat with another colour

Once happy, hit Apply
Move into position as mine
I had to duplicate this and move across as I hadn't typed my word out enough lol! So don't worry if you have
the same prob
And on this text layer
Adjust Noise, Add/Remove Noise, 10, Gaussian, with Monochrome Ticked

Now add your name using Black - I used Bank Gothic on a 300 Kerning as I've got a short name
Place as mine
and add a favourite dropshadow/gradient glow - or both! :)
SO
Now the tag is as we'd like it - Crop it to the canvas size it is
Go to Crop Tool - it should say 675 x 300 and tick

At the top of the layer palette
Add new Layer
Selections, Select All
Floodfill with Black, Modify, Contract, 4, Hit Delete, Selections None
then
Selections, Select All
Add a new Layer above the Black edge
Now floodfill with your Gradient once more
Selections, Modify, Contract by 3
Hit Delete
Selections None
and apply the same Noise settings we used for the wording
And on the Black Edge, apply a dropshadow of 0, 0, 35.00, 7.00 Black
Right then, add your artist info
And if liked, add some brushes or suchlike to finish off your tag
I drew out a small heart, then duplicated it and Adjusted the Brightness/Contrast to get different shades
Move up and down the layer palette as needed

SO
Ready to Animate?
Animate my usual way for a 3 layered animated tag WITH ONE BIG DIFFERENCE
Hide the top two gradient layers
Edit, Copy Merged,
Take to Ani Shop
Paste as New Animation
Back to PSP
DON'T hide the bottom gradient layer and
Unhide the Middle one - so both are unhidden
Edit, Copy Merged again
Back to Ani Shop
Paste after Current Frame
Back to PSP
Leave the two gradients unhidden and finally,
Unhide the top one - so all three gradient layers can be seen (which is not normally the way we do this lol!)
Edit, Copy Merged
Back to Ani Shop
Paste after Current Frame (Frame 2)
and there's your basic animation
then
You can either use a Fade Image Transition between the three frames (see my tutorials such as Forum Style II for the settings)
or just have it, as I did - with the Frame Properties on 25 for a nice flow...any faster and it's a bit reach-for-the-lasers lol!
Anyway,
Save as .GIF and that's it!!
Hope you enjoyed this tutorial
If you do it and are happy with your results, please feel free to send me your tag/s
and I'll add some of my faves below :)
This result is from Mama Ev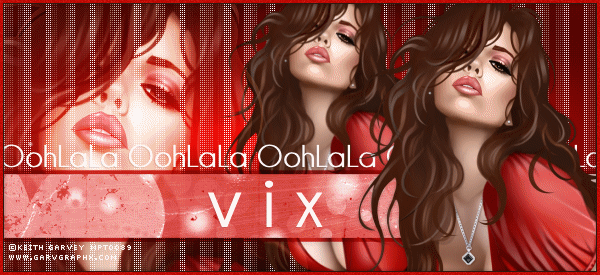 This tutorial was written on 13th August 2010 by Vix
It is a tutorial based on a tag of my own design created
this morning and
any potential similarities to other tag tutorials that
may be available is wholly unintended and completely coincidental.
Any items supplied to use to create your own tag with this tutorial are supplied
in good faith - if I have used something not intended
for usage in this way, please contact me via email.
Any items created by me for the purposes of this tutorial MAY NOT be used in
any other tag tutorials.
Links to tube/scrap blogs or sites are added either through necessity or creator courtesy,
and it is entirely up to the individual (ie. You!) if you choose to visit these sites and/or download/purchase from them.
Scraps used in my tutorials that I've obtained from PTU purchased scrap kits are NOT supplied
in my tutorials supplies.
This website is intended for educational/entertainment purposes only
NO linking to my tut examples, screen shots, files or graphics permitted
All of my tutorials are registered with TWI