FORUM STYLE IV

OK, this one is a little more ambitious so as long as you're comfortable using
your Selection Freehand tool (the Lasso tool in some versions) then you should be fine.
If not, then use the Selection tool on a Rectangle setting...see my tut for details.
SUPPLIES NEEDED
Tube of Choice - Artwork © Jessica Dougherty
In order to use the image in this tutorial you MUST purchase it from
If you don't wish to purchase it, please feel free to use a different tube
Xero Graphics Soft Vignette
Xenofex 2 Constellation
Filters Unlimited 2 - Paper Textures - Canvas Coarse
Eye Candy 4000 Gradient Glow
Additional - scrap embellishments of choice similar to mine (ie. flowers)
____________________________
Open a new Image in PSP - 575 by 150
Floodfill White
Choose your Tube
Open it
Take two colours from it and create my favourite floodfill - the ol' Foreground Background gradient
Have the setting on Linear with 0 repeats and 0 angle
(Why do I use this so much? Simple, it compliments the tube sooooo well :D)
Now
on your canvas
Floodfill with your gradient
Now
Duplicate this floodfilled layer to total 3
Then
on the bottom one - Xero Graphics - Soft Vignette on these settings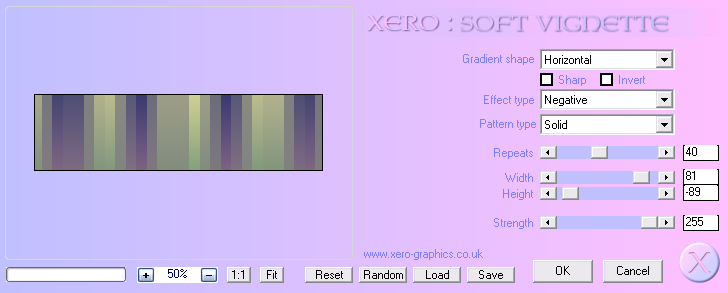 (If you don't want the complimenting colour - take your setting which is on Negative
and change to one that you prefer)
On the middle floodfilled layer
change the top slider (Repeats) to 42
and on the top one
Change the top slider to 44
Now back to the bottom floodfilled layer
Xenofex 2 Constellation
On these settings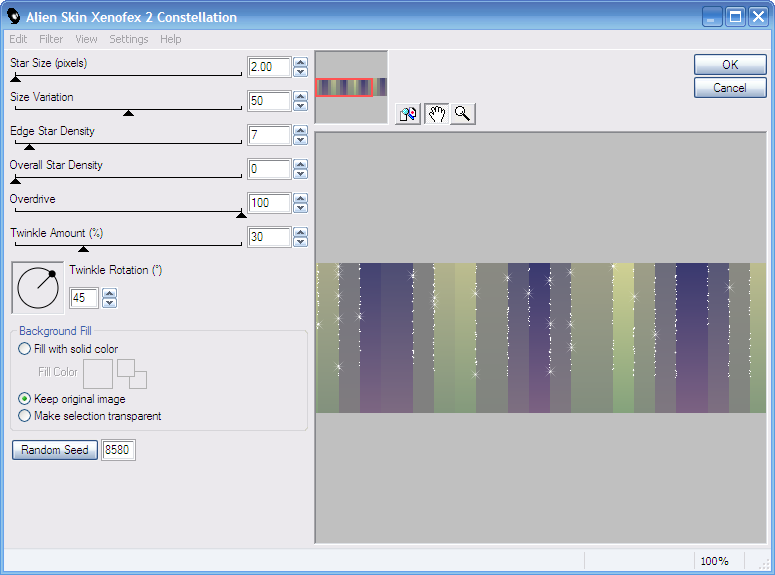 Apply to each of the floodfilled layers
changing the Random Seed each time
OK
So, as you can see - and I've nooooooooo idea why it does it, the Xeno hasn't applied
all the way down the Vignette effect
In fact - on my 2nd example, it applied top and bottom but not middle - gaaaaaaah! lol!!!
But it actually looked quite cool that way :D
SO, this next bit of the tut is for coverage (if you end up with the same Xeno placement as my first one)
or just for funzies (if your Xeno applied well and you like the result)
Right...
Take your Selection Freehand tool (sometimes called the Lasso tool?)

It should be in your Selection Tool bit in PSP
Right - for the settings - change to Point to Point
Mode Add, Feather 0, Smoothing 0 and Anti Alias ticked
Now - on the left side of the canvas
Click on the canvas (left click)and taking your selection tool, draw out
in zig zag style, a selection to cover the bottom points of the Constellation effect.
When you get to the right hand side of the canvas
go down and back along the bottom then up to meet the start point (right click)
Make sure you're up to and/or pretty close to the side edges of the canvas
Oh I've probably not explained that bit very well, it's something I do without thinking...er...
well hopefully you've got a selection now that is ziggy zaggy along the top edge and smooth along the
bottom! See my tag to see what I mean...
IF you really can't do this, then perhaps
try just a Rectangle selection instead (I did this for my 2nd example) but give it a go if you can xx
Then...
Selections, Modify, Expand by 2 (or more, you want the Selection over the side and bottom edge
of the tag canvas)
Add a new Layer above the Floodfilled ones
And floodfill with your gradient again
Selections, Modify, Feather by 2, Selections Invert
and hit Delete a couple of times on the floodfilled layer
then

Selections None
Now either use Filters Unlimited 2 if you have it on the Paper Textures
and use Canvas Coarse on Intensity 25 or thereabouts
If you haven't got it - just use a favourite Texture from PSP or similar plug in
Apply
Now
Optional - apply Gradient Glow to the ziggy layer
and then finally
Dropshadow
use this shadow
-6
4
21
7.92
Black
Right, remember our tube lol!
Copy
Paste
Place on the canvas where it looks best
I've gone for left side
Apply a dropshadow of choice
Now
You can have it in front or behind our ziggy layer - it's up to you.
You can also duplicate the tube - place below the ziggy layer
and change the Blend Opacity to Soft Light or similar, but this is optional
Now, for finishing touches...
Some flowers perhaps? Or as you can see with my 3rd example, I went with the tube theme using
Monti's Baseball kit.
Anyway, choose your bits then
Resize reasonably small and place above and below the ziggy layer - see my tag for ref.
Don't overshadow what you've already done...hard work has gone into this tag of yours :)
I used some flowers that came with PSP (or I got them free from the Corel site - can't remember!)
Anyway add your finishing touches - perhaps a bow behind the ziggy layer?
or some favourite Wordart? Wordart is handy if you get a top and bottom Xeno placement
You can add your phrase along the bit that has none :D
Go creative!
OK
Once done - and v.important - Crop the canvas to it's size using

Snap Crop Rectangle to: Merged Opaque in the Crop Tool section
Crop (the canvas size will be the same)
and finally
Layers, New Raster Layer above all the others
Selections, Select All
Selections, Modify, Contract by 2
Selections Invert
Floodfill Black
Select All
Selections, Modify, Contract by 1
Selections Invert
Floodfill White
Selections None
and apply a 0, 0, 35, 7.00 Black shadow to this frame layer
Note: If you had a nightmare with your selection, make your frame layer Contractions larger (ie. 3 or 4 or more)
to compensate for any missing ziggy layer fill you may have on the sides - but you should be fine as long as you expanded
the ziggy selection before you floodfilled it.
Add your artist info
and
Finally - your name!
You may - like me - need to fiddle with various fonts 'til you
find the one you like for this - I used Futurist Fixed Width for my first go
(a font suggested many moons ago by the truly fabulous Tyleress and I still love it hehe xx)
Now
For animation, choose your method :D
You can either animate the usual way for a 3 layered animation
(see my How to Page if unsure)
Have your Frame Properties fairly low - so the animation is quite fast.
About 33 or thereabouts.
OR
You can animate using my Forum Style method of Insert Image Transition
Follow the method from either Forum Style II and III - they're both fade animating tuts.
Anyway, it's up to you :) Remember though, the more stuff, colours and frames you've got
going on in your tag, the higher the file kbs will be
My 2nd example came in at 514kbs!
This example used a Rectangle selection...but I went for the Image Transition animation method

and this one used the ziggy selection as before, but with a plain 3 layered animation set at 33
Anyway, that's it - Forum Style IV, hope you enjoy
Thanks for looking
and have fun xx
This tutorial was written on 5th May 2009 by Vix
It is a tutorial based on a tag of my own design and
any potential similarities to other tag tutorials that
may be available is wholly unintended and completely coincidental.
Any items supplied to use to create your own tag with this tutorial are supplied
in good faith - if I have used something not intended
for usage in this way, please contact me via email.
Any items created by me for the purposes of this tutorial MAY NOT be used in
any other tag tutorials.
Links to tube/scrap blogs or sites are added either through necessity or creator courtesy
and it is entirely up to the individual if they choose to visit these sites and download or purchase from them.
Scraps used in my tutorials that I've obtained from PTU scrap kits are NOT supplied
in my tutorials supplies.
This website is intended for educational/entertainment purposes only
NO linking to my tut examples, screen shots, files or graphics permitted
All of my tutorials are registered with TWI