DISCERNING
PALETTE
SUPPLIES NEEDED
Tube of Choice - a computer girl would be a good choice for this tut.
I used the delicious artwork of Rion Vernon
His artwork is available for PSP licensed usage via CILM
HERE
My Supplies
(Please do not use these as supplies for other tag tutorials, thank you xx)
Filters needed for this tutorial
Mura's Meisters - Copies
Toadies - What are You?
Eye Candy 4 HSB Noise
Gradient Glow (either 4 or 5)
_______________________
Open a New Image 600 x 600 White Background
(Yep this tag is biiiiig and there's no room for cropping
at the end so either start smaller if wished although remember
to resize the elements more lol! - or resize at the end before animating)
Open the Materials Palette pic I've provided
(you may want to change the selected colours on the pic to
2 from your own tag - you could click inside the boxes with magic
wand set on 20 tolerance, add new layers
and floodfill with colours of choice - once done, merge and copy and paste onto canvas)
Place the Materials palette in the centre of the canvas
Add a Gradient Glow with the following settings using either a dark or light
colour from your tube as the colour glow - whichever you'd prefer
Apply it again
Now add a subtle dropshadow
Open the Toolbar Palette and copy
and paste as a New layer
Duplicate and hide the original
Highlight the duplicate layer , Resize 80% Smartsize
Apply the gradient glow to this resized one
Apply it just once though
And now resize two times more (again by 80%)
Adjust, Sharpness, Sharpen
Place in centre of tag over the Materials Palette (for the moment)
Now apply Mura Meister Copies on the following settings -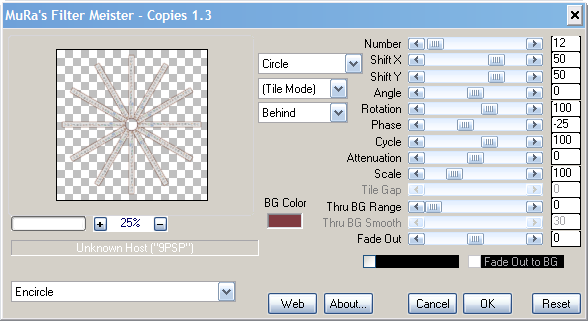 And move this layer below the Materials palette layer
Duplicate and on the original layer we're going to add Toadies
Change the two colour boxes in your real Materials palette to white
and apply the Toadies What are You?
changing the top two (X-Dose and Y-Dose) sliders to 10
On the duplicated Mura's layer, apply the same subtle dropshadow
as before
Unhide the orignal large Toolbar Palette
Place to the left of the tag canvas
(see my tag for reference)
Apply the Gradient Glow again
(just once)
Duplicate this layer
and move it over to the right
(Don't mirror is as it won't look right)
Now, you have a choice - you can either
erase the parts of the toadies layer and
mura's layer that are sticking out behind the two
large toolbars - or you can leave it as it is.
I did one with erase and one without so you can see both.
I've also provided a Font Text Toolbar
which if you've got a choppy tube like I used for the first one
you can use it to cover the straight edge
(just copy and paste - resize 80% - sharpen and apply glow and shadow as before)
Now to add the background text
Use a pixel/bitmap/computer font of your choice
using a lightish colour from the tag/tube

Type out a word or phrase related to the tag
(I used I love PSP for one and Computer Girl on the other)
Apply the Mura Meister Copies filter but this time
set to Tiling and change the Tile Gap to 3
Apply
Take your Selection tool set on Rectangle
Draw out a rectangle and make the edges meet either outside edge of the large toolbars
Selections, Invert
and Delete the excess wording
Move this word layer down to just above the white background
and underneath the toadies layer
You can take your eraser on a large subtle opacity setting if
liked and softly erase some of the outside of the words if liked
You could also add a mask if prefered
Apply a very subtle shadow to this word layer
I used 0, 0, 30, 5
or you may prefer no shadow - your choice
Now duplicate this word layer twice
and apply the HBS Noise filter on the following settings -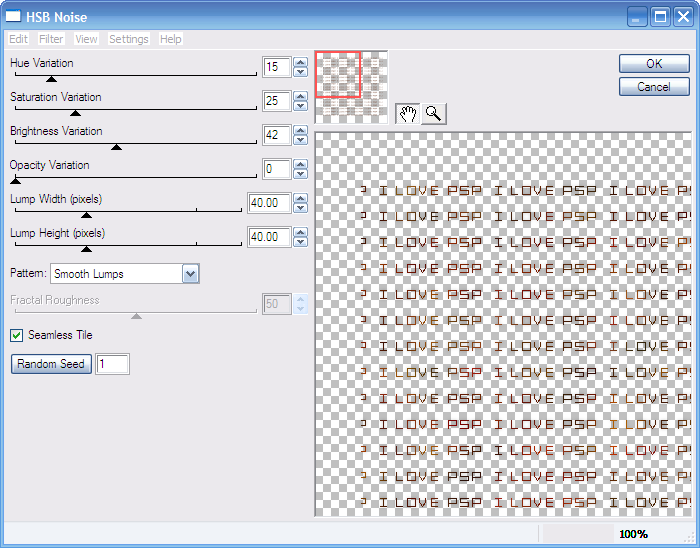 Apply to the other two layers
but hit Random Seed a couple times each time
before applying
Add the small hearts layer if liked - recolour if needed, duplicate as
many times
and apply where liked
Once happy with placement - merge the heart layers and add shadow
Now add your name in a font of choice
using the dark colour from your tube
Apply the gradient glow to this text layer
but change the outer colour to a lighter one from your tag/tube
Add a favourite shadow to the name.
Add copyright info etc.
Add bows or other scraps if wished
Ready to Animate?
Animate the usual way for a 3 layered animated tag
Very Important bit - make sure you
hit Edit, Select All, Animation Properties, Opaque
and choose White otherwise you may end up
with a coloured edged background as opposed to
a white background tag.
(yep, I know we've already added a white background in PSP, but believe
me this simple step in Ani Shop makes a lot of difference)
Change the Frame Properties to 25 or slower
That's it xx
Thanks for looking and I hope you enjoy this tut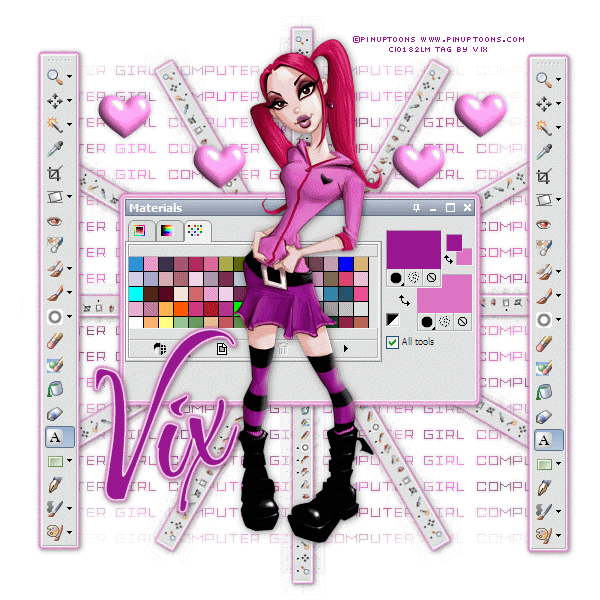 This tutorial was written on 8th September 2007 by Vix
It is a tutorial based on a tag I made for a Tube Challenge in my favourite forum
and is a tutorial of my own design
Any potential similarity to other tag tutorials that may be available
is wholly coincidental and completely unintentional.