Hello, everyone.
Introduction
With elections coming up (literally on the day of this post) and me running as Vice President, I've been a bit preoccupied. There's the technical side since I've been setting up the ballots (and masterfully rigging it so that I win, but if everyone would ignore the cell that says "=IF(NOIFSJUSTLETCAVEWINALLPOSITIONS,ANDALSOHEISGODFROMNOWON)" that'd be great), the algorithms, the aesthetics, and the notifying. There's the political side as well. You'd think that all of that would take up all my time.
However, I've also been working on this website. How? Well, it's a mix of a lot of things that I think this site stands for. Hard work, dedication, not having a life, and actually being nerdy enough to enjoy this. You see, when I chose to be Webmaster as a position initially, I wanted to change this website and make it look prettier. Here's how the website looked from 2007-2015: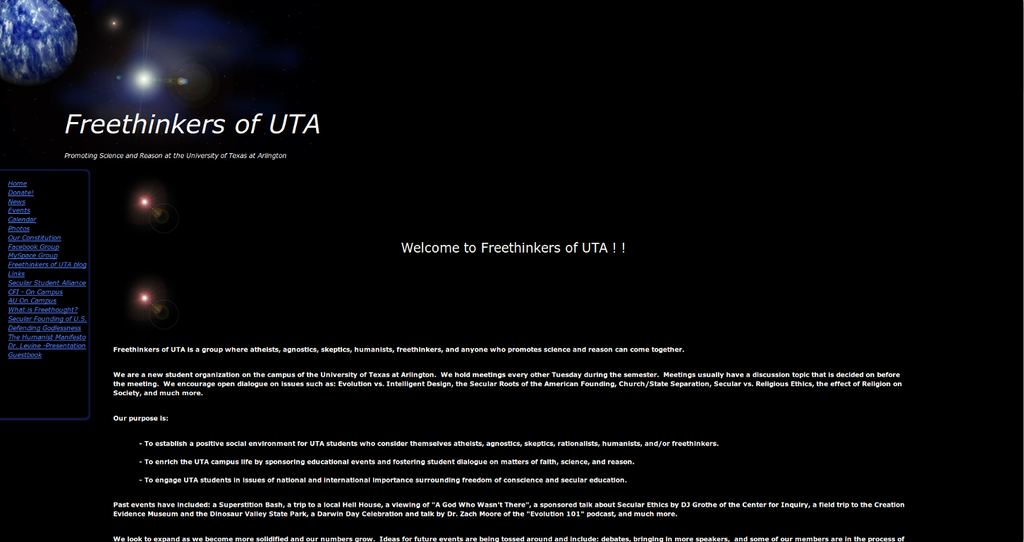 I get the feeling that there was a space theme being aimed for, but it's just a hunch.
There...are a lot of problems there. Some noticeable to the unexperienced eye, many more to the eye of someone who is an actual Webmaster. Let me list them and detail them.
PROBLEMS WITH THE SITE WE HAD BEFORE
2007-2015
Black background, white text



This is avoided by webmasters. This is avoided by graphic designers. This is avoided by artists. Why? Is it just arbitrary? Why is this such a bad thing to do? Is it just arbitrary, like many other standards that we have? The way we dress, the way we sit...
Nope. There's a good, non-arbitrary freaking reason for this.
However, most studies have shown that dark characters on a light background are superior to light characters on a dark background (when the refresh rate is fairly high). For example, Bauer and Cavonius (1980) found that participants were 26% more accurate in reading text when they read it with dark characters on a light background.

Reference: Bauer, D., & Cavonius, C., R. (1980). Improving the legibility of visual display units through contrast reversal. In E. Grandjean, E. Vigliani (Eds.), Ergonomic Aspects of Visual Display Terminals (pp. 137-142). London: Taylor & Francis


In short, it makes it so you can't read right and you basically hallucinate and we have a policy against drugs, and also IT HURTS. AAAAAHHHH.
 So...much...random Sans Serif Italics...



Ew. I don't have references to back up my ew other than me, but ewy. Italics deserve serifs.
No sitemap!



A sitemap is what interweb spiders use to help navigate around the website to the most important links without having to use the navigation bar or the search engine. It helps search engines see their way around so that search engines can be more helpful. If you want to know whether or not a website is professional, check for a sitemap. No sitemap? This person may not have hired a professional.
No blog! Madness! Madness, I say!



I had to start one! Heathens before me! Heathen!
Ranked lower on search engines! Seriously!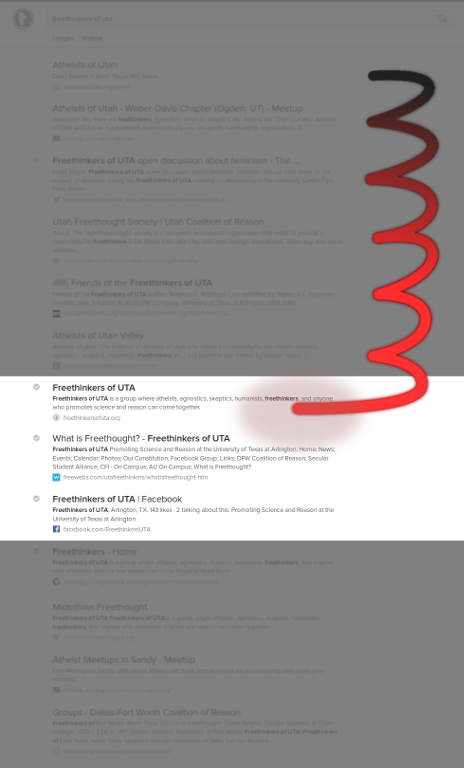 Utah worst, Utah. Stealing our spot!
Generally just a lot of bad taboos and webmaster no-nos.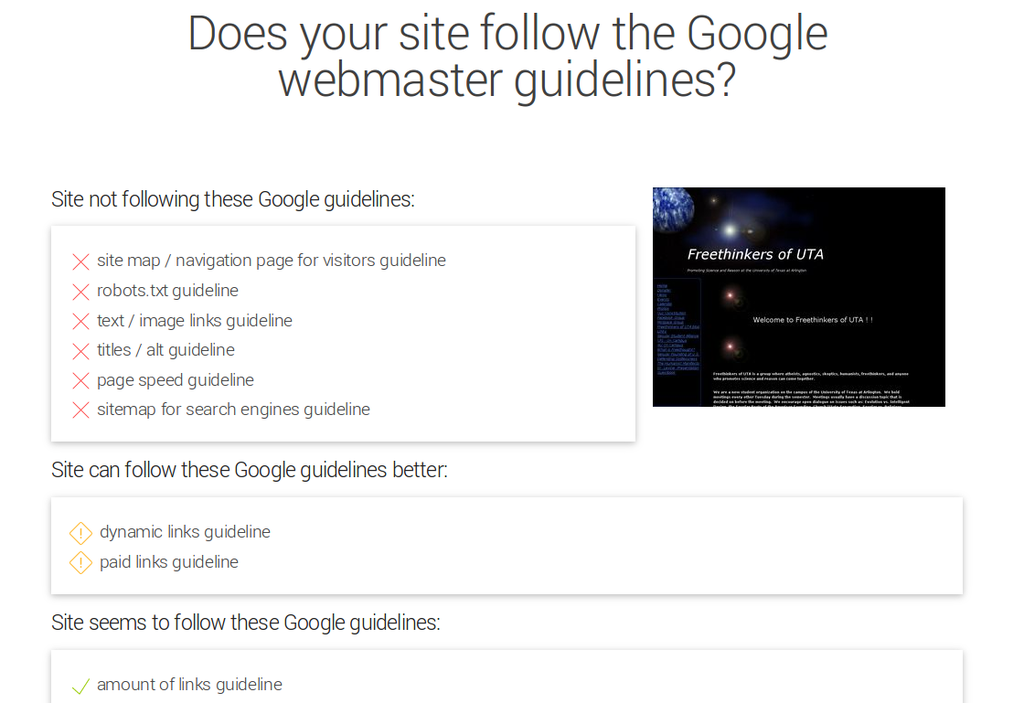 Eh, we got one, good enough for me!
In case you didn't see that, that was a LOT of no-nos. So, this new design? Well, admittedly, I've never taken a webmastering class in my life, but I am very persistent on perfection and always nag it so it can come visit the family for Christmas. Even though I hate Christmas. Meaning perfection would die if it came. I'm a stone-cold killer. Take that, perfection. Of course, it was never alive to begin with, but whatever, I'm pro-choice.



So, what did I do? Here's my version of the website.
THE PERFECT DESIGN OF ANYTHING EVER
2015-???
It looks really, really freaking nice. Like, you could probably burn its house down and it would apologize to YOU, and then buy you a new house to make up for you burning down its house. That's how nice it is. Just, look at that.



Ha, gotcha. Doesn't actually look all that outstanding or special. But it's practical.
You can get to the info you want faster now, it doesn't hurt the eyes, it's not light text on strong contrast dark background. The fontfaces aren't too bold or too boring (by much), and there's a blog!
Oh, and guess where the website is ranked now when you look up "Freethinkers of UTA?"



You actually get to our website WHEN YOU LOOK UP OUR WEBSITE. So, hooray! That's all I needed, honestly. Hashtag goals.
And all those no-nos? Hehehe, let's just say I "took care of 'em" and you won't be hearin' from them anymore, boss.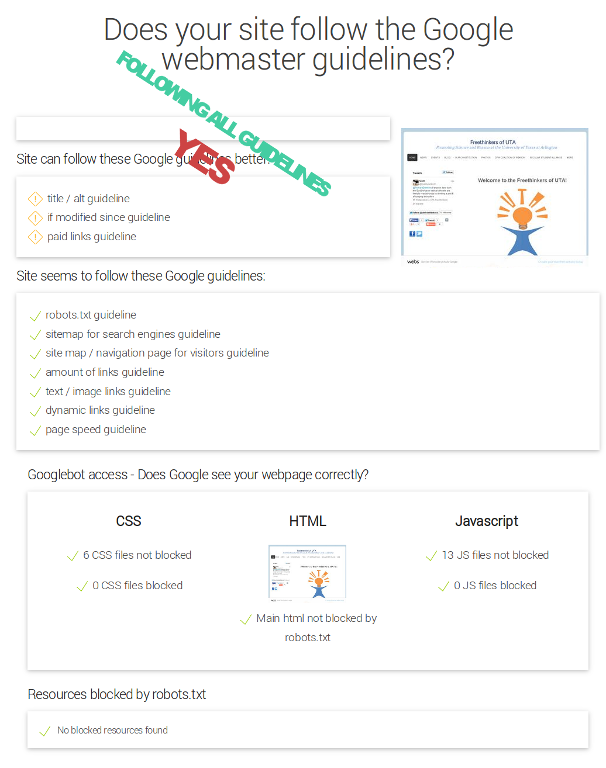 But it doesn't follow the if modified since guideline! Man, this website is worse than the last one!
MUAHAHAHAHAHAHAHAHAHAHAHAHA
Just to give you a taste of what the horror movie I'm making for 2015 will look like.

Oh, and the best thing? You know it. Oh, come on, yes you do. That's right. We have a blog now. You can check it out here! Well, that's me making this website perfect. I hope you enjoyed.



Oh, and also, I socialized the website so it's connected to Facebook and stuff and I used Pagemodo to make that even better, just a small thing.
So, basically, I'm awesome. If you read nothing else, remember that.
Here's a quick list:
Previous site:
Poor background choice
Poor fontface choice
No sitemap
No blog
Search engines avoided it and buried it
Broke a lot of standards that were there for a reason
New website!
(Somewhat) better background choice!
Slightly better fonts!
Sitemap!
BLOG! BLAAAAAG!
Search engines love us. And me. They love me so much.
Fits webmastering standards! (:
Alright, I don't think that was all that bad for the first blog post. I mean, it could use a lot of work, but it's not horrible! Or at least not atrocious. Okay, it's not a tragedy.
You know what, I don't need your negativity. Go to another blog!
Signing out,
Cave Intee Forwin
Webmaster - Freethinkers of UTA Spring 2015