90's Girls Problems Twitter Account Revealed -- 10/25/11
Why do I love this Twitter account like I loved JTT (Jonathan Taylor Thomas)? Because it completely sums up my childhood. Every single tweet I read makes me laugh because I either was "that kid" or I knew "that kid." I'm not sure who runs this Twitter account (my instincts point to Aunt Becky, Mark Summers or Lori Beth Denberg....), but whoever it is, they are brilliant and must have lived the 90's exactly like me. Much like Kristen with her "Jay Bilas Goes To Work" posts, I will attempt to pick out a Tweet each day and analyze/elaborate on the information for some of you younger and older readers who may not understand. Saddle up your My Little Ponies and enjoy the ride!
Tweet #2:
@90sGirlProblem: My dog doesn't even sit when I tell it to and Tommy Pickles is able to ride Spike around all over his house.
We all remember that spunky little gang of diaper doters, the Rugrats...
But the more important content of this 90's Girl Problems Tweet is the inclusion of Tommy Pickles' faithful pup, Spike. Spike was miraculously able to carry the pint-size Pickles on his back (though, to be fair, chances are good that Spike has a chiropractor on speed-dial in his old age) through all of his adventures.
Many of us grew up with pets that accompanied us through our childhood. These pets have it harder than any other animal if you ask me...children have no concept that pulling a dog's ear as hard as you can or putting it in a laundry basket--tying a rope to the basket and trying to pull it up to the top bunk like Rapunzel (sorry Cookie, I think you just had a weak stomach, RIP-- sidenote: did not die from Rapunzel incident). Our childhood pets put up with a lot. The cartoon and television characters of the 90's were no different. So many of them had furry sidekicks as well. Today, I aim to pay tribute to some of these 4-legged troopers.
"Pork Chop" from Doug
Pork Chop takes the award for "best name" of any of the 90's television shows. In fact, I am not at all sure why I have never given a dog of mine the name Pork Chop. I'm also not sure why I don't know any Pork Chop dogs out there. Children of the 90's....we have failed! Sometimes I wonder what little P-Chop is up to now. He's probably somewhere "bangin' on a trashcan, drummin' on a street light...."
"Spunky" from Rocko's Modern Life 
I'm still a little confused as to what kind of animal Rocko is himself... I'll be honest, the whole show in general was a little out of my realm of interest. But I do remember Spunky, Rocko's demented looking dog. Spunky's legs just don't make sense. I mean, just look at them. They are turned wrong-side up. I can't say that I'm terribly surprised that my modern life in 2011 resembles nothing from this television show. And I'm glad my dog is nothing like Spunky either. No offense. 
"Comet" from Full House
Look at that face. Comet was the trooper of all troopers. I loved the show Full House, but let's be honest when looking back--can you think of a show with as many obnoxious characters as Full House? Comet had to deal with Danny Tanner (Bob Saget....who knows what kind of creepy things he said to Comet followed by "The Aristocrats"), Uncle Joey and that damn woodchuck hand puppet, Michelle Tanner (cute, but c'mon...kinda annoying), DJ Tanner, Stephanie Tanner (just look at  her track record the past 10-12 years...yikes) and who can forget THE Kimmy Gibbler. I repeat, poor Comet.  
I will say that the episode in which Comet had a birthday party with a bunch of the neighborhood dogs was one of the cutest things I've ever seen...But still, Uncle Joey?...Woody? Poor, poor, poor Comet. 
"Happy" from 7th Heaven
Let's be honest, besides being the most patriotic on the show, Happy (playing himself) probably had the most acting talent of anyone on the show too. I always wondered how Happy was able to stomach the judgmental 7th Heaven parents (both of whom, despite being the two-headed monster of an extremely religious family, seemed to face more familial issues than any family I've ever known). I also always wondered how and why he deserved his own shoutout at the end of the credits. But hey, more power to ya Happy. Go America. 
"Marcel" from Friends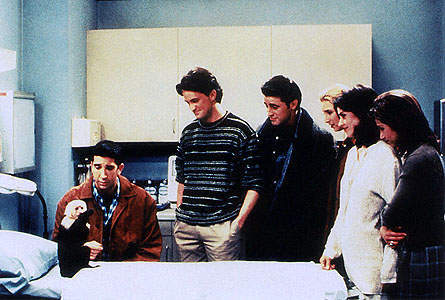 While obviously Marcel is not a dog like most of the other pets we have paid tribute to thus far, Marcel was a pretty bad ass little monkey. The fact that Ross had a monkey at all was pure comedy, but who can forget the episode when Marcel had to be taken to the vet because he swallowed the scrabble pieces? And apparently he swallowed an "M" "N"  and "K" ...leading Ross to speculate that he had been trying to spell Monkey. Naturally. 
Sidenote: Joey & Chandler almost got a mention here for their duck and chick combo. The Chick's name? Yasmine, as in Yasmine Bleeth from Baywatch. 
"Buck" from Married with Children
All I have to say about Buck is that he allowed his owner to pet him after hours and hours of relaxing on the couch with his hand in his pants. That's a faithful dog. 
"Smelly Cat" from Friends....
The video says it all...
Not familiar with all of these beloved 90's pets? Like the song above says, "it's not your fault." Actually, it is. Catch up on your 90's television, or at least your 90's Girl Problem Tweets. Until next time...
**EDITOR'S NOTE: It was brought to my attention that I forgot one CRUCIAL pet from the 90s.....
Binya Binya Pollywog.....duh