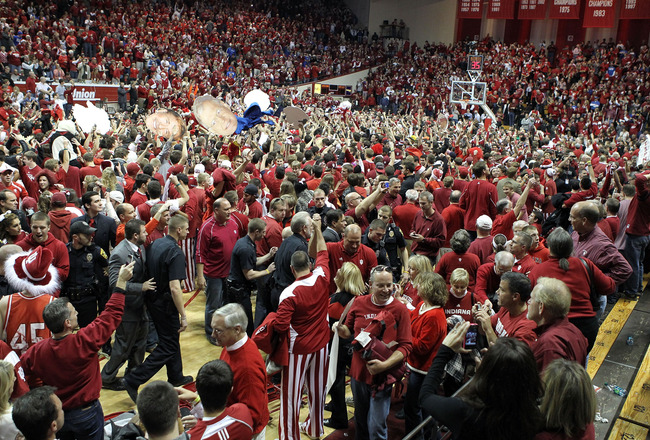 Well, in true Tucker's Tales fashion, we went out and found another Kentucky fan who was at the game on Saturday and had an
EVEN WORSE
 tale to tell about her experience on Saturday.... She wanted to use Tucker's Tales as a medium to share her story with the world....
Some of you may know Penelope, from the popular Saturday Night Live skits on NBC. 
(In case the video doesn't work...just know that Penelope is THE BIGGEST "ONE-UPPER" of all time. If you adopted a puppy from the Humane Society, she adopted 30 and neutered them all by herself. If you ate an entire box of Oreos in one sitting, she ate an entire box of Double Stuffed Oreos, while lighting a Menorah. 
Penelope's sister, Janellope, is the fan who has decided to stop by. The two have much in common....
Dear Tucker's Tales,
Allow me to preface by saying I visited Bloomington countless times as a
UK student. I mean literally thousands of times. I actually had a dorm room, a suite rather, on Indiana's campus in addition to my dorm room on Kentucky's campus. I found IU to be a beautiful campus. Naturally, when I bought out the entire arena and then sold the tickets individually to everyone who attended the game, I was pumped to go back!
We arrived in town around 12:30 p.m. on our private jet and had a valet park our car at Kilroy's, a pretty standard college bar. Walking past the first storefront a college kid opened the door and offered us this warm welcome...
"You're going to have your brand new puppy run over multiple times for wearing that blue."
We laughed it off and kept walking to Nick's, the alumni bar and pizza joint that is loaded with Indiana regalia and lore. Within 3 minutes of walking into the bar, all kinds of awful things happened to us. One man with an eye patch pistol whipped me 4 times in the head. 
Another small woman dumped a bag of what I thought was confetti into my hair. As it turns out, she was dumping a bag of lice on me. 
A man who appeared to be in cahoots with the lice lady then pulled out a bottle of "Rid" to help remove the lice, shook it in my face as if he was going to hand it to me, then dumped it out on the floor while simultaneously breaking a comb over his knee. 
Then 5 IU fans clamoring over a pizza started chanting the following two things at me, in rotation: "F*CK KENTUCKY!" "The lice go marching 1 by 1, hoorah, hoorah! The lice go marching 1 by 1 hoorah, hoorah!"
Then an IU fan pushing a stroller handed me her crying baby to hold while she pretended to shoot an invisible gun at another IU fan mockingly doing the John Wall dance. 
We finally made our way though the crowd to find an empty seat and order our pizza. We sat uninterrupted for all of 10 minutes before the next wave of crazy Indiana fans made their way over to our table, one by one. 
The first IU fan to approach me was holding this sign and told me that he just stuck 419 Maxi-Pads on my car windshield. 
Next up, the bartender came racing over, with a frantic look on his face. He was holding a cordless phone and said, "quick, quick! It's urgent! You have a phone call. It's your Mother. She's fallen ill and they don't think she's going to make it." I panicked and nearly began crying when he handed me the phone. I shouted nervously, "Hello?! Hello?! Mother?" I was met with the automated "on hold" music and advertisement from Insight Cable Company, and a snicker from the bartender who grabbed the phone as he realized I had caught on to his joke and yelled "PSYCHEEEEE!" while dropping a dirty hand towel in my beer. 
Over the course of our meal, 11 out of every 10 IU fans came by our table and passed gas as close to our pizza as possible. Needless to say,
we couldn't fathom the abuse we were taking. 
The game itself was even worse. We had what should have been very good seats but 2 minutes into the game, a man "conveniently switched seats" with the child sitting in front of me so that I could no longer see the game. The man who sat in front of me was this guy: 
I finally found a small window between him and the short woman next to him (also pictured above) so that I could see the game. Not a minute later and the lady switched seats
and once again I could not see because of THIS GUY sitting in front of me:
Come to find out after the game that he was not actually even alive when they brought him out to sit in front of me. In fact, they had brought him back, "Weekend at Bernie" style just so he could obstruct my view of the game since I was a Kentucky fan (I thought that I smelled something funny but assumed it was just the baby next to me whose mother insisted on putting his dirty diapers right under my seat). 
I won't even get into mess that was made of my shins when the fans stormed the court. The man who must have been the 93rd person in a row to run by and kick me as hard as he could in the shin, proclaimed that it was an "old Hoosier tradition." Turns out that kicking the opposing fan in the shin, cutting a section of their hair with scissors, pouring your entire beer and a small wine cooler (mini-hotel fridge style) on their head, handing them used tissues, Tebowing them every time Kentucky scored, throwing live kittens in their laps during timeouts, etc. are not in fact "old Hoosier traditions" after all. I felt so duped. 
By the time I finally settled into my car, after many other absurd gestures of hate were bestowed upon me (That thanks to genetic testing they heard that Beyonce & Jay-Z's child was going to be born mute, I was actually adopted, my brother was actually responsible for 9/11, my daughter was just recently cast for 16 & Pregnant, Enes Kanter was ruled ineligible for the NBA, etc), I was just ready to get home. 
I have enjoyed many Kentucky basketball games on the road, previous Indiana games included...but this is one Cats fan that will
never
 make that trip again. 
Thanks for taking the time to listen to my story. It was a miserable day, to say the least. 
-Janellope.