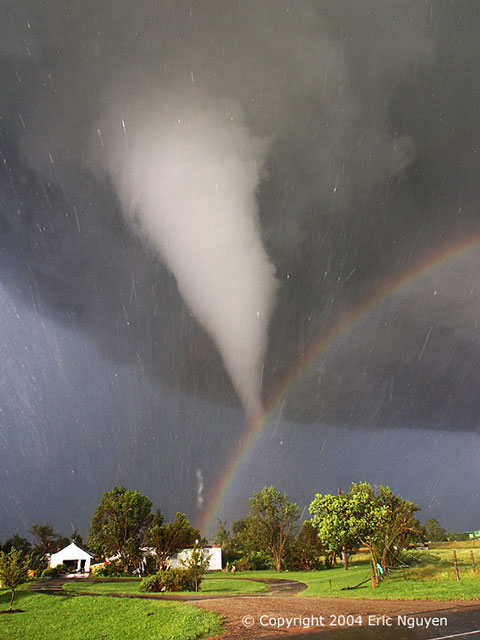 How magical is this? There has to be a Wizard of Oz joke in here somewhere.
Unless you're Ally Tucker and live under a rock, you've been aware that Lexington is in the mist of a tornado season. Or as our girl Mary Jo Perino so concisely tweeted, "Has Bill Meck slept?" 
Personally, I think it's a whole lot of fuss about nothing (unless you live in Nonesuch, where barn roofs are ripped off- maybe that's not the safest haven for the apocalypse anymore, Layson). As one of my Facebook friends wrote, "Remember the good ol' days when a thunderstorm was just a thunderstorm? And Tornado Warnings were only issued when a tornado was spotted on the ground? And people could sleep?" 
However, I still dutifully follow when we are herded into the dungeons of Forrer for forty-five minutes with nothing but our out-of-service-phones and the smell of dead fish to keep us occupied. Better safe than sorry, eh?
Not an unrealistic portrayal of Forrer's basement. 
It got me thinking though- in case I ever have to be down there for more than a relatively short period of time, maybe I should make some sort of kit I can easily grab that will prepare me and keep me amused if tragedy strikes Lexington. Here's my list of essentials- I chose things that can easily be stored in a shoebox for convenience and portability. 
1. Large jar of peanut butter
Sized to scale.
I could eat peanut butter for days. Plus (and I could be completely wrong here, Mom), I feel like it gives you a lot of calories without eating all that much. So it would last you awhile and keep you pretty full.
I offer one minor technological adjustment. Ally Tucker and I thought of this, and- as has happened MANY times (pizza cupcakes, le sigh)- were dismayed to find out someone has already invented it.
But I digress. The point is, get a peanut butter jar that opens from BOTH ends for scooping ease. Just because you're hiding from a tornado doesn't mean you can eat peanut butter messily. Standards, people. 
2. Some sort of trivia cards
Damn straight He did.
This is something in my tornado kit that you can personalize. I'm of the mindset that whenever I'm playing a board game, I usually don't really give a crap about actually moving my piece around the trail. Instead, I'd rather just have someone ask me the trivia questions to see if I know the answers. I personally would take the cards from my Friends trivia game, but other good options include LOADED QUESTIONS (best game ever- remember that game night, Tucker? Again soon please), Trivial Pursuit, Would You Rather?, whatever you like.
Some people may suggest that you download these apps to your Smart Phone. That's fine, but keep in mind that you may be without a power source, and running your battery down to play games may not be the best idea. However, I would like to give a shout out here to Elizabeth Schmitt, aka Schmitty. Without her "Truth or Dare" app on her phone this morning, those 45 minutes would have crawled by a lot more slowly. Best feature? The "Make It Dirty" option, which gave us scintillating dares such as "Blow gently into Pasco's ear."
Don't have to dare me twice.
3. iPod with portable speakers
(that look like a pig, if possible)
After you've fully exhausted your trivia cards, mental games, and all other ways to pass the time, chances are you need to let out a little steam. Here's where the dance party comes in.
In my opinion, the best and most legitimate dance parties take place underground anyway (literally and figuratively), so you might as well take advantage of the situation and dance it out. Maybe it'll be so awesome that people will eventually refer to it as "The Tornado Rave of 2011." That'd be really cool!
Plus, you need some exercise anyway. No one wants to be undergoing a tornado warning AND be fat at the same time. 
Also, the phrase "Music has charms to soothe the savage beast" has some relevance here. When people start to panic and tensions run high, as they inevitably will, put on a calming playlist (perhaps some Enya?) and let the notes work their magic.
Both practical (help you see in the dark in case lights go out) and playful (see the above "dance party" suggestions). Again, save them until you really need them. Go classy (as pictured above) or sassy! (term chosen especially for Brandon Daulton)
Side note- how awesome are these things?? I want someone to have a black light party so these accessories can be utilized.
5.
Lord of the Flies
by William Golding
In case you need to be prepared for the worst case scenario.
As I mentioned before, after the games, the rave, and the quasi-excitement of being under tornado warning, people will start to panic. This book can work one of two ways:
1. As a warning of what will happen when people's animalistic, survival instincts come out and a cautionary tale against losing the ability to reason logically
Or...
2. A guide of how to start your own tribe and gain a mass following, under the motto "Only the strong survive."
Will you use you book for good or evil? Your choice. 
What would you most want in your tornado survival kit?