As a lifelong UK fan, I can tell you firsthand that it is not for the faint of heart. Don't sign up for the Big Blue Nation unless you can handle the moments of pure glee that makes your heart explode as well as the deep, dark depression that makes you turn the lights off and put Johnny Cash's "Hurt" on repeat. Don't act like you haven't been there.
This season has had more drama than I can remember from recent years. And I'm talking all kinds of drama too- Enes Kanter's new role as student assistant coach, Josh Harrellson's pants, comparisons from last year's team, NCAA being idiotic in general, not to mention all the actual excitement and drama happening in the actual games. With lots of fans writing the team off midseason as "The Unclutchables," somehow Jorts and corps turned the team around and decided to live up to their introduction song of "All We Do Is Win." It's one of the better storylines in contemporary college basketball .
With that said, I can honestly pinpoint this as in my top two favorite seasons to be a UK fan, ever (between this one and the team that ran the table in the SEC in 2003). I don't think I've ever loved UK basketball as much as I have during this postseason. Honestly, I'm thankful that I get to be in Lexington for all this madness. And yes, madness is the exact appropriate term here. 
Layson and I are in here... somewhere. Promise. 
So, I offer readers my attempt at a David Letterman Top Ten List. Top Twelve Reasons to Love Being A Kentucky Wildcat Fan in Lexington in March... not as catchy a title as I would like but I'm new at this.
12. My mom emails me to share poems about Kentucky. Twice in one day. Two separate poems. To be posted at a later date. 

11.  Taking my pre-UNC game nervous energy and channeling it into a thirty minute run with "All I Do Is Win" playing on repeat. Ran past Tin Roof three hours before game time and realizing it's already PACKED with Cats fans. 
10. There is a golden retriever in Tin Roof, casually watching the game. But it's wearing a UK bandana so no one bats an eye.
Proposal for the millionth movie in the series: "Air Jorts"
9. Anyone watching the game is either drinking a beer or a "Big Cuz"- I'm not sure what exactly is in the massive, 32 ounce sugary blue drank, but I can tell you it is probably more dangerous than playing Josh Harrellson in dodgeball.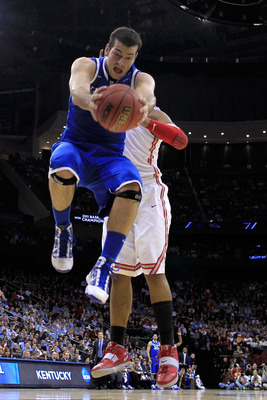 That replay will NEVER get old.
8. Chanting "JORTS JORTS JORTS JORTS" is a really easy, catchy cheer that is always loved by the crowd. Jorts can also be substituted into a variety of songs- that Ole soccer song, the opening to Eye of the Tiger, the "shots shots shots sh-sh-shots EVERYBODY" song. Props to Brandon Daulton for one of my favorite facebook statuses ever- "Salute Your Jorts." 
7. Turning on SportsCenter and seeing commentators loving on UK, subsequently being thrilled that we are finally getting the recognition we think we deserve.
None more so than this guy,
6. Turning my Dougie into a variation of the John Wall dance. Completely not caring that John Wall doesn't play for us anymore. 
5. Refreshing KSR at least a dozen times a day. Feeling my heart swell with pride at all the celebration photos and gushing posts/comments. None more so than this picture:
Or maybe this one. I can't decide.
4. The celebratory beer shower at final buzzer. I can't even try to act annoyed at being able to squeeze beer out of my hair. 
3. HIGH FIVES. There is nothing better than a solid, heartfelt high five between two strangers.
2. Driving down South Limestone the morning after UK makes it to the FInal Four and seeing the street littered with street sleeves. For those of you not in the know, the latest trend in UK Fan Celebration is to rip the shirt sleeves off a fellow fan. R.I.P. my UK2K t-shirt. 
1. Being able to wear a completely ridiculous outfit in public simply because it is your "lucky outfit" that you have worn for ever game prior to this one. Plus, jorts, cowboy boots, and a 1998 UK championship t-shirt in a Boys XL kind of looks good together (I have to say, I'm dying to bring out my UK starter jacket for the game Saturday, but I'm terrified because I've been using my UK blue raincoat thus far. Ultimate dilemma, input appreciated). 
Jorts for President. Knight for Prime Minister. Darius for Pope. Deandre for Poet Laureate. Lamb for Surgeon General. Polson for Fayette County Schools Superintendent. LEGGO CATS.