Hey guys! Before I get into blogging, I just wanted to say thanks to everyone who has been reading Ally and me on KSRCollege.com as well as downloading our Richmond Bramblett-produced podcast. We've had a lot of fun with each so far and we couldn't have scored these great gigs without you as fans!
On our podcast last night, Ally and I took turns interviewing each other with some wacky, yet revealing questions. Even after we had hung up on Skype and texted our goodnight emojis, I lay awake, thinking of other questions I wish we had asked each other. Some of my favorites revolved around songs and music that has been significant in our lives. Like, I wish I'd asked Ally what was the first song she'd ever slow-danced to. Or what song she wants played at her funeral. Or what her favorite Eminem song is (to get some constrasting perspective to the 50 Cent question).
A potential question I kept coming back to was "What song has changed your life?" There are a hundred serious, heartfelt answers to this question, but my honest answer is nowhere near that realm. 
Let me set the scene. It was September of my freshman year of high school. After nine years of private Catholic school and all the restrictions that accompany such a lifestyle, I was fully enjoying wearing sweatpants to school and eating pizza dipped in ranch for lunch every day (I shudder at the memory). 
In Lexington, and in my neighborhood specifically, THE event of the month in September is Oktoberfest. For one magical weekend, the Christ the King parking lot and playground are transformed into a veritable wonderland of carnival games, inflatable rides, face painting, and "Attic Treasures," aka a pretty shitty garage sale. I had enjoyed it immensely during middle school, and this year would be no exception.
After browsing the raffle items, winning absolutely no prizes, tackling a tricky inflatable obstacle course, and eating a hot dog, I left Oktoberfest with my friends Carden and Derek to head to Graeter's. (O! Graeter's! How I long for you) It was then that I heard it- the thumping bass, the gravelly "da dum, da da da da da dum," the abrupt train-conductor like whistle, and finally, those unforgettable words...
"Get Low" was the first time I had ever encountered the word crunk. It was the first time I had heard of the musical maven that is Lil Jon. It was the first time I had ever listened to a song that made me blush. Until then, my musical repetoire consisted of Backstreet Boys and BBMak. Upon hearing this song, I realized, "Oh my god. I'm a teenager now. I shall listen to crunk Southern hip hop and adopt it as my own." 
I think I heard my mother's wail from six blocks away.
Yes, readers, "Get Low" is the song that changed my life. It marked my entry into adolesence, into being a disheveled teenager without a care in the world, save the record of UK men's basketball (hey, some things never change). Moreso, it was probably the first rap song I ever listened to, and I haven't stopped since. Remember my persuasive speech that 2pac is still alive? Wouldn't have written it without Lil Jon. The Watch the Throne tour I went to last month? Wouldn't have cared if I hadn't heard "Get Low." My appreciation of the anthem "All I Do Is Win?" Wouldn't be so close to my heart if Lil Jon and Luda hadn't collaborated on Usher's "YEAH!"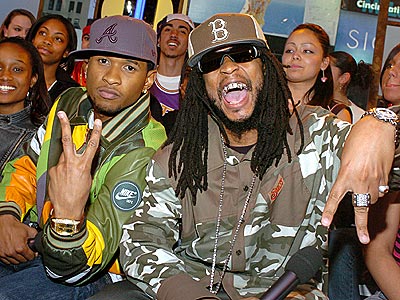 Although my tastes have changed over the years, I still find myself with an extra little wiggle in my step when "Get Low" comes on my Pandora station. I hit the thumbs up button, knowing that move will probably result in "Booty Wurk (Left Cheek Right Cheek)" playing immediately after. And I smile and silently thank Lil Jon for facilitating my journey into adulthood and enriching my life as a whole.
I bet that's a sentence you never thought you'd read.