Hey remember this face/name from Tucker's Tales Celebrity Survivor? (that went well, huh?)
Please welcome Cole Adams back to Tucker's Tales. She has dropped by to grace us with her first (hopefully of many) Guest Blog Entries. I have to be honest....this blog that she wrote might be the funniest thing I have read on here in a long time. Hats off to you, Cole. 
"Short Hair, Don't Care"
By Cole Adams
Like many 5 and 6-year old children, my parents signed me up for packball—commonly known as soccer for people who aren't tall enough to ride rollercoasters. My fond soccer memories include:
1. A kick directly to the face by a teammate which resulted in a bloody nose and my coach attempting to carry me off the field like a baby while I tried my best to squirm out of his arms. My nose was bleeding, but my legs still worked, jackass.



2. Eating oranges until I was ready to vomit.



3. My mom sitting in her plum with gold trim Chrysler Town & Country minivan drinking coffee and reading the paper. She was a child of the Cold War and soccer was not the sport of democracy.
Despite being 4 feet tall and weighing 36 pounds (do the math, that's not a pound per inch), I was brainwashed into switching from soccer to flag football as a tater tot . . . Clearly, football was a sport in which I had reasonable hopes for endorsements, a professional contract, or, at the very least, a scholarship.
As I got older, soccer meant one of two things. Option A was my conscription into service as a ball girl for Transy soccer games. Allegedly, the women's soccer and softball teams were "sister sports" at Transylvania and, as a member of the softball team, I was responsible for acting as ball girl at a few soccer games each season. I HATED it. Why? Because the soccer players were mean and yelled at me. Why? Because it was obvious I wanted to be day/evening drinking somewhere and was constantly out of position. A stationary wheelbarrow full of inflated soccer balls would have been more useful. Option B was that I was attending a Transy soccer game as a fan. In turn, that meant either I had been daydrinking or I had been daydrinking and needed an excuse to put on facepaint.
Unfortunately, between my youth soccer experience and college soccer experience, I was the stereotypical American soccer fan. For instance, I cared just enough about soccer during World Cup years to skip class/work and meet people at a bar in the morning to watch soccer/be a Patriot/get my drink on (see a theme?). But that all changed when I met (aka Google stalked) Pia Sundhage.
I am utterly obsessed with the US Women's National Soccer Team, now. Sure, Hope Solo is a badass—best goalie in the world, hot, baby voice, purple jersey, bionic shoulder. We get it. At this point, I'd like to be head butted by Abby Wambach just to know how it feels to be the tying goal against Brazil or the go ahead goal against France. Megan Rapinoe scored against Colombia and grabbed ESPN's corner microphone to sing a brief bit of "Born in the USA." Awesome. But why is our US Women's Nation Team able to rock so hard? Battle through the 123rd minute of a quarterfinal game after being a woman down from the 65th minute? Keep really tiny head bands on their heads for an entire game? I submit one answer: Coach Pia Sundhage.
Top Ten Reasons You Can't Love Pia Enough:
1. I'm 95% certain she didn't wear a bra during the game against Brazil. Pia says, "Short hair, don't care."
2. She has cleaned up and reunited our Women's National Team after our calamitous appearance in the 2007 World Cup. Pia's first step in repairing the damage done to the team (mostly in the morale department) was singing Bob Dylan's "Times They Are A Changin" a cappella at the first team meeting of her first team training camp.
3. Speaking of Bob Dylan, former National Team defender, Kate Markgraf, has noted one of Pia's many selling points is that she knows all of the lyrics and most of the guitar riffs to the collective works of Bob Dylan.
4. The saying "those who can't do coach" does not apply to the Swedish soccer mastermind. She was on the Swedish national team for approximately 22 years (longer than some readers have been alive), finished 6th in FIFA voting for Women's Player of the Century, and in 1988 was featured on a Swedish postage stamp. Seriously, your face on a stamp pretty much means you're a hero—unless you waste money getting photo stamps of you and your boo for wedding invites or, if you're single, you and your cat for holiday cards.
5. Because her quotes are extremely awesome: a. On why Hope Solo is the team's No. 1 goalkeeper, "She's playing the most minutes . . ." b. On Abby Wambach before the Olympics, "Abby Wambach. Dear Abby. She is fantastic. She is great. You can ask any coach or player in Europe. They look at Abby and say, 'Wow. That's a good player.' I'm very happy with the way she improved her game. When I saw her at the first camp in December, she was not good." c. On beating France, "We didn't play well today. France played well." d. Most importantly . . . Her thoughts on ruining Marta's trip to Deutschland, "It's hard to put all the feelings that are going through my head right now into words. I come from Sweden, but this core American value of bringing the best out of one another is infectious. I'm very proud and happy to be coach of the USA."
6. Sweden might have taken a victory from us in group play, but we stole Pia from the desolate existence of Scandinavian winters. In fact, the Swedes are still a little broken up about it. Pia is so good she's been rumored to be a candidate for the Swedish National Team coaching position . . . the MEN'S Swedish National Team.
7. After the United States beat Brazil, Pia celebrated by playing air guitar on her leg across midfield.
8. She looks like Pete Carroll but isn't a bad person.
9. According to Coach Pia, since she took over the team in 2008, she's been pissed at her players approximately three times. That sounds absolutely insane if you've ever been a member of a good, bad or ugly sports team. If you've observed Team Tucker's Life Draft Round #3 Pick, Parviz, it sounds like an impossible anger calculation for three minutes of a game. Her players love her because she's positive. Pia prefers to praise the good aspects of her team's game rather than criticizing the weaknesses. And as we all know, women are weak so we need constant praise or else we'll start crying and spontaneously combust into a PMS mushroom cloud.
10. Her substitutions have been on the money. As I've already detailed, my soccer education was acquired on the short bus. However, my roommate (who my mom refers to as my husband) has a ton of soccer knowledge. We've conferred and decided (and so has every other person with half a brain) that Pia has been spot on with controlling her line-up. Starting with the first game of group play, Pia's substitution of Lauren Cheney for Megan Rapinoe as a starter led to a goal and a team USA win. Pia picked Becky Sauerbrunn (starting in her first World Cup game ever) to replace Rachel Buehler in the semifinal game against France and she played like a baller. Most notably, Rapinoe and Alex Morgan came off the bench in the game against Brazil and breathed new life into an exhausted team USA. You might also recall a ridiculous cross, parked on a dime, from Rapinoe to Wambach to keep the Red, White, and Blue alive. Pia's coaching is dirty. I think she's made a deal with the devil and I couldn't be more pleased with that decision.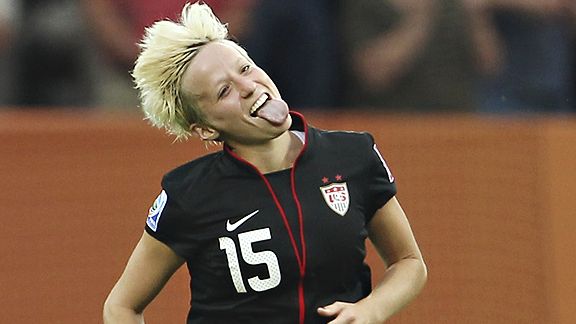 (Super Sub)
11. BONUS: She's got sweet moves.
I realize that many fans of this site are devoted soccer fans. I know you'll be watching the game this Sunday whether Tucker's Tales existed or not. For those of you who were like me BP (before Pia), I encourage you to turn off all the soccer comedy in your head, allow yourself to stop saying that women are "slower, lack skill, and are less physical," and enjoy watching our women execute Coach Pia's perfectly developed strategy to dismantle the tiny, androgynous, technical wizards that constitute the Japanese National Team. On Sunday, we're going to drop a (nuclear) bomb on them . . . Too obvious? Yes. More tasteful than a tsunami joke? Questionable.
When a reporter asked her about President Obama coming to the World Cup Final on Sunday, Pia said, "I would say to him, just like to anyone, make if it you can. Because it is going to be phenomenal." You should tune in, too, because Coach Pia is never wrong.