Why hello there everyone. Did you all have a good weekend? How about those Cats, and by Cats I mean the US Women's National Team? Highlight of the weekend. Hands down. Highlight of the summer. Hands down. Highlight of 2011? In the running, to be sure. 
Anyway, it's time for the 7th round of the Tucker's Tales Life Draft. 
With the 7th Pick in the 2011 Tucker's Tales Life Draft....
TEAM GEIL SELECTS...
HOPE SOLO.
In what I am not afraid to claim was the best-timed strategic maneuver of the life draft so far, I logged on to the blog last night and called "SHOTGUN" on Hope Solo for my team before we even officially announced it was time for Round 7. Ingenious. Dastardly, even. Allow me to bask for a second.
I may have been the only person in my social network- besides Layson- who didn't watch the USA/Brazil Game yesterday. I was at work, and casually kept up with the game's progress in between waiting on tables, not really expecting much. Then, I noticed more exclamation points on my Twitter Feed than if DeAndre Liggins had taken over the whole site (he's single!!!!! by the way!!!!) Apparently, the USA got a goal right off the bat through an unfortunate miskick by Daiane (who in addition to having an unpronounceable name, also had a pretty rough day yesterday, what with having her penalty kick blocked and all). I kept an eye on Twitter with more interest, the result being that I knew at the end of the game that the US had won despite an allegedly ludicrous call but without knowing any of the dramatics. I knew we won, that it was intense, and that Hope Solo's name was being thrown around a lot. Kewl. On to the next one. 
Cut to a few hours later. Layson has arrived at my house before going to see the Selena Gomez movie (gUrL dAtE!~!**) and we decide to watch the DVRed game, fast forwarding to the game-changing moments (luv technology). In short, we were riveted. Layson, who knows as much about soccer as my dogs, was asking questions and arguing calls. I was doing my signature "sudden fetal position" motion that I do whenever I'm watching an exciting sports game (fair warning to anyone who sits next to me). Through all the excitement and outrage, we agreed on one thing:
We had developed major girl crushes on Hope Solo.
I truly believe that Solo is the reason the USA won that game. You may say that it was Wambach because she scored, but the truth of the matter is, any player could have scored for the US in that final minute. Wambach's talent and timing got her in position, but it could have easily been another player. As goalkeeper, Solo has the most singular skill set on the field, and no one else can fully replace her. The whole team relies on her and her only to be the final obstacle between ball and goal, whereas the pressure to score, defend one on one, etc, is more distributed among field players. Any normal person would be shaking, at least a little, ESPECIALLY when it comes to penalty kicks.
Not Hope Solo. She just readjusts her elephantitis-stricken gloves, sits casually on the side of the penalty box, and awaits her turn. I personally imagined that she was playing a self-chosen theme song in her head. I want to know what that song is.
(I'm guessing this)
Now that I've raved long enough, let's get down to the basic strengths and weaknesses of my choice.
STRENGTHS
-Uh... she's a pretty good goalie.
-Intimidation factor (I think I would be terrified to look in her eyes on the soccer field)
-Confident, to the point of maybe being arrogant (Team Geil views this as a good thing)
-Boys want to date her. Girls want to be her. 
-Killer instinct. Fearless. To a goalie, penalty kicks are a complete nightmare, but Solo has the swagger to overcome that. 
-Appears patriotic (might love America as much as Layson and I do- and that's saying something)
-Remarkable sense of perseverance. Both in terms of her struggle to get along with soccer coaches, make the USA national team, overcoming horrible injuries, etc, and in her personal life- her parents were divorced and father was often homeless until his death in 2007. Around the same time as the controversial World Cup benching. Extra stress in her life around this time may have influenced her public outburst...
-...Which Team Geil still takes as a strength. We like her sass.
-Inspirational tweeter. In fact, her gloves also have a Twitter account (kind of hit or miss humor, though). To quote her real account: 
"Thank you for standing behind us. Never has a team come back to win from a man down, a goal down, and in such dramatic fashion. Last night I had a moment as I sat waiting for the penalties. I felt the energy of the stadium, I witnessed how far the game has risen, and I felt the spirit of our team as we fought together, unwilling to lose, our backs against the wall. Last night is a feeling you work your whole life for. To break free. To write your own destiny. And That's what WE, this 2011 USA team have set out to do, to write OUR OWN story. Go ahead, jump on the bandwagon and let's do this together. One Nation, One World, One Team."
WEAKNESSES
-Hard pressed to say, but the one thing that bothered us about her 2007 rant was that it reflected poorly on her teammates (although it is true that the next day she publicly stated that was not her intent). Team Geil thrives on a more cooperative, "let's all love each other" vibe. We believe Solo will relish the opportunity to join forces with us.
-Actually... we don't really like this picture of her. Gangsta pics are so out, Hope.
SIDEBAR: How precious is this picture?
Team Tucker- it might be time to start considering an alliance...
TEAM TUCKER SELECTS:
Abby Wambach
Let me start off by saying this: Kristen Geil's statement that "anyone could have scored that goal" is absolutely delusional. Like I might have to drag her into Eastern State Hospital with me when I go to work tomorrow. Geil is a smart gal, she really is...but that was ludacris (that's the only way I will/know how to spell that word). I'm a former goalkeeper and I know the importance and value of a goalkeeper to a team. They are often the unsung hero. But to say that anyone could have scored that goal?....Girl, you crazy.
Anyway, back to my pick....
My reasoning??? Oh.....just this
The incredible win yesterday was a total team effort in every sense of the word but the moment that will be remembered for all of time is this goal, by my 7th round pick, Abby Wambach. Solo's save was incredible. The penalty kicks were crucial. But the defining moment of the game and the player that literally kept the United States alive with a play that took incredible effort, skill and heart-- is Abby Wambach. 
I will admit that at first I was jealous, perhaps even angry at Team Geil for calling dibs on Solo. Then I realized that although she is a magnificent pick-- I'm taking Wambach and I'm feeling even better about it than I would have felt if I had snatched up Solo like I originally wanted.
STRENGTHS:
Late game heroics
Heart & Soul of the US Women's National Team
Never say die attitude
Really tall
Kind of scary
Can pull off a really ugly hair-do
Could kick either Kristen or Brandon's ass (Sorry guys, but seriously...would you want to meet her in a dark alley?)
Humble
Scored the most memorable goal in US soccer history to keep her team alive
Never was kicked off the US national team at any point (coughSorryHopeSolocough)
WEAKNESSES:
Sore achilles tendon
Poor choice in hair style
Her name could be misconstrued as German....that harsh "Ach" on the end of it, ya know
This
is a precious picture.
I agree Geil. Alliance? Count me in. Clearly it is what Abby & Hope would want.............. good luck Team Daulton. 
Oh and what about this for our theme song Team Geil?
Well, forgive me for interrupting Lilith Fair/EstrogenFest '11, but with his 7th pick,
TEAM DAULTON SELECTS:
KIGE RAMSEY
Talk about patriotic, Kige ran for president in 2008.  He didn't win, but I don't recall seeing any campaign posters for Wombat or Han Solo.  
***NOTE: The above left picture came from a website called Wombat.net.  Just thought that was worth mentioning.
ALRIGHT EWE-TEWB VURES, Kige doesn't strike me as the brightest crayon in the box, but that's not why I picked him.  While Kige is definitely more "with it" than Jesco, his YouTube videos sometimes leave me thinking "He can't be serious" (he is).  But that said, his videos are golden.  They are informative (how to shoot a free throw, relationship advice, and how to solve acne - talk about diverse advice).  Time out for a minute - this one deserves special mention.  In case you don't watch it (which would be a tragedy) it's the one where Kige expresses deep concern for Nicole Ritchie because she has "anorexic."  That said, if you think you might have anorexic, go get tested. 
Also, Kige is a die hard UK fan, and a die hard Titans fan.  I think we can all learn something from his loyalty, because I have zero doubt that he will be a die hard Team Daulton fan.  Kige is just awesome, and while he may not be winning any quiz bowls any time soon, he has real world experience.  If there was any doubt whether it was "The Year of the Commoner", that doubt is gone now that Kige Ramsey has joined Team Daulton.
Before tonight, I thought Hope Solo was what they called songs performed at Haiti benfit concerts.  And I'd just never heard of this Wambach character, but either way it doesn't matter.  Kige is here, and so is YouTube Sports, Cooking, Consumers, Relationships, Medical, and so on.
STRENGTHS:
This shirt is awesome, for starters:
 

Also, as evidenced by the above, I think he may be able to give Jesco a run for his money in the dancing department.
Loyal to his teams (was still a fan after the Titans got beat by the patriots by 100 in the snow, and started 0-6 in 2009).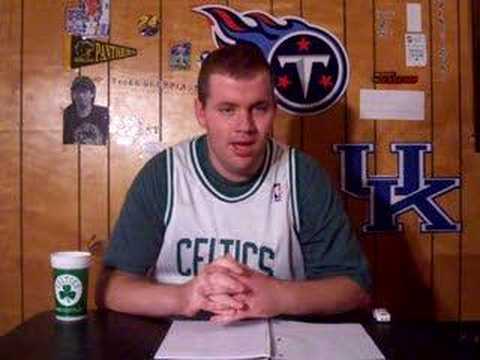 No one on the corner got swagga' like Kige (dude got serious game):
WEAKNESSES:
Suspect intelligence
Possibly delusional (I think he actually thinks he works for YouTube)
Speaks a different dialect than most of my team
Clearly, not many weaknesses.  
THIS IS TEAM DAULTON, FOR YOUTUBE KICKING ASS