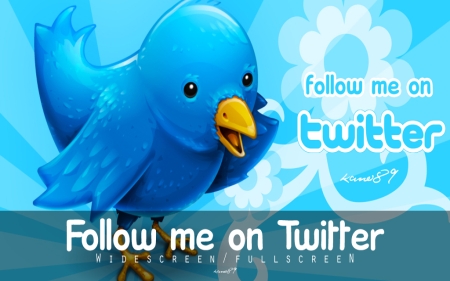 A few weeks ago, fellow blogger Kristen Geil used our Late Night Confession to U(r)sher format to confess that
she was a full-blown Twitter bandwagoner. 
 I am going to go in a little bit different of a direction here to plead my case for why everyone else should jump on the bandwagon as well. 
As many of you all are probably aware of by now, if you've been reading the blog fairly regularly, many of us writers here on the blog have fallen for Twitter.......and we've fallen hard. Let me diagram my relationship with Twitter real quick.
Step 1:
I didn't have one at all. When it first came out, I thought it was just plain stupid. Who needed a glorified Facebook status? No thanks.
Step 2:
Oh.....John Wall has Twitter? Coach Cal has Twitter? Sometimes people announce important information via Twitter? Okay, okay, okay. I'll get one. I certainly don't plan on ever "Tweeting" myself. I'll just creep around and follow a bunch of people.
Step 3:
Hey, I kinda like you Twitter. Instead of only remembering I have you every few weeks-- I'm going to check you every day. 
Step 4:
Dang Twitter... I can't stop thinking about you when I'm bored at work or when I have some free time. 
Step 5:
I full out like you Twitter. Yes, I said it. And now I want to share my feelings with you from time to time. Hello Twitter world! I'm here and I have something to say....
Step 6:
Not only do I like you, but now my friends like you. That's always a huge plus in a relationship. If you can't get along with my friends....you can't stick around. Twitter is so much fun now because not only can I share my thoughts and follow my favorite celebs...but I can interact with my friends too. 
Step 7:
I think I love you. Okay, I love you. I am not necessarily "IN LOVE" with you yet, but my feelings are deep. I've found out all of the best things about you and who to follow to keep my interest level at an all time high. I've started to think things out in 140 characters......things are getting serious.
Step 8:
I'm
IN LOVE
 with you Twitter. Hook, line and sinker. Why? Because I have not only discovered and learned all of the BIG things about you....but now I know all of your little oddities and they make me love you that much more. What kind of oddities do I speak of? I'm talking about people who have designed Fake Twitter accounts and Tweet from them as if they are that person or thing. I'll get into more specific examples later....but these are now my favorite Twitter accounts to follow. I'm over John Wall, Coach Cal and Kim Kardashian... (just kidding Coach Cal, I saw you last night at Orange Leaf and although I was entirely too much of a goober and nervous to ask for a picture-- I did wave and say "Hey Coach" at you as if you were my lifelong coach. Thanks for waving and smiling back...)
So now that I have unabashedly confessed my deep, "Notebook-like" love for Twitter, I want to give you all some tips on who to follow (if you don't already) in order to experience Twitter in the same way that I do. Some of you all already have a Twitter and use it often. Others are still in the "creepin' around" phase where you follow 8393 people and have 0 followers and 0 tweets. That's cool....take your time. Others of you have not given in to the Twitter craze yet (coughToniCannoncough) and desperately need to. All of you non-Tweeter heads talk so much trash about it and say "I just don't get it." Of course you don't! You haven't tried it yet. So here's your Twitter starter kit...
MUST FOLLOW LIST:
-Kristen Geil recently discovered this true Twitter gem. She told me about it and I have never been so grateful for a gift she has given me in my life (either it was that great of a gift, or Kristen--you need to shower me with more gifts....your call). Anyway, @Oldmansearch is one of those new Twitter accounts that have made me truly fall in love with Twitter. What exactly is this account you might be thinking? Let me share with you the Twitter bio which explains it perfectly:
My dad is 81 years old. I'm teaching him how to use the internet. I told him Twitter was how to search things on Google. These tweets are what he's searching.
(In a nutshell, the following Tweets show you exactly what an 81 year old man might use Google to search for on the internet. The searches are priceless)
In order from oldest to newest:
oldmansearch: face book on Shirley Tarnow la porte high school class of 1948
oldmansearch: waist and ankle tension
oldmansearch: erase or forget a memory
oldmansearch: soft food and soft snacks
oldmansearch: lipiter
oldmansearch: lipitour
oldmansearch: LIPITOR
oldmansearch: Is Shirley Tarnow a widow?
oldmansearch: hello
oldmansearch: night blindness
oldmansearch: i'm night blind.
oldmansearch: diane sawyer swimsuit pictures
oldmansearch: mine kamf
oldmansearch: hats
oldmansearch: how do you pronounce juan
oldmansearch: cold toes
oldmansearch: what does e mail cost
oldmansearch: Shirley Tarnow-Schmidt obituary
So needless to say, this is the most precious Twitter account of all time. Sometimes it makes you want to laugh, sometimes it makes you want to cry (like when you follow his slow transformation from searching for Shirley to realizing she is dead.....) Either way, it's a must-follow.
@meganamram
- I actually have no idea who this person is. I found this account because fellow blogger Brandon Daulton re-tweeted her stuff from time to time. I am going to assume she is a comedian maybe. Regardless, sometimes her Tweets leave me LOL-ing.
meganamram: I heart NY, but I'm not IN heart with NY.
meganamram: Just once I want to see a highway raised by its loving biological parents
meganamram: When do I stop looking for Easter Eggs
meganamram: My dog's favorite store is Forever 3
meganamram: I hate always being picked last for the Human Centipede : (
meganamram: I never run with scissors, or without
meganamram: Kids these days think sexts are so hip, but I've been fsaxing since the 70s
meganamram: I can't decide if I'm Team Edward or a Crip.
meganamram: Like the song says, "to kids from 1 to 92...Merry Christmas to you." To kids 93+ and 4 months: God is dead, also you were adopted.
@HallyeGriffin or @LaysonBelle
-Really, if you follow these two, you will just receive a lot of random tweets with pictures of their blind/obese animals. If that's your thing--follow them. Hallye is also good for a few "TWEET" tweets or "Twitter Glitter" tweets from time to time.
@MikeyADHD
- This particular Twitter account is pretty "hit or miss." When I first started following Mikey, I usually found myself laughing at his Tweets. Mikey is a fake account for a 7 year old who has ADHD. Whoever runs this account tweets from that perspective. Lately, I haven't been laughing as much. Give it a try though, because the ones that are funny--are really funny. 
MikeyADHD: I WOULD NEVER HURT AN ANIMAL OR ANOTHER
HUMAN BEING, EXCEPT MAYBE MY COUSIN RICKY. HE'S MY AGE AND HAS A MUSTACHE. THAT KID CREEPS ME OUT. 
MikeyADHD: DETENTION ISN'T FUN ANYMORE NOW THAT MY TEACHER JUST GOES IN THE HALL & STARTS CRYING AS SOON AS I TAKE OFF MY CLOTHES & START BITING PEOPLE
@JayBilas
- I think I confessed my huge crush on Jay Bilas around March Madness time this year. He absolutely took the Twitter world (or Tworld....) by storm when he started Tweeting about fellow commentators, basketball, his playing days, etc. Jay Bilas is not slapstick funny at all. He is subtly clever as hell. Why do people say something is "_____ as hell?" I've never understood that, but I do it too. Anyway, Jay has been a little quiet lately on the Twitter front in the offseason, but please trust me that when basketball season rolls around again--he is Twitter gold (or....Gwitter? or as @HallyeGriffin says...Twitter Glitter?)
@Lord_Voldemort7
-Another Kristen Geil find. I had to include this list on the account or she would kill me. Volde is a bit of a Debbie Downer on Twitter, constantly jabbing at people. But it's funny. I will admit. Volde particularly likes to check out the latest "trending topics," aka what people are saying the most, and hashtag it (#likeso). If you don't know what the hashtag is on Twitter, scroll back up and read Kristen's article, or read Brandon's latest piece about the art of the hashtag.
Lord_Voldemort7: #iwannaslap anyone who says "wanna." Want to, not "wanna." It's one more letter you lazy idiots.
Lord_Voldemort7: #itshardwhen you've been petrified. 
Lord_Voldemort7: The Word association game doesn't work with my name. As soon as someone says "Voldemort" they die....
Lord_Voldemort7: Ways to annoy a Twilight fan: watch the movie and say "I see dead people" every time a vampire is on screen. 
@WhiteGrlProblem
- Another "fake account" that tweets from the perspective of, what I would call your "average annoying white girl." Again, with most fake accounts--the tweets are hit or miss. But again, the ones that are funny really catch you by surprise and make you chuckle as you creepily stare at your phone....
WhiteGrlProblem: I feel like I could really, um, be an actress? #whitegrlproblems
WhiteGrlProblem: How many therapists will it take for me to get my childhood back?  #whitegrlproblems
WhiteGrlProblem: I'm having one of those days where I keep needing to remind myself that even Gwenyth shits. #whitegrlproblems
WhiteGrlProblem: Where the F*ck is my phone??????!!!! Just kidding it's in my purse #whitegrlproblems
WhiteGrlProblem: I've just like, been thinking about Heath Ledger a lot this morning #whitegrlproblems
WhiteGrlProblem: Still coming to terms with the last 20 minutes of Country Strong #whitegrlproblems
And now....I leave you with my honorable mention list
@PGeil1118 (Kristen Geil outlines why you should follow her Mom, I think, in her blog entry...so check it out if you need more reason than the fact that it's Kristen's Mom and she's awesome)
@BigJorts55 It's Jorts. C'mon. 
@reallypissmeoff Hit or miss
@KYBloodCenter I got you, Lauren! (One of my friends Tweets for them)
@ihateKatStacks I had no idea who this chick was until Twitter. She's explicit and literally crazy, but  sometimes entertaining. Google her if you don't know who she is....yikes
@DrewFranklinKSR If you are going to follow anyone from KSR, follow Drew Franklin. He's the funny one.
@MJP18 She's the MVP, duh.
@wayneturner76 If you want to see how to mis-use a #hashtag, check out Wayne Turner's Twitter.
@TeamLegion1 Remember the UK b-ball player who stuck around for a month named Alex Legion? Then he transferred to Illinois, then to Florida International? Then he got kicked off that team? Random, but this guy is so entertaining to follow on Twitter. He just calls out guys & girls at his school (FIU) and is just stone cold heartless. It's funny to see what life is like on the other side sometimes....
@TomCrean Follow IU's coach if you like your Tweets in paragraph format. #mostboringaward
@UKCoachCalipari You gotta follow Coach Cal. Although I will admit, it's kinda overrated. You will find out a lot of information about Papa Johns' 3-point special though.