Ever since I was old enough to have a real job (and no, I don't count babysitting as a real job), I have worked in restaurants. I started hostessing at Suggins (a classic Lexington bar/restaurant near my house with some seriously good food and a colorful array of regulars) when I was 15.
A few of my friends worked there, and I liked the free meal at the end of my shift and always seeing people I know coming in to eat. Aside from one traumatic incident when I attempted to carry four waters at the same time and ended up spilling them all and breaking an iPod (haven't tried that since), I loved hostessing and was pretty good at it. 
During college, I started working at Alfalfa, a vegetarian-friendly restaurant downtown with an eclectic menu and even more eclectic customers. I hostessed for a couple of years and graduated to serving this past summer. I love working there and will probably write a tribute blog about my last day at work when it occurs this summer- between the homeless, the hippies, and the Sunday brunchers, there are countless SMH/WTF moments that occur at this quirky restaurant.  
Both restaurants are great places to work and can get incredibly busy at times. As a server, it's obviously my job to make the customer's experience the best it can be, and because I generally like our customers and want good tips, I work really hard at this. But I think what some people fail to consider when eating out is that the diner also has a profound effect on the restaurant employees as well. My friend Bo, who worked alongside me at Suggins for years and years, once said something like everyone in the world should be required to work at a restaurant for six months, and I couldn't agree more. But until that happens, here's my guide for proper etiquette in the diner/server relationship.
1. The Waiting Game is not usually the hostess's fault. Don't be rude.
Waiting to get seated at a restaurant sucks. It's boring, there's usually nothing to do, and you're probably already hungry- horrible combination. But please, don't take it out on the hostess who took your name and number of people in your party. Her job is really stressful, probably more stressful than actually being a server. She has to deal with the public, stay cheerful, and play a strange little logic game to seat the most people in the most efficient manner. It's trickier than it sounds.
(Layson, I still can't believe you didn't buy this tank on spring break)
Here's a few subpoints to illuminate why the wait may be awhile, or at least awhile longer than you expected.
-You have five or more people in your party. Most restaurant tables seat four people comfortably. Five or more means you either have to push two tables together, squeeze awkwardly close together, or wait until one of the two tables that can comfortably seat five people gets up. And if you have seven or more people? You HAVE to push two tables together, which means waiting for two adjacent tables in the aisle to get up. That takes awhile. 
-People are lingering. They have finished eating but won't leave (more on this later).
-You came in with a "crowd" or before/after an "event." Like, a movie at the Kentucky Theatre just let out and everyone decides it's a good idea to go eat at the nearby restaurant. Or it's intermission at a play and everyone decides to grab a quick drink. Or, it's Gallery Hop and your restaurant is connected to a gallery. Or church just let out. Whatever. If you come at a predictable time, you're going to have a predictably long wait.
I hope I never see this in person.
Hostesses try their best to accurately guess how long the wait will be, but other factors can skew the estimated wait time. So be patient, bring something to do, and above all, don't wander off to take a walk down the street while you wait. Your name will inevitably be called during this time, and when you do not respond, your name will be taken off the list. Tough.
2.  Ordering: It's not rocket science.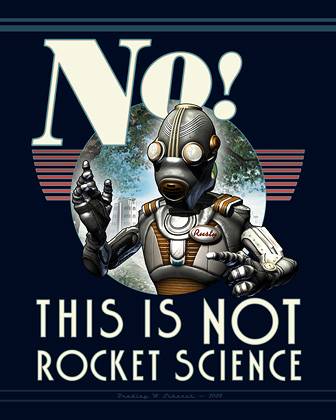 Disclaimer: I am not a typically patient person. But I try my best, when serving, not to make the customer feel rushed or pressured. I even give them a little warning- when bringing their drinks, I'll say something like "I'll be back in a few minutes to get your order." That means, when I return soon after with a ticket pad and pen in hand, you should know what you're getting. It  is acceptable to have it narrowed to two choices and ask me for a recommendation. It is not acceptable to say, "Gosh, I just don't know!" and ask questions about every single item on the menu.
It is also not acceptable to say, "Honestly, I haven't even looked at the menu yet." Why not? I told you I was coming back. There will be plenty of time to have scintillating conversation with your dining partner while you are waiting for your food, eating your salads, eating your meals, and after. Be ready to order- especially if we're obviously busy and I'm running around the restaurant full tilt juggling hot chocolate mugs, bread plates, and serving trays. 
Similarly, if you are in a rush, please tell me right off the bat. I can tell you which dishes on the menu take the shortest versus the longest amount of time, and I will make a special effort to speed you through the dining process. Please don't wait until you are halfway through what I assumed to be a well-timed dining experience to tell me that you have to be across town in 15 minutes.
Here's another thing: I do not mind answering questions about our menu. I also don't mind going back to ask the kitchen about something I'm not sure about. That's part of my job. But before you ask- please make sure the information is not listed in the menu or around the restaurant somewhere. Want to know what flavors hot teas we have? Our salad dressings? If the entree comes with a soup or a salad? Funnily enough, it's all on the menu. Soups and side items of the day? On the specials board- which is inevitably located right next to the diner asking me these questions. Take notice of your surroundings, and I'll be grateful that I don't have to rattle off all of our salad dressings in one breath. 
3. Don't send your food back unless it's for a good reason.
(I didn't really want to google image "gross food," sorry)
It's a fact. Sometimes, the kitchen messes up. It happens. And when it does, I am happy to ask them to redo your food. If your burger isn't cooked well, if they put cheese on it and you're a vegan, if it's not quite hot enough- that's legit. You ordered your food a certain way and you expect a good meal- great. I'm happy to give it to you.
But if you send a plate back because "It's not what I expected" and ask to get something else, free of charge... well, that's not my fault or the kitchen's fault. It's a little presumptuous to ask me to replace your meal for free in this scenario. I kid you not, last week at Alfalfa a customer returned a Seafood Puff Pastry because it "tasted too fishy." Awhat now?
I especially can't discount your meal if you complain about the food but have proceeded to eat it anyway. It's bad business. You eat it, you buy it. End of story. 
4. Don't linger.
You've eaten your food. The plates have been cleared. I have taken your check and stopped refilling your drinks. I am silently telling you that it's time to go.
(but you will never see this sign at Alfalfa)
Yet you linger. This is one of the single most annoying things a patron can do, and here's why:
1. If we're busy, you're taking up a table that another customer should be sitting at. Turning tables quickly is how I make the most money, especially at a busy time like Sunday brunch. I make tips based on good service and how much food I sell you- not by how long you sit there.
One of my fellow waiters once said he wished we could install parking meters at tables and get our tips based on how long a customer is "parked" at the table. That's a great idea. 
2. If it is late at night and we are trying to close up, we can't. Staying for a few minutes after the restaurant technically closes and finishing your drinks is perfectly fine. Staying a full half hour while the waiters have finished eating their employee meals and are waiting to sweep, mop, and leave (things we can't do with you still sitting) is not okay. Here's a hint: if I start putting up chairs, it's time to go.
5. Don't come in two minutes before we are supposed to close.
Just don't. It's heartbreaking to think you are almost done with work, and then have to serve another table, which is at least a 30 minute endeavor. 
If you do come in right before close, please follow rule #4 and don't linger. Be ready to order. Because I'm the one who has to go back and inform the kitchen that another table just walked in, and sometimes, the messenger gets shot. 
6. Corral your kids.
Alfalfa actually has a sign like this hanging up.
Besides the fact that kids running around a restaurant and screaming is annoying, it's also dangerous. I'm walking around with hot coffee and heavy trays- I do not want to trip over your kid and the ensuing lawsuit. Please keep all legs and arms within the table's vicinity. 
7. Tips on Tipping
It's a touchy subject, but it has to be addressed.
Here's a secret: before I worked as a server, I thought tipping around or even under 15% was okay, even acceptable. It's not. To everyone who served me food up until that point in my life, I'm sorry.
Somewhere on the internet once, I saw a hilarious sign posted in a restaurant about how servers interpret the tips people leave them. I searched google images high and low but cannot find it for the life of me, so here's my take on it:
25% or more: Amazing service and great food- you rock! Let's elope. (Or, my parents came to eat).
20-24%: Above average dining experience. Nice work. Thank you!
15-19%: Decent (if an adult). Amazing service and great food- you rock! Let's elope (if college student).
14% and below: F--- you. 
Remember- I technically earn something like $2.50 an hour. Tips are what I depend on, income wise. Unless I have been rude, given you poor service, or your meal just plain sucked- you should be leaving around 20%. 
To figure out how much to leave, just divide your total by 5. That's it. At Alfalfa, we even have a handy guide at the bottom of our receipts that calculates exactly what 15%, 20%, and 25% of the total is. Please look at that when making a decision.
Also, please try to avoid leaving mountains of change. Because I am a poor soon-to-be college graduate, I will of course take it, but it's annoying and I tend to drop the pennies all around the restaurant as I'm cleaning off your table. 
Also please don't leave foreign money, gum, coupons, or anything else. That's sweet and quirky, but I prefer cash.
This post came off more like a rant than I had intended. Let me reiterate- I love my job. Bible. (*Kardashian-ism*) I love interacting with the customers, serving food that I honestly believe is delicious, and getting paid to do so. But after six years in the business, I find myself being a much more conscious customer when eating out. Hopefully with these tips, we can all get along better. And if you wander into Alfalfa at 12:30 during a Sunday brunch and you notice me with a gritted smile and steam pouring out of my ears... well, now you know why.