Hi, my name is Taylor Christianson. I am the daughter of Gary and Heather Bertrand of Opelousas, Louisiana and Travis Christianson of Moss Bluff, Louisiana. I am the grand-daughter of Lyn and Connie Gill of Ragley, Louisiana. I am American Indian (Choctaw) and I was born on July 16th.  I have one brother - Kody Trace Christianson and one step-sister - Cassie Marie Bertrand Mouton. My parents own Turnin' 3 Productions in Opelousas, Louisiana and that is where I call home.
 I devote time everyday to my passion for horses and rodeo competitions. I spend hours each and every day taking care of our horses and I compete most weekends in rodeo events around Louisiana, Texas, and Mississippi. Being familiar to horsemanship is a part of my life. The experience gives me horse knowledge- reading, handling, training and correcting the horses. I trained my horse, Leighs Midnight Magic, with the help of my mother. I am a homeschooled student, this allows me more time with my horses. I practice my riding skills on a daily basis.
Barrel Racing is a 50-50 proposition. "You've got to have a good horse and the rider guides the horse. You become a team - best friends. Once in a lifetime you get an awesome barrel horse and I've got mine".
I know it takes a lot of hard work to accomplish my dreams and I am willing to go that extra mile to prove myself and my horse.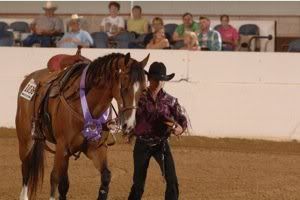 Three Barrels, 2 Hearts, One Passion