Welcome to the Pilar Valley Railway
Home Page
The new Pilar Valley Layout is now being built. You can see it's progress from the start in it's own album in the Photo Gallery.
***Site Update***
Photo Gallery
Home Page
Pilar Valley Models
On 01/07/2014
The Pilar Valley Railway (PVR) is a fictional railroad that I have created for my HO scale railroad. I have built many different versions of the PVR from small 2' x 4' diorama's to a medium sized 10' x 13' layout.
I have bought a new house now the summer of 2007. I am now working on finishing the basement to start the new Pilar Valley Railway. This layout will be a double deck 17' X 22' around the walls with a center penninsula. There will be a helix connecting the two levels. To follow the progress on this new layout click on the "New Pilar Valley Railway" album in the Photo Gallery.
*
Just completed 1 of 2 MP15DC's that the PVR will use to work Alanville Yard. This is unit #1502.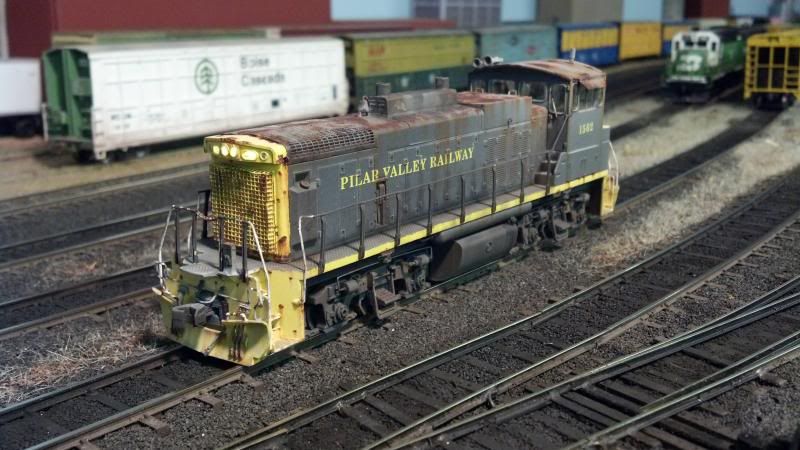 This little guy is a GE 45 tonner that is owned by the Pilar Valley Railway but is leased to Seidl Sawdust.
Check out the "PVR Equipment" album in the Photo Gallery to see more pictures of this unit. This is also the picture that appeared in the February 2011 Model Railroader "Trackside Photos".
*
A Burlinton Northern GP9 backs off of the Industrial Line onto the Maverick Metals spur with a Pilar Valley Railway boxcar.
Two Pilar Valley Railway engines lead a grain train to Alanville Yard from the Midwest. The lead unit is an SD70 followed by a GP38-2
I also do a lot of scratchbuilding of rolling stock and weathering of engines and rolling stock to resemble the realistic prototype feel. I do this for my own railroad and have built and weathered cars for others. I am currently not building any cars for sale as I am to busy with work.
*
Here is one of the 62' excess height sawdust gondola that I had scratchbuilt and sold to Hummerdaves from IL.
He weathered the car from top to bottom. The weathering was done with a salt treatment over which a custom mixed SP Brown was added. Then Decaled with a set of Microscale SP decals. The finishing touchs are done with a light fading using Gouache.
If you would like to have Hummerdaves give you a quote on weathering something for you please contact him. He also does engines.
*
Please visit my new Photo Gallery to see this great weathered car by Gary Christensen (aka.Traindamage aka.Scooter) along with others.
*
*
This is a Railpower SD60 shell with numerous details added to it and then custom painted and decaled. This rides on an Athearn Genesis SD70M chassis. This unit has working directional headlights front and back and working ditch lights. To see more equipment on the PVR roster please click on the "PVR Equipment" album in the Photo Gallery.
*
Please feel free to look around my site and make sure to check out the albums and if you visit any of the forums that I am on I go by "quadk" on them.
Thanks for looking!!
The background image on this page is a picture that I took by the Fremont Station in Fremont, WI.
HAPPY RAILROADING!!!
Remember!!!
Allways Stop, look & listen at grade crossings
Rate Us: