Dunnellons Gottabe Roxie
"Roxie"
Dunnellons Dancin Rizzo x Multi CH Gottabes Spot The Winner
Born: 22nd January 2008
Height: 17 - 17.5"
KC Agility: Grade 3
BVA/KC Scheme CERF Eye tested Dec 09: Clear
DNA Hereditary Cataracts (HSF4): Clear
DNA Cobalamin Malabsorption: Clear
Roxie when she was pregnant
Roxie had her first litter in May 2011. She was such a fantastic Mummy and we were really proud of both Roxie and her beautiful puppies
Roxie was such a sweet Mummy. She was always very careful not to squash them and she would keep checking on them one by one!
You can find out more about Roxie's litter by looking on the Past Litters Page and see how much her puppies have grown up on the Other Dunnellon Mini Aussies page
---
Roxie in combined 1 -4 Jumping
Roxie having fun even if she did get E'd!!

Roxie has officially been measured as Large for competing at KC Agility Shows and Standard for UKAgility Shows
Roxie loves competing in agility and is such a pleasure to run. She thoroughly enjoys herself around the agility course and we are looking forward to the coming year competing as this little merley girl keeps finding her confidence!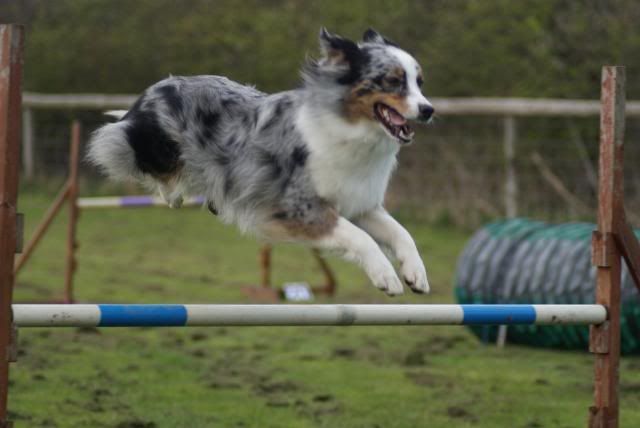 Even though she is only little she easily manages to clear the full KC jump height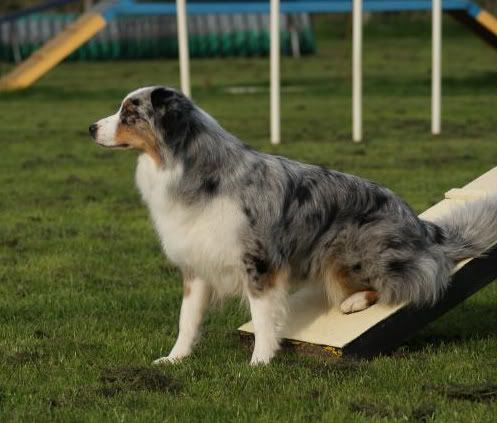 Roxie is a very sweet and special girl. She is excellent with other dogs and people - not over confident but friendly.
Roxie loves being part of the pack enjoying running up the paddocks and walking with our other dogs.
Roxie loves attention and will offer lots of tricks until she gets what she wants! Her favourite tricks at the moment are lying down flat or bouncing as high as she can!
Sisters Chelsea & Roxie x x x
Roxie is a joy to have around - everyday she makes us laugh! She is a real entertainer and loves being centre of attention! She likes "helping" us at the grooming salon by performing tricks with the broom handle and helping to wind up the hoover by pressing the button with her paws!
Roxie also has really sweet quiet times where she just wants cuddles!
Roxie curled up between her sister & Mummy!