Dunnellons Dancin Rizzo (USA Import)
DUNNELLONS DANCIN RIZZO  (USA IMPORT)
"RIZZO"
Photograph  taken by NicK Ridley at CRUFTS 2009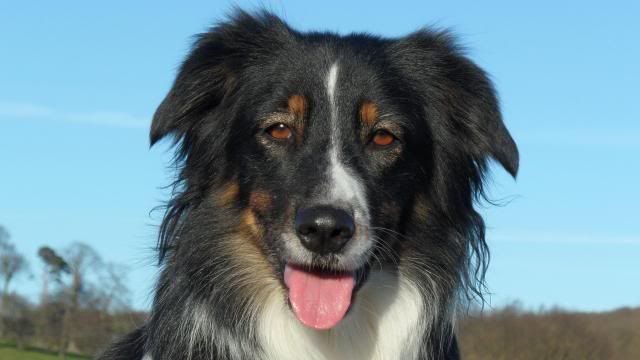 Rizzo is such a happy girl!
---
Blue Skies Dusty Blue x Wells Amy Mae 
Born: 7th March 2005
KC Agility Level:  Grade 4
UKA Agility: Novice
Height: 17.5"
Rizzo was born in Dunnellon, Florida, USA.
Breeder: Mrs Shirley Wells
Rizzo is the dam of the First litter of Miniature Australian Shepherd to be born in the UK
She was one of the first Mini Aussies imported to the UK
Rizzo enjoying herself on the beach with Cajun
 "Beach Bums!" - Cajun & Rizzo
Rizzo competing in Grade 4 Jumping in 2011
Rizzo coming 3rd in Grade 4 Jumping in 2011
Rizzo came 8th in graded 3 -4 Agility at Dashin Dogs - Aug 2010                          
  Rizzo going clear in combined 4- 5 Jumping - Aug 2010               
---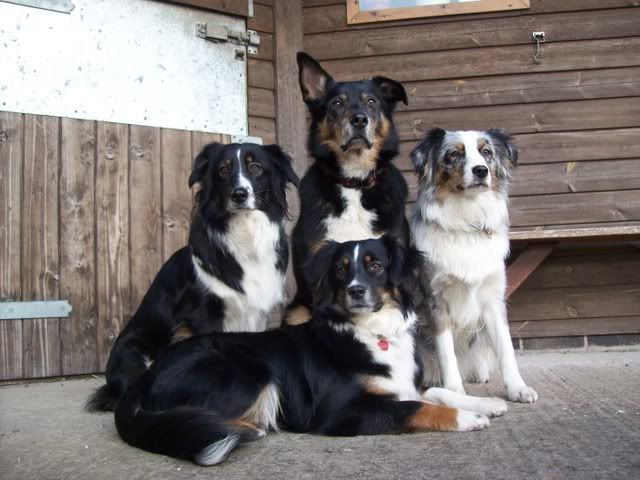 Rizzo with Buddy, Chelsea & Roxie
---
RIZZOS STORY
Rizzo was born on 7th March 2005 in Dunnellon, Florida USA. She was bred by Shirley Wells from her wonderful dogs Dusty and Amy.
 Blue Skies Dusty Blue    "Dusty"   (naturalbobtail)   16"               X                       Wells Amy Mae   "Amy"      15"
On the 10th March 2005 i was competing at crufts in the UK. I had already found out about the breed and to my knowledge there was no Miniature Australian Shepherds in the UK. I asked some Australian Shepherd breeders at crufts if they knew of any Mini Aussie breeders in the UK to which their reply confirmed what i already knew - No. I had already walked away from the breeders when i suddenly decided to go back and ask if they knew of any good breeders in the USA. One lady said that her friends daughter was a breeder in Florida and she said that she would pass on my email address. I didnt think anything would ever come of it but the next day i got an email from Shirley Wells saying that she had just had a litter of puppies. After emails back and forth Shirley offered me pick of the litter and she agreed to look after the puppy until it was 10 months old and eligable to come to the UK with a pet passport (this avoids quarantine).
*****PHOTOS OF RIZZO AS A PUPPY IN FLORIDA*****
Rizzo lived with Shirley as part of her family and i got photos and videos of Rizzo every few days so i could see her growing and changing. It was the next best thing to being with Rizzo. It was so exciting getting an email - i was often up at 6am just to check my email!
Rizzo had a ball in Florida living with her human and doggy family. Shirleys Mastiff called Tank was Rizzos best buddy and they did everything together.
Rizzo had to go to the vets to have rabies vaccinations and blood tests but she was always good as gold and the veterinary nurses adored her!
When Rizzo was 8 months old we went over to Florida to visit her and it was love at first sight! I completely adored Rizzo from the moment i saw her and she far exceeded any expectations.
Rizzo only 4 weeks old!
On the 28th December 2005 the wait was finally over and it was time for Rizzo to come home!
Rizzo settled in very quickly and all of our other dogs adore her. Rizzo will spend hours playing with her friends and fussing over them!
Rizzo is such a sweet, affectionate dog who has endless love to give. Her personality is amazing! She is always up for doing anything and will spend hours running around the paddocks. In the evenings Rizzo loves nothing more than sitting on my knee being cuddled.
Importing Rizzo was very difficult missing out on her puppyhood and not being with her. The 10 month wait seemed to last forever but i can honestly say that it was 100% worth it! I cant imagine not having Rizzo now and it feels as if she has always been here.
---
AGILITY
One of the main reasons for wanting a Miniature Australian Shepherd was to have a light, agile and fast agility dog. Rizzo hasnt disappointed!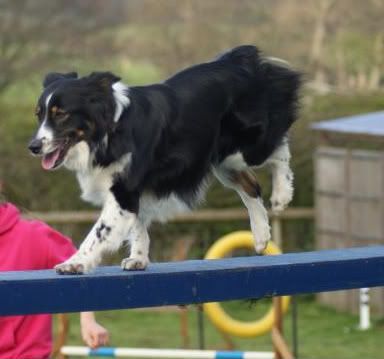 Rizzo is 17.5" tall which means that she is in the large category for KC Agility & Standard height at UKAgility Shows.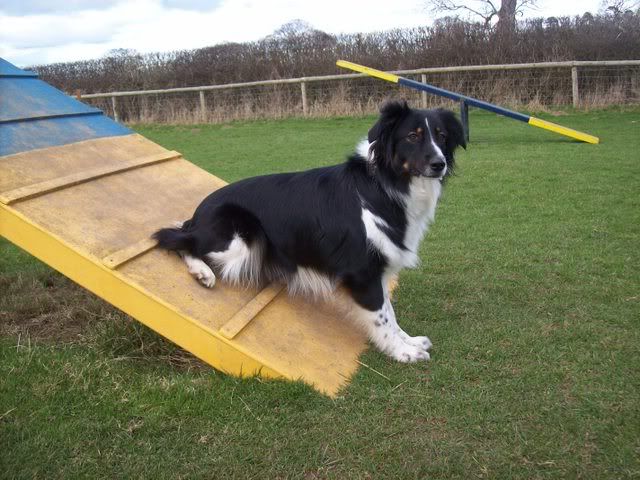 Rizzo is more than capable of holding her own against the large dogs being light and agile. She is the most reliable of my dogs and will (usually!!) wait at the start of the course until i give her the ok! She is great to run as she just goes out there and has fun!
Rizzo enjoying herself at Bromsgrove Agility Show 2009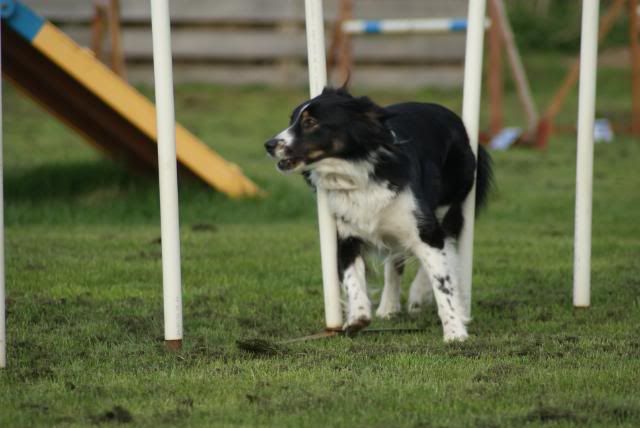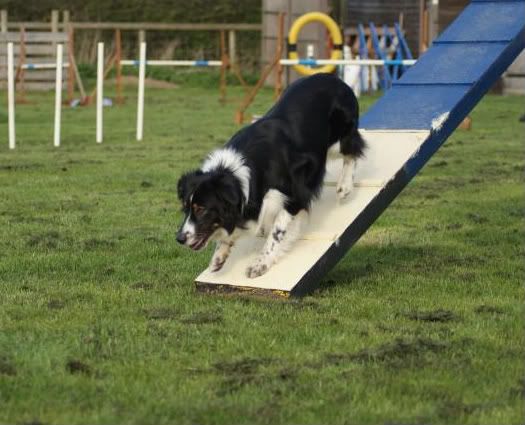 Rizzo has already had multiple placings in both jumping and agility. She is eligible for ABC competitions and she recently came 3rd in a ABC grade 1 - 7 agility class and 4th in a grade 4 agility class.  See the latest news  page for her up to date results.
Rizzo competed & was placed at Crufts 2008 & 2009 - see the Latest News Page for the videos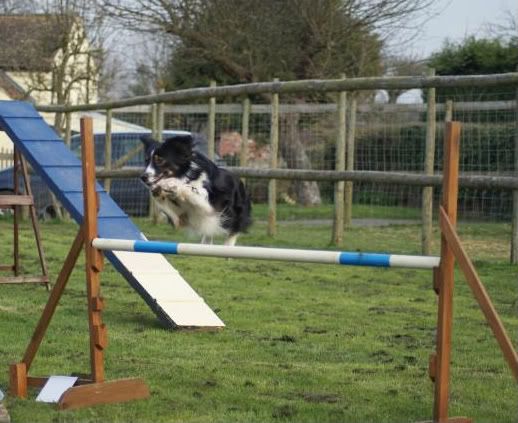 ---
OBEDIENCE
Rizzo loves going to Obedience training and practicing at home.
We only started training her for competition work in April 2008. Rizzo had her first show on 18th August and i was very proud of her. She was awarded a diploma in YKC Novice Graduate scoring   97 1/4  out of 100 losing out on first place by only 1/2 point! She also came 4th in YKC Intermediate - a fantastic start to her obedience career!
Rizzo really enjoys her training and does; Heel on lead, Heel off lead, Stays (in and out of sight), Retrieve, Send Away, Novice recall, A recall and scent.
Rizzo is always very enthusiastic in training and will do anything for a treat! All of her puppies have also 
inherited her love of food!!
Rizzo came 2nd in YKC Novice Graduate Obedience and 2nd in YKC Intermediate Obedience at the LKA show on 12th Dec 2008.
---
FLYBALL
Rizzo loves Flyball! She picked it up straight away which was helped by her being already used to jumping at agility training. Rizzo really enjoys flyball and she runs well as part of a team.
---
HERDING
 The Miniature Australian Shepherd has very strong herding instincts and are worked in America with many forms of livestock including sheep, ducks and cattle.
Rizzo hasnt got any sheep to herd but we have three Alpacas! Rizzo will herd them through gateways and into their enclosure.
---
WORKING AT THE GROOMING SALON
We own a Dog Grooming Salon and Rizzo is our little receptionist! She is the only one of our dogs that comes to work with us each day as she is the best behaved! (The salon is in a converted stable block up the garden so dont worry our others are let out and exercised during the day!) Rizzo is fantastic with all our customers - doggy and human! She relaxes all day in the salon enjoying watching whats going on. Rizzo will jump up at the reception counter and with her eyes she will tell our customers where the bowl of buscuits is incase they feel like passing one her way! She loves being fussed by all our customers and she shows them all her latest tricks. You would think she would love being groomed but she hates it! She would much prefer being muddy to having a bath! She is very well behaved being groomed but when she knows its her turn she hides in her bed!
---
On 22nd January 2008  Rizzo gave birth to 8 beautiful puppies. See the Past Litters page for more information.