Dunnellon Gottabe Chelsea AW (B)

Dunnellon Gottabe Chelsea AW (B)
"Chelsea"
Dunnellons Dancin Rizzo x Multi CH Gottabes Spot The Winner
Born: 22nd January 2008
Height: 16.5"
KC Agility: Grade 6

UKA Agility: Novice
KC/UKA Competing Height: Medium/Midi
Agility Warrant: Bronze
BVA Hip Score: 4 : 6
MDR-1 DNA Tested: Clear +/+ Normal
BVA/KC Scheme CERF Eye Examined Jan 2011: Clear
CEA/CH DNA: Clear/Normal
PRA/prcd DNA: Clear/Normal
Hereditary Cataracts (HSF4) DNA: Clear
Cobalamin Malabsorption DNA: Clear
My beautiful girl enjoying the sunshine in the paddocks
Chelsea coming 5th in the UKA Beginners Steeplechase Finals in 2010
Chelsea doing some agility training
Chelsea has won up to grade 6 in KC Agility & achieved her Kennel Clubs Bronze Agility Warrant.
Chelsea did the hat trick winning 3 classes at her last UKA show moving her up to Novice grade.
Im really looking forward to the years of enjoyment competing and training with my little girl
Chelsea enjoying Agility
Chelsea enjoys doing agility, especially the finish line run where she always speeds up & shows her potential! Chelsea moved up the grades quite quickly so we're going to do some more open classes and special classes with her whilst she gains in experience & confidence before tackling the grade 6 courses. As long as Chelsea has a nice time competing then that's all that matters to us!
A portrait of Chelsea by artist Rory McCann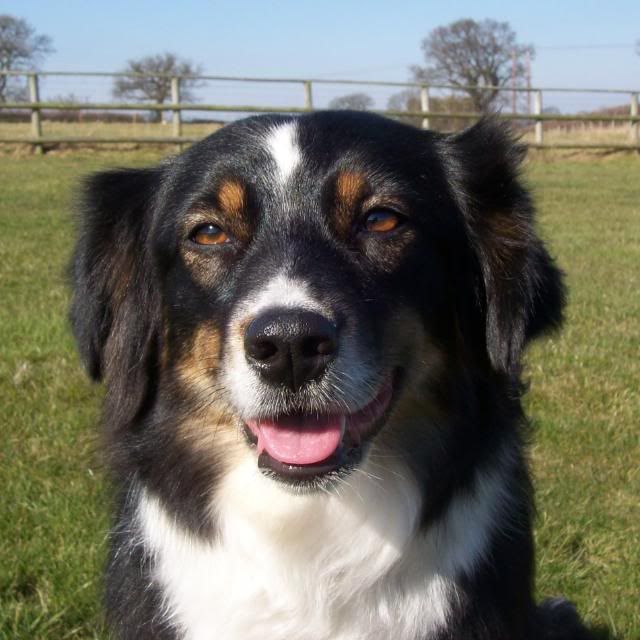 Chelsea is such a character - she has lots of nicknames! Admittedly Chelsea is a little bit spoilt! She is the baby of the family and she always wants cuddles! She is shy with people that she doesn't know but once she's made friends then she never forgets! People that Chelsea likes get greeted by her whimpering "talking!" with exctiement, a whole body aussie wiggle and then she usually flops on her back for a tickle tummy!!
Chelsea loves going for walks and running round the paddocks with the other dogs
Chelsea is always running up to us smiling and wagging her tail. She likes me to kneel down so that she can put her paws around my neck and tuck her face into mine for a cuddle! If I try to pull away she grips harder and gives really sweet kisses so that i cant resist cuddling her!
Chelsea was a wonderful Mummy to her litter in 2012 and a fantastic Aunty when her sister Roxie had puppies in 2011
The video below is Chelsea playing with Roxie's puppies!

---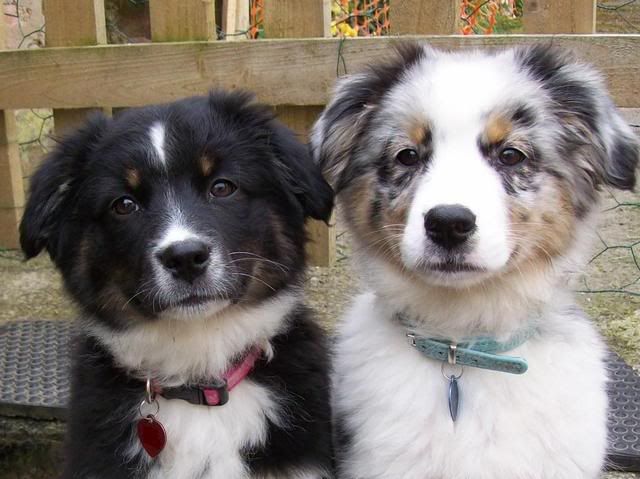 Sisters Chelsea & Roxie at 3 1/2 months old and 3 years old. Still the best of friends!
Chelsea is smaller than Roxie but this doesnt stop her catching Roxie up when they are playing chase! The two sisters get on really well - double trouble! They have great fun playing and then they like to curl up together when they are all worn out
Having a snuggle with her mummy Rizzo!