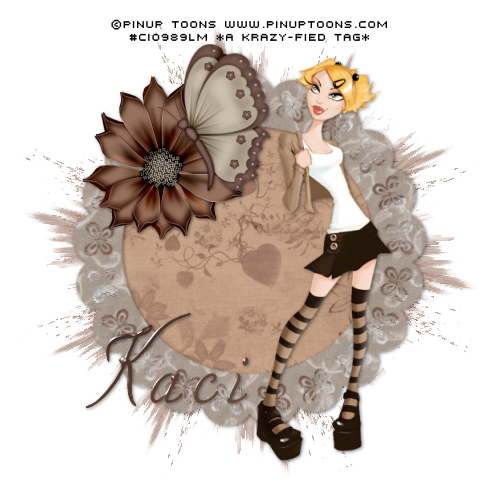 This tutorial was written by Kaci on August 11, 2008. Any likeness to another tutorial is purely coincidental. You may not copy/paste any part of this tutorial anywhere else. But you may link to my site for reference! :)
Supplies needed:
None supplied
Tube of choice, I am using the great artwork of Pinup Toons. You must have a license to use his work, see HERE

Scrap kit of choice. I am using one by Lisa called Coffee & Cream, it is pay to use, please see HERE
Mask38 by Chelle, HERE
Font of choice
No outside filters!
::Let's Begin::
Open new image size 500x500
Floodfill white
Paste paper of choice as new layer, resize if desired, I used paper5
Apply mask wsl mask 38
Merge group
Paste round frame of choice, I used frame4, resize as desired
With your magic wand, select the inside of the frame
Expand by five, invert selection
Paste another paper, I used paper8, resize if needed
Hit delete, select none
Drop shadow the frame, I used these settings, 1 1 50 5
Paste tube of choice, resize as needed
Drop shadow as before, and position
Add any elements desired, resize and position to your liking
Add any drop shadows as you go
Add your name and copyright
Save as png.
Hope you have enjoyed my tutorial!