Welcome to Kopieterra Huskies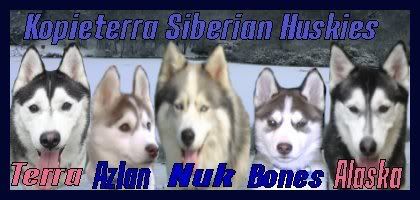 Here you will find information regarding our Siberian Huskies.

Terra (Melodor's Artic Challenge for Kopieterra) who came to us from Mrs Chris McLean of Melodor Akita's who we cannot thank enough for trusting us with such a delightful and beautiful dog.

When Kopie cat passed away we were in a position to take on another dog, Siberian Husky Welfare was just starting and getting off the ground. We decided that rather than taken on a new puppy it would be more rewarding to rescue an older husky.

I had previously spoken to Terry Brent (head of rehoming) regarding helping out with welfare with fostering and transport, so I contacted her again and said that we were interested in taken on a welfare dog, although as I was pregnant we would be willing to wait on the right dog for our family situation.

A few weeks later and Terry contacted us, she had a lovely black and white bitch who she thought would be perfect for us and the rest was history.

We have since taken on Nuk, a blue eyed woolie (longer haired husky) also through SHWA (UK) and we do as much as we possibly can for welfare.
On the 14th November 2008, Terra gave birth to 9 beautiful puppies of which we kept 2 and our pack is now finally complete, well for the forseeable future anyway.
We are now actively rig training the younger members of the pack at Aberfoyle with our friends Sharon Flanagan & Paul O'Donnell of Winterblaze Siberian Huskies who we can't thank enough for getting us into the working side of things and in return Sharon is trying out the showing side lol, it's all part of the slippery slope that is huskies.
Please feel free to contact us regarding anything husky as we will only be to happy to help!