As I have mentioned before, I have connected with many wonderful people on MySpace since the end of October 2006. This has been my life line while I have been in my "bubble."  It has reknewed my faith in human kindness. There are so many people that struggle each day with an illness such as cancer or something other.  Even those that have their health reach out to me with unwaivering support.  I have decided to dedicate this page to all of my friends that have battled and continue to battle Hodgkins Lymphoma.  They are all fighters and amaze me.
First and foremost, I have to mention Alese Coco.  She has been my true inspiration from the beginning of my battle with Hodgkins.  Alese  fought long and hard for five years. Sadly she passed on May 7, 2007.  Alese lived in California. Her website http://www.alesecoco.org is absolutely amazing. It is very informational and you will see what an angel Alese truly was and is.  There is not one day that passes that I don't think of her.  I FIGHT 2 WIN each day because of Alese.  Alese has another website that I hope you all will visit: http://fight2win.org/
Alese Coco
10 March 1984 - 7 May 2007
"The Journal of a Prizefighter"
Duane Bailey-Castro
Duane reached out to me on MySpace. He found my information through Alese Coco's web page. It's amazing the connections that can be made on the world wide web. Like myself, Duane has been battling Hodgkins Lymphoma. He has an amazing page which I hope you all will check out.
"I was diagnosed with Hodgkin's Lymphoma in late 2003, but it wasn't until after learning about my first relapse in the summer of 2005 and after discovering the dozens of inspirational stories of other patients and survivors on the Internet that I decided to make this blog a reality. I wish to share my experience with my family and friends via this blog and equally, I hope that others, who are also battling cancer, will be able to take something from this that will help them in their fight." Duane Bailey-Castro
Lisa is 37 years old and lives in Leicestershire, United Kingdom.  Lisa was diagnosed with Hodgkins Lymphoma stage IIIa on August 2, 2006.  She had 12 treatments of ABVD chemotherapy. Her last treatment was January 17, 2007.  Lisa had a CLEAN scan on May 9, 2007!! You can visit Lisa's page at http://www.myspace.com/muzzysgal
Laurie is 34 years old from Washington. She was diagnosed with Hodgkins Lymphoma stage Ia in May 2005. She had 12 treatments of ABVD chemotherapy.  Laurie had a CLEAN scan on November 23, 2005!! Laurie is continuing her remission journey and now seeing a naturopath as well as her oncologist. Thanks, LaurieYou can view Laurie's page at http://www.myspace.com/realityfreak
Kari is 27 years old and lives in Minnesota.  Kari was diagnosed with Hodgkins Lymphoma stage II on November 20, 2006.  She had 12 treatments of ABVD chemotherapy followed by 23 sessions of radiation to the chest.  Kari's last scan on July 27, 2007 showed tumors in her neck. Kari had an autologous stem cell transplant in November 2007 which put her into remission.   Everything went well. A few transfusions, blood, plasma, antibiotics...nothing too crazy, and they let me finally go home.  I started another month of Rads in January 2008, and finished that up in Feb.
I've been in remission for since maybe January. I don't pay attention to that word, just because it could change at any second. It's more a word that makes family members happy.  Since I've been in remission once before and it came back, I don't care if they use it or not. Maybe you know what I mean...

Anyway, it's been about 5 months since my transplant, and just yesterday I got my last port removed. What a relief. The surgeon was like "are you SURE you want to do this with just Novocaine in the clinic O.R.?" I was like "bring it on!, I don't want to have to ..make an appt. for surgery...get a driver...take a whole day...just to get this little sucker removed!! I had already had another one removed with out anesthesia, so what was one more time..

I'm still super tired, and my 3 1/2 year old takes whatever energy I have left! But I'm slowly getting back to my old self...SLOWLY!!
To learn more about Kari, visit her profile at http://www.myspace.com/lars123
Dennis is 39 years old and lives in Wisconsin.  Dennis was diagnosed with stage IV agressive fohicular large and small cell Non Hodgkins Lymphoma.   He had eight treatments of R-CHOP chemotherapy and 12 treatments of Retuxin.  Dennis had a CLEAN scan in January 2007!!  He now takes Retuxin every 60 days for the rest of his life. 
I'm doing ok. I can't complain. I have been back to work for a year know. I still have my bad day's , but more good then bad. I do not know if I will every get 100% use of my muslce's mass or strength back. I'm in remission and still kicking, so that is the important part.
The last couple of weeks I have been working on getting my team for "Relay for Life" together. We have 3o people working on donation's. Last year they did not have much for kid's. So we are having a duck pull for the kid's. Today we managed to get 360 prizes for the kids. we are going to have alot of raffles. The Greenbay packers have sent us an Autographed team football, the chicago cubs are sending an autographed baseball. One of our girls are making Mary Kay basket's, another girl is making candle basket's. We have alot more donation's coming. We have two poker party's , and car washes set up. So I'm hoping we surpass our goal. We all should raise $100 each for our personal goal. With everything else I hoping we can raise a total of $6000 this year. It is alot of work, but well worth it.
To see Dennis' profile visit http://www.myspace.com/dennisncoco
"From the beginning I was told I had three months. Doctor's didn't think I would come back from the 40 masses I had.  I told them to hook me up to the juice I would beat this. It was rough, but I made it. My Grandparent's were my inspiration."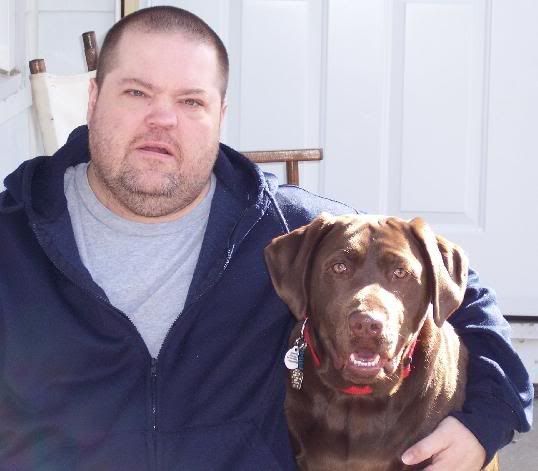 Dennis and his baby, Coco
Kelly is 34 years old and was diagnosed with Hodgkins Lymphoma February 9, 2007 stage IIIa.  She is had six months of treatment of ABVD chemotherapy.  We prayed that Kelly would have a  CLEAN scan on August 29, 2007!!  Unfortunately Kelly's cancer returned and had to undergo an autologous stem cell transplant. Kelly and I have become very close and hope to meet sometime this summer.  So far so good with Kelly's transplant. Last scan showed no signs of activity.  Please visit Kelly's profile http://www.myspace.com/BluEydGyrl 
Shona is 33 years old and lives in York, United Kingdom.  Shona was first diagnosed with Hodgkins Lymphoma stage II above the diaphragm at the age of 25 in 1999.  She received radiation five days a week for six weeks.  Shona went into remission for seven years.  July 2006 on her routine check up it showed a very low blood count.  This time she was diagnosed stage II below the diaphragm.  Shona did eight cycles of ABVD chemotherapy and got a CLEAN scan at the end of May 2007!! To view Shona's profile visit http://www.myspace.com/shonahodgson
"The treatment is really tough as I am sure anyone who has been through chemo will testify. I am so lucky to have my life back and I enjoy every minute and everyone in my life. I love life!"

Kristin is 25 years old and lives in New York.   Kristin was diagnosed with Hodgkins stage IIb on March 3, 2006. She had six months of ABVD chemotherapy and 4 1/2 weeks of radiation.  She then had two cycles of ICE chemotherapy and an autologous stem cell transplant.  August 1, 2007 Kristin had a CLEAN PET scan!!!! Unfortunately, February 12, 2008 her Hodgkins was back in her chest so she started more chemotherapy "EVA." She just had a recent PET scan and there were no signs of activity.  We keep Kristin in our prayers.  You can visit Kristin's space at http://www.myspace.com/kutekristin21
3

 Alan is 43 years old and lives in Florida.
"I was diagnosed with stage IIIA Hodgkin's lymphoma in early 2004. Hearing it for the first time was a very surreal moment. I thought that the Doctor was talking about someone else at first, then I looked at the tear rolling down my wife's face, and I knew it was me. I've always been a very active person; just six months before this, me and my two awesome kids (see my pics and videos) had earned our 1st Degree Black Belts in Tae Kwon Do. I've always been a fighter, and it was very hard to have to step back and go into treatment, but it was time fight a different fight. I was afraid, but I knew I would win this one, I knew I'd be fine.

I underwent six cycles of ABVD (chemo) and two additional cycles of ABV. (Those last two were without the Bleomycin, which has harsh side effects and has given me some difficulties.) Each cycle consists of 2 chemo treatments. I would get a treatment and wait two weeks to recover, then get another. I did have a mediport put in for the chemo. After all that, I underwent 40 cycle's of radiation therapy, which was not as bad as the chemo. All this took a little over a year. (This is the short "clinical" version of the whole treatment experience.)

It's been over two years since my last treatment and I'm doing well. I do get easily fatigued and a little short of breath now, (Bleomycin) but I'm doing good for 42 years young. I had a lot of family support and I tried to keep a positive attitude the entire time.

Right after my treatments, my oncologist explained to me that because of the advanced stage of my lymphoma at the time it was diagnosed, my chances of recurrence was about 60%. (60/40...I'll take it, I like my chances) He also said that the further out I get from my last treatment the lesser the chance of recurrence. My percentages would have been different of course if I were originally diagnosed at a lower stage. (And at a younger age too) I'll be following up with CT scans and lab work and what ever else over the long term.

I don't mind sharing my experience. There's been so much in a relatively short time; it sometimes overwhelms me to think back over it all. But I am continuing everyday to get better physically, mentally, and spiritually. I've heard and read a lot of inspiring stories of strength and survivorship and I love them all. Everyone has a story to tell, and I'd love to hear yours.

Also check the Lance Armstrong Foundation website - http://www.livestrong.org/ - for more information and some excellent video Survivor Stories. Those are great.

This past April 22nd it was 2 years since my last treatment. I am in my "now what" phase and I have been looking for ways to be involved with other people, and maybe help someone that may be facing what I've already been through.
All my best,
Alan"
You can visit Alan's page at http://www.myspace.com/alan_livingstrong
Robin is 36 years old and lives in California. 
"I won the cancer lottery on February 14, 2005 and was diagnosed with stage IIa Hodgkins Lymphoma and 6 months later Renal Cell Carcinoma. I had surgery for the kidney cancer in Dec 05 and that should be that. The Hodgkin's though was another story. After 15 months of treatment; 6 cycles of ABVD, 2 cycles of ICE, 2 cycles of DHAP, an autologous stem cell transplant and 5 weeks of radiation my scans still did not come back clear. Well, Sept of this year I went to the Cancer Center at Stanford University for a second opinion. After feeling me up and checking out my scans, they said I was clean. Yay!!! I was excited but was hesitant to totally believe it until my next scan. October 12, 2006 after new scans, I got the news....I AM CLEAN!!!! Whoo Hoo!!! I did it.  To everyone that is still fighting...hang in there! Just take it one day at a time. You're stronger than you think! Much love!"    To visit Robin's page go to http://www.myspace.com/robli3
Janelle Larson is 28 years old and lives in Idaho.  She was diagnosed with stage IV Hodgkins Lymphoma on December 2, 2003. 

"I had a 89% chance of being able to treat it with just this treatment.
Treatments were: Stanford 5 4 weeks of Radiation. In September of 2004 it came back, I had 1 treatment of Ice, and 4 treatments of DAHP, to try to put me back in remission however my cancer kept growing. I had to go into the Stem Cell transplant with cancer. My odds at that time were 20% chance to make it out of the stem cell without cancer and 15% chance I would die during it. I started my conditioning chemo which was regiment including Busulfin on December 24 then the transplant on December 31, 2004. I had many set backs like I got Mucisitis 4+, a C-Dif and staff infection.  My first clean P.E.T. Scan was March of 2004...  I never had a clean P.E.T until that day!!! It was the best day of my life!!!! I was shocked! They were going to start another stem cell if the P.E.T. was not clean. :(   The gave me a 80% chance of a relapse  in the 1st year but I have been 3 years in remission now!  I go to Seattle once a year and have tons of tests done to see how I am doing! I think I am a true test of Cancer and I would do it again, anytime!!! BRING IT ON!!!!! HODGKINS!!!!" Janelle got married late in 2007.
To visit Janelle's page visit:  http://www.myspace.com/Jnelnelly
Josie is 27 years old and lives in Pennsylvania. She was officially diagnosed on July 16, 2007 with stage IIb Nodular Sclerosing Hodgkins Disease.  She is currently receiving ABVD chemotherapy.  Like myself, Josie was misdiagnosed. They told her that she had pneumonia.
"They did a whole bunch of tests but initially it was a chest x-ray that detected the tumor. I have had everything from the x-ray to a surgical biopsy. (Which was the highlight of my July)."
To visit Josie's page got to: http://www.myspace.com/neverjaded
Jessie is 30 years old and lives in Kansas.

" I was born in Lincoln, NE and moved to Wichita when I was three. During my sophomore year in high school I was diagnosed with Hodgkin's Disease on April 18, 1994 and had to deal with chemo and radiation and the many, many side effects of them for about a year. I was Stage: I would have been a stage II except my left lung was 2/3 filled with fluid so I was a stage IV.  I was on eight 28 day cycles of chemo. On day one I was given intravenously: mechlorethamine (nitrogen mustard), + oncovin (vincristine) + procarbazine (took orally for 7 days) + prednisone (took orally for 14 days) = MOPP. Then on day eight I was also given intravenously adriamycin (doxorubicin) + bleomycin + vinblastine = ABV? (dacarbazine was not included). Days 15-28 I was off all chemo drugs but most of the time on an antibiotic (cipro). After my 3rd cycle of treatment I needed a blood transfusion. After my 4th cycle I got a fever and had to go to the hospital for 6 days. Found out that my white count was non-existent and I also needed another blood transfusion even worse this time because my red count was just half the normal minimum. After four cycles they reduced my doses of chemo by 25% and started giving me epogen shots three times a week to help my red count. I could go on and on. I also had 17 days of radiation after I was all done with chemo.
December 1994 was my clean scan, almost 13 years now and that is great but during the past year or so I've been discovering some of the long-term side effects of it all. However I am recovering from thyroid cancer which was no doubt caused by the radiation I had on my neck. I finished with a one time radioactive iodine treatment. Things are pretty much back to normal right now though. Not fun but it was a breeze compared to what I went through 13 years ago! This is my life!"
To visit Jessie's page:
http://www.myspace.com/jessicaann77
I was contacted by Adrienne's mother, Alison, who found me through Alese Coco's website.  Adrienne was an amazing young woman who battled Hodgkin's Disease for many years.  Adrienne passed away on October 1, 2009.  Please follow her story by visiting her blog at: http://adrienne95070.blogspot.com/
Adrienne was diagnosed with Hodgkin's Disease in 1996 at age 9. At the age 21, she has had multiple relapses, two bone marrow transplants, and a range of chemos and radiation therapies.
Michael Reed is 27 years old and lives in Alabama.
Michael (Mike) was diagnosed with Hodgkin's Lymphoma in 1999. He has had a long fight with this disease and is currently undergoing a clinical trial at MD Anderson in Houston. To read more of Mike's story please visit:
http://www.caringbridge.org/visit/michaelreed
Zach Rongers

was diagnosed with Hodgkins Lymphoma in 2002.  He lives in Arizona.





Zach's story is quite intriguing.

After learning of his diagnosis, he tried to beat the disease using chemotherapy, radiation, and other complementary and alternative treatment methods. He finished treatment in April of 2003 and was declared to be in remission from the disease. After going through treatments, the next 2 years of life was normal as can be. He met a girl named Erin who was also a survivor of the same disease. She had the same treatment in 1997 and they would talk about their "common bond" and support each other. Eventually, they fell in love and decided they wanted to spend the rest of their lives together. They were engaged in May of 2004. To visit Zach's page: www.caringbridge.org/visit/zachrongers



Sarah Adams was diagnosed with Hodgkins Lymphoma stage Ia in April 2007. Sarah has been in remission for six months now.  To see more of her story, please visit: http://www.caringbridge.org/visit/sarahadams
Anji is 30 years old and was diagnosed with Hodgkins Lymphoma Mixed Cellularity stage IIIb in August 2005, she lives in Ohio. Like me and so many others, Anji was misdiagnosed.  Her symptoms seemed to start in February 2005. Anji was very tired, had a sinus infection that wouldn't go away with antibiotics, lost weight for no reason, and started having fevers.  April 2005 she starting getting night sweats and developed a dry cough. Back to the doctor and she was told she had an upper respiratory infection and was given more antibiotics.  June came and she was still feeling really sick so she went to a new doctor. He told Anji that she was depressed and offered her anti-depressants.  He then ordered a chest x-ray.  The results came back that she had pneumonia. More antibiotics. She went back to the doctors at the end of July for another x-ray and she still had "pneumonia." More antibiotics. August 2005 Anji felt a lump in her collar bone. Anji went back to the doctor and he ordered a CT scan. A biopsy was done and it was confirmed that Anji had Hodgkins. She participated in a clinical trial, Stanford V. She did three months of weekly chemo and was found to be in remission. Because her disease was so bulky, radiation was done for four weeks as a preventative to her full mantle. Anji has been in remission for 2 1/2 years now and just had her second child!!!  Congratulations Anji!

"So, here I am today, 2.5 years in remission, I still feel the monkey on my back. I can't lie about that. Not one day goes by that I don't think about a relapse or worry about it. But, I have found a way to not allow the fear to consume me. I live more than I ever have. I do things that I always wanted to do, because I don't know when my time will be up and I can't chance having regrets. Sometimes it hurts to know that it took all of this to make me realize how short and precious this life really is."
Josh was diagnosed with Hodgkins Lymphoma stage IVb on August 10,2007 at the age of 26. Josh had several types of chemotherapy, radiation and a stem cell transplant. Sadly, his journey with cancer ended on October 4,2008.
"He fought this disease with every hope that he would be cured. Many of the Doctors who treated him said, "this is the only curable cancer there is" unfortunately that was not the case.  He never quit!"
His family misses him dearly, especially his mom, Ruth.
Please visit Josh's care page to show support:
http://www.carepages.com/carepages/joshdapp