Heeey! I'm Flicker. I'm really cheerful and bubbly werewolf.
http://i1020.photobucket.com/albums/af328/whitethunderanime-/NalaWolfHowl.jpg&t=1" width="128" height="139" />
In my wolf form, I can appear as a cute, small, fox-like, or I can actually look wolfy. In both forms, I always have ginger fur. In my smaller form, I have a long, bushy tail with a white tip. My smaller form also has slanted, narrow eyes. In my larger form, I am lean and still a little small. I also have a red tipped tail.
I have two human forms as well. A ten year old form, and a seventeen year old form. I prefer the ten year old one cause it's cuter ♥
My ten year old form has short ginger hair, like my wolf form. My seventeen year old form has longer and lighter hair, but both forms have reddish orangish eyes.
Anyways, I'm a loner, even though I like the company of others, I really like living and fending for myself. Also, don't get me pissed off, cause you'll be living in hell. I'm a best friend but also the worst enemy ♥
By the way, I love apples. GIMME APPLES!!!!!

Name: Flicker
Gender: female
Species: werewolf
Stat: loner
Crush: none, but even if I did, I wouldn't tell you ♥
Born: unknown. I'm an orphan.
Likes: APPLES! APPLES! APPLES! APPLES! Nice people. Making friends. Making people laugh. Cute fluffy animals. A challange. Did I mention apples?
Dislikes: Mean people who don't give me APPLES!!! (note to readers: if there are anymore mentions on apples, ignore it) Bullies. Fights. Rumors.
About Sakura (my other character):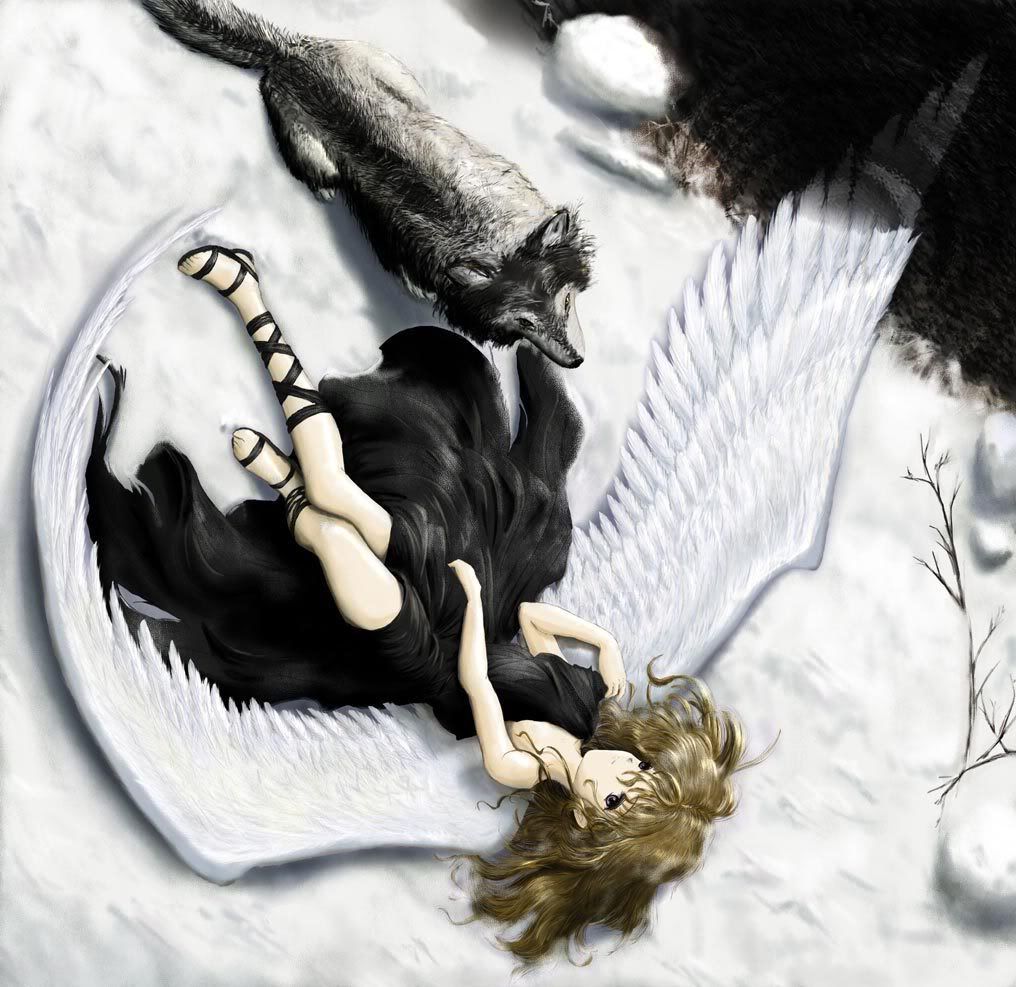 Name: Sakura
Gender: female
Species: wolf angel
Pack: Fire Light
Rank: Assassin
Crush: no~~one ♥
Description (wolf): pure white fur that gleames in bright lights. Soft, sometimes icy, blue eyes that will change to the colour purple if she gets emotional.
Description (human): golden-white hair that's curly and falls just past her small shoulders. Is very slim and a bit on the skinny side. Has a healthy glow in her skin and soft eyes that will turn icy when angry and purple when emotional.
Personality: most of the time, Sakura is quiet and distant and hard to communicate with. She has a hard time socializing, which was possibly caused by the fact that she has been alone for all her life and spent her childhood in fear and depression. Due to her past, Sakura has become a strong and close to undefeatable fighter. She is both skilled in fighting in both her forms and can fight best in the air, which is her dominated territory. Sakura is also very smart and is good at figuring people out.

Likes: most of her interests are unknown. She makes it clear, however that she prefers to be in a quiet and peaceful place. She loves reading and (even though most do not know this) she loves playing the flute.
Dislikes: like her interests, her dislikes are also mostly unknown. Sakura doesn't usually hate many things, but one of the things she hates most is loosing her temper and people that annoy her.
Interesting traits/facts of Sakura: Sakura has photographic memory. This allows her with the ability to look at something and being able to commit it into memory and still remember is for as long as she needs. She is also unnaturally strong ever since she was young and has benn building that strength to today.

Oh, one more thing, this is the site I made --> http://flickersroleplayingsite.webs.com/
Pwease join!