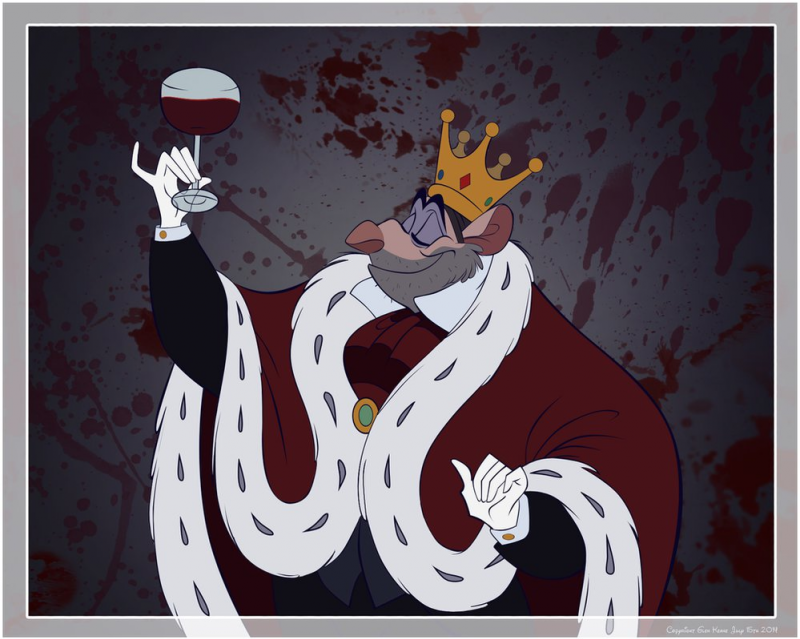 Details
Title: A Bloody Triumph
Artist: Mackenzie Ferry
Submitted to TGA: August 8, 2014
File Size: 255 KB
Image Size: 2.8 MB
Resolution: 3000×2400 (Reduced to 800 x 639)
Original viewing site: deviantART
Artist's Comments
I swore to work on a commission for someone, I apologize.

I was compelled to draw one of my favorite characters (villain, I should say) from one of my favorite Disney films. I believe I drew Ratigan MUCH better than I did five years ago. One thing that slightly bothers me is the crown. I probably drew it a little too tall.

I wanted to make this picture dark, though; blood of Ratigan's victims all over the walls.

Taking a sip of red wine...Or is it blood?


I've always wanted to draw dark art. It's creepy, but beautiful at the same time.


I think Vincent Price was one of the MOST genuine horror actors of all time. One of my favorite actors. He was a real gentleman, very refined and cultured. Very few people nowadays do NOT know who he was, and that makes me sad.
Not literally, but you get my point.

Blood brushes:
http://keren-r.deviantart.com/art/Blood-Brushes-2-24116919

http://inmate0fmymind.deviantart.com/art/Simple-Blood-Brushes-16867424

Professor Ratigan rightfully belongs to Disney animator Glen Keane.