Managing Director Colin Theedom has 30 plus years experience in the finance industry, and is a football fanatic! A life long Arsenal supporter, his footballing career spanned 28 years, rising from junior football to Isthmian League in the early Seventies all in the south of England, where he hails from, and latterly in the York League until 1994 when he retired aged 44. Colin moved north in 1990 and has been involved in local football ever since, and has followed Frickley Athletic as an armchair supporter since he moved to York. Colin is looking forward to watching his favorite non league football team from now on!!
Tech5 are proud to be Official Partners of Frickley Athletic and wish the players, staff and supporters a successful season 2008 / 9 for more information on Tech5 visit www.tech5.co.uk
1st July
The draws for the early rounds of the FA Competitions have been drawn today with the Blues being drawn at home to Cheadle Town or Newcastle Town or Skelmersdale United in the 1st Qualifying Round of the FA Cup sponsored by E.On and being drawn at home to Nantwich Town in the First Qualifying Round of the FA Carlsberg Trophy. 
25th June
More of last season's squad have put pen to paper for the coming season with Chris Hilton, Chris Gowen and Scott Turner all signing non-contract forms. Also signing is 18 year old midfielder Jacob White who has been released from Barnsley FC's academy.
24th June
It is with regret that Frickley Athletic report the passing away of groundsman Frank Hill. Frank was 71 years of age and has been a familiar figure at the ground for many years. He will be sorely missed by everyone at the Club. Frank's funeral will be held on Friday 4th July at 10am at St. Mary's Church and then on to the crematorium at 11am.
15th June
The 2007/08 Season Review DVD is now available, priced £6 (plus P & P). The DVD features 40 minutes of home highlights including every goal from competitive matches at Westfield Lane last season. They will be on sale from the Club Shop at the pre-season friendlies or available to order by e-mail from steve@pennocks.freeserve.co.uk.  
10th June
Manager Billy Heath has begun signing many of last season's squad on non-contract forms to add to the five contracted players of Lee Morris, Danny Walsh, Dean Jones, Rob Pell and Chris White. To date Jon Hood, Jonathan Groome, Neil Towler, Chris Davies, Phil Lindley, Adam Nicklin, Adam Pollock, Darren Barrick, Ashley Vickers and Dean Wilburn have all re-signed whilst Heath has also secured the signature of defender Michael Gibson from Hall Road Rangers and forward Adam Lee from Ilkeston Town. 
17th May
With the 2007/08 season only recently finished Billy Heath has secured the services of two more players for next season with Rob Pell signing a new contract to the end of next season whilst the Club have taken up the one-year option in Chris White's contract to keep him also contracted to the end of 2008/09. This comes after Dean Jones, Lee Morris and Danny Walsh all signed contract extensions last month.
7th May
Frickley Athletic have announced admission prices for the 2008/09 season. For the first time in four years the prices have been increased with admission being set at £8 for Adults, £5 for OAPs and £3 for Children Under 16. Season Ticket prices have been set at £135 for Adults and £85 for OAPs. However, the Club are running an "earlybird" offer with Adult season tickets being available for the reduced price of £125 and OAP season tickets for £75 so long as they are applied for before 31st July 2008. Payment can made in installments so long as the full amount is paid before the start of the season. The Season Ticket Application Form is available here to download. Details of special Children's season tickets will be announced soon. 
1st May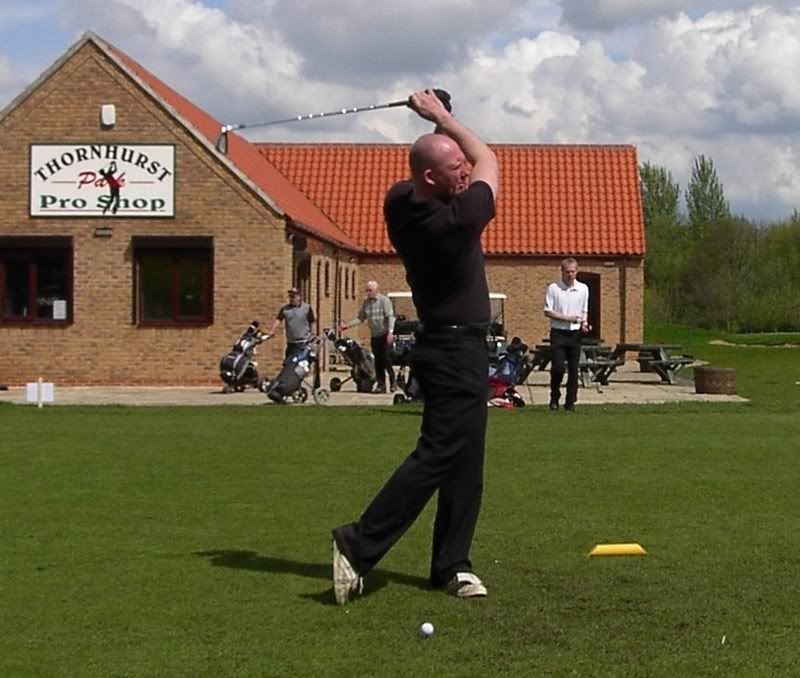 12 teams of 4 players participated in the inaugural Frickley Athletic golf day at Thornhurst Manor on Tuesday 29th April.  The first players teeing off at 10am bathed in glorious sunshine.  With teams having a 9 hole warm up in the morning before getting down to the various competitions after lunch.
Apart from a short cloud burst mid afternoon nothing dampened anyone's spirits and a great relaxed time as had by everyone.
A short prize ceremony was held after the evening meal.  With prizes being given out by Manager Billy Heath to:
Lee Morris winning the Individual Competition
Allan Pearson of Hayley Northern as Individual runner up
Lee Morris, Ashley Vickers, Ryan Morton and Steve Robinson as winning team
R&B Rockdrillers of Hampole as team runners up
Chris Gowen for the Longest Drive
Charles Van Blerk of Andrews Sykes Pumps for Nearest the Pin
The club would like to thank everyone who took part, especially to those who sponsored individual holes and the competitions and helped turn the event into a great fundraising event for the club.
Anyone wishing to pre book for next years competition or who wishes to sponsor a hole or donate a prize please contact the club.
27th April
Frickley Athletic are staging a benefit match for central defender Steve Heath at Westfield Lane on Monday 5th May. Thirty year old Heath has missed almost all of this season due to a form of cancer which has seen him undergo numerous tests throughout the season. Having now had a tumour removed Heath is now hoping to begin his recovery but, unfortunately, his illness has also prevented him from working for several months and he is still unlikely to work during his recovery.
Frickley have therefore arranged a match between Frickley's current squad and a Chairman's Invitation XI which will kick off at 3pm on Bank Holiday Monday. Players who have already committed to appear for the Chairman's XI include Neil Redfern, Martyn Woolford, Gary Hatto, Gary Ingham, Steve Kennedy and Antony Jackson.
The Frickley side will be managed by player Steve Robinson with the current management team of Billy Heath and Mark Carroll due to turn out as players.
The main match will be preceded by a match between South Kirkby Juniors U12s and Upton United Under 12s. The turnstiles open at mid-day and admission is £5 for adults and £2 for concessions.
In order to raise further funds for Steve Heath Frickley are asking for bids for people to participate in the day itself in several ways. These are as follows:
Auction 1 – Player : Bids are invited from males over the age of 16
Auction 2  - Assistant Manager : Bids are invited from males or females over the age of 10
Auction 3 – Mascots : Bids are invited on the behalf of children under 16s
All bids to be lodged in writing with any Club Official or via e-mail to steve@pennocks.freeserve.co.uk.  Please state clearly which auction you are bidding on and leave full contact details. The auctions will close at 8pm on Saturday 3rd May in order that the winners can be notified of their success on Sunday 4th May. 
In addition the Frickley squad will be signing all the shirts in both the home and away shirts and these are being offered for auction, with the exception of the home number 9 and 10 shirts which have been reserved by sponsors. Again, all bids are to be lodged with any Club Official or via e-mail to steve@pennocks.freeserve.co.uk and full contact details should be given along with the number of shirt being bid on. The deadline for bids is 5pm on Monday 5th May.
Steve Heath started his career as a junior at Leeds United. He had spells at Carlisle United and Rotherham United before joining Stamford. He moved on to Matlock Town and Ilkeston Town before joining Alfreton Town in summer 2000. He moved to Bridlington Town in June 2003 and joined Frickley for the first time towards the end of the 2005/06 season before joining Stocksbridge Park Steels the following season. He returned to Frickley upon the appointment of his brother Billy as manager in October 2006
12th April
Following today's game the presentations for the three Player of the Year awards took place on the pitch in front of the main stand. 
Jonathan Groome was voted "Supporters Player of the Year" and he was presented with his trophy by long-time Blues' supporter Ron Williams.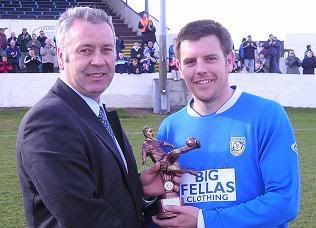 Chris Hilton was voted "Players Player of the Year" and was presented with his trophy by Chairman Pete Bywater.
Danny Walsh received the "Management Player of the Year" which was presented to him by Manager Billy Heath.
2nd April
Frickley Athletic have been given a timely boost as they enter the final run in to a difficult season with the news that three key players have signed new contracts. Central defender Dean Jones, midfielder Danny Walsh and striker Lee Morris have all signed contracts to keep them at Westfield Lane until the end of next season. Securing the three signatures signals the start of Frickley's intention to build on the vast improvements of the latter half of the season in order to have a much more successful campaign in 2008/2009.
The timing of the deals couldn't be better as Frickley go into the last five matches of the season on the back of an incredible run that has seen them take 36 points from the last 20 UniBond League matches since Billy Heath returned to the club as manager. This run has seen the Club move from six points adrift at the bottom of the table after fifteen matches to within touching distance of cementing UniBond Premier Division football next season.
However, with only five points separating ninth placed Ilkeston Town from nineteenth placed North Ferriby United, Frickley still have a considerable amount of work to do to be certain of avoiding relegation. Currently occupying thirteenth place they travel to fourteenth-placed Matlock Town on Saturday knowing a win would go a long way towards securing their future in the Premier Division. Unfortunately, they will be without the services of leading goalscorer Morris who serves the first of a two-match suspension for an accumulation of bookings whilst defender Steve Robinson is suspended for the rest of the season following his fourth dismissal of the season against Ossett Town on Good Friday. 
16th March
Frickley Athletic officials have admitted to being astounded at accusations in the Worksop press of racism at last Tuesday evening's UniBond League match at Westfield Lane. The accusations are from Worksop's Chairman John Hepworth and Manager Peter Rinckavage who are alleging Frickley fans made abusive and racist chants towards Worksop fans throughout the entire game and that Frickley officials stood by and took no action. 
However, Frickley Chairman Pete Bywater is disappointed not only with the nature of the allegations made by Hepworth but also by the way in which the allegations have been made in the press rather than bringing any concerns to the attention of Frickley Athletic. 
Bywater said " We strongly refute any such claims by Worksop. To the best of my knowledge there was a short spell of antisocial chanting towards the end of the game when the perpetrators were spoken to by the stewards and the language was subsequently toned down." 
He added " When we were made aware of the article it gave us cause for concern so we reviewed the match video to see if any further chanting or any abuse or racism could be identified in order to back up Worksop's claim. However, this only serves to quash Worksop's claims with no abusive or racist chants evident at all in the first half and only the aforementioned few minutes of unacceptable language towards the end of the game. This chanting was related to the miners strike of 24 years ago so to refer to it as racist is completely over the top.  For Rinckavage to claim he heard constant abuse for the whole game is absurd." 
As well as refuting Worksop's claims in the Worksop Guardian Bywater is disappointed that Worksop have made the claims in the press without addressing concerns with anyone from Frickley. He said "It is little known outside of the club but we had a few issues at Ilkeston Town last season but we took the matter up with Ilkeston directly and it was resolved amicably between the two clubs. There was no slanging matches or threats in the press. We believe this is the correct way to address any problems so why Worksop couldn't do this I don't know."
6th March
Following the success of the Family Fun Days held over the last two seasons Frickley Athletic are pleased to announce that this season's Family Fun Day will take place on Good Friday, 21st March, when Frickley entertain local rivals Ossett Town at Westfield Lane. 
The entertainment will get under way from 1pm with numerous attractions for kids of all ages such as a Bouncy Castle, Bungee Trampoline, Slides and Face Painting, whilst food and refreshments will also be available. The "main event" kicks off at 3pm when Frickley take on Ossett Town
As with previous seasons the Club are offering FREE admission to Under 16s who are accompanied by a paying adult with vouchers for this offer being distributed via local football clubs and schools, as well as being available for download by clicking here.
6th March
Frickley Athletic have unveiled Big Fellas Clothing as their shirt sponsor until the end of the 2007/2008 season. The Big Fellas Clothing logo will adorn the front of the Blues' kits until the end of the current campaign, as Frickley look to maintain their resurgence on the field. Frickley have a long association with Big Fellas Clothing who are already an Official Partner of the club and supply size 2XL-8XL clothing across the UK from their location near Doncaster and via their website at www.bigfellasclothing.com  
Commenting on the deal, Big Fellas Clothing owner Chris Johnson said: "I'm excited as a local business to be supporting the premier non league football club in the area, and the shirt sponsorship until the end of the season is not only great for business but also good for the football club after the fight they are enduring this season. I'm very pleased to be able to continue to support the club as both a fan and a sponsor"
Frickley Athletic Commercial Manager, Tom Grindel added "I'm delighted to build upon our excellent relationship with Big Fellas Clothing. They are a superb company who have been supporting the Club as an Official Partner for some time so it is great for the Club that the name of such a loyal local firm will be on our shirts for the rest of the season."
Meanwhile, the Club are looking to secure both shirt and stadium sponsorship for the 2008/09 season as they look to build on the impressive performances and results during the second half of the current season. Interested parties can obtain further details from Tom Grindel on 07793 683306 or by e-mail, commercial@frickleyafc.co.uk.
2nd March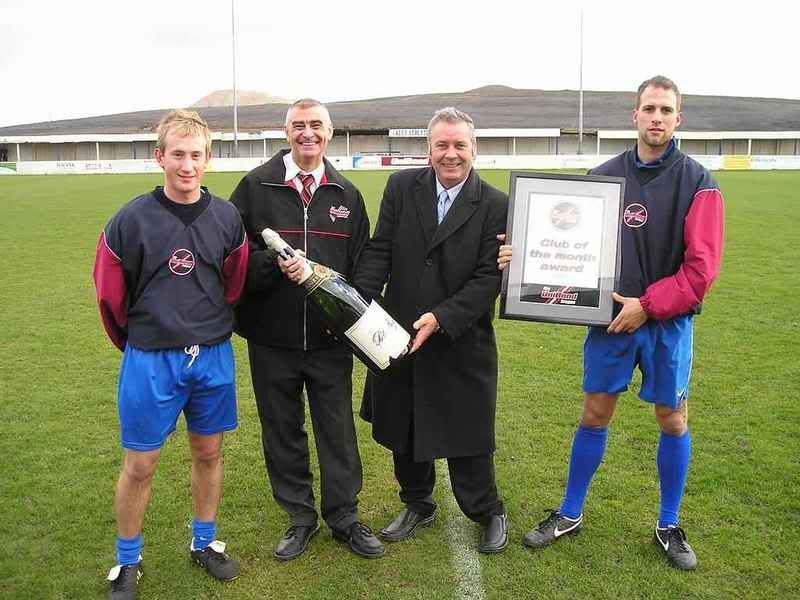 Prior to yesterday's match against Stamford the club were presented with the UniBond Premier Division "Club of the Month" Award for February 2008 by UniBond League representative Gareth Davis. Pictured above (left to right) is Ashley Vickers, Gareth Davis, Pete Bywater (Chairman) and Dean Wilburn.
13th December
Billy Heath has this evening secured the services of striker Rob Pell from Guiseley. Heath beat off competition from several other UniBond Premier Division clubs for Pell's signature. Pell scored 10 goals for the Blues last season before leaving to join Guiseley in November 2006. However, things haven't worked out at Nethermoor with new boss Steve Kittrick allowing the 28 year old to leave. 
Meanwhile, winger Chris White has signed a contract with the club until the end of the season with the option of a further year. 
9th December
The Club have today confirmed Billy Heath's position as manager following his stint as caretaker-manager over the last few weeks since Mark Hancock's dismissal. Likewise, Mark Carroll is confirmed as assistant manager. The board are pleased with Heath's haul of 7 points from the last 4 matches and hope that this improvement in results will continue over the coming months to give the Club a realistic chance of avoiding relegation.  
Heath took over the reigns at Frickley in October 2006 and steered the Club away from the relegation zone but both Heath and Carroll resigned from their positions just 9 matches into the current campaign following a disappointing start to the season. However, after Mark Hancock's ill-fated spell in charge Heath indicated that he and Carroll may have been hasty in leaving the club initially and agreed to take charge in a caretaker capacity with a view to being considered for the job on a permanent basis. The subsequent upturn in results has satisfied the Frickley board that Heath is capable of taking the club forwards from its current position.
23rd November
Caretaker-manager Billy Heath has boosted the Blues' squad with the signing of striker Neil Towler from Bridlington Town. Locally-based Towler has scored 10 goals for the UniBond First Divison North side but he was sent off last Saturday for the second time this season and serves a 4-match ban starting on 1st December.
11th November
The board of Frickley Athletic have today relieved Mark Hancock of his duties as manager of the Club. Unfortunately, performances on the pitch since Hancock took over have not improved and the board feel that given the club's current position in the League that a new manager is required who is capable of bringing in experienced players in key positions in order to move the Club forward. 
Hancock took up the role as manager just over five weeks ago and in that time the Club have played seven competitive matches, winning one, drawing one and losing five.
Potential managers interested in the post should contact Chairman Pete Bywater on 01977 648365 or 07831 778290 as soon as possible as the Club are hoping to appoint Hancock's successor swiftly given the Club's position.
11th November
Frickley Athletic FC are delighted to announce a further Official Partnership with I H Caravans Ltd of South Yorkshire. I H Caravans are a caravan holiday letting agency who specialise in renting out privately owned caravans throughout the UK.
Managing Director for IH Caravans Ltd, Ian Howard said of the deal; "We are an expanding family run business, which has been established for a number of years. We have static caravan holidays available throughout the UK but we do specialise in the East Coast of England and that is why Frickley Athletic FC is an ideal commercial partner. We wanted a real presence at the football club and not just to be a smaller player at one of the bigger, professional clubs.  All our caravans are privately owned and we are continually looking for additional static caravans to rent out on the caravan owners behalf. We look forward to speaking to plenty of local caravan owners about exciting opportunities to earn revenue for themselves."
Tom Grindel, Commercial Manager for Frickley Athletic added, "It's superb to have I H Caravans Ltd on board at Frickley. They are very keen football fans who are extremely enthusiastic about their link up with Frickley."
To celebrate their partnership with Frickley AFC, www.ihcaravans.co.uk are giving away free entries to the Frickley Super 6 Lotto Draw with every booking. 
Frickley Athletic FC still have a range of exciting main sponsorship and advertising options available for the rest of the season and beyond. Interested parties should contact Tom Grindel, Commercial Manager on 07793 683306 or by emailing commercial@frickleyafc.co.uk.
9th November
Mark Hancock has signed two more players ahead of tomorrow's game against Leek Town. Former Frickley Under 19s striker Dean Wilburn has signed along with Jonathan Groome from Hatfield Main. Groome scored when trialling for Brodsworth against the Blues in last week's friendly. 
5th November
Midfielder Neil Redfearn has today left the club to join Bridlington Town. He is due to take up a new role and his availability for matches may be affected. Redfearn has therefore decided to take up an offer from Bridlington.  
25th October
The outstanding away UniBond League game at Guiseley has now been rearranged for Tuesday 11th December, k.o. 7.45pm.
19th October
Mark Hancock has boosted his Frickley squad ahead of tomorrow's FA Trophy tie at Prescot Cables with the signing of two former Frickley players. Striker Steve Oleksewycz joins the club for the third time from Harrogate Railway whilst central defender Craig Marsh re-joins from Goole AFC. Both were registered in time to play tomorrow. However, midfielder Carl Wood has signed for NCEL side Scarborough Athletic after we agreed not to make Scarborough wait the required 7 days following their approach 2 days ago. 
17th October
The draw for the Third Round of the UniBond League Cup has given the Blues a trip to Ossett Town, with the tie due to be played on Tuesday 13th November.
16th October
Mark Hancock has today signed 18-year old winger/striker Ashley Flynn from Kirkburton AFC. Flynn is a former Manchester United junior who has scored 9 goals so far this season and he goes into the squad for tonight's game against Whitby. However, Dean Jones will be missing through injury and Richard Marchant is on holiday.
10th October
Mark Hancock has boosted his squad prior to tonight's game at Ilkeston Town with the signing of midfielder Richard Marchant from Ossett Town. Neil Redfearn returns to the squad after missing Saturday's game through suspension.
9th October
Carcraft, the UK's longest established used car hypermarket group, are sponsoring the matchball for Frickley's match against Whitby Town at Westfield Lane on Tuesday 16th October, but they are also giving an added incentive for fans to attend the match. Representatives from Carcraft will be in attendance at the match to hand out vouchers offering free entry into a regional prize draw run by Carcraft's Leeds hypermarket. This will give fans a chance to win one of five major prizes including the £2,500 first prize.
Established in 1951, Carcraft is the UK 's longest established used car hypermarket group, with over 8,000 nearly new and used cars in stock.  It is a family-owned business and prides itself on family values and great customer service.  It also offers superb choice and value: from hatchbacks to saloons, estates to sports, 4x4s to cabriolets, there is something for everyone.
The company operates from ten locations across the UK – including Carcraft Leeds, located at Capitol Park West, just off Junction 28 of the M62.  Opening hours are 10am till 10pm (Monday to Friday), 9am till 9pm (Saturdays) and 10am till 6pm (Sundays).  The site features a large indoor showroom, a café, a children's play area, comfortable seating areas and hundreds of cars to choose from. See their website at www.carcraft.co.uk. 
2nd October
A fortnight after Billy Heath left his post as manager Frickley Athletic have appointed former Frickley favourite Mark Hancock as his successor. Hancock will be joined at Westfield Lane by Andy Hayward as player/assistant manager.
Hancock enjoyed thirteen years as a player at Frickley after signing from local side Wharncliffe Arms. He then moved onto have a four-year spell with Bradford Park Avenue before re-joining Frickley as player/assistant manager to Phil Sharpe in 2002. However, after one season he left to take over as manager of the newly formed AFC Barnsley, where he spent three years as player/manager before the club's demise in 2005. During this time he won two League titles and one Cup. Hancock then had a short spell as a player with Wakefield FC before moving on to become reserve team manager at Ossett Town.
Hayward is also well know to Frickley fans having been a prolific scorer for the Blues in the 1993/94 season which saw him move into the professional game at Rotherham United. He then had spells at Doncaster Rovers, Hednesford Town and Barrow before returning to Frickley in 1999. However, just over a year later he left for Bradford Park Avenue and then moved on to Stalybridge Celtic in March 2004. The following summer Hayward moved to Ossett Town where he later became assistant manager, but he subsequently left to join North Ferriby United as a player during the summer of 2007.
Hancock and Hayward will take charge of their first match on Saturday for the visit of Eastwood Town with the Blues still looking for their first win of the season. They will be without former Barnsley midfielder Neil Redfearn who serves a one-match suspension for his sending off at Ashton United but will be boosted by the news that centre half Steve Heath has been informed that he does not need a hernia operation and he could be back playing sooner rather than later. However, forward Nathan Hotte has left the club, having decided to re-join North Ferriby United.
20th September
With senior players Chris Hilton, Jon Hood and Steve Robinson taking charge of the side for the next few games they have boosted the squad with the signing of the highly experienced Neil Redfearn this evening. Although now 42 years of age, Redfearn can still compete at UniBond League level and will give the side a much-needed lift going into Saturday's game at Ashton United.
Redfearn has made over 1000 competitive matches during his 25 year career which began as a junior at Nottingham Forest before moving on to have spells at Lincoln City, Doncaster Rovers, Crystal Palace, Watford and Oldham Athletic before he really made his name at Barnsley where he spent 7 years before a £1 million move to Premiership Charlton Athletic followed.  Redfearn went on to make further moves to Bradford City, Wigan Athletic and Halifax Town where he had his first taste of management in a caretaker capacity. He then moved to Boston United and Rochdale before dropping out of the Football League to join Scarborough, initially as a player but later as player-manager. However, he resigned in June 2006 and later signed for Bradford Park Avenue where he made his 1000th competitive appearnance in an FA Trophy tie against Solihull Borough. He left Bradford in March 2007 to join Stocksbridge Park Steels but then became manager of Northwich Victoria in the summer of 2007 before resigning from his post earlier this week.
17th September
Frickley Athletic are looking for their third manager in the last twelve months after Billy Heath has decided to resign from his position following Saturday's FA Cup defeat to local rivals Stocksbridge Park Steels. Heath's assistant Mark Carroll has also relinquished his position. 
Heath took over at the beginning of October last year following the departure of Gary Marrow to Grantham Town and immediately revived the club's fortunes, moving the club comfortably into mid-table. But a slump in form after Christmas, coupled with excellent runs from some of the relegation candidates, had Frickley looking over their shoulders until a penultimate match win over Kendal Town secured UniBond Premier Divison football for this season. 
With the addition of a couple of new players over the summer Heath and Carroll had been expecting to start the season much better then they have, but points have been hard to come by. Saturday's FA Cup defeat to Stocksbridge saw the club reach a new low, prompting Heath and Carroll to decide they could take the Club no further. 
All at the Club wish to thank Billy Heath and Mark Carroll for their efforts and wish them well in the future. 
Frickley are inviting applications for the vacant managers position either in writing to the Secretary, Steve Pennock, 3 Kingsley Crescent, Armthorpe, Doncaster, DN3 3JG, by e-mail to steve@pennocks.freeserve.co.uk or by phone on 07985 291074.
22nd August
Local youngsters are in for a treat after UniBond Premier Division side Frickley Athletic announced plans to offer free season tickets for lucky junior fans. The South Elmsall-based Club have circulated hundreds of vouchers around local junior football teams which offer free entry to under 16's who are accompanied by a parent or guardian for the match against Fleetwood Town at Westfield Lane on Saturday 1st September (k.o. 3pm). The first 100 junior fans through the turnstiles at the match will be eligible to receive a free under 16's season ticket which allows them entry to all UniBond League Premier Division home games when accompanied by a parent or guardian. 
The promotion is the latest effort by the club to strengthen its links with the local community and follows on from their successful Community Fun Days over the last two years which have attracted the highest crowds of the season. 
Chairman Peter Bywater commented, "We've always prided ourselves at being at the heart of the local community and realise that the future of the club lies with our younger supporters. As fans are priced out of League football we're aiming to offer them a quality, cost-effective alternative at a friendly club."
19th July
After suffering several knock backs over the summer with their ground being broken into three times Frickley Athletic have suffered another disappointment with the news that last year's Main Club Sponsor, GMB Union, have decided no to renew their sponsorship for the forthcoming season. The deal with GMB covered not only the home and away shirt sponsorship but also the naming rights to the ground and, contrary to reports in the Hemsworth & South Elmsall Express, was worth around £12,000 to the South Elmsall club. 
Chairman Pete Bywater commented, "We are disappointed that GMB have decided not to renew their sponsorship, especially so close to the start of the new season, but we fully appreciate that they have had changes of policy behind the scenes and we are not the only sporting organisation that GMB have withdrawn sponsorship from. Going forwards we are already in talks with a couple of interested companies but we are still keen to hear from any businesses who feel they can help Frickley's push for success for the coming season and beyond." 
The sponsorship loss comes after the Club have endured three break ins at their Westfield Lane ground over the summer. The first in late May cost the club approximately £2000 following damage to the clubhouse, club shop and facilities under the main stand whilst the clubhouse has suffered two further break ins either side of last Saturday's first pre-season friendly against Farsley Celtic. These have cost the Club the best part of a further £2000 to repair the damage and install a security alarm.
Mr Bywater went on to say, "The series of break-ins are soul-destroying after the amount of hard work and money that his been put into the ground over the last few years. But, we are a determined Club who will not be beaten by mindless vandalism."
1st June
Striker Lee Morris has signed a contract to keep him at the club until the end of the 2007/08 season. Meanwhile, manager Billy Heath, has been securing other members of the squad on non-contract forms. Of last season's squad Chris Hilton, Jon Hood, Adam Pollock, Ashley Vickers and Carl Wood have re-signed so far whilst Richard Tracey has signed back from North Ferriby United. 
26th May
The Blues can confirm their first pre-season friendly game of the summer with York City visiting the GMB Stadium on Wednesday 25th July, k.o. 7.30pm. This was part of the deal that took Martyn Woolford to York last August.  
17th May
For the third season running the Club are freezing admission prices with Adult entry for the 2007/08 season being £7, OAP £4, and Under 16s £2. Season Tickets will again be priced at £120 for Adults, £70 for OAPs/Concessions and £35 for Under 16s. These will be available from 25th May, with more details to follow.
7th May
The Club have taken up the 1-year options on the contracts of Dean Jones and Danny Walsh so both will be contracted to the club for the 2007/08 season.
4th May
Manager Billy Heath continues to assemble his squad for the coming season with inspirational centre-half Steve Heath signing a one-year contract to keep him at the club until at least the end of the 2007/08 season. The last few weeks has also seen numerous other signings as Heath looks towards the first pre-season game against Farsley Celtic which takes place a week on Saturday. These include Scott Turner and his brother Carl Turner, midfielder Craig Burdick from Barton Town (ex Bridlington Town and Goole AFC), right full-back Adam Deakin from Scunthorpe United, goalkeeper Andy Jeffrey (ex Bradford Park Avenue who played one game for the Blues last season), left sided midfielder Ryan Morton (former Doncaster Rovers triallist), defender Steve Robinson from Winterton Rangers, midfielder Martin Thacker as well as Joseph Clement, Adam Nicklin and Joshua Moore from local football. 
29 May
The Club suffered a set-back last Thursday morning when it was discovered that the ground had been broken into in the early hours. The intruders smashed their way into the main stand before breaking into the clubhouse, snack bar, club shop and tannoy announcers box. 
As very little was actually stolen it appears that the target was cash - which is hardly ever kept on the premises - but at a rough estimate it is anticipated that the cost to repair the damage could be as much as £2500.
27 May
Everyone who attended Friday night's Sportsman's Dinner will no doubt agree that the evening was a thoroughly enjoyable one with 'Razor' Ruddock and comedian Jimmy Bright both on great form.
The night saw three presentations with Steve Kennedy being re-presented with his Supporters Player of the Year award whilst Steve Heath received the Players Player award and Danny Walsh received the Managers' award. Unfortunately, it appears that Kennedy has played his last game for the club as he has indicated to manager Billy Heath that he is looking to move to a club nearer his home for next season.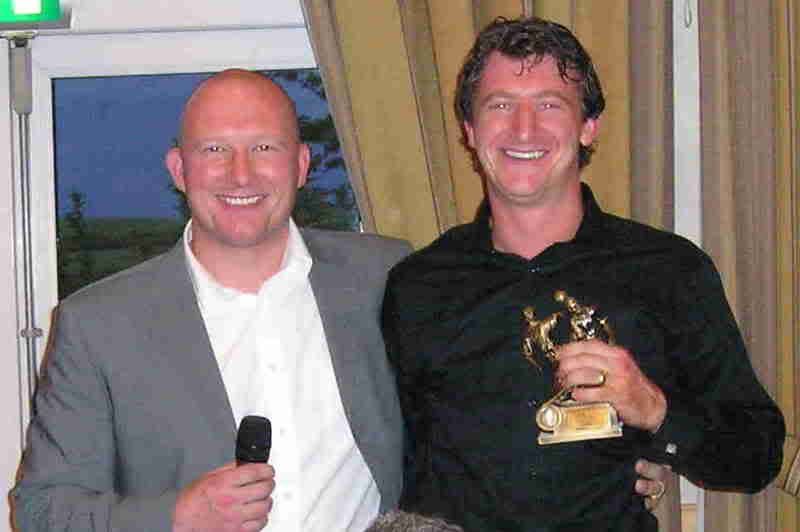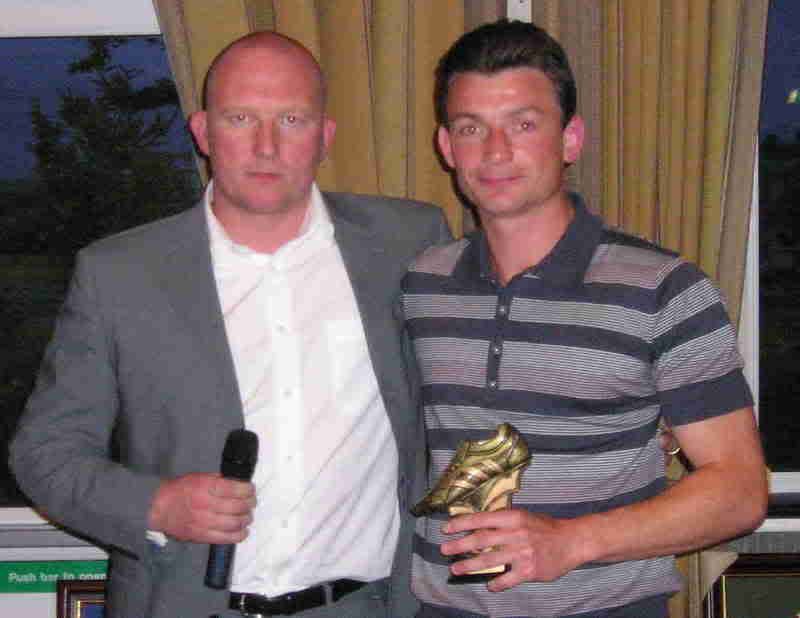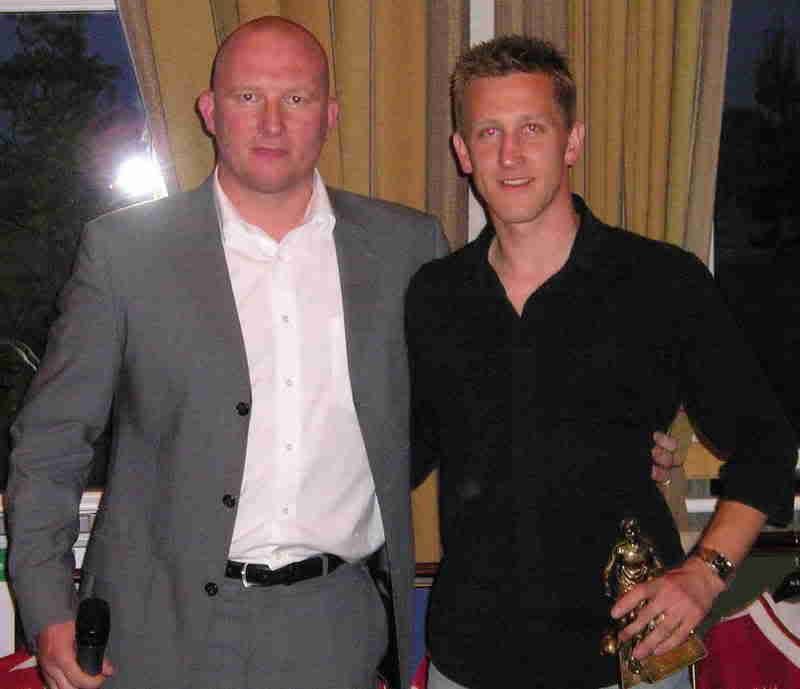 2nd May

Frickley Athletic FC are appealing for volunteers to be stewards for next season. Volunteers will not necessarily be expected to be available to steward at every game but they will be entitled to free admission along with a free drink and pie/burger at every game that they steward. 

There is also the possibility of prospective stewards attending a UniBond League Steward Training Course over the summer which would lead to a Nationally recognised qualification. 

Anyone interested should contact Club Secretary Steve Pennock on 07985 291074 or via e-mail at steve@pennocks.freeserve.co.uk.

28th April

Frickley Athletic regret to announce that long standing Committee Member Ken Day sadly passed away late on Thursday afternoon in Pontefract General Infirmary. Ken was 86 years of age and had been a Frickley Athletic Club Official for almost 30 years, initially as a Vice-President before joining the Club's Management Committee in 1988. 

Also a keen cricket enthusiast Ken played for Hooton Pagnell and then captained South Kirkby Colliery's 2nd team until retiring at 56 when he became an umpire. He also became Chairman of South Kirkby Colliery Cricket Club and Umpires Secretary for the Doncaster & District Cricket League. 

His working life saw him work for both Hemsworth Rural Council and Wakefield District Council as a painter in the Housing Department. He also served in the RAF as an aircraft mechanic during World War Two. 

Ken has been a widdower for 23 years and has one son, Brian.  

Ken's funeral has been arranged for 12:00 on Wednesday 9th May at St Mary's Church, Badsworth. This will be followed by a cremation at 1pm. 

All at the Club send their deepest sympathy to Ken's family and friends.

Witton Albion have kindly agreed to hold a minute's silence in memory of Ken before the kick off of today's Witton Albion v Frickley Athletic game.

21st April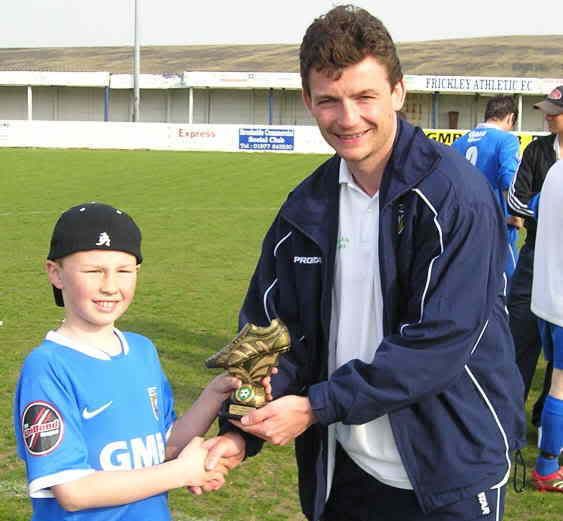 With voting taking place at today's game for the Supporters Player of the Year, immediately following today's match club captain Steve Kennedy (right) was presented with the trophy by nine-year old Josh Lane.

 

 

 

 

 

4th April

The Club would like to thank all those who have helped with ground improvements over the last 12 months and especially since Christmas when a tremendous amount of work has been done in a short period of time at the ground. All this has been well worthwhile with the FA/UniBond League inspectors visiting the ground on Monday afternoon and being suitably impressed with the improvements that have been carried out.  

Without the help of these dedicated supporters and willing volunteers it is unlikely that we would have been able to complete the required work in time but thanks to everyone who helped at any point this has been achieved. Thanks also to those who have contributed towards the bucket collections and to Edgar Matthews who has done the Club proud by taking the collection bucket around the ground for most matches. These collections have raised £758 this season which has helped tremendously towards the cost of materials for the ground improvements.  

However, the work doesn't stop now. Over the summer we will endeavour to complete the terracing of the two small grassed areas just beyond the Snack Bar. This will eliminate all soft standing areas from the ground as well as continuing to improve the overall look of the ground. It will also help us to increase our ground capacity, which has recently been calculated by Wakefield MDC to be 2,087.  

We intend to continue with the bucket collection next season to enable us to continue to improve the ground further. Plans in the pipeline include to improve the covered stand on the pit tip side of the ground, the addition of further turnstiles at the Snack Bar end of the main stand and the addition of a significant amount of crush barriers to the terraced areas. The latter two will help us to increase our ground capacity to much nearer 3,000 which is needed for Conference North football.

26th March

Following the success of last year's "Family Fun Day" when over 900 people were in attendance for Frickley Athletic's 1-1 draw with North Ferriby United, Frickley are repeating the event for this year's Good Friday UniBond Premier League game against neighbours Ossett Town on Friday 6th April. 

With doors opening at 1pm the attractions on offer will appeal to kids of all ages. These will include a bouncy castle, sumo suits, barfly, pole jousting and a face painter. This will be followed by the main event as Frickley Athletic take on local rivals Ossett Town at 3pm.

Admission to the game and attractions is FREE to all under 16s with doors opening at 1pm. Tickets for this event are being distributed via local schools and junior football teams as well as being available to download (click here) and being published in the club's official newspaper, the Hemsworth & South Elmsall Express.

8th March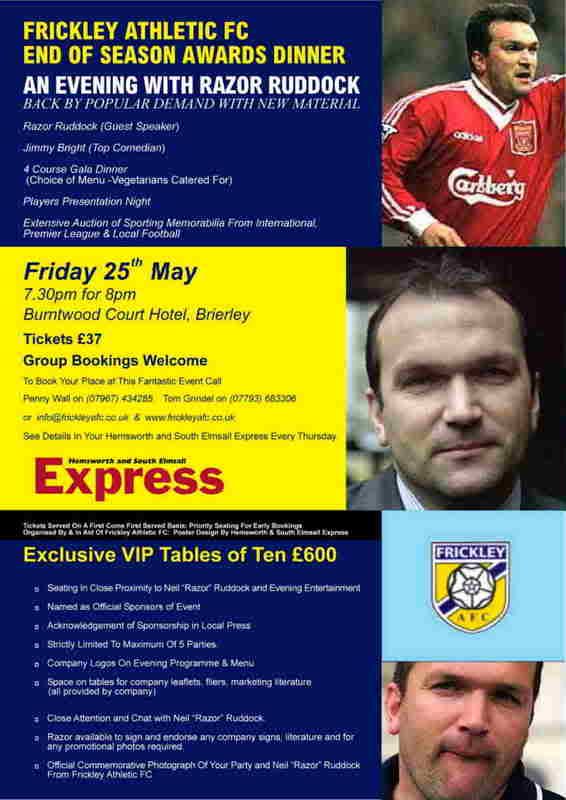 Frickley Athletic are pleased to announce that Neil 'Razor' Ruddock will return by popular demand as the guest speaker at their end-of-season Awards Dinner. He is supported by top comedian Jimmy Bright. The Dinner takes place at the Burntwood Court Hotel on Friday 25th May at 7.30pm with tickets priced at £37 which includes a 4-course gala dinner. There will also be an extensive auction of sporting memorabilia. 
A limited number of VIP tables are also available costing £600 for a table of ten. These tables will be situated in close vicinity to 'Razor' and will allow more time to be spent to chat with 'Razor' along with photo opportunities with corporate literature. Businesses taking up these tables will be publicised as official sponsors of the Dinner which will include publicity in the local press as well as in various other media outlets (ie websites, etc). There will also be an opportunity to display promotional leaflets, etc.
Individual tickets or VIP tables can be booked by contacting Penny Wall on 07967 434285 or Tom Grindel on 07793 683306. Alternatively, e-mail info@frickleyafc.co.uk. 
25th February
Frickley Athletic are appealing for volunteers to come and help with ground improvements at their GMB Stadium over the next three Saturdays (3rd, 10th and 17th March) when the first team currently have no matches scheduled. Anyone who can spare an hour or so from 9am onwards will be most  welcome. 
Work at the ground has progressed well over the last few months but the club require as much help as possible to ensure that the ground is in tip-top condition for when it receives a further ground grading inspection at the end of March. By then the club will be expected to satisfy all the relevant criteria to receive a Grade C. 
It is hoped that there will be enough volunteers this coming weekend (3rd March) to repair the roof of the covered standing area which was damaged in the high winds at the beginning of the year, along with laying further concrete for the terrace extension. 
The following few weeks will require the completion of the concreting, the turnstiles to be tidied up, an extension to the fence at the "allotment end" of the ground, completion of the new treatment room under the stand and a general tidy up of the ground. 
All of this should be able to be completed comfortably within the required timescale so long as enough volunteers are forthcoming. The response to appeals for help has been good in the past, hopefully this will continue over the next few weeks.
16th February
With the Blues down to the 'bare bones' for tomorrow's trip to Burscough assistant manager Mark Carroll has signed three players to bolster the squad. These are James Tomlinson, Carl Wood and Martin Wood. Tomlinson is a former Hull City junior and reserve team player who has also played with Bridlington Town. Carl Wood is a former North Ferriby United and Hall Road Rangers midfield player whilst his brother Martin has also been on the books at Hall Road.
14th February
The Blues have received a boost today with the news that leading goalscorer Paul Palmer has rejected a move back to his previous club, Goole AFC. Goole had submitted a 7-day notice of approach early last week but Palmer has decided to stay at the GMB Stadium. This comes on the back of the Blues being unsuccessful in their bid to lure striker-cum-defender Brett Lovell from Grantham Town who have increased the player's wage in order to keep him at Grantham. 
However, more good news will see manager Billy Heath return to active involvement at the club within the next week or so, most likely in time for the home fixture against Matlock Town. Heath has been unable to take more than a passing involvement in the club since the first week in January due to a sudden increase in work commitments but these are now well under control leaving Heath once again able to devote the required time and effort into managing the club.
Heath is currently closing in on a couple of new faces to boost the Blues' squad which is currently light on numbers. This is no more so than on Saturday when the Blues are without the suspended duo of Steve Kennedy and Lee Morris whilst Paul Palmer is unavailable.
Over the last few days assistant manager Mark Carroll has secured the signature of two players, Ross Haywood and Nick Ball. Haywood is a left sided player from Winterton Rangers whilst Ball has signed from local football.
24th January
Midfielder Neil Ashley is the latest Frickley player to opt to join former Blues' manager Gary Marrow at bottom club Grantham Town after they submitted an approach a fortnight ago. The club tried to persuade Ashley to stay but couldn't compete with the money being offered by Grantham. Also, Wayne Wallace has been released so that he can return to Bridlington Town.
19th January
Richard Tracey (left) has today left the club to join North Ferriby United who had submitted an approach for the player last week. Also, Carl Giblin has been released and is expected to re-join former club Bridlington Town.
12th January
Midfielder Martin Thacker has decided to leave the club and has returned to former club Goole AFC. However, Steve Heath returns to the side after suspension for tomorrow's game at Fleetwood Town with the Blues also hoping to have a new face in the squad.
20th December
The Club are appealing for volunteers to help with work at the ground on Thursday 28th December from 9am. Whether its only for an hour or for most of the day, any help will be appreciated. Simply turn up in appropriate clothing and footwear any time from 9am. 
The 'working day' has been planned to help continue with the terrace improvements and other areas that the club need to address following a ground grading inspection in October. The items that need addressing are : to complete the concreting (ie the terrace extension on the far side of the ground and the soft standing areas in front of the fence behind the goal at the allotment end and between the snack bar and the corner of the ground), construct a player treatment room (which is planned for under the stand in part of the old bar) and to tidy up the turnstiles as well as a few other minor things such as signs, etc. It is planned to have these items complete by the end of February so all help will be greatly appreciated.
15th December
Striker Mark Ward has today left the club to join Gary Marrow at Grantham Town. Grantham submitted a 7-day approach nearly a fortnight ago and Ward has decided to leave the Blues to aid Marrow's fight against relegation. As well as the management team, he joins Gary Ingham, Alex Callery and Lee Stratford at The South Kesteven Stadium.
13th December
The Club are appealing for volunteers to help distribute match advertising posters around the local area. The areas in question are South Elmsall, South Kirkby, Hemsworth, Upton, Hooton Pagnell and Ackworth. Anyone able to help can download the posters from www.pennocks.freeserve.co.uk/posters.html or contact Secretary Steve Pennock on 07985 291074.
This follows concern over the drop in home attendances this season compared to those of last season. Attendances have been lower than expected right from the start of the season when only 235 turned up for the opening home game of the campaign against Whitby Town. Considering the success of last season and the expectation of being able to emulate that success this season this 'gate' was somewhat disappointing. From then on the trend has pretty much continued with 'gates' now settling at the 200 mark.
With Billy Heath now assembling a capable side which has lost just one UniBond League match in the last nine and has moved to the fringes of the play-off places the attendance of 202 for Tuesday night's match against Gateshead was equally disappointing. With no live football on terrestrial TV and only Doncaster Rovers at home locally surely a 'gate' of at least 250 wasn't unreasonable to expect?
In another attempt to boost attendances the Club are arranging to distribute tickets to local schools offering free admission to children who are accompanied by a full-paying adult, for the home game against Marine on Saturday 27th January. There will also be a voucher in the Hemsworth & South Elmsall Express offering the same incentive. 
The Club have just submitted an application for promotion to Conference North should the Blues finish in a qualifying position at the end of the season. We are therefore appealing to local football fans to back the Club's ambitions and Heath's team by giving your support for the remaining eight home UniBond Premier Division matches of the season to help the Club's ambitions come to fruition.
The Club have announced details of Half Season tickets which are available now which cover admission to the last seven home UniBond League games of the season, starting with the home game against Mossley on Saturday 30th December. The Half Season Tickets are priced as follows : Adults £40, OAPs £22, U16s £10. Contact Secretary Steve Pennock on 07985 291074 for more details.
8th December

Frickley Athletic manager Billy Heath has bolstered his squad over the last few days with the acquisition of 2 more players. Versatile defender Carl Giblin has joined from UniBond First Division Bridlington Town whilst striker Lee Morris has signed from Conference North side Stalybridge Celtic.

 

Twenty-two year old Giblin is essentially a centre-half but is equally at home in any of the back-four positions. He progressed through the ranks at Queensgate and won three player of the year awards at Bridlington last season.

 

Morris is no stranger to the GMB Stadium having spent two seasons with Frickley before being sold to Harrogate Town at the end of the 2003/04 season after finishing as the club's top scorer. He also had a month at Frickley last season in which he scored one goal in four games. Unfortunately, injury curtailed his spell at Harrogate and he had a spell on loan at Wakefield-Emley before moving on to Droylsden, Hucknall Town and latterly Stalybridge Celtic, with whom he played against the Blues as a second half substitute in the this season's FA Cup replay.

 

Coupled with the two new signings the Blues have also rebuffed an approach from Grantham Town for club captain Steve Kennedy.

 

The news comes at an important point in the season for Frickley. Despite the recent loss of leading scorer Rob Pell to Guiseley, an impressive run of four wins in their last six UniBond League games has seen the Blues move away from the relegation zone to a comfortable ninth position in the table. Although they have played at least a game more than most of those around them the Blues now stand just five points away from the play-off places. The next few matches could prove crucial to the remainder of the season as if the Blues can continue their recent form then they could well emerge as contenders for a play-off place – which would be an outstanding achievement considering the position the Blues were in when Heath took over the reigns from Gary Marrow in early October.

1st December

Midfielder Paul Rickers has today been released so that he can join Goole AFC who made an approach for the player last week.

24th November

Billy Heath has today brought another former Blues' player back to the GMB Stadium with the signing of Kieron O'Brien from Goole AFC. O'Brien previously played for the Blues under Phil Sharpe and was with Guiseley last season.

24th November

The Blues have today lost the services of leading scorer Rob Pell who has decided to join Guiseley following them submitting a 7-day approach last week. However, joining the club is 21 year-old goalkeeper Andy Jeffrey from Bradford Park Avenue who is likely to deputise for the suspended Jon Hood tomorrow against Radcliffe Borough. 

20th November

Billy Heath has added to his squad with the signing of 21 year old winger Dean Sidebottom from Sheffield FC and 20 year old defender Dean Twibey from Scunthorpe United. Heath is also expected to complete the signing of a goalkeeper with Jon Hood suspended for Saturday's game against Radcliffe Borough.

10th November

Mark Crossfield has today left to join Wakefield FC who had submitted a 7 day notice of approach earlier this week. With Crossfield unlikely to be involved for the Blues on Saturday Billy Heath agreed to allow Crossfield to move in time to be able to play for Wakefield at the weekend instead. Lee Stratford is due to move to Grantham on Sunday after they submitted a 7 day notice of approach last weekend and the player has indicated the desire to leave the club.

9th November

Billy Heath has today re-signed Steve Robinson from Bradford Park Avenue with Robinson due to be available for Saturday's UniBond Premier Division game against leek Town.

3rd November

The Club have agreed a deal with Grantham Town which will see last season's top scorer Alex Callery join Grantham over the weekend. Callery's performances haven't been up to the same high standard as last season and he has appeared unsettled at the club over the last month or so. The club have therefore accepted an offer which sees Callery join former boss Gary Marrow at Grantham.

25th October

The draw for the Sheffield & Hallamshire Senior Cup Second Round sees the Blues travel to AFC Emley on Wednesday 8th November, kick off 7.45pm. This means that the away UniBond Premier Division game at Grantham Town will be postponed. Also, Billy Heath has signed midfielder Martin Thacker from Goole AFC. The club's AGM has been arranged for Monday 20th November at the Minsthorpe Hotel at 7.30pm.

20th October

Billy Heath has bolstered his squad ahead of tomorrow's FA Carlsberg Trophy tie against Cammell Laird by signing defender Danny Moore from North Ferriby United and forward Ben Eastwood from Bridlington Town as well as signing reserve team player Oliver Pinnell on UniBond league forms. 

Moore is a twenty six year old right sided player who progressed through North Ferriby's reserve team to the first team where he scored the winning penalty in Ferriby's play-off shoot-out victory over the Blues. Eastwood is a former Hull City schoolboy who came through Goole's U19s to play for their first team in 2004/05 before moving to Bridlington Town in December 2005.

The signing boosts Heath's squad which was starting to look a little bare for tomorrow's game with Steve Heath cup-tied, Lee Stratford serving a one-match suspension and Steve Kennedy ruled out with injury. Dean Jones and Calum Selby are also doubtful with both due to have fitness tests prior to the game whist Dean Foley is unavailable.  

19th October

Billy Heath has captured the signature of striker Paul Palmer from Goole AFC, although he isn't eligible to play in Saturday's Carlsberg FA Trophy tie as he played for Goole in the Preliminary Round. Palmer has scored 7 times already this season for Goole and was a prolific scorer previously at Bridlington Town.

16th October

Billy Heath has today added to his squad by signing his younger brother Steve Heath from Stocksbridge Park Steels. A 28 year-old centre half, Steve Heath, is a former England Schoolboy International who started out at Leeds United, Carlisle United and Rotherham United before having spells at Matlock Town, Ilkeston Town, Alfreton Town and Bridlington Town as well as spending the latter stages of last season at Frickley.

13th October

Billy Heath has added another goalkeeper to his squad by signing 25 year old Jody Barford from Lincoln United. Along with Jamie Green, Barford will provide competition for Jon Hood. 

9th October

Following Grantham Town submitting 7 days notice of approach for Gary Ingham last week the popular goalkeeper has decided to join Gary Marrow's new outfit. However, manager Billy Heath has moved quickly to secure a replacement 'keeper for tomorrow evening's match against Grantham by re-signing former Blues' keeper Jon Hood from Ossett Town. 

5th October

Just nine days after the departure of Gary Marrow to Grantham Town Frickley Athletic have unveiled former Bridlington Town manager Billy Heath as their new Manager with Mark Carroll joining as his assistant. 

After a successful playing career at senior non-league level thirty-six-year-old Heath enjoyed five successful seasons as manager at Bridlington, leading them to promotion from the NCEL First Division as runners-up in his first full season. The following season he led Bridlington to the NCEL Premier Division title and with it gained promotion to the UniBond League First Division as well as reaching the Fourth Qualifying Round of the FA Cup and the FA Vase quarter finals. Heath's first season in the UniBond League culminated in an 11th placed finish and with it earned Bridlington a place in the newly restructured UniBond Premier Division.  

However, after coming so far in such a short space of time, Bridlington were relegated back to the UniBond First Division after just one season. But, the following season, Heath again had Bridlington challenging at the top of the table but he resigned in March 2006 due to much publicised financial problems at the club although Bridlington were in a play-off position at the time. 

Carroll was Heath's assistant at Bridlington, having been an apprentice at Hull City alongside Heath before moving into non-league football at the likes of Hall Road Rangers, North Ferriby United and Bridlington Town.

Heath takes charge of his first game on Saturday as Frickley travel to Radcliffe Borough looking to halt a run of five successive Premier Division defeats. However, Heath will be heartened by Frickley's performances in the FA Cup against Stalybridge Celtic whereby a depleted Frickley side pushed Celtic all the way before bowing out by a solitary goal in the replay. Unfortunately, he is likely to be without the services of the injured Danny Walsh and Richard Tracey although the squad has been boosted by the return of striker Ashley Scothern who has signed from Ossett Town.

26th September

Frickley Athletic regret to announce the departure of manager Gary Marrow who has decided to accept the position of manager at UniBond Premier Division rivals Grantham Town. It is expected that assistant manager Mark Ogley, coach Alan Ogley and physio Mick Gilbert will join Marrow at Grantham although the latter three took charge of the Frickley side for tonight's visit to Guiseley.

Marrow joined Frickley for the second time two years ago when the club were bottom of the UniBond Premier Division and led the club to safety. He followed that up last season with the most successful season that the club have enjoyed for twenty years as Frickley finished runners-up to Blyth Spartans in the UniBond Premier Division. Unfortunately, Frickley bowed out of the promotion play-offs at the first attempt.

The Committee at Frickley wish to thank Gary Marrow and his staff for their efforts at the club and wish them well in the future.

Frickley are inviting applications for the vacant managers position either in writing to the Secretary, Steve Pennock, 3 Kingsley Crescent, Armthorpe, Doncaster, DN3 3JG (e-mail steve@pennocks.freeserve.co.uk) or by phone on 07985 291074.

26th September

In addition to Gary Marrow's departure Pete Bywater has decided that he will step down as Chairman due to business and family commitments. However, he will continue to fulfill the role for the next month or so until plans are in place to appoint his successor.

31st August

After much speculation and interest from various clubs over recent weeks Frickley Athletic can confirm that left winger Martyn Woolford has today signed for Nationwide Conference side York City for an undisclosed five-figure fee. The club will also receive a percentage of any transfer fee received by York City for Woolford in the future and York have agreed to play Frickley in a friendly at the GMB Stadium prior to the 2007/08 season.

Twenty year old Woolford joined the Blues at the start of last season from Glasshoughton Welfare and was an instant hit with Woolford contributing fourteen goals and numerous assists as the Blues finished runners-up in the UniBond League Premier Division. His progress prompted Frickley to offer him a contract last October which he duly signed. 

During the summer Stockport County took Woolford on trial to Ibiza and it looked likely that Woolford would join them but an offer was never forthcoming. Both York City and Hartlepool United have been tracking him recently and it was York who made Woolford an offer that he has decided to take.

The Club wishes to place on record its thanks to Martyn Woolford for his efforts for the Club and wish him all the best in his future career.

24th August

Frickley Athletic are bracing themselves for the possibility of losing one of their crop of impressive young players with York City showing a keen interest in left winger Martyn Woolford and they are expected to be about to table an offer of a significant fee for Woolford's signature. York are the latest club to show an interest in Woolford who terrorised defences and scored 14 goals for the South Elmsall-based side last season as they just missed out on the UniBond Premier Division title. During the summer he spent a week on trial in Ibiza with Stockport County and he has also recently attracted the attention of Hartlepool United as well as UniBond Premier Division rivals Guiseley who have recently received substantial financial backing. Tuesday night saw Woolford open his account for this season as he notched the equaliser as Frickley came back from 2-1 down to beat Whitby Town 3-2.

20th August

Gary Marrow has added to his squad by signing 18-year-old goalkeeper Jamie Green and 23 year old midfielder Remo Nesa. Green, who was released by Sheffield United during the summer, has signed as cover for Gary Ingham after impressing during pre-season. Nesa played for the Blues previously under Phil Sharpe and has signed from Glasshoughton Welfare. 

12th August

The Blues completed their pre-season matches with a comfortable 3-0 win over Wakefield FC at the GMB Stadium this afternoon. Dean Jones (left) opened the scoring after 30 minutes, heading in Calum Selby's cross after a corner had been cleared. Six minutes later it was 2-0 as Martyn Woolford turned and fired into the top left hand corner through a crowded penalty area. Woolford missed a chance to score again mid-way through the second half when he went around the 'keeper but took too long to shoot and his effort was blocked. However, substitute Richard Tracey sealed the win by tapping in the third on 82 minutes. Frickley : Ingham (Green 55), Robinson (Pollock 55), Selby, Ashley, Kennedy, Jones, Callery (Tracey 55), Walsh (Ashcroft 55), Pell (Evans 55), Pugh, Woolford

5th August

With a fortnight to go to the start of the season Gary Marrow has signed up most of last season's squad and also added a couple of new faces. 21-year-old defender Adam Pollock has joined from AFC Barnsley whilst 26 year-old midfielder Danny Walsh has signed a 1 year contract having previously played UniBond Premier Division football with Bradford Park Avenue and Ossett Town. Gary Ingham, Steve Robinson, Calum Selby, Neil Ashley, Lee Pugh, Rob Pell, Mark Crossfield, Richard Tracey and Mark Ward have all signed non-contract forms whilst Steve Kennedy, Alex Callery and Martyn Woolford are still under contract. Andy Evans as not signed as yet as he is expecting to move back to Wales before the season starts.

4th August

The Blues suffered a 3-1 defeat to York City's first team at the GMB Stadium this evening. Playing in their change strip of all white Frickley had the better of the first half but without scoring. However, York took the lead with a 57th minute penalty from Nathan Peat following handball by Dean Jones. Clayton Donaldson added a second on 75 minutes but substitute Mark Crossfield pulled a goal back 3 minutes later following a good cross from Calum Selby. However, Donaldson added a third for York a minute from time. Frickley : Ingham, Robinson (Laight 88), Selby, Ashley, Kennedy, Jones (Pollock 73), Ward (Tracey 64), Walsh, Pell (Evans 64), Pugh, Woolford (Crossfield 64) 

1st August

Martyn Woolford scored for the Blues as they drew 1-1 with Worksop Town this evening. Rob Pell had a first half penalty saved after Woolford had been brought down before Woolford gave the Blues the lead after 61 minutes when the Worksop 'keeper dropped Mark Ward's cross. The visitors, who were reduced to 10 men on 67 minutes, scored an undeserved equaliser through Tony Crane on 83 minutes. Frickley : Ingham, Robinson (Laight 43), Selby, Ashley, Kennedy, Jones, Crossfield (Evans 56), Walsh, Pell (Ward 74), Ward (Pollock 68), Woolford

29th July

The Blues gained their first pre-season victory with a 2-1 win at Hall Road Rangers this afternoon. A Rob Pell penalty for hand ball on the stroke of half time gave the Blues the lead before the hosts equalised through Darren Wilson on 47 minutes. Following several substitutions Mark Crossfield scored the Blues' winner on 76 minutes, volleying in following a Calum Selby corner. Frickley : Jamie Green (Andy Naylor 51), Steve Robinson, Adam Pollock (Calum Selby 46), Neil Ashley, Steve Kennedy (Craig Laight 60), Dean Jones, Alex Callery (Shane Rose 46), Danny Walsh, Rob Pell (Mark Crossfield 46), Mark Ward (Adam Pollock 66), Martyn Woolford.

26th July

The Blues' new reserve side lost their first friendly 2-0 this evening at Nostell MW. The fixtures for the Sheffield County Senior League Division 2 have been published with the Blues starting the season away at Millmoor Juniors on Saturday 26th August. Click here

25th July

The Blues drew 1-1 with a Sheffield United XI in tonight's friendly at the GMB Stadium. Rob Pell gave the Blues a 13th minute lead, heading in an Alex Callery corner. Mark Ward missed two good chances to increase the lead before the Blades equalised almost on the stroke of half time. The Blades enjoyed more of the possession in the second half and went close to taking the lead on a few occasions. However, the Blues rallied with Callery playing in Ward who fired wide when well placed on 80 minutes. Frickley : Naylor (Green), S. Robinson, Pollock, Ashley, Kennedy (Laight 85), Jones, Callery, Walsh (Rose 80), Pell (I. Robinson 85), Ward, Woolford (Crossfield 65)

22nd July

After taking the lead within 2 minutes of kick off in their opening pre-season friendly at Armthorpe Welfare the Blues suffered a 3-2 defeat. Alex Callery (left) opened the scoring, latching onto Steve Robinsons' throw only for Liam Radford to equalise on 29 minutes. Robinson put the Blues ahead on 49 minutes before a defensive lapse saw Armthorpe equalise again 7 minutes later. With both sides making numerous substitutions the home side capitalised on more poor defending to score the winner following a corner with 15 minutes to play. Starting XI : Green, Robinson, Ward, Ashley, Kennedy, Jones, Callery, Pugh, Pell, Pollock, Crossfield. 

19th July

Frickley Athletic are pleased to announce that GMB Union are the club's main sponsor for season 2006/07. The record breaking five-figure sum sees the GMB Union branding emblazoned across both the club's home and away strips whilst Westfield Lane will now be known as the GMB Stadium. Click here

19th July

The Club have announced details of admission prices for the home pre-season friendly matches. Admission against Sheffield Utd, Worksop Town and Wakefield FC will be £5 for Adults, £3 for OAPs and £2 for Children, whilst these will be reduced to £3 (Adults), £2 (OAPs) and £1 (Children) for the visit of Winterton Rangers.

Steve Heath has opted to leave the club and has signed for Stocksbridge Park Steels whilst Ossett Town have confirmed that Matt Daly has signed for them.

Meanwhile, Gary Marrow has agreed terms with two players although neither have yet put pen to paper. Goalkeeper Gary Ingham will miss the first few friendlies due to holidays with Marrow currently finding cover for him. 

13th July

Although a little later than anticipated, the 2005/06 home Season Review DVD is now available priced at £7 (plus £1 postage and packing if required). Lasting over 45 minutes it includes over 70 goals, numerous near misses and three penalty shoot-outs plus footage of the UniBond Premier Division Runners-Up runners-up trophy presentation after the Burscough match. Orders can be taken via e-mail.

8th July

Gary Marrow has today made his first acquisition in readiness for the 2006/07 campaign with the signing of central defender Dean Jones on a one year contract. It will be twenty-eight year old Jones' third spell at the club having originally joined the Blues from Barnsley prior to the 1998/99 season. He then had a spell at Ilkeston before returning to Frickley but moves followed to both Belper Town and Bradford Park Avenue where Jones has spent 2 seasons with each club. He spent the last month of last season on loan at Ossett Town from Bradford Park Avenue. However, left full-back Ritchie Butler has decided to move nearer his home and has signed for Ilkeston Town.

7th July

The draw for the 1st Qualifying Round of the FA Cup sponsored by E.ON has given the Blues a tough trip to Whitby Town - a match that comes just 3 days after the Blues travel to Whitby in the League. However, the Blues have a home draw in the 1st Qualifying Round of the FA Trophy with Cammell Laird or Rossendale United due to visit Westfield Lane. Click here

28th June

The Blues have received a pre-season boost with the news that last season's leading goalscorer Alex Callery has rejected a move to Conference North side Harrogate Town in favour of remaining at Westfield Lane. Town have been pursuing Callery for the past few weeks but after being given permission to speak to the Wetherby Road side Callery decided against the move. 

However, left-winger Martyn Woolford has the chance to earn himself a move to the professional game after the club agreed for him to go on a week's trial at Stockport County. Woolford is due to travel with County's squad to their pre-season tournament in Ibiza early in July.

Meanwhile, manager Gary Marrow has agreed terms with an as yet un-named centre half to replace the departed Matt Daly and is also in negotiations with  two other players to add to his Frickley squad. 

Also, the UniBond League have made entry to the Chairman's Cup and President's Cup optional for the coming season. Frickley Athletic have opted not to participate in either competition should we be knocked out of the main League Cup competition.

18th June

A brief update of happenings over the last fortnight : Chris Adam has left the club and has signed for his former club Ilkeston Town whilst Matt Daly has indicated his intention to leave but it is not yet known if he has put pen to paper for another club. Pre-season training commences in a fortnight's time so those coming, going and staying should become clearer after then. Finally, the club have decided to run a Reserve side next season and have been accepted into the Sheffield County Senior League. The reserves will run in place of the Under 19s side 

10th May

Frickley Athletic can announce their first pre-season game of the summer with Neil Warnock agreeing to bring a Sheffield United side to the Millennium Worldwide Stadium. The Premiership newcomers will visit on Tuesday 25th July, kick off at 7.45pm. 

9th May

The Club have released details of admission and season ticket prices for season 2006/07. Matchday admission prices will remain the same at £7 for Adults, £4 for OAPs and £2 for Under 16s. Adult season tickets will also remain the same at £120 but OAPs/Students will increase to £70 and Under 16s to £35. As a special offer the Club are introducing a range of 'Extra' season tickets which will include a replica shirt in the price. These will cost £145 for Adults, £95 for OAPs/Students and £60 for Under 16s. Season tickets will be available from next week by completing and returning the downloadable application form. For those purchasing the 'Extra' tickets the replica shirts will become available much nearer the season once the new strip is available.

9th May

Frickley Athletic's impressive 2005/06 campaign has seen numerous professional clubs visit the Millennium Worldwide Stadium. Scouts have been viewing Athletics'  crop of young players with the club having a battle to hang on to the likes of 20 year old left winger Martyn Woolford who has terrorised UniBond Premier Division defences over the last nine months. Woolford has attracted the attention of clubs at various levels ranging from York City in the Nationwide Conference to Premiership newcomers Sheffield United and seems the most likely of the club's young stars to move to a higher level over the summer. 

Frickley Manager Gary Marrow commented, "Martyn has great natural talent, a superb attitude, an impressive turn of pace and also instinctively knows where the goal is. He's improved considerably over the season and will only continue to improve so it has come as no surprise to have professional clubs taking a strong interest in him."

Marrow went on to add, "Obviously, we'd all love him to stay at Frickley for next season to help challenge for the UniBond Premier Division title again but we have no intention of blocking any player's progress so long as the offer is right for both the club and the player."

The club have taken up the one year option on the contracts of Woolford, club captain Steve Kennedy and top scorer Alex Callery as Marrow looks to keep the majority of last season's squad as well as strengthen it in a couple of areas as the club aim to go one better next season and seal promotion to Nationwide Conference North.

29th April

The Club have been informed by the Football Conference that they do not consider that Frickley's Millennium Worldwide Stadium meets the criteria for the FA Grade "C" and therefore will not consider Frickley Athletic for promotion. However, with the backing of the UniBond League, the club have appealed to the FA and hope that they will overturn the Football Conference's decision. The main item of concern is that the Club is required to erect a fence to prevent access to the grass bankings at either end of the ground. The club were informed on 30th March by the Conference that this would require erecting by 31st May but yet some 4 weeks before this deadline they have informed us that we are no longer eligible for promotion. The Conference, UniBond League and FA all have differing views on the type of fence required but we have now agreed with the UniBond League to erect a wooden post and rail fence, the materials of which have now been ordered and work will start as soon as possible. Any help that supporters can give in terms of finance and especially labour will be greatly appreciated. If you are able to help then please contact Steve Pennock, Paul Graves or Pete Bywater. Alternatively see any club official at the ground.

The Conference have also questioned the ground's capacity and to this end arrangements have been made with WMDC to assess the capacity as soon as possible. It is the Club's intention to complete the repair of the terracing on the covered standing side of the ground as soon as possible to help our cause. Therefore, help will be appreciated on Tuesday morning from anyone who is available from around 9.30am as a delivery of concrete is scheduled for 10.30am.

7th April

Frickley Athletic FC are pleased to announce the Hemsworth and South Elmsall Express as "The Official Newspaper of Frickley Athletic FC". The paper which covers the South East of the Wakefield District has recently transformed itself into a fully paid for publication with up to 4 pages each week dedicated to Frickley Athletic FC. The Official Partnership deal will see large Express banners displayed at Millennium Worldwide Stadium whilst ongoing promotions in the community will advertise forthcoming Frickley Athletic matches and the newspaper will eventually be sold on matchday's too. Frickley Commercial Manager Tom Grindel said " The re-launch of the Hemsworth and South Elmsall Express means significantly more media coverage for Frickley Athletic FC in the local community, this is sure to help the club attract even more fans to Millennium Worldwide Stadium whilst keeping our loyal fans well informed with the latest news and match reports, particularly at a time when the club is performing so well"

 

1st April

Thanks to everyone who has donated to the ground improvement bucket collections. So far the money raised has contributed towards the construction of the new exit pathway to the side of the Snack Bar as well as helped with the purchase the new gents toilet block behind the Snack Bar. Please continue to contribute towards the bucket collections with extra funds being required to pay for the terrace repair in the far side of the ground.

30th March

Gary Marrow has added to his squad before tomorrow's transfer deadline by signing goalkeeper Craig Parry from Bradford Park Avenue as cover for Gary Ingham.

25th March

This morning Gary Marrow has made a further addition to the Blues' squad with the signing of striker Mark Ward from Hucknall Town. Ward was previously with Gary at Belper Town from where he moved into the professional game with Lincoln City before returning to Belper and then joining Hucknall in 2003.

24th March

Gary Marrow last night signed 28 year old defender Steve Heath from Bridlington Town and he goes into the squad for tomorrow's trip to Leek Town.  

16th March

The Blues have boosted their promotion hopes with the acquisition of  experienced striker Peter Duffield from Alfreton Town. 37-year-old Duffield joins Gary Marrow's side as player-coach, initially on loan to the end of the season but is likely to remain with the Blues for at least the next campaign.

The former Sheffield United, Rotherham United, Raith Rovers, Blackpool, Stockport County, York City and Boston United striker averaged a goal every second match whilst in the professional game, scoring more than 150 goals in over 350 professional appearances whilst he also notched 29 goals for Alfreton last season in Conference North.

Blues' manager Gary Marrow is confident that Duffield can add the extra bit of fire-power that has been lacking in recent games to help Frickley continue their push for the UniBond Premier Division title.

11th March

With a hectic run-in to the end of the season on the cards Gary Marrow has re-signed Calum Selby from Gateshead.

9th March

With Frickley Athletic's UniBond Premier Division clash with North Ferriby United at the Millennium Worldwide Stadium, South Elmsall, on Good Friday, 14th April, likely to have a significant bearing on the destination of the Premier Division title the Blues have teamed up with Yorkshire Sport & Social Development to provide a series of pre-match entertainment to appeal to all the family. 

The entertainment gets under way at 12.15pm and features the likes of human table football, sumo wrestling, bucking bronco, surf simulator and much more. Also former Leeds United, Glasgow Rangers and Northern Ireland international John McClelland will be in attendance and available for a pre-match "kick about" and a chat. 

This is followed by the main event at 3.00pm as current UniBond Premier Division leaders Frickley take on second placed North Ferriby with only goal difference currently separating the two sides at the top of the table. Frickley have already beaten Ferriby 2-1 away in an exciting game and this return match promises to be every bit as exciting with both teams free-scoring throughout the season. 

With admission FREE to all Under 16s who are accompanied by a paying adult Frickley are hoping to beat their previous highest 'gate' of the season which stands at 460 for the visit of AFC Telford United. Admission for unaccompanied under 16s is just £2, whilst OAP and student (with student card) admission is £4 and adult admission £7, which reflects excellent value for top class semi-professional football.

8th March

On Friday 24th March the Millennium Worldwide Stadium will host a trio of football matches featuring local teams to raise funds for the Thomas Hough Appeal, which has been established to help seven year old Thomas who is suffering from a serious illness.

Thomas' team, South Elmsall United U9's will get the matches under way at 5pm with a game against South Kirkby Juniors. This is followed at 6pm by an Under 14s game between South Kirkby Knights and South Elmsall United whilst the final game between an Allstar XI and Minsthorpe Hotel Over-35s will kick off at 7.15pm

Admission to the matches is free but supporters are encouraged to participate in the various fundraising raffles, etc that will be taking place during the evening. 

2nd March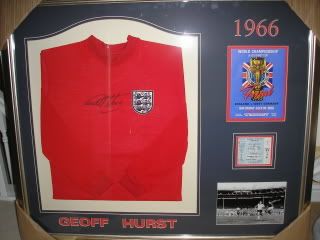 In this World Cup year UniBond Premier Division title challengers Frickley Athletic have already caught the World Cup 'bug' with the launch of their "World Cup Fever Draw" which will give the lucky winner a piece of English football history. 
The prize on offer is a fully framed signed Geoff Hurst replica England shirt from the 1966 World Cup Final against West Germany which also includes the official matchday programme and ticket from the Final along with a photo of Geoff Hurst scoring the fourth goal in the Final. 
Tickets cost £2 each, or 3 for £5, and the draw will be made on Saturday 29th April immediately following Frickley's final UniBond Premier Division game of the season against Burscough at the Millennium Worldwide Stadium.
Don't miss out on your chance to own this valuable and highly sought-after piece of World Cup memorabilia. Tickets are available to purchase at all Frickley's remaining home matches, from the club's stall on South Elmsall market on Tuesday mornings, from Allstar Sportswear in South Elmsall and via e-mail. Contact Paul Graves or Steve Pennock for more details
27th February
Gary Marrow has today signed Lee Stratford as cover for the left back position with Nicky Heinemann due to start a 3-match suspension on Saturday and Ritchie Butler not yet fit enough to return.
19th February
Many thanks to everyone who donated towards the bucket collection at yesterday's game. This raised £109 which will be put towards the construction of the new path to the exit behind the Snack Bar. It is intended to run a bucket collection for all remaining home games to raise extra funds towards both this cost and repairing the terracing in the centre of the pit-tip side of the ground.
16th February
Following Wakefield-Emley submitting 7-days notice of approach for Phil Lindley eleven days ago Lindley (left) has decided to leave Frickley and rejoin the Belle Vue Stadium based club.
14th February
Manager Gary Marrow and Club Captain Steve Kennedy were presented with the UniBond Premier Division Club of the Month for January prior to the Chairman's Cup Quarter Final against Chorley on Friday. The photograph below shows Derek Nicholls of Henkel on the left and UniBond League secretary Phil Bradley on the right making the presentation.
Photo (c) GNM Imaging
14th February
The outstanding away game at Burscough has been arranged for Tuesday 4th April, k.o. 7.45pm. See Fixtures
12th February
The Blues have been drawn at home to Blyth Spartans in the Semi Final of the UniBond League Chairman's Cup with the game due to take place on Saturday 11th March with extra time and penalties, if required. The other semi final sees Woodley Sports host Ossett Town.
9th February
Gary Marrow has secured the signature of striker/winger Sean Gummer from Belper Town. 24 year-old Gummer started his career at Derby County before joining Belper. He has since played for Eastwood Town and Burton Albion but returned to Belper afterwards. Gummer is cup-tied for tomorrow night's game so his registration is due to be completed next week.
1st February
Frickley Athletic are pleased to announce that central defender Matt Daly is set to reject a move to UniBond Premier Division rivals Ossett Town, who have submitted a 7-day notice of approach for Daly's signature. Blues' Manager Gary Marrow is delighted that 29-year-old Daly has pledged his immediate future to helping the Blues challenge for the UniBond Premier Division title and possible promotion to Nationwide Conference North rather than accepting a move to Ossett Town who are currently fighting a battle against relegation to the UniBond First Division.
1st February
Frickley Athletic have won the UniBond League "Club of the Month " award for January after boasting a 100% win record in the four League matches and one cup match played during the month. The award is due to be presented prior to the Chairman's Cup Quarter Final against Chorley. Congratulations to all involved.
31st January
Due to the Sheffield Senior Cup tie taking place on Tuesday 7th March the home game against Ashton United has been moved to Tuesday 28th February, k.o. 7.45pm. See Fixtures
30th January
The Blues' Chairman's Cup Quarter Final tie against Chorley has been brought forward from Saturday 11th February to Friday 10th February, kick off 7.45pm. Also, the Sheffield Senior Cup Quarter Final against Stocksbridge PS has been arranged for Tuesday 7th March, k.o. 7.45pm. Both games are to be played to a finish on the night.
26th January
Calum Selby has been released from the Club and is due to join fellow UniBond Premier Division side Gateshead.
23rd January
The Club's end of season Sportsman's Dinner takes place on Friday 12th May 2006 at the Rogerthorpe Manor Hotel with guest speaker JEFF WINTER (former Premiership referee) and comedian Jimmy Bright. Tickets are priced at £31.95 and includes a 4-course meal. Contact Paul Graves on 07710 501000 for further details.
21st January
The Club are holding a Fans Forum in the GB Approvals Clubhouse at the ground on Tuesday 7th February, starting at approximately 7.30pm. All fans are invited to attend.
Ritchie Butler returned to training on Thursday evening as he started functional rehabilitation. If Butler continues to improve at this rate then physio Mick Gilbert is confident that he could be back to full fitness sooner rather than later.
15th January
The draw for the Millennium Worldwide Holiday Giveaway was made in the GB Approvals Clubhouse after the game yesterday. The winner is V. GILMORE of Minsthorpe Community College who wins a week's holiday in Spain.
12th January 2006
TIME FOR LOCAL BUSINESS TO BACK FRICKLEY
The time is now right for local business people to involve themselves in the running of Frickley Athletic Football Club, according to current club Chairman Mr Peter Bywater.
Mr Bywater took the helm of the South Elmsall based outfit some three and a half years ago, filling the gap created by the departure of the previous administration. His tenure has seen much needed stability come to the club. The aim for Frickley now is to move forward, consolidating their current league status and in time move upwards to the next step of the Football Pyramid. To achieve this goal on the pitch, off the pitch backing is needed both in terms of financial assistance and business acumen. As was reported at the recent Annual General Meeting, Frickley Athletic is soon to undergo a change of status, and is striving to become a "Company Limited by Guarantee", this situation provides an ideal opportunity for the current Committee to expand and develop the club as a whole. It is felt that new outside involvement is essential to take Frickley Athletic a step closer to Football League status.
"For the past three seasons we have struggled at the wrong end of the league, but a combination of a prudent financial approach by our current hardworking committee, and the appointment of an experienced management team, coupled with the prospect of impending area redevelopment, lead me to believe that the time is most definitely right for a giant step forward" quotes Mr Bywater.
Frickley Athletic are now half  way through the 2005 – 2006 Season, and at the time of writing Frickley find them selves in a playoff position in the Unibond Premier League, therefore giving them selves a very real opportunity to gain promotion,  into Conference North, two steps below the Football League. Attendances are currently 30% up on last season and our current management team have shown what can be done with limited resources. Both on the field and off the field personnel are keen to progress the club and are looking externally for assistance to realise this achievable ambition. 
Should anyone feel they can provide this required assistance, please contact Peter Bywater on 01977 648365.
12th January
Gary Marrow has this evening signed 22 year old left sided player Chris Adam from Ilkeston Town. Adam was a junior at Sheffield United before being released and has spent the last couple of seasons with Ilkeston.
10th January
The Blues have been drawn at home to UniBond First Division side Chorley in the Quarter Finals of the Chairman's Cup. The tie will take place on Saturday 11th February, k.o. 3pm. The other ties are Bamber Bridge v Ossett Town, Blyth Spartans v Ossett Albion and Woodley Sports v Bishop Auckland.
6th January
Lee Morris (left) has decided to leave the Club and has signed for Conference North side Hucknall Town.
30th December
Midfielder Neil Ashley  has re-joined the Blues after leaving towards the end of last season in order to go traveling the world. Ashley goes straight into the squad for Monday's difficult trip to Farsley Celtic. However, central defender Dean Foley has been released in order to sign for UniBond First Division club Goole AFC and Ashley Scothern has been released to join Premier Division rivals Ossett Town..
19th December
Frickley Athletic can confirm that an application has been submitted to the Football Association for promotion to Step 2 (Conference North) should Frickley Athletic finish the season in a qualifying position. However, it is appreciated that if we are successful then we are likely to have to undertake a significant amount of ground improvements before April 2007. The club is, however, expecting to know well before then what ground improvements are likely to be incorporated in the large scale redevelopment of the former colliery site which may well impact substantially on some of the improvements that we are required to make.
Ackworth Juniors wish to place on record their thanks to everyone who contributed to the half time bucket collection at Saturday's game against Ossett Town and to Frickley Athletic for their support with the collection. In total £97.00 was raised for Ackworth Juniors which will be spent on new balls and training equipment. 
15th December
The Blues have been drawn away at Rossendale United in the 1st Round of the UniBond League Chairman's Cup. The game is scheduled for Saturday 7th January 2006. Also, the UniBond League have rearranged the outstanding home games against Guiseley and Matlock Town with Guiseley visiting the Millennium Worldwide stadium on Tuesday 28th February whilst Matlock visit on Saturday 1st April.
14th December
Gary Marrow has bolstered his squad by signing central defender James Stansfield. 27 year old Stansfield began his career at Huddersfield Town before moving on to Halifax Town where he made 30 Football League appearances. He has since played for Ossett Town, Bradford Park Avenue and Guiseley. However, defender Craig Robinson has been released and has joined Gateshead.
The away UniBond League game at Lincoln United has been brought forward from Saturday 8th April 2006 to Friday 7th April 2006, k.o. 7.45pm.
7th December
Another former Blues' player has returned to the club with striker Lee Morris re-joining Frickley from Worksop Town, initially on a temporary basis. Morris left the Blues at the end of the 2003/04 season to join Harrogate Town for a four-figure fee but he joined Droylsden last summer before moving on to Worksop Town in September of this year.
6th December
Gary Marrow has today re-signed striker Richard Tracey from Bradford Park Avenue, a move which didn't work out well for Tracey as he picked up a couple of knocks which resulted in him not featuring very often in Avenue's side. 
21st November
Frickley Athletic have once again teamed up with major sponsors Millennium Worldwide to offer football fans the chance of winning a superb weeks holiday to the Costa Blanca Spain, including accommodation, return airfare and transport.
Following the success of last years competition, where Mr Peter Thompson from South Elmsall won the prize, overseas property experts Millennium Worldwide are pleased to extend their sponsorship of Frickley by offering the superb prize for the competition once more.
5 lucky chances can be purchased for a  £1 and the winner will be announced at the  AFC Telford United match at the Millennium Worldwide Stadium on Saturday January 14th. Already the limited amount of tickets are selling fast with over 200 sold in the first week.
Tickets are on sale at all Frickley Athletic games and from any Club official.
You have got to be in it to win it!
17th November
The draw for the Quarter Finals of the Sheffield & Hallamshire Senior Cup has been made on BBC Radio Sheffield this evening with the Blues being drawn at home to Stocksbridge PS. Other ties are Wakefield-Emley v Sth Kirkby Coll, AFC  Barnsley v Sheffield FC and Hallam v Parkgate. Ties are due to be played before 11th March 2006.
29th October
Prior to kick off in today's game twenty year old winger Martyn Woolford put pen to paper on an FA contract to the end of this season, plus an option for a further season. The contract offer was made following the impressive improvement that Woolford has made in such a short space of time after stepping up two levels from the NCEL Premier Division during the summer.
22nd October
The Blues are likely to have a new face in the side this afternoon following the signing this morning of left full-back Nick Heinemann from Bradford Park Avenue. Heinemann has recently been playing in the NCEL with Liversedge after having a disagreement with Avenue boss Gary Brook. In return, the Blues' reserve goalkeeper Mark Wilkinson has been released to join Bradford due to their current injury crisis. The Blues also have injury problems with doubts over Martyn Woolford and Matt Daly for this afternoon's game against Marine.
10th October
Frickley Athletic have great pleasure in announcing a sponsorship deal  with public service union, UNISON, who will become known as the club's Corporate Partner for at least until the end of the current campaign. The deal also sees UNISON enjoy Full Matchday Sponsorship of the local 'derby' games against Ossett Town (17th December) and Wakefield-Emley (26th December) as well as substantially increasing their advertising hoarding presence at the Millennium Worldwide Stadium.
UNISON is currently Britain's largest trade union with over 1.3 million members of which around 10,000 are in the Wakefield district alone. The union are keen sponsors of several other clubs in the area, including Featherstone Rugby League Club and Wakefield-Emley FC and Branch Secretary Linda Bratley and Sports Secretary Charlie Robinson were keen to sponsor Frickley Athletic who they see as the hub of the SESKU (South Elmsall, South Kirkby and Upton) area.
Both Linda and Charlie expect that the sponsorship will benefit both parties as they are hopeful that they will be able to increase attendances at Frickley's home matches through their membership and also bring UNISON to the attention of Frickley's  supporters at branch level.
Frickley's Commercial Manager, Tom Grindel enthused, "This sponsorship is a great boost for the club as well as being a progressive form of advertising for UNISON who have become Frickley's Corporate Partners until the end of this season. The deal should benefit both organisations and it is hoped this will continue for a while to come."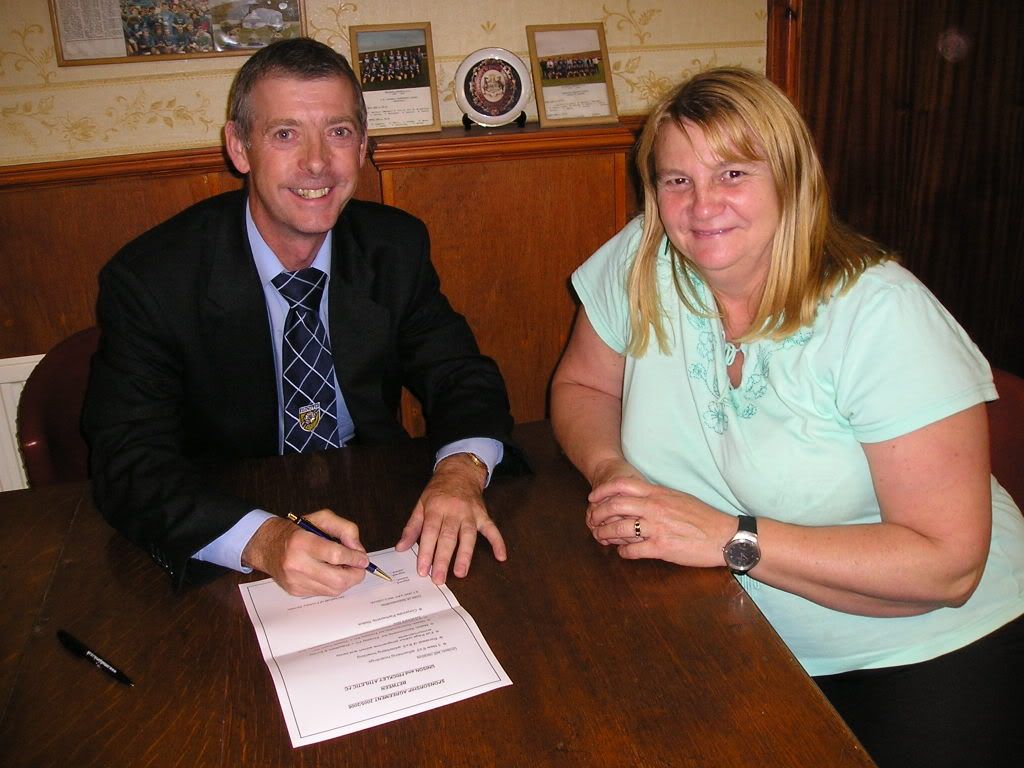 Frickley Treasurer Andrew Steel and UNISON Branch Secretary Linda Bratley sign the sponsorship agreement.
28th September
Frickley Athletic and Lincoln United have agreed to re-arrange last night's abandoned game for Friday 7th October, kick off 7.45pm and the UniBond League have agreed to this request. This is to avoid a clash with the England v Austria game which kicks off at 4pm on Saturday 8th October. Those supporters who retained their admission ticket from last night will be entitled to free entry to this game. See Fixtures
26th September
Gary Marrow has added to his squad by signing striker Rob Pell from Ossett Town. Twenty-six year old Pell started his career at Rotherham United before moving on to Doncaster Rovers where he made six first team appearances, scoring once. He has since had spells at Northwich Victoria, Southport, Droylsden, Harrogate Town, Worksop Town and Wakefield-Emley as well as a short spell in Finland. Pell goes into the squad for tomorrow night's home game against Lincoln United.
2nd September
Manager Gary Marrow has agreed to let Richard Tracey leave the club and he is due to sign for Bradford Park Avenue in time to play in their game tomorrow. Although enjoying his time at Frickley, Tracey is eager for regular first team football, which he hasn't had recently at the Millennium Worldwide Stadium.
1st September
Gary Marrow last night added to his squad by signing two of the Blues' Under 19s side on UniBond League forms. The two are striker Mark Crossfield and attacking midfielder Scott Turner. 
7th August
Steve Robinson has now committed himself to the Blues for the forthcoming season after signing on Saturday to all but complete Gary Marrow's initial squad for the new campaign.
5th August
Gary Marrow has secured the signing of combative defender/midfielder Richie Butler who has left Alfreton Town. Twenty-seven year old Butler has previously played under Marrow at Belper Town and has also had spells at Glapwell, Eastwood Town, King's Lynn and Derby County, where he started his career.
Also put ting pen to paper are twenty-three year old defender Craig Robinson from Stocksbridge Park Steels and nineteen year old winger Ryan Golden from Halifax Town, whilst three more of last season's squad, Matt. Daly, Phil Lindley and Ashley Scothern, have all signed on for another season.
4th August
In order to avoid a clash with the Wales v England World Cup Qualifying game on Saturday 3rd September, it has been agreed with Ashton United that the game be brought forward to Friday 2nd September, k.o. at 7.45pm.
1st August
Gary Marrow has captured the signature of promising youngster  Martyn Woolford who joins the Blues' from Glasshoughton Welfare, despite a number of other clubs being in the hunt for him. Woolford is a lively attacking winger who has impressed during pre-season friendly games. Marrow is also close to signing combative defender/midfielder Ritchie Butler who has been released by Alfreton Town. Butler trained with the Blues last week and is expected to play against Arnold Town tomorrow night.
28th July
This coming Saturday sees a hastily arranged friendly match between Yorkshire TV and Tyne Tees TV at the Millennium Worldwide Stadium, kick off at 1pm. Admission is free and the bar will be open.
25th July
Over the last week most of Gary Marrow's squad have put pen to paper ready for the new campaign with Richard Tracey, Andy Evans, Leroy Chambers, Calum Selby (left), Dean Foley, Gary Ingham, Simon Collins, Lee Pugh and Matthew Wilkinson all signing to join Alex Callery and Steve Kennedy who have both already signed one-year contracts. With the exception of any late additions, Marrow is expecting to sign up the rest of his squad over the next week or so.
16th July
Contrary to rumours circulating that today's match against Sheffield United has been called off due to not having a referee, it is confirmed that this is untrue and today's match WILL GO AHEAD as planned. The original referee did have to cancel due having to take his annual fitness test on this date but replacement officials have been appointed.
Sheffield United have announced that two first team players will be in their side, along with a further 2 first team fringe players. Gary Marrow will is likely to have a look at several triallists in the Blues' side, including former Halifax winger Ryan Golden and defender Craig Wilkinson who has previously been at Stocksbridge.
13th July
Less than a week after indicating to Gary Marrow that he was leaving the Club, Captain Steve Kennedy (left) has had a change of heart and has decided that he will sign for the Blues for another year. This is despite receiving numerous offers from Clubs nearer his home.
1st July
The FA Cup 1st Qualifying Round draw has given the home the Blues a home tie against NWCL First Division side Colne or NWCL 2nd Division side Chadderton (who the Blues knocked out of the competition at the same stage last season). The FA Trophy 1st Qualifying Round draw sees the Blues travel to UniBond 1st Division Warrington Town, with the winners traveling to Bridlington Town in the next round.
30th June
Gary Marrow is likely to be looking to add at least one more new face to the squad for the coming campaign following the news that Steve Woolford (left) is likely to be unavailable for most of the season due to increased work commitments.
29th June
The Club have been notified by the Football Association that due to the Club's improved disciplinary record last season they have decided to waive the suspended £3,000 fine which was imposed upon the Club at the end of the 2003/04 season following the poor disciplinary record during that campaign. Credit must therefore go to Gary Marrow and his management team and especially the players, who managed to be competitive enough to preserve the Club's UniBond Premier Division status without picking up an unnecessary amount of bookings and dismissals. It is now the aim that this improvement will continue throughout the coming season.
25th June
Frickley Athletic manager Gary Marrow has today made his first signing in readiness for the 2005/06 season with 22 year old Alex Callery joining from fellow UniBond Premier Division side and local rivals, Ossett Town. The signing follows Ossett's acceptance of Frickley's compensation offer for the player, with Callery signing an initial one year contract with the Blues. Although Callery was out-of-contract, as he is under 24 years of age Ossett are entitled to compensation under FA Rules, although the undisclosed compensation fee has been funded by private sponsorship obtained by Gary Marrow. 
Callery is an attacking player who can play on either wing, in midfield or up front. After starting his career as a trainee at Sheffield Wednesday he moved on to enjoy spells with Gainsborough Trinity and Worksop Town (where he played against the Blues in the Sheffield Senior Cup Final at Hillsborough) before joining Ossett Town at the start of last season.
20th June
Admission prices to the Blues' home pre-season friendlies have been set with entry to the matches against Sheffield United XI, York City (1st team) and Worksop Town being £5 for Adults, £2 for OAP's and £1 for Under 16s. Admission to the Sutton Town game will be £3 (Adults) and £2 (OAPs) with Children Under 16 being admitted FREE.
However, like almost all non-league clubs, Frickley have been dealt a large financial blow by the Football Association who have now insisted that all friendly matches must be officiated by a referee of the standard of the higher club...and pay them the appropriate match fee for that standard, with the officials being appointed by the relevant appointing body. Therefore, against Sheffield United we must have appointed for us a Football League standard referee and senior assistant referee and may also have a 4th official appointed. It is estimated that over the 4 home pre-season games this will cost the club an extra £1,000.
Ironically, last summer we utilised the services of local referee Nigel Bannister - a Football League Referee - for almost every friendly match and he kindly refereed the matches for a nominal fee but we are no longer able to go down this route and appoint our own officials, irrespective of their standard.
Like many fellow non-league clubs, we will be writing to the Football Association to give our views and concerns so that, hopefully, they may change this policy which otherwise will undoubtedly cost many non-league clubs a lot of money.
10th June
Frickley Athletic are  pleased to announce an Official Partnership with Rogerthorpe Manor Hotel. The Club have thoroughly enjoyed utilising the hotel's excellent facilities and service for Sportsperson's Dinners recently, and we hope to continue our superb partnership throughout season 2005/2006 and beyond. 
9th June
Another away friendly has been confirmed with the Blues' travelling to NCEL Premier Division side Arnold Town on Tuesday 2nd August, k.o. 7.45pm.
8th June
Gary Marrow has arranged a further home pre-season friendly, against Sutton Town who will visit the Millennium Worldwide Stadium on Tuesday 9th August, kick off at 7.45pm.
8th June
Blues' manager Gary Marrow has received a two match touchline ban from the Football Association for the first two matches of the 2005/06 season. This follows his sending-off at the away game at Gateshead on 27th April last season.
31st May
Gary Marrow has arranged another friendly away at NCEL opposition as the Blues visit Premier Division side Armthorpe Welfare on Saturday 6th August, k.o. 3pm. Click here for pre-season fixtures 
15th May
SEASON REVIEW 2004/05 : The Club are in the process of producing a DVD/Video review of all the 2004/05 season home games. Featuring around an hour of match highlights along with professional commentary, plus extras, the DVD is expected to be available in mid-June priced at £8 on DVD and £6 on Video. Orders can be placed by e-mail, or in the Club Shop at any of the home pre-season friendlies
15th May
Paul Baines has won the Goal Accumulator despite registering no goals on the final week. He held off the challenge of Mark Jones and Craig Matthews to win by one goal! Click here
14th May 
Last night saw a brilliant evening at the Rogerthorpe Manor Hotel who staged the Club's Sportsperson's Dinner with a fantastic guest speaker in Neil 'Razor' Ruddock (left). The Blues' 3 player awards were also presented with Gary Ingham winning the Players' Player of the Year and Steve Kennedy the Management Team's Player of the Year to go along with Steve Robinson's Supporter's Player of the year. Click here
12th May
Another pre-season friendly has been confirmed with Neil Warnock agreeing to send a Sheffield United side to face the Blues at the Millennium Worldwide Stadium on Saturday 16th July, k.o. 3pm.
12th May
The Club has bolstered its Commercial Department as Jamie McIntyre teams up with Commercial Manager Tom Grindel as Marketing Manager. Born and raised in South Elmsall, 21-year-old McIntyre is a graduate of Manchester Metropolitan University where he has studied Marketing Management. He is currently the manager of a Toy's R Us' Store in Birstall, Leeds and is keen to raise the profile of Frickley Athletic throughout the SESKU area with a range of innovative initiatives.
10th May
The first two pre-season friendly arrangements have been made with Billy McKewan agreeing to bring his York City side to face the Blues at the Millennium Worldwide Stadium on Tuesday 19th July, k.o. 7.30pm. Also the Blues will travel to NCEL side Winterton Rangers on Saturday 13th August, k.o. 3pm. 
10th May
Frickley Athletic have released details of admission charges and season ticket prices for the 2005/06 UniBond Premier Division campaign. For the first time in over four years the Committee have decided to increase admission charges with Adult admission costing £7 and OAP admission increasing to £4. However, child (Under 16) admission remains the same at £2. The Club will also be continuing with the Family Ticket for 2 Adults and 2 Children for a cost of £14 (effectively admitting both children free). 
Adult Season Tickets will cost £120 (a saving of £27 on 'pay-on-the-gate' over the season) whilst OAP Season Tickets have increased by £10 to £60 (a £24 saving on 'pay-on-the-gate' over the season) but Child Season Tickets remain the same at £30. (A downloadable Season Ticket Application Form is available by clicking here).
This decision was made to try and give manager Gary Marrow as competitive a budget as the Club can possibly generate for next season, whilst also mindful that a significant amount of work needs to be done on the ground over the next two years to comply with the new standardised ground criteria. Obviously, the Club are hoping to be able to complete the vast majority of this work through grant aid but the Club will also need to find some money itself and the Committee feel it is in the supporters' and the Club's best interest to maintain as high a standard of football on the field as possible whilst also funding these improvements. 
However, the Club will also have to finance another major outlay which it hasn't had before in the form of rent for the ground. The Club has never had a formal written lease for the ground but now the Club are in advance stages of agreeing a lease and will subsequently have to pay rent for use of the ground. This also needs to be completed before the Club can begin to submit grant applications. 
All in all, exciting times beckon off the pitch, especially if the Club benefits from the proposed redevelopment of the area, coupled with our own planned improvements. Hopefully, by maintaining as high a playing budget as possible Gary Marrow and his Management Team will have Frickley Athletic's name at the top end of the Unibond Premier League table rather than where it has been for the past few seasons. We hope you will continue to help and support us over the coming campaign, therefore providing the impetus to bigger and better things.
5th May
The Blues' U19s tonight defeated Southwell City 4-3 at the Millennium Worldwide to clinch the Northern U19 Alliance Southern Section Division 3 title. The goals came from Taylor, Evans, McLoughlan and Johnson.
4th May
This Thursday and Friday morning will see the Millennium Worldwide Stadium host training sessions by the Norwegian Ladies football side prior to their friendly International match against England Ladies at Oakwell, Barnsley FC, on Friday 6th May, k.o. 7.45pm. The match is England's final warm-up game before the Womens Euro 2005 tournament.
4th May
Following Steve Woolford's sending off against Farsley Celtic Club officials and manager Gary Marrow studied the match video and discussed their observations with Woolford before deciding to appeal against the dismissal. This was on the grounds that the referee dismissed Woolford for an alleged deliberate elbow of Farsley's Paul Vickers but Woolford disputed this and the video looked to back up his claim. However, the appeal was heard yesterday by the Football Association but, unfortunately, the Club was unsuccessful meaning Woolford will be suspended for the first 3 games of next season. 
23rd April
Steve Robinson was voted the Supporter's Player of The Year for 2004/05 and he received his trophy prior to this afternoon's final home game of the season against Farsley Celtic. The trophy was presented by supporter John Longbottom and sponsors L & T Transport. 
18th April
This coming summer the Club will again be running Summer Soccer Schools for both boys and girls aged 5 to 15. The first school will run on August 16th to 18th whilst the second will run a week later, on August 23rd to 25th from 10am until 2.30pm, with a half hour break for lunch. The cost will be £30 per child per week, with a second child from the same family being at the reduced cost of £20.
All coaches present will be qualified to F.A. and U.E.F.A. standard, with Frickley Athletic coaching staff of manager Gary Marrow, assistant manager Mark Ogley, coach Alan Ogley and coach/sports therapist Mick Gilbert all being in attendance. The Entry Form can be downloaded by clicking here
26th March
Pictured above is Emma Foley, Chairman Pete Bywater and Sarah Shaw as Emma is presented with her cheque for £1100 as the winner of the Frickley Super 6 Lottery from 2 weeks ago prior to yesterday's game against Hyde United.
28th February
The Club are sad to report that long-standing Frickley supporter Raymond Finch passed away on Wednesday 23rd February, at the age of 57. Raymond was instantly recognisable with his little white dog, Lady, always accompanying him to matches. A minute's silence will be held prior to tomorrow night's game against Lincoln United in memory of Raymond. All at the Club offer our condolences to Raymond's family. 
12th February
Defender/midfielder Phil Lindley last night re-signed for Frickley after deciding to leave neighbours Wakefield-Emley who he joined from the Blues in early October 2004. With Matt Daly ruled out of today's game through injury 24-year-old Lindley goes straight into the squad for the trip to Hyde United. Steve Woolford is also added to the squad after missing the last two games whilst Wael Nazha should be fit to play.
3rd February
Steve Robinson has decided to reject a move to neighbours Wakefield-Emley to stay with the Blues after Wakefield-Emley submitted a 7-day notice of approach for him early last week. After considering the offer made to him, Robinson is convinced that Frickley are moving in the right direction and he has a better chance of success by staying where he is.
20th January
The Club have announced details of its end-of-season Sportsman's Dinner which will take place on Friday 13th May 2005 at the Rogerthorpe Manor Hotel. The Guest Speaker is Neil 'Razor' Ruddock who will be accompanied by comedian Dave Greener. Click here for full details
29th January
For people with RealPlayer short clips of the Blues' goals from today can be downloaded from the following links: Leroy Chambers' Goal (369Kb), Wael Nazha's Goal (252Kb).
23rd January
Gary Marrow has added to the Blues' squad with the signing of Luke Smith from Hallam FC. Smith can play either at left full-back or in midfield and has previously played for Brodsworth MW, Buxton and Ossett Town.
22nd January
Today's President's Cup Quarter Final tie at Spennymoor United has been postponed and will now take place on this coming Tuesday evening, kick off 7.45pm, in place of the away league game at Radcliffe Borough. Spennymoor had been concerned over the fitness of the pitch after temperatures of -4 deg were forecast last night but, after attending the ground this morning, their officials discovered someone had broken into the ground and flooded large areas of the pitch with a hose-pipe. Despite efforts to clear the pitch the match referee postponed the game until Tuesday evening.  
11th January 
The UniBond League have confirmed that the outstanding home game against Wakefield-Emley will go ahead on Saturday 19th February. Children Under 16 accompanied by a full-paying adult will be admitted free to this game.
8th January
The Club would like to thank supporters of both Frickley Athletic and Bridlington Town for their generosity in raising £148 with today's half time draw which will all be donated to the Tsunami disaster appeal. Thanks also to the local businesses and supporters who donated the fifteen prizes on offer. 
07th January 2005 
Gary Marrow has today bolstered his strike force with the signing of forward Andy Evans who returns for his second spell with the Blues. Evans started the season at Ossett Town but left over Christmas and joined the Blues after a break in his native Wales.
---
---

 design by 27stars.com  
 (C) 2001 FRICKLEY ATHLETIC FC
Click on the 'vote' banner to vote for this site in Yorkshire's Top 100 Football Sites...