Freestyle Chess –Teaching an Engine how to Fly
28.04.2007 – The 5th PAL/CSS Freestyle Tournament on Playchess.com is already history and the 6th issue is coming soon: Main event June 1-3, Final June 22-24. Freestyle Chess allows players to form a team and use any software and hardware they like. The main sponsor, the PAL Group in Abu Dhabi (UAE), has provided a $16,000 dollar prize fund for each online tournament. CC GM Arno Nickel reports.

Flying Saucers is the new Freestyle Champion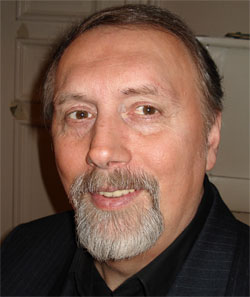 Correspondence Chess GM Arno Nickel
By CCGM Arno Nickel
"Flying Saucers" is the internet nickname of the 5th PAL/CSS Freestyle Champion. In the Final on March 23rd-25th Dagh Nielsen from Denmark went into the lead in round 5 and then really took off. "ZackS", the US team of Steven Zackary from US and legendary 1st Freestyle Champion, tried its best to catch him in round 8, but the Dane was well prepared for another Sicilian Najdorf, which was Black's favoured defence in this Final. It was this penultimate round in which after a tough battle throughout the tournament most of the decisions were taken. "Cato the Younger", a team headed by Anson Williams from London, defeated the second ranked Czech team "Etaoin Shrdlu" in fine positional style with an amazing kingside attack, thus taking over the second place. "Cato" could even have tied for the first place, if "Flying Saucers" hadn't succeeded in defending his inferior position in the last game vs. "Ciron", who surprised with nine draws, same as the other German, "Kaputtze". "Etaoin Shrdlu" had to share the 3rd place with "Rodo", an Italian team, who was the lucky winner against "Hercules01" in that memorable round eight, when another mouseslip in a freestyle tournament decided over life and death. Actually, the two players, who ended up on place 9 and 10, "Engineer", none other than the Ukrainian GM Yuri Solodovnichenko, and "Hercules01", a London computer freak and originally an engine-only, prevented a much higher draw rate by their ten losses. Especially the Dutch team of Hans van Viet with the colourful name "The wizard of Os" could, after a bad start, balance its score by two wins over No. 9 and 10. So, the draw rate was not higher than 67%, although only 5 games out of 36 among the top 8 teams saw a winner.
5th PAL/CSS Freestyle Final, March 23-25, 2007
| | | | | | | | | | | | | | | |
| --- | --- | --- | --- | --- | --- | --- | --- | --- | --- | --- | --- | --- | --- | --- |
| No. | Participant | Fs.-Elo | 1 | 2 | 3 | 4 | 5 | 6 | 7 | 8 | 9 | 10 | Points | SoBe |
| 1. | Flying Saucers | 2705 | ** | ½ | ½ | 1 | ½ | ½ | 1 | ½ | 1 | 1 | 6.5 | 26.25 |
| 2. | Cato the Younger | | ½ | ** | 1 | ½ | ½ | ½ | ½ | ½ | 1 | 1 | 6.0 | 24.25 |
| 3. | Etaoin Shrdlu | | ½ | 0 | ** | ½ | ½ | ½ | ½ | 1 | 1 | ½ | 5.0 | 20.50 |
| 4. | Rodo | | 0 | ½ | ½ | ** | ½ | ½ | ½ | 1 | ½ | 1 | 5.0 | 20.00 |
| 5. | Ciron | 2622 | ½ | ½ | ½ | ½ | ** | ½ | ½ | ½ | ½ | ½ | 4.5 | 20.25 |
| 6. | Kaputtze | 2534 | ½ | ½ | ½ | ½ | ½ | ** | ½ | ½ | ½ | ½ | 4.5 | 20.25 |
| 7. | ZackS | 2639 | 0 | ½ | ½ | ½ | ½ | ½ | ** | ½ | 1 | ½ | 4.5 | 18.25 |
| 8. | The Wizard of Os | | ½ | ½ | 0 | 0 | ½ | ½ | ½ | ** | 1 | 1 | 4.5 | 17.50 |
| 9. | Engineer | 2595 | 0 | 0 | 0 | ½ | ½ | ½ | 0 | 0 | ** | 1 | 2.5 | 9.00 |
| 10. | Hercules01 | | 0 | 0 | ½ | 0 | ½ | ½ | ½ | 0 | 0 | ** | 2.0 | 9.25 |
Before continuing with my background analysis, here are some very interesting reports by the participants. Let's start with the winner of the $8,000 dollar money prize, "Flying Saucers" alias Dagh Nielsen from Denmark, who was already successful in the previous Freestyle tournament, where he came 2nd behind "Xakru".
Flying Saucers
The Flying Saucers team consisted of one human player + computer(s). I am 30 years old and a mathematician by education. This was my third Freestyle event. I have played as a sole centaur each time. Currently, my main activity in chess is freestyle chess and opening studies with this in mind. I am also a member of a local chess club (2163 FIDE Elo), and enjoy the socializing that takes place around low-level club league matches.

My hardware in the preliminary was an AMD dual core Opteron, which has to be considered sub-average hardware these days. As it is, I know for certain that at least one other finalist qualified with even worse hardware than me, so to get that question out of the way, no, Freestyle chess is still not only a question of spending bucks on hardware. My three wins in the preliminary consisted of one "endgame-swindle", an attractive attacking game vs. GM Yuri Solodovnichenko (who, despite this loss, managed to qualify for the final), and finally a successful defense against a wild Bxf7+ sacrifice in the 2.c3 Sicilian.

Before the final, Rybka programmer Vasik Rajlich had once again kindly offered me to let me use his best system, this time a quad-core Intel. My technical setup then was: Fritz 9 interface, with two instances of Rybka running, the quad on internet-pipe running in 1-variation mode, and my own dual core running in 2/3/4-variation mode. This way, I would be alarmed by deep resources and assessments quickly, while at the same time getting immediate information about the forcedness of the investigated positions, in other words, how many alternatives would also be worth a check.

I decided to use only one engine this time. The advantage of using several engines is that different engines may evaluate positions differently, and this (+search differences) results in one engine finding some potentially strong move faster than another engine, and vice-versa. However, and I think this is an important point, a key part in strong centaur analysis is to know both the strong and the weak points of your favourite engine. The engine output needs to be interpreted, and here experience with your engine is very important: What kind of lines does the engine tend to not pay enough attention to, and which types of positions does it tend to misevaluate. If you have a good feeling for this and have developed methods to adjust for it and integrate your own input, you should have a considerable advantage. Once this is achieved, I am not so sure the output of a second or third engine will improve the decision process much. At any rate, I didn't have the hardware to support a second engine, nor the (necessary) experience with working with two different engines at once.

Unlike last time, I used the endgame TBs installed on my system, which indeed turned out to be a probably better decision. The games themselves, I played through the free Playchess client.

After the preliminary play-off matches, I once again spent considerable time preparing for the individual opponents in the final based on the expected pairings. However, four days before the final, a random pairing was announced, and I had to scrap much of my preparation, and also had to settle on only getting four whites. Nevertheless, one thing was still clear: The final could very well become some kind of a Najdorf festival! A majority of finalists were 1.e4 players, and I think also a majority were black Najdorf players, at least potentially. This suited me quite well, as I had been intensely studying various topical lines for some months prior to the final.

As it turned out, I ended up in three Najdorfs as black, and one Najdorf-turning-into-an-odd-Rauzer as white, and those four games gave me the number of wins necessary to clinch first prize. I also had some pressure against runner-up team Cato the Younger after they had gambled with 1.h3 (intending a French in the forehand), while I was under quite serious pressure as black against Kaputtze in round seven and as white in round nine vs. Ciron, a very nervous affair on my side. My remaining two white games were fairly uneventful draws. Perhaps next time, I will insist on getting nine blacks in the final!

Overall, I am of course very satisfied with my performance. I managed to hit the ball when I got the chance, and I held the draw in the couple of games where I got the worse of it.

I have annotated five games, two from the preliminary, and three from the final. I have mainly focused on situations where the "human touch" was crucial, trying to relay what went on behind the scene. Various decision methods and issues of pre-game preparation are touched upon. Finally, I hope that the reader will also simply find the games themselves interesting and fascinating!
Note that all games of the 5th Freestyle Final and all annotated games are available for download at the end of this article.
"Flying Saucers" was already quite well known before the Final, but who stood behind the 2nd winner ($4,000), "Cato the Younger", a team that had never been successful before? Here is the answer from the team itself:
Cato the Younger
Anson Williams, 27, was the team leader. A veteran centaur player, he is a Telecommuncations Engineer / Software developer, and skilled with computer hardware. He is an unrated OTB chess player. As "Intagrand" he has placed 3rd in the 4th Freestyle tournament, his team consisting of the same cast of characters. Among his interests are bowling and J.S. Bach, which he plays about as well as he Freestyles. A graduate of Imperial College with a Masters degree in Electrical and Electronic Engineering, Anson now lives in London.

Yingheng Chen, 24, a graduate of The London School of Economics (LSE). She assisted Anson with analysis during all nine games of the finals. Her interests also include bowling, badminton, cycling and reading. Through much exposure to computer chess (solely because of Anson) she has picked up some useful analysis skills and was a great asset during the tournament.

Nelson Hernandez, 50, lives in the United States and did not participate in the games as an active player. However he has collaborated for years in developing the team's book, and with Anson is a tournament co-strategist. A former paratrooper and stockbroker, he is now a financial analyst. He is also an unrated player, and says he hasn't played a competitive game of chess OTB in over 20 years. The team name of "Cato" comes from his admiration of the principled Roman Senator who vainly opposed Caesar and finally fell on his sword.

Anson and Yingheng had several computers running during the tournament of varying power. His top-end machine was a quad core Intel QX6700. Beyond that, he considers the specifications of his machines and the functions they performed "classified".

At different points in the tournament different chess engines were consulted, though not all at the same time. The specific engines that were used are likewise "classified" but any well-informed person could make an educated guess and not be far off the mark.

The team has absolutely no comment other than to say that their book was not a decisive element in any game of the qualifiers or finals, though it surely saved the team from countless traps they might have fallen into against such formidable opponents. It generally served its purpose: to reach the middle-game with an even or slightly better position on the board, giving Anson a chance to work his centaur skills."
You can take a look to the annotated games sector, which contains also some games of "Cato".
Another report comes from Patrik Schoupal, introducing the reader to the Czech team "Etaoin Shrdlu", who shared the third money prize ($2,000) with the tied Italian team "Rodo".
Etaoin Shrdlu
We played qualification round under the Welsh flag. First, because the Welsh flag is lovely, second, to cover our identity and rule out any possibility of preparation based of former games in the final. Unfortunatelly, our identity was disclosed by Arno Nickel, who had information from organizers, so we played in the final under Czech flag. Our team consists of three people: Jiri Dufek (in the 4th Freestyle a captain of winning team Xakru), 2276 FIDE and strong ICCF IM. He is a computer expert and clearly one of the best freestylers I have ever played with. Then Miroslav Kvicala, 2042 FIDE, a keen fan of Scandinavian Defence, who has recently excelled also without engines, scoring 10 out of 11 in OTB chess league, with performance over 2300. The last person in the team was Patrik Schoupal (myself), a founder of a well-known Freestyle team Equidistance (this time without our favourite Morra Gambit) and a keen theoretician of chess openings.


Etaoin Shrdlu team member Patrik Schoupal

Engines used: Our main analytical engine was Rybka, but we used also Loop and for some games (positions) Junior and Shredder too. Also Hiarcs was running on infinite on one computer. All in all, about five engines, Rybka as a main analytical tool + other engines for ideas or even as a main engine for some specific positions.

Computers: I analysed on my E4300 Core Duo, overclocked to 2.67 Ghz. Mirek used dual proc. notebook and one more Core Duo computer connected remotely. Jiri played on about 5 remotely connected computers, ranging from Athlon dual to E6700 Core Duo. We hadn't a Quad processor (unfortunately!).


Miroslav Kvicala, 2042 FIDE

Repertoire: We were rather creative, unfortunately, not too much successfully creative, trying to outsmart our opponents in some games, but in the end, being outsmarted by them. E.g. in a game against Ciron 1.Nf3 Nf6 2.c4 e6 3.g3 d5 4.b3!? trying to avoid deeply analysed lines, just to realise a move later, that after 4…d4! we are getting slightly worse position. Or in the second round, we played against an engine-only player Hercules01 and I got an idea to copy the quick win from the first round game Rodo vs Flying Saucers, when Flying deviated in Najdorf with 24…Kh8 from well-known position and easily rolled over poor Rodo's Rybka engine. Unfortunately, our second round opponent had this line in the book, with the very strong 25.Rh3!, and we were just lucky to escape with a draw in the end.

In round 5, the exactly same line was played in Rodo vs The Wizard of Os. Rodo was not playing in engine mode, so he could easily follow our game, and when black wanted to "improve" with 26…Qxe4? he was of course crushed.
"Rodo" alias Rodolfo Gallo and Eros Riccio shared some games comments. I found it interesting that both engine-only players who had qualified for the Final, "Rodo" and "Hercules01", switched to centaur play, which means that in that tough format they didn't really believe in their chances with an automatic Rybka engine because of special preparation from the centaurs.
The two German in the field, "Kaputtze" and me, "Ciron", finished tied with all our games drawn. Seems Germany has become the most peaceful nation in the world, but when you take a look on our games you will see, that there is a lot of struggle in it. The problem is that it has never before been as difficult to win a single game in a Freestyle event as in this Final. "Kaputtze", which is the handle of Jochen Rindfleisch, was a newbie on this level. So let's first introduce him to readers and hear some statements from his side.
Kaputtze
I am an average club player with a local (German) chess rating of about 1720 DWZ. I play at the best chess club in the world – Chaos Mannheim. Due to my time consuming job I have only little time for playing chess, except for late night online bullet games on Playchess.com and participation in online freestyle tournaments. I play about 6-8 over the board tournament games per year. (Jochen told me later on, he played together with two chessfriends, who are considerably stronger than him, but no titleholders. A.N.)

About book preparation he said in his answers to a questionnaire: We assembled some opening books which relied on a wealth of correspondence chess games. The preparation time was nearly nothing, since we constantly keep those books up to date.

Interesting is his theory about the high number of Najdorf games in the 5th Freestyle Tournament: The popularity of this opening, at least in freestyle and engine tournaments, might stem from the fact that people iteratively improve their books. Thus, the books tend to contain more and more variations of the Najdorf than on other openings, and thus the likelyhood to play the Najdorf in those games is higher. Me personally, I would like to see people exploring other openings with equal intensity.

And what about the phenomenon of two players with all their games drawn: Being one of the two 'kings of draw', I have thought a lot about this question. We played for a win without taking uncalculated risks. Both my team as well as Arno Nickel might have used books, derived from correspondence chess games. My theory is that it takes a lot of time to prepare a book, which is not only safe (granting a good play) but which also contains new, unpreceded killer variations.

I did not find the time yet to analyse all games of the tournament with a decisive result, but I theorize, that only rarely, a game was won out of an equal middle game – at least in the finals.
Ciron
Some words about my own performance. Actually, I did not only draw my last nine, but 15 games. It may sound better to say, I did not lose any of my last 21 games. It reminds me of series you can see in roulette. 17 times black in a row. You might think, it's something extraordinary, but it isn't, it's quite normal. In respect of the obvious draw tendency on a higher Freestyle level, my result can be considered normal. I should have won 2 or 3 of those games and I also could have lost 1 or 2, but coincidentally none of both happened.
Another story is that in the final I had a 2 x Intel Xeon X5355 (8 cores) workstation at my disposal. After the main tournament Uwe Maertens alias "Poweronoff", who had been tied 4th-5th in the 3rd PAL/CSS Freestyle Final, generously offered me to use his "Octo" per remote Internet connection for the tie-break. Great! Yet, I was shocked when in the opening of my first tie-break game I lost the internet connection to "Octo". For a while I had no idea why that happened, and decided to continue my game without "Octo" in order not to lose too much time. Later on I learned, that Uwe's provider had changed the IP address, just during the game. All I had to do was simply to reset the connection with the new IP, and anything could go on. So everybody who will ever try to use a remote connection for the first time might be warned by my experience. In 10 of 12 games I had no problems like this and could really enjoy "Poweronoff's" power. Usually I let Rybka 2.3 or 2.2 run in two or three variation mode, sometimes pondering, but not analysing. For this I used my dual core AMD 64X 4800+, also most time with Rybka, examining the program's proposals and my own. On my internet PC I had Shredder 10 kibitzing in the background and mostly a second internet PC with Fritz 10 or another engine kibitzing, which means that I had not too much work with operating the PC's as "kibitzing" proceeds automatically. Practically speaking, the "Octo" made me feel more safe in tactical respects. I felt that my hardware should at least be of equal value compared to my opponents hardware. That was a bit self-deceiving, as I entered some tactical duels for instance in the Najdorf, where preparation is a must, even if you have the most powerful hard- and software at your disposal. On the other hand, if you play quiet systems, the advantage of a fast PC system may appear less evident; even then, calculating two or three ply deeper, you have to work out a plan on your own and should not too much trust in a program's evaluation. So my conclusion is, first comes your opening preparation and your knowledge about chess, and only then advantages in hard- and software may turn out as decisive.
I found it interesting to hear from "Engineer" alias grandmaster Yuri Solodovnichenko, that he learned much about his openings in this Final. That means, even a top player has to be prepared for the engine fight and cannot trust variations he usually plays against other humans. Indeed, Yuri had his own Najdorf experiences and could not balance the disadvantages of a slower pc system, which actually was a dual core 3800+, if I remember right.
For the first time "The Wizard of Os" participated in a Freestyle tournament and they really enjoyed it. Here is Hans van Viet, the chief "Wizard":
The Wizard of Os
We are a team of a few strong Dutch players. We didn't have any experience in Freestyle chess, so it was completely new to us. The hardware we used: two dual core machines and one quad core, made available
through computer chess friends. We used mainly Rybka and Rybka Winfinder as analysis engines, sometimes switching to Shredder or Hiarcs. In the preliminaries we scored the necessary +3 to go for the tie-breaks. In the
tie-break we overcame PawnStriker with a 1,5-0,5 victory. In the final we managed a 50% score, which we see as a good achievement, considering the fact that we have no experience in this field. Thus we can look back to a good tournament, giving rise to do better next time. (They added three annotated games, which show their decision-making and reasoning.)
Outlook
Lots of questions are under discussion regarding the format of Freestyle tournaments, especially the rules and the server software. Some of them will soon be subject of a poll on the CSS-site. Some of them have been subject in a questionnaire of Rybka programmer and 3rd Freestyle ChampionVasik Rajlich and will be published too. At the end of this extensive report I will only mention two important changes.
The organizers will do without tie-breaks in future. Experience shows two things: a) time and effort invested are not justified by the outcome; b) each play-off is accompanied by boring discussions about which format is fair and right. Actually, in case of tied players, the "progressive score" score and, if necessary, further criteria should be sufficient in order to have a sporting solution. The positive effect should be that players with a low "progressive score" can no longer speculate on a tie-break by drawish behaviour in the last rounds of the Main Tournament. They will have to play for a win in order to qualify. So we may expect less draws and even more fighting spirit.

All players and teams are obliged to correctly show their country's flag in their handle. If more than one nation is represented by a team, then the team leader's flag shall apply. Each team has to announce the name of its team leader if it is not the same person who originally registered. The background for this decision is just, that we aim for a better press coverage and need more reliable information at any time. If Freestyle chess is to become more popular and once in a while not only an online affair, but also an event that may be presented to the public, for instance in an exhibition match, then the players and teams should now start and try to show a clear profile. This should go without saying after a while.
---
Pictures from Abu Dhabi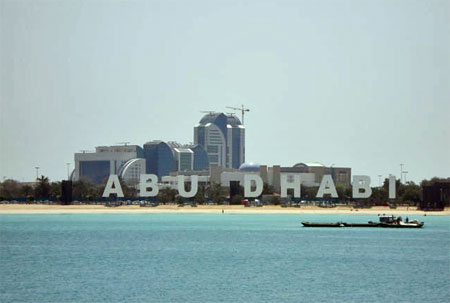 You can't miss it – the seafront in this UAE state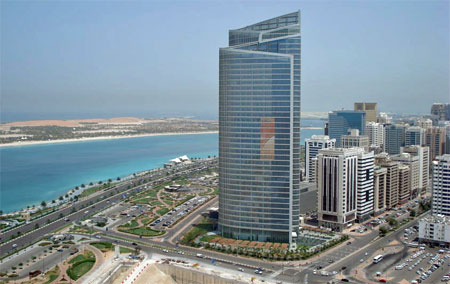 A view from the Hilton Hotel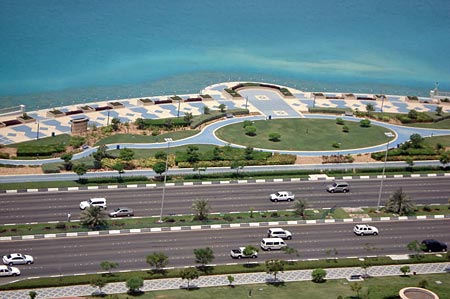 The highway along the waterfront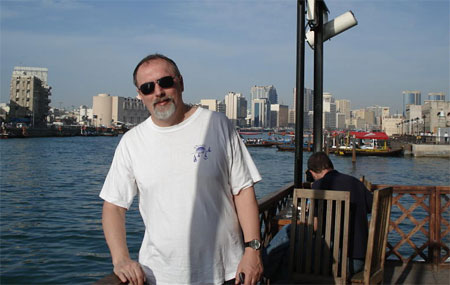 Visiting the old harbour of Dubai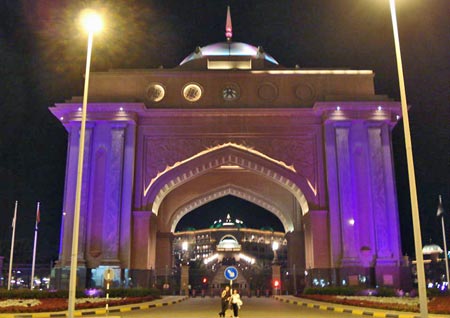 The entrance of the Emirates Palace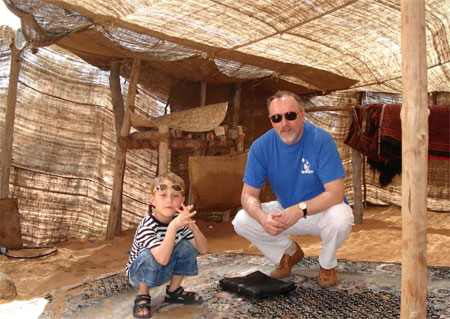 Inside a Beduin tent

Night life in Abu Dhabi with the Hydra Chess Computer
Links
---
Previous articles on Freestyle Chess
Fifth Freestyle Tournament Final this weekend
22.03.2007 – The 5th PAL/CSS Freestyle Main Tournament, staged on the Playchess server, ended in a dead heat of 17 players. None of the 131 participants from 32 countries, including 20 titled players, managed to achieve six points in eight games, which is the magic barrier for qualification. The final, with ten players, will be held as a round robin tournament this weekend. Come and watch.
$16,000 Freestyle tournament starts on March 2nd
23.02.2007 – The Fifth PAL/CSS Freestyle Chess Tournament begins on March 2nd on the Playchess server. The main tournament is an eight-round Swiss, with time controls of 60 min + 15 sec per game. You probably know that in Freestyle any kind of assistance is allowed: computers, friends, books, anything. The starting fee is 10 Euro. GMs and IMs are free. You can still join the fun!

The Freestyle Champion is Xakru, dammit!
07.11.2006 That's what happens when you choose a flippant name on the chess server: you win a major event and wish you hadn't called yourself "Damn it" (in Czech). Jiri Dufek and Roman Chytilek won the first prize, $8,000, in the fourth computer assisted tournament on Playchess.com. Find out what transpired in the final of this Freestyle event in this report by Arno Nickel.


Fall of the Favourites in PAL/CSS Freestyle
19.10.2006 A "Freestyle tournament" is one in which computer assistance – or any other form of help – during the game is allowed and encouraged. The 4th PAL/CSS Freestyle tournament, which reaches its final this weekend on the the Playchess.com server, saw many of the favourites falter. Now the ten qualifiers will play a round robin for the US $16,000 prize money. Come and watch.


Rajlich Team won the third Freestyle tournament
31.08.2006 The third 3rd PAL/CSS Freestyle Tournament was held in the middle of July. With considerable delay we bring you a report by correspondence GM Arno Nickel on the results of this event, which had a prize fund of US $16,000 and was conducted on the Playchess.com server. Also a reminder that another $16,000 Freestyle tournament begins soon. Like to join the fun?


Freestyle Tournament final begins today
14.07.2006 Are you interested in seeing chess played at the very highest level? It involves grandmasters and experts selecting their moves with computer assistance. The final of the 3rd PAL/CSS Freestyle Tournament begins today at 17:00h CEST on the Playchess.com server, and ends on Sunday evening. The prize fund is $16,000. Come and watch the fun!


Who will be the next Freestyle Champion
05.07.2006 Neither the summer weather nor the Soccer World Cup stopped more than 100 players from all over the world from enter the 3rd PAL/CSS Freestyle Tournament, which ended last weekend with the tie-breaks for the Final in July 14-16. About 20 titleholders were attracted by the opportunity to win one of the money prizes: $8,000, $4,000 or $2,000 dollars. Report by Arno Nickel


Brilliancy in computer assisted chess
16.06.2006 The Third PAL/CSS Freestyle Chess Tournament starts today. In this form of chess, originally proposed by Garry Kasparov, the human players may use computers – or any other assistance they can muster. It is not OTB chess as we knew it, but it does produce a lot of very high-level games. Here, from the Second Freestyle Tournament, are the three most brilliant examples.


$16,000 Freestyle tournament begins on Friday
14.06.2006 The Third PAL/CSS Freestyle Chess Tournament begins on Friday, June 16, on the Playchess server. In the previous edition, won by Zor_Champ of the UAE, there were a number of grandmasters participating. One was Tony Kosten of England, assisted by the program Hiarcs 10, who gives us his assessment of such computer-assisted tournaments. You can still join!


$16,000 up for grabs in computer-assisted play
11.05.2006 The Third PAL/CSS Freestyle Chess Tournament on the Playchess server is coming up in June, once again with a substantial prize fund. This time the time controls for our Advanced Chess competition have been increased to 60 min. + 15 sec., in order to give the human component more opportunity for analysis. Like to play? It's lots of fun!


Zor-Champ wins Freestyle Tournament
16.04.2006 In a very exciting final the team of Zor-Champ, located in the United Arab Emirates, took first place and the $8,000 prize money in the Second PAL/CSS Freestyle Tournament. The team was driven by the program Hydra, which runs on multi-processor speical-purpose hardware. Second was IM Vasik Rajlich, assisted by his own program Rybka. Report and games.


Freestyle tournament: Finals this weekend
03.04.2006 After tiebreak matches the eight qualifiers of the Second PAL/CSS Freestyle Chess Tournament are ready to battle it out for the $16,000 prize fund. At the faster time controls this time four pure engines made it to the final round. You can come and watch the action at 14:00h CEST on Saturday and Sunday, when the tournament director says: Gentlemen, start your engines.


Freestyle tournament: Vvarkey wins with 7.5/8
24.03.2006 The first leg of the second PAL/CSS Freestyle Chess Tournament, which carries a prize fund of $16,000, was won by an unknown player with the Playchess handle Vvarkey. He scored 7.5 points from 8 games (before the last round his score was 7/7). Six other players qualified for the final behind him. For the final, eighth place there will be a tiebreak tournament tomorrow. Details.


Freestyle tournament: advice from an expert
16.03.2006 Are you one of the over 150 participants that have registered for the second $16,000 PAL/CSS Freestyle Chess Tournament, starting this weekend? Do you have your computer assistant or your GM advisor booted up and ready to play? For novices in computer assisted play we have some tips and tricks by correspondence chess GM Arno Nickel.


The $16,000 open-to-all chess tournament
28.02.2006 Would you like to play in a grandmaster tournament? From your home and for a substantial prize fund? With a guarantee that you will not disgrace yourself? Then think about joining the second PAL/CSS Freestyle Chess Tournament, where anything goes. Where computer assistance is not forbidden, but is positively encouraged. Full details.


Dark horse ZackS wins Freestyle Chess Tournament
19.06.2005 The computer-assisted PAL/CSS Freestyle Chess Tournament, staged on Playchess.com, ended with a shock win by two amateurs: Steven Cramton, 1685 USCF and Zackary Stephen, 1398 USCF, using three computers for analysis, defeated teams of strong grandmasters all the way to victory in the finals. We bring you a first flash report with games and results.


Scintillating chess in the PAL-CSS Freestyle tournament
15.06.2005 This unusual event, in which players may use computer assistance during the games, is turning into a milestone experiment. After the main event and the quarter-finals (and with four players left) we can draw first tentative conclusions. One is that the most powerful chess playing entity on the planet is a GM armed with a computer.


Hydra misses the quarter-finals of Freestyle tournament
11.06.2005 It was the shocker of the event: the massive Hydra machines, running on 16 and 32 processors and special FPGA chess hardware were both knocked out in the main section of the Freestyle chess tournament. On the other hand a dark horse named ZackS qualified with consummate ease. Today there will be tie-breaks, tomorrow the quarter-finals. Come and watch...


Eleven qualify for main Freestyle Tournament
31.05.2005 48 players from 20 different countries got together on the Playchess server last weekend to play in the PAL/CSS Freestyle Chess Tournament. Using computer assistance, which is not forbidden in Freestyle, eleven qualified for the main tournament starting on Friday. There they will have to battle it out with scores of computer-assisted GMs.


The $20,000 free-for-all chess tournament
24.05.2005 Like to play in a grandmaster tournament? From your home and for a substantial prize fund? With a guarantee that you will not disgrace yourself? Then think about joining the first PAL/CSS Freestyle Chess Tournament, where anything goes. Where computer assistance is not forbidden, it is positively encouraged. Here are all the details.


Freestyle tournament for $20,000
09.05.2005 It's a new kind of chess tournament, with a substantial prize fund. $20,000 in all, $10,000 for the winner. Top grandmaster conditions. But with a difference. In the PAL/CSS Freestyle Chess Tournament on the Playchess.com server anyone can play. Even you. And anything goes. Anything! (In fact computer assistance is encouraged). Here are the details.


Anyone – or anything – can play!
07.08.2004 Anything goes in our freestyle tournament on the Playchess.com server this Saturday, August 7th. Participants can use computers, visiting grandmasters, slime beings from other planets – whatever they want. The games start at 15:00h server time (GMT +2), time controls are 7 min + 2 sec/move. Watch the fun...


Freestyle Blitz Tournament August 7
25.07.2004 Winning Internet chess games with the assistance of computers is quite despicable. People who are caught get stripped of rights and privileges. Not so in the August 7th "Freestyle Tournament" on Playchess.com. There you can use anything you want to win your games. Details...