Here are a few pictures of the 'quick and dirty' Chinese-inspired outfit I put together when I realized I:
a) Had all the fabric I needed, and
b) Wanted something cool to wear to the cabaret at Steamcon.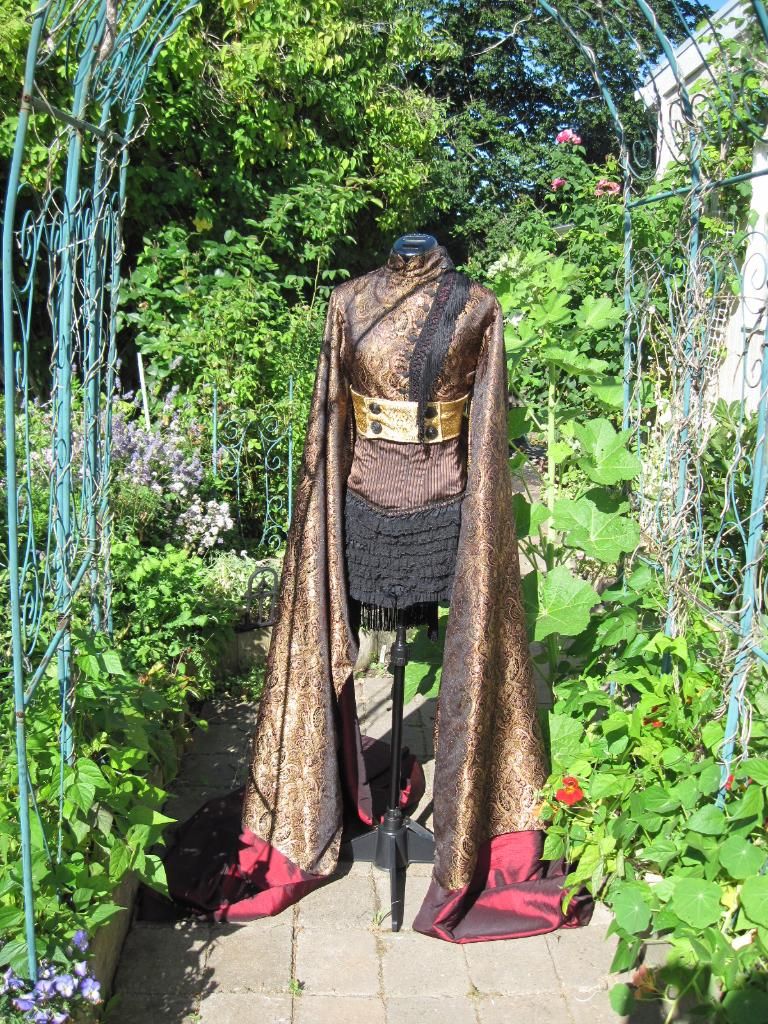 It is three layers: a striped gold and brown corset, a mandarin style cropped coat with immensely long sleeves, and a kinda-more-Japanese belt/sash.  I have the ruffled pettipants I'm going to wear tucked under the corset in this picure.  I'll wear it with over-the-knee stockings and Victorian boots.
In the below pic, that dark line across the chest is a shadow.

The jacket buttons up the side front.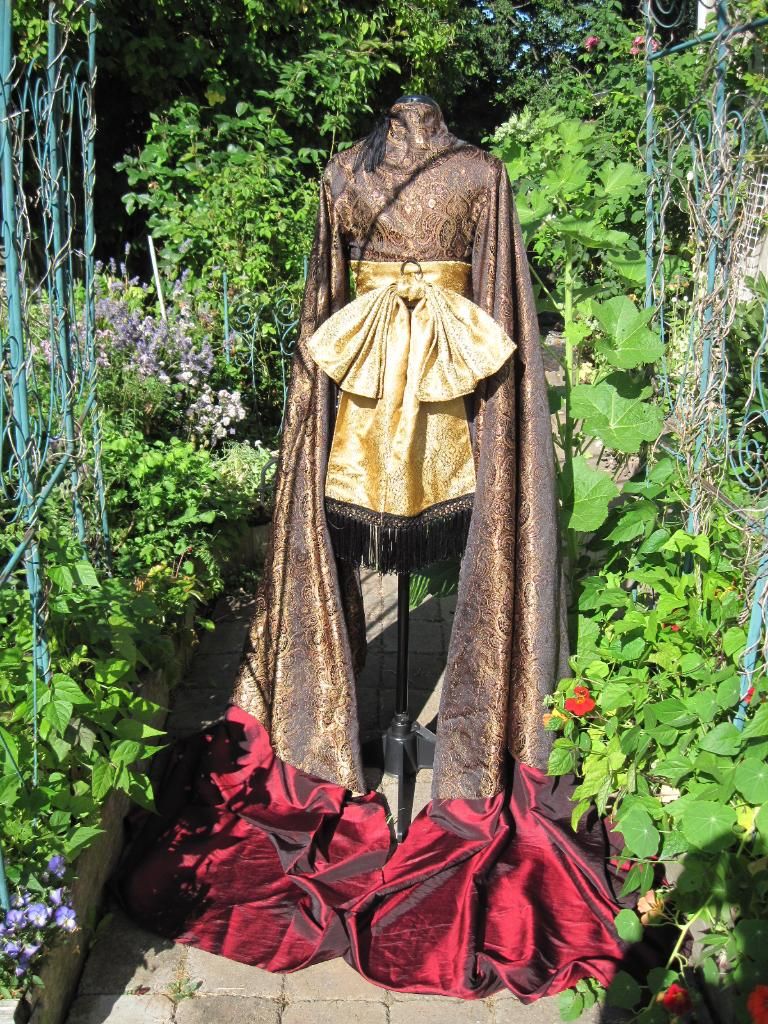 Since the fabric is all synthetics, I decided to burn the edges of the sleeves to 'hem' them, rather than sew.  It made a very nice edge, and was remarkably easy.  If you're curious, I just put a candle in a sturdy base, then held the fabric stretched between my hands and ran the edge across the flame.  As long as I kept the fabric moving at a slow, steady speed, I had no problem with an even melt.  And as for the fabric accidentally catching fire - it didn't seem to want to, even when I tested it.  So I felt  pretty secure - although I still did it over a non-carpeted floor. 
So now that this is done, I just have to sew the Victorian swimsuit (most of the fabric is cut), sew a tailcoat for Jon (who came to me just NOW with his request, GAH!), finish the Ottoman's beetlewing embroidered vest jacket (almost done with this) and make a turban.  After that, it's just a few little details like polishing River's boots and I'll be ready for Steamcon.
Hopefully, all of this will leave time to make the Femme!Ten outfit by Halloween as well.  This means dyeing the suit fabric, finguring out the pattern and sewing it....and then I have to sew the coat.  I do have all the fabrics and materials I need except for buttons.  I thought about trying to finish Idris instead, but I don't have all the fabrics for that, and with nearly ALL the various fabrics needing to be dyed and distressed, I'm pretty sure I'd never finish in time.  But directly after Halloween, it's on to Idris, because I am ridiculously excited to begin it!