THE LITTLEST REICH comes to home video September 25th!!!

Bloody-Disgusting - We've learned today that Sonny Laguna and Tommy Wiklund's Puppet Master: The Littlest Reich is already headed to disc, set to arrive on DVD, Blu-ray and even 4K Ultra HD on September 25.

Special Features include:

* The Cast of PUPPET MASTER: THE LITTLEST REICH
* Puppets: From Concept to Creation
* Lightning Girl Comic: From Sketch to Final
* And More!

The reimagining of the Full Moon Features cult classic stars Udo Kier (Suspiria, Blade, Brawl in Cell Block 99), Thomas Lennon (TV's "Reno 911!"), Jenny Pellicer (TV's "Cocaine Godmother"), Nelson Franklin (TV's "Veep"), Charlyne Yi (This is 40), Michael Pare (Eddie and the Cruisers), and Barbara Crampton (Re-Animator).

In The Littlest Reich, written by S. Craig Zahler (Bone Tomahawk)…

"Recently divorced and reeling, Edgar (Lennon) returns to his childhood home to regroup his life. When Edgar finds a nefarious looking puppet in his deceased brother's room, he decides to sell the doll for some quick cash at a small-town convention celebrating the 30th Anniversary of the infamous Toulon Murders.

Girl-next-door Ashley (Pellicer) and his comic book shop boss, Markowitz (Franklin), join Edgar for the doomed road trip. All hell breaks loose when a strange force animates the puppets at the convention, setting them on a bloody killing spree that's motivated by an evil as old as time."
----------------------------------------------------------------------------------------------
(08/07/2018)
Unfinished Full Moon film "THE PRIMEVALS" may see the light of day!!!

Coming Soon - Fans of stop motion animation will be excited to learn today that Full Moon Features will be completing their famous "lost movie" The Primevals for release sometime in 2019!

Animation legend David W. Allen (Honey, I Shrunk the Kids, Willow, Puppet Master) worked on the film for decades as a passion project, and completed the live-action photography in 1994 through Full Moon. The film was intended to be the company's largest production, with a long post-production plan intended to complete the hundreds of stop-motion effects shots. Unfortunately, Allen fell ill and passed away in 1999, leaving the film unfinished… until now.

Full Moon founder Charles Band has assembled a team led by Allen's protégé Chris Endecott (Avengers: Infinity War, Deadpool) to finish FX and sound.

The cast of the live-action section of The Primevals includes Leon Russom (The Big Lebowski, A Quiet Place) and Richard Joseph Paul (Quick Change, Full Moon's Oblivion movies).

Considering Full Moon was able to finish and release The Evil Cleryman and Trancers: City of Lost Angels, there may be hope, but then again those were short films. Charles Band no longer comments on Dungeonmaster 2, which is not a good sign. If they are able to pull this off, I'll be there. But for now, I'll believe it when I see it.
----------------------------------------------------------------------------------------------
(07/30/2018)

LITTLEST REICH Trailer Unleashed!!!

Joblo - On August 17th, the PUPPET MASTER franchise will be splitting off in two different directions - while the original series will continue at Full Moon, Cinestate is starting their own reboot series with PUPPET MASTER: THE LITTLEST REICH, which was directed by Sonny Laguna and Tommy Wiklund from a screenplay by BONE TOMAHAWK's S. Craig Zahler.

THE LITTLEST REICH stars Thomas Lennon, Udo Kier, Michael Paré, Barbara Crampton, Jenny Pellicer, Nelson Franklin, Alex Beh, Tina Parker, Skeeta Jenkins, and Charlyne Yi. Lennon plays a recently divorced young man who discovers a mint condition Blade doll in his deceased brother's closet and plans to sell the toy at a convention in Oregon celebrating the 30th anniversary of the infamous Toulon Murders. All hell breaks loose at the Postville Lodge during the auction when a strange force animates all of the various puppets throughout the convention as they go on a bloody killing spree.

RLJE Films will be giving PUPPET MASTER: THE LITTLEST REICH a VOD and limited theatrical release on August 17th, and when I shared the list of theatres where the film will be screening this past Friday, I lamented that there still wasn't a trailer available for viewing three weeks out from the release.

As it turns out, I didn't have to wait very long after posting that article to see a trailer, since RLJE Films released one online over the weekend. That trailer can now be seen below - and if you're a fan of the existing PUPPET MASTER films, I think you'll like what you see here. While this version of the concept changes the back story of the puppets and their creator Andre Toulon (played by Kier), this looks reminiscent of the killer puppet mayhem of the early movies in the Full Moon franchise.

I love the PUPPET MASTER movies, so my hype level is through the roof for this one.

The puppet effects still look rather cheap, but considering how much the series has gone downhill over the years, I'll try not to be too picky. Turning Andre Toulon into an actual villain is probably what bothers me the most about this reboot, but I'm sure it'll still be a good film.
----------------------------------------------------------------------------------------------
(07/30/2018)

PUPPET MASTER: THE LITTLEST REICH Theater Schedule Has Been Announced!!!
Joblo - With PUPPET MASTER: THE LITTLEST REICH comes the chance to see these killer puppets on the big screen, as the film will not only be getting a VOD release on August 17th, but will also be playing in select theaters.
Cinestate has posted a list of the theaters that will be showing the film, and that list can be seen below.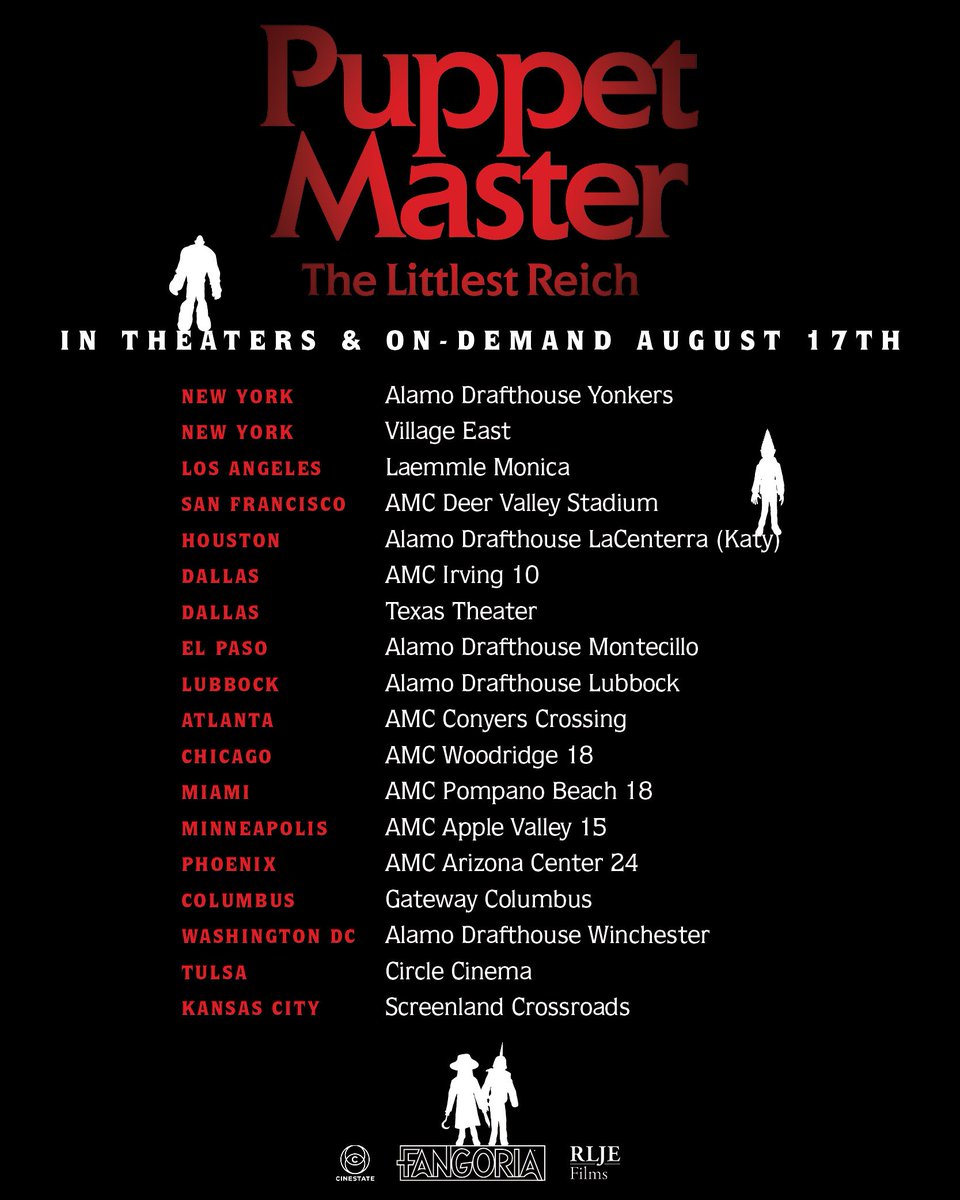 ----------------------------------------------------------------------------------------------
(06/08/2018)

Could the cult classic PREHYSTERIA be coming to DVD & Blu-Ray?

Horror Society - Legendary horror and dark fantasy film studio Full Moon – founded by producer/director Charles Band in 1989 – is world-renowned for wild films like PUPPET MASTER, CASTLE FREAK, SUBSPECIES, EVIL BONG and many, many more. But nestled among Full Moon's vast entertainment universe sits Moonbeam Entertainment, the beloved 1990s imprint that housed Band's series of imaginative (and successful) fantasy films.
Beginning in 1993 and continuing well into the late 1990s, Band's Moonbeam Entertainment released dozens of remarkable (and hugely popular) horror, sci-fi and fantasy movies made for children and families. Now, Full Moon is thrilled to be bringing back many of those marvelous pictures from the Moonbeam library, starting with the film that started it all: PREHYSTERIA!
Anticipating the success of JURASSIC PARK, this 1993 VHS-era favorite follows the misadventures of Jerry Taylor (Austin O'Brien, THE LAST ACTION HERO), a 12 year old Elvis-loving kid and his sister Monica (Samantha Mills), whose raisin farmer dad Frank (Brett Cullen, GHOST RIDER) accidentally brings home a bundle of rare eggs unearthed in the rainforest by Rico Sarno (Stephen Lee, DOLLS), an sinister museum curator. Suddenly, the eggs hatch, unleashing a pack of diminutive dinosaurs that the kids name after their favorite rock and pop music stars – Elvis, Jagger, Madonna, Paula and…Hammer (Hey, it WAS the '90s after all!). But when Sarno finds out about the dinos, he'll stop at nothing to get his hands on them and its up to Jerry and Monica to protect their new "family".
This wild and hilarious comedy/fantasy classic features top-notch stop-motion special effects by the great David Allen (PUPPET MASTER, LASERBLAST) and is ready to be embraced by a new generation of children and kids of all ages looking for charming, eccentric retro-genre entertainment. Full Moon is pleased to present PREHYSTERIA in a remastered, high-definition transfer taken from the original 35mm camera negative. Come and spend some time with the world's oldest party animals!
Could it be? Has Full Moon finally acquired rights to the Paramount distributed Moonbeam titles, or is this simply another lawsuit waiting to happen? Surely Full Moon would be planning collection sets, right? We'll have to wait and see.

----------------------------------------------------------------------------------------------
(05/16/2018)

R.I.P., Margot Kidder of Moonbeam's BEANSTALK!!!
People - Margot Kidder passed away on Sunday at her home in Livingston, Montana, PEOPLE has confirmed. She was 69. Her cause of death is unknown.
Funeral arrangements for the Canadian-born actress are pending.
Kidder began acting in the late 1960s, but rose to fame in 1978 for her role as Lois Lane in Superman: The Movie opposite Christopher Reeve. She went on to reprise the part in the movie's three sequels.
She also starred as Kathy Lutz in The Amityville Horror (1979), and appeared in movies such as Black Christmas (1974) and Heartaches (1981). Kidder acted as producer and starred as Eliza Doolittle in a 1983 adaptation of Pygmalion with Peter O'Toole for Showtime.
Despite her success, Kidder battled mental health issues that left her homeless.
After being reported missing for days in 1996, police took her away in handcuffs to Olive View-UCLA Medical Center.
"The woman we saw was in obvious mental distress," Officer Rick Young of the Glendale police told PEOPLE at the time. "She didn't think one person was following her. She thought a whole group of people were after her."
Kidder told PEOPLE five months later that the root of most of her problems — which include "mood swings that could knock over a building" — was manic depression. She was first diagnosed with the condition by an L.A. psychiatrist eight years prior, but she refused to take the recommended prescription of lithium, the recommended treatment.
"It's very hard to convince a manic person that there is anything wrong with them," said Kidder, who was working on a memoir at the time. "You have no desire to sleep. You are full of ideas."
She is survived by her daughter, Maggie McGuane.
Moonbeam fans may remember Margot as the reckless Doctor Kate 'Doc' Winston in the family film Beanstalk (1994).
----------------------------------------------------------------------------------------------
(05/16/2018)

Cinestate planning "Littlest Reich" prequel PUPPET MASTER: ARYANS AHOY!!!

Joblo - While most of us will have to wait until August to see THE LITTLEST REICH when RLJE Films gives it an unrated theatrical release (under the newly revived Fangoria banner), the reboot is currently making the festival rounds and has already been seen by attendees of the Overlook Film Festival and the Dallas International Film Festival... and a couple reactions to come out of the Dallas screening have included news on the PUPPET MASTER franchise's future.
According to these reports, it was mentioned during a Q&A after the Dallas screening that Zahler will be writing a prequel to THE LITTLEST REICH that has the working title PUPPET MASTER: ARYANS AHOY!

If the follow-up is a prequel with that title, it seems pretty safe to assume we'll be seeing a whole lot more of Kier's Toulon in that film.
If you don't like the idea of an evil Toulon, no worries: Full Moon founder Charles Band, who served as an executive producer on the reboot, still intends to continue the original PUPPET MASTER continuity with his own films while reboot producers Lorenzo di Bonaventura, Mark Vahradian, Dallas Sonnier, and Jack Heller continue their branch of the franchise.
We'll keep you updated on everything that's going on in the PUPPET MASTER world as more information is made available.

Who comes up with these titles? Anyway, could we be looking at a darker retelling of Puppet Master III: Toulon's Revenge or something new? If they're going to push the parallel universe angle, which apparently has been alluded to, who else wants Kraus to be the good guy this time?
----------------------------------------------------------------------------------------------
(03/29/2018)
PUPPET MASTER reboot will premiere at the Overlook Film Festival April 20th!!!
Bloody Disgusting - Puppet Master: The Littlest Reich, the latest entry in the Puppet Master franchise that will have its World Premiere at next month's Overlook Film Festival in New Orleans, Louisiana!
Directed by Sonny Laguna and Tommy Wiklund, the "uproarious horror comedy" starring Thomas Lennon, Udo Kier, Barbara Crampton, Nelson Franklin, and Charlene Yi pays homage to the Full Moon features
In the film, "During a road trip to a convention for the 30th Anniversary of the infamous Toulon Murders, a comic book nerd, his new girlfriend and his best friend come face to face with a set of sadistic Nazi puppets out for blood. A reimagining of the Charles Band classic."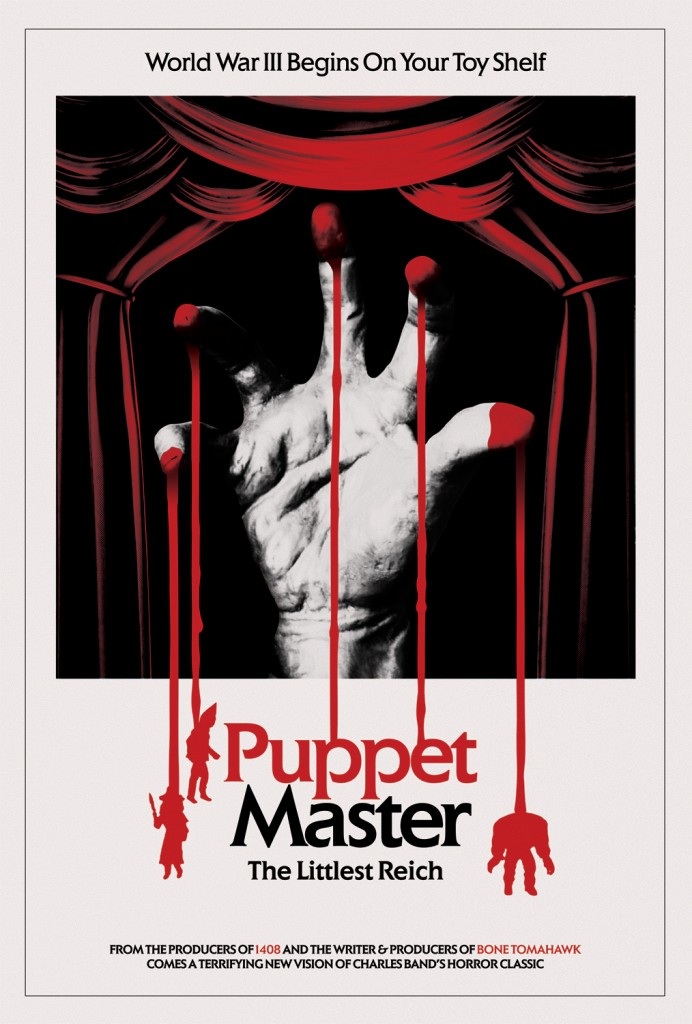 ----------------------------------------------------------------------------------------------
(03/22/2018)
New comic book "DOLLMAN KILLS THE FULL MOON UNIVERSE" is coming!!!
Arrow in the Head - At the beginning of the '90s, legendary B-movie maker Albert Pyun was hired by Full Moon to direct a film called DOLLMAN, which was originally intended to be a play on the concept of THE INCREDIBLE SHRINKING MAN. But rather than make a movie about a shrinking scientist as expected, Pyun took the idea of a man of miniscule size and used it to create one of the greatest heroes in the Full Moon universe.
Pyun's Dollman, played by the amazing Tim Thomerson, was Brick Bardo, a police detective from a planet called Arturos. When Bardo chases a villain into space, the pair end up crash landing on Earth - where a person of average size of Arturos now stands just 13 inches tall. Bardo doesn't let his small stature stop him from busting crime, though, and after wiping out a gang in the first DOLLMAN movie he went on to fight other Full Moon characters in DOLLMAN VS. DEMONIC TOYS.
Now, taking a cue from Marvel Comics, who in the mid-'90s released a one-shot book called The Punisher Kills the Marvel Universe, in which the trigger happy vigilante did just as the title described, Full Moon Comix is set to release a new comic book series in which they will be unleashing Dollman on their entire rogues gallery.
Fantasm Media's Chris Alexander recently revealed that he is working with Full Moon Comix on this series, which is appropriately titled Dollman Kills the Full Moon Universe. Posting an image of the first issue's cover, which promises a rematch between Dollman and the Demonic Toys, Alexander explained: "Every issue, Dollman annihilates another famous Full Moon character - Castle Freak is next."
Artists like Tony Moore, Ben Templesmith, and Robert Hack are said to be working on the series.
----------------------------------------------------------------------------------------------
(03/09/2018)
RiffTrax tackles BACKLASH: OBLIVION 2 in a brand new VOD!!!
RiffTrax - Oblivion 2: Backlash! No, it's not just a compilation of all the backlash the first Oblivion received, it's the title of a direct-to-video sequel to Oblivion. What did we do to deserve this? No, seriously, what did we do to deserve this.
Remember how the first one ended? If you do, you're ahead of us. But the important thing is, all our favorite sci-fi space western characters are back! Like Lizardface Jim Carrey type guy, or maybe it's his brother! The Librarian-ish Cowboy! Bondage whip lady! Just-here-for-the-paycheck Isaac Hayes! Laura Ingalls Wilder! Cat Prostitute! And, last but also absolutely definitely least, Snarling Drunken Embarrassment George Takei!
This time around the gang is after a rare valuable space mineral in them thar space hills, while on the run from a new character, the Vaguely Dickensian Assassin. And, naturally, they wind up facing off against a giant space turtle. Throw it all together and you got yourself some Oblivion, baby!
Saddle up with Mike, Kevin, and Bill for Oblivion 2: Backlash, the movie that'll have you saying "Maybe I should've given Cowboys & Aliens more of a chance."
The cast of the cult TV series Mystery Science Theater 3000 are back again!
RiffTrax returns to the dark side of the Full Moon with a brand new VOD of Backlash: Oblivion 2. Only $9.99 to download the film with commentary. If you'd like, feel free to Donate and help fund future releases. There's plenty more films out there, and plenty more laughs to be found.
Also remember to check out their VOD commentaries for Tourist Trap, Retro Puppet Master (the Extended Version) and the first Oblivion.
----------------------------------------------------------------------------------------------
(02/27/2018)
Empire Pictures screenwriter Paul De Meo has passed away!!!
Bleeding Cool - Paul De Meo, co-creator of the 1990 Flash TV series, died yesterday, according to his long time writing partner Danny Bilson. The news broke when Bilson tweeted out that his "brother, friend and creative partner in all things" had passed away. No details on the cause of death or even his age were given.
Bilson and De Meo developed, wrote, and produced the version of the Flash that introduced so many elements that the current CW series uses today. It starred John Wesley Shipp as Barry Allen, today he plays Jay Garrick. Also from the series were Mark Hamill as the Trickster, Amanda Pays as Dr. Tina McGee, Alex Desert as Julio Mendez, Corinne Bohrer as Prank and Vito D'Ambrosio who played Officers Bellows. All of who reprised a version of their characters in the new series.
The pair also wrote the Trancer films and the Rocketeer movie. They were the first to adapt the Human Target for television, starring Rick Springfield, and the created the series Viper and Sentinel. They even returned to the Flash, writing a brief comic run for DC after Infinite Crisis.
Shipp tweeted a message after learning of De Meo's passing:
I'm shocked and terribly sad to learn of Paul's passing. Danny Bilson and Paul De Meo changed the course of my life 28 years ago by trusting me with their Barry Allen, and I am forever grateful. My heart goes out to family and friends.
And Mark Hamill wrote:
Crushed to hear we lost Paul De Meo – I owe him & Danny Bilson SO much! It was their outside-the-box creative courage that game me the opportunity to play my 1st super-villain: The Trickster – YEARS BEFORE The Joker!
In his later years, De Meo moved over to writing for video games, with some of his most recent work being for Company of Heroes and its sequel, as well as Devil's Third.
Paul and Danny had penned several films for Charles Band and Empire Pictures. Some of which were unfortunately never produced. Some that were include the cult classic Trancers (1985), Zone Troopers (1986), Eliminators (1986), the once thought to be lost Trancers: City of Lost Angels (1988/2013) and finally Arena (1989). The two also collaborated on one unproduced Sci-Fi script in particular titled "Decapitron," which as we all know was the basis for one of the most popular puppets in Puppet Master 4 (1993) and Puppet Master 5 (1994).
----------------------------------------------------------------------------------------------
(02/07/2018)
Composer Fabio Frizzi will score PUPPET MASTER: THE LITTLEST REICH!!!
Rue Morgue - The reboot of Charles Band's classic '90s franchise will be graced with music by a composer responsible for some of the great Italian horror scores of the '70s and '80s.
RUE MORGUE has learned that Fabio Frizzi, who crafted the soundtracks to Lucio Fulci's THE PSYCHIC, ZOMBIE, CITY OF THE LIVING DEAD/THE GATES OF HELL and THE BEYOND, among many other movies, is doing the honors on PUPPET MASTER: THE LITTLEST REICH. Directed by Sonny Laguna and Tommy Wiklund from a script by S. Craig Zahler, the film stars Thomas Lennon, Jenny Pellicer, Charlyne Yi and genre veterans Udo Kier, Barbara Crampton and Michael Paré; now it has another horror legend on board. "A note to every horror moviemaker: seek out the legendary maestro Fabio Frizzi to score your movie," producer Dallas Sonnier tells us. "Our total reimagining of PUPPET MASTER is now the best-sounding gonzo, gory, gruesome horror/comedy of all time thanks to Fabio."
We also heard from Frizzi, who says, "I am so happy and honored that Dallas Sonnier and S. Craig Zahler involved me in their film. For me, it is the best to work for people who love cinema and live it as a great passion. And my horror blood, thanks to them, has returned to flow on this project."
Sonnier also informs us that he's been working with original composer Richard Band to update and revise his classic PUPPET MASTER theme, but can't confirm yet how it will be used.
----------------------------------------------------------------------------------------------
(01/26/2018)
TROLL is returning to Blu-Ray April 24th!!!
Shout! Factory - Lock the doors and pull out the weed-wacker for this house party of horror! One family is about to find out there's no place like home when a troublesome troll starts taking over their building, transforming each apartment into an overgrown garden of ancient evil and turning tenants into a horde of hairy hobgoblins! Michael Moriarty and Julia Louis-Dreyfus star in this super-slimy scare-fest that's "a special-effects pig-out" (Daily News)!
This edition of Troll/Troll 2 does NOT contain the documentary BEST WORST MOVIE.
Bonus Features:
* The Making Of TROLL, featuring Director John Carl Buechler, Producer Charles Band, Writer Ed Naha, Composer Richard Band and more...
* Still Gallery Of Behind-The-Scenes Photos
* Theatrical Trailer