This site is based on my Quaker parrot cookie.
I made this site so everyone can see
these Wonderful birds they are! I will be adding pictures,
videos of cookie doing her tricks, Recipes, games
and many more.
SORRY the pages might take little while to load!
PLEASE sign the guest book and say a little prayer for
cookie at the memorial page!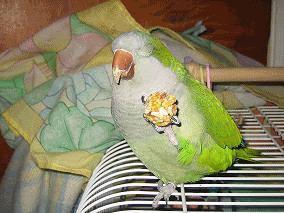 WINK FROM COOKIE!!
~~~~~~~~~~~~~~~~~~~~~~~~~~~~~~
WE ADDED A CHATROOM! CHAT HOURS: Monday's at 8pm EST TIME
ATTENTION TO ALL! MY comuter has crashed so I lost most of my graphics of cookie that i have made for AWARDS, ADVENTURES ECT... I will work on them again and try to upgrade cookies page!
The videos seem to be working now so ENJOY!
SORRY!
~~~~~~~~~~~~~~~~~~~~~~~~~~~~~~~~~~~


Please HELP US by Voting For Cookie's Site!
just CLICK on ALL the banners to vote!
votes go automatically just by clicking the banners !
TopSite List Top20proboards cookiethequakerparrot




This Site is



QUAKER PARROT SONG
"I'm a little quaker, green and stout.
"Open up my cage and let me out.
"Better pick me up or else I'll squawk.
"Rub my tummy and then I'll talk"
Here I am again with cookie monster. we both have a small poem for you all called:
C IS FOR COOKIE!
C is for COOKIE
that's good enough for me
C is for COOKIE
that's good enough for me
Cookie , cookie cookie starts with C
hope you like the poem cookie monster and I made. LOL
Got an idea? Graphic pictures of cookie, recipes, ect....PLEASE Email Me!
Thank - You!