Please click each picture to enlarge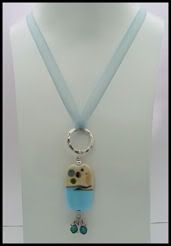 'Abstract Beach' necklace: An easy to wear ribbon necklace with a focal bead by Lesley of Flame Born Shop measuring 3.5x2cm" The pattern reminds me of a coastline and I just added a Swarovski crystal dangle to bring out the colours in the bead. Toggle fastening and approximate length of 19"
£14.00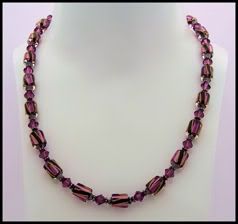 'Penelope' necklace: A simple necklace made with gorgeous purple, yellow and black striped cane glass beads by David Christiansen,teamed with Swarovski crystals and Sterling silver. A large S clasp with lampwork bead completes the piece. Approximate length 18".
£28.00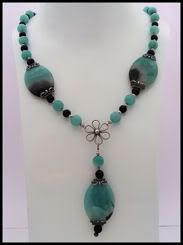 'Amazon' necklace: This is a Y style necklace with a trio of oval amazonite stones with gorgeous black markings which I have accented with more amazonite in rounds and some blackstone. The necklace fastens with an S clasp and measures approximately19".
£20.00
'Cho Oyu' necklace: Striking longer length necklace made with large Turquoise Gemstone Coins and smaller round Turquoise beads, teamed with large Czech glass facetted beads and lots of rich purple Swarovski crystals and all offset with lovely Bali Sterling silver bead caps and findings. Easily fastened with a Sterling toggle clasp. Approx length 20" Length of central drop is 2.75"
'Midnight Roses' necklace: A stunning necklace to be worn casual or dressed right up. This piece features a beautiful 1.25" handpainted acrylic focal bead and six matching round beads. I have teamed these with lovely black glass disc beads and beautiful sparkly rose coloured Swarovski crystals. Fastens with a Thai Karen Hill Tribe Sterling toggle clasp. Approximate length is 19" The focal drop measures approx 3.5"
£32.00
'Snowflake' necklace: A lovely piece of jewellery which can be dressed up or down. The necklace features a large Snowflake Obsidian teardrop pendant measuring approx 2.5" including the bale and it features some pretty blue stones. I have teamed this with Snowflake Obsidian coin beads, Black Stone rounds, pretty sterling filigree beads and Swarovski crystals. The necklace fastens with a Thai Karen Hill Tribe Sterling Silver toggle clasp. Approximate length is 17"
£28.00
'Amethyst Wave' necklace: Wonderful richly coloured Amethyst nuggets and ornate Bali Silver spacers entwined with a string of Amethyst rounds and Sterling Silver tubes form this substantial necklace. Approx length is 17", simply twist a few times for the desired effect, fasten with the Sterling toggle and prepare yourself to turn heads.
£56.00
'Anastasia' necklace: Oval slightly faceted beads of Labradorite which have a lovely greeny blue flash to them when they catch the light, teamed with Bali Silver and Swarovski crystals. This is a very sophisticated necklace. Sterling 'S' clasp. Approximate length 17.5" and easily adjustable to sit wherever placed on the neck due to the weight of the necklace and the flat style of the beads.
£50.00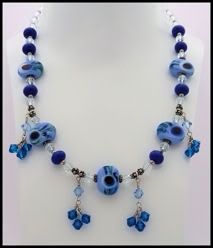 'Pride' Necklace: A real one off piece! Handmade commissioned lampwork Peacock design beads and spacers by Rob Johnson, teamed with an abundance of swarovski crystal beads in varying shades of blue. Bali silver spacers and S clasp complete the piece. Approximate length 18"
£50.00
Please ensure your cart contains only ONE of each item as they are one-off designs. Thank you