Please click each image to enlarge
'Big Blue' Bracelet: This is one chunky bracelet!! The glass floral beads are actually large focal beads and the Bali Silver beads measure 12mm. All the findings are made from Bali Silver and this is to be worn bangle style. It would suit someone who normally wears up to a 7.5" bracelet. Guaranteed to get noticed!
Was £30.00 NOW £20.00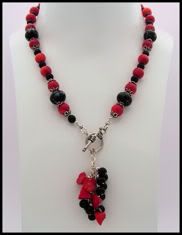 'Samba Rhythm' necklace: Made with Coral rounds , Black Stone beads and Lampwork by Rob Johnson, all teamed with Bali Silver findings. The pretty dangle is formed from a Sterling Silver chain adorned with Black Stone beads and Coral flowers. Front fastening with a toggle clasp. Approximate length 16"
Was £36.00 NOW £28.00
Please ensure your cart contains only ONE of each item as they are one-off designs. Thank you