Please click each image to enlarge
'Rainbow Swirl' bracelet: The lampwork beads in this bracelet are made by Kim Gover of Phoenix Beads (me) using a reactive glass, the rainbow effects remind me of the lovely swirly patterns you often see in oily puddles or soap bubbles. I've added Swarovski crystals, muted amethyst rounds and a simple sterling silver toggle. Approximate length 7.5"
'Dalmation' bracelet: The dalmation jasper coins in this bracelet have lovely clear markings, I've teamed them up with large black Swarovski crystals and lots of Bali silver with a beautiful ornate toggle. Approximate length 8.5"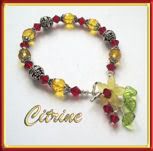 'Citrine' bracelet: This piece was created with summer in mind, rich faceted citrine teamed with swarovski crystals, floral sterling beads and czech glass leaves on the delicate dangle. Approximate length 7.5"
£25.00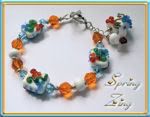 'Spring Zing' bracelet: This piece was inspired by the bright spring colours and summer heat. Featuring floral lampwork beads and lovely Swarovski crystals in co-ordinating colours as well as Sterling silver beads and toggle. The cute dangles help to weight the piece and stop it from spinning. To fit wrist up to 6.25"
£14.00
Please ensure your cart contains only ONE of each item as they are one-off designs. Thank you