"Le Phoceen" - G-159 c/n 101 F-GFGU at Geneva - 1991
The Grumman G-159 Gulfstream I first flew in 1958, designed as an executive transport for the U.S. Navy brass. 200 were built between 1959 and 1969, in a prelude to the famous Gulfstream business jet series from which they are derivatives.
Based Marseille, South of France, Air Provence International operated up to 10 secondhand Gulfstream I all over Western and Eastern Europe, North Africa and Middle East during the nineties. While some of them had the standard 14-19 seats executive cabin layout, others were modified with a "high density" accomodation of 24 club seats which could be removed at discretion to convert to freighter version.
Despite their age (in 1998, the oldest aircraft in the company was 39 years old!) those planes were still in excellent shape, fast, reliable, and more advanced than the younger Hawker Siddeley HS.748 and Fairchild FH-227 operated along with.

Here's my personal Gulfstream I album:
F-GFGU (c/n 101)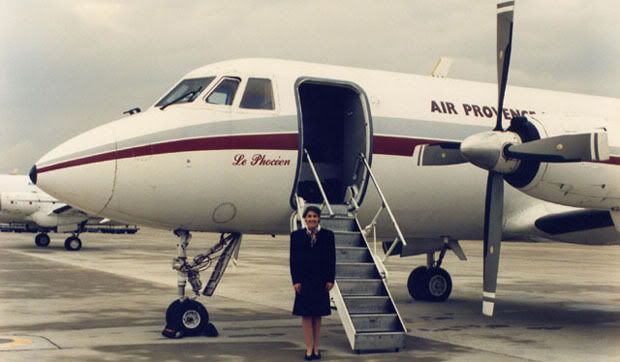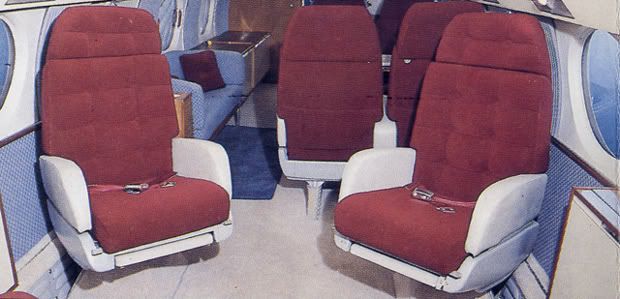 Formerly registered N300SB, c/n 101 was my favourite Gulfstream, with the most attractive livery, best cockpit equipment, and beautiful executive cabin layout. The aircraft got operated by Aeroel, Israel in 1994/1995 as 4X-ARV, to be returned in poor condition and being converted to freighter as F-GNGU in 1996.
F-GFEF (c/n 122)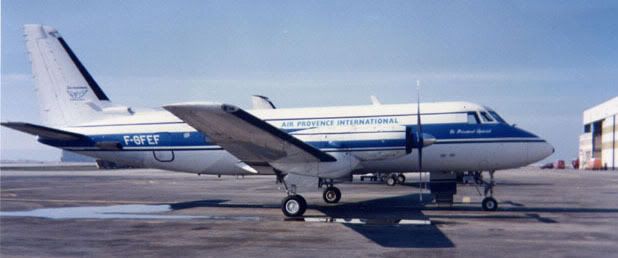 " Le President Special" - Formerly N707MP, with a fully leathered executive interior.
F-GGGY (c/n 80)
"Le Francilien" , Formerly N200GJ, another VIP Gulfstream.
F-GFIC (c/n 49)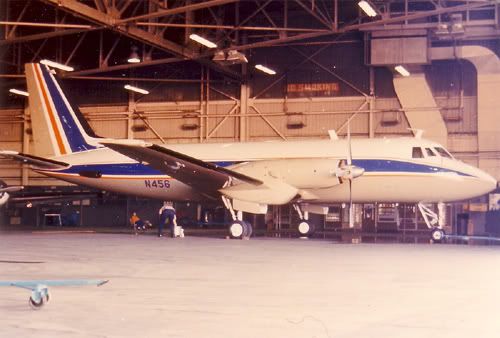 Registered N456 before coming in France, "India Charlie" was the only one in the fleet not to be autopilot equiped, and as a result the lightest at the controls. But up to 6 hours legs had to be 100% handflown - the maximum allowed by French regulations.
F-GFCQ (c/n 140)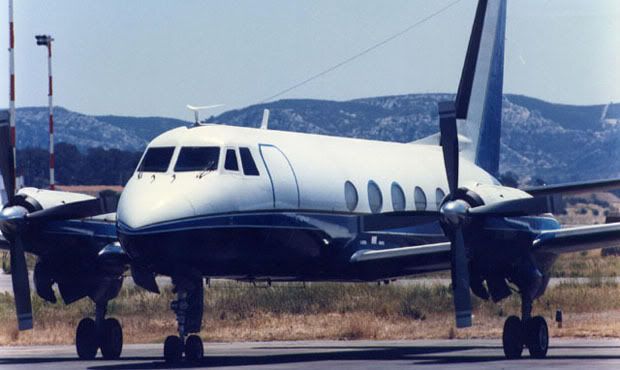 Built in 1963 and formerly N92SA, one of the youngest Gulfstream we had.
F-GFMH (c/n 20)
Formerly N732US, this aircraft was still recently operated as TU-TDM with Air Inter Ivoire. The cockpit view is showing on the center pedestal the yellow hi pressure fuel cocks, and in front of throttles (in hand), the propeller Ground Interlock lever, with red gust lock. On center glareshield: Typical 8 lights of the propeller pitch auto-coarsening system, with feathering buttons and engine fire handles each side. At the bottom, are located the fuel trim switches, speed brake lever (actually extends the main landing gear), and parking brake lever .
F-GFGT (c/n 5)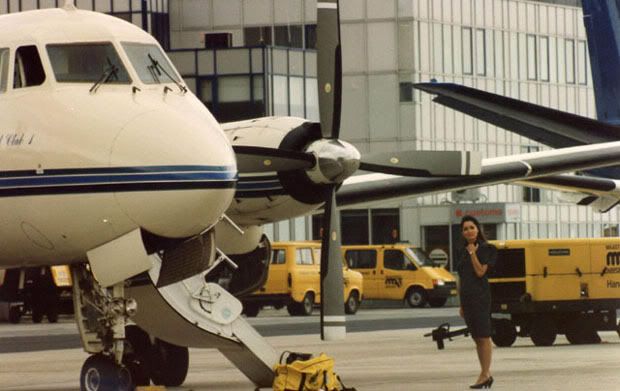 Built in 1959 and formerly N159AJ, "Golf Tango" was our eldest. It became ZS-OOE in April 2000, at the age of 41! Here (on top) at Maastricht, Netherlands, in 1991.

Also seen at Maastricht in 1991, an Aberdeen Airways operated G-1: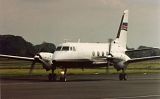 F-GFGV (c/n 44)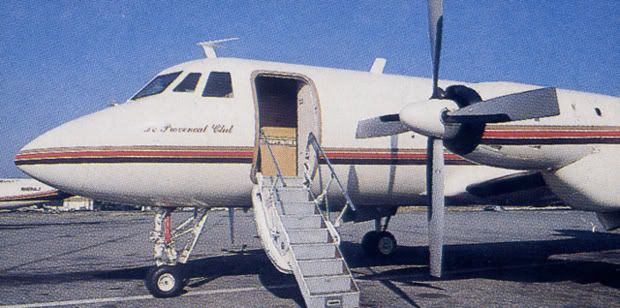 "Le Provencal Club". Initially delivered with VIP cabin accomodation, the former N717RD mostly operated with a "high density" 24 seats layout.
F-GFIB (c/n 71)
Undergoing maintenance at Marseille, "India Bravo" is showing its reliable 1990 hp Rolls-Royce Dart Mk.529 turboprop, allowing a 270 to 300 knots cruise speed, depending on the selected cruise TGT (Turbine Gas Temperature). All G-1s had Water/Methanol injection capability, which permitted required performance for takeoff and initial climb in high density altitude, but only a couple of times a day before the tanks to get empty.
HB-IRQ (c/n 166)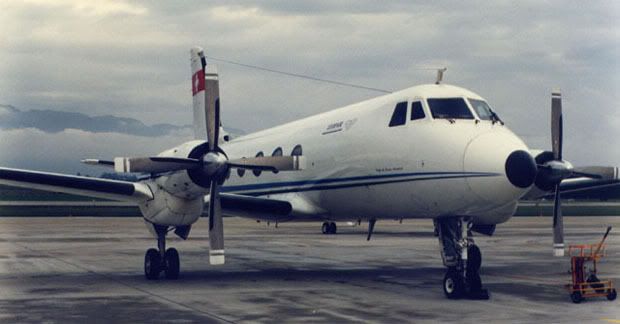 N725RA before being based in France as F-GKES with Air Provence International, it became operated in Switzerland by Leopair in 1991.
ZS-NHW (c/n 141)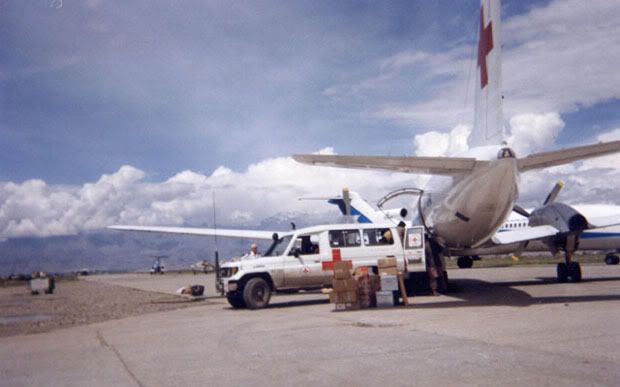 Based Johannesburg Lanseria for Rossair, this rear cargo door equiped aircraft specialized in relief operations. After a tour in Somalia during the "Restore Hope" operation, it nearly got shot down while on final at Sarajevo, Bosnia. The bullet struck a hydraulic line just on top of the First Officer's legs and the Skydrol fluid flushed out along the belly. The plane eventually landed safely, although with a total hydraulic pressure loss.
On Top: Loading at Bagram, Afghanistan - Red Cross Ops - May 1996.
Top left: At Hassi Messaoud, Algeria, while under contract with Zimex Aviation from Zurich Kloten (April 1996).
Top right: Taxiing on the ramp at Peshawar, Pakistan, back from a full day mission all over Afghanistan (Red Cross Ops - May 1996).
Bottom left: Initial climb from Luqsor, Egypt. The four prop lights are showing that the electro-hydraulic auto-coarsening system works in a range between ground fine and cruise pitch.
Bottom right: Herat, Afghanistan (Taliban territory at the time) was usually the fourth stop of the day, following Jalalabad, Bagram, and Mazar I Sharif. Next stop is Kandahar. The MiG-21 on background has ground power connected and pilot seated, ready to go...just in case...
Here are some nice G-1 pics from the sixties kindly sent by Larry Green from Reading, Pennsylvania:
More about Larry Green's corporate aircraft photo collection at his own website: