The 106th Infantry Division "Golden Lions"
BIOGRAPHY: Colonel Charles C. Cavender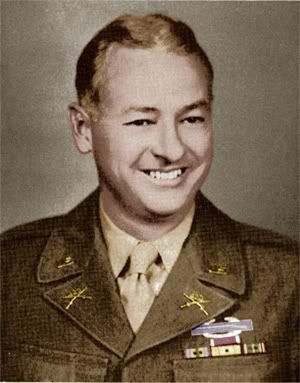 Colonel Charles C. Cavender
1897-1995
Webmaster's Collection
Charles C. Cavender was born on October 2nd, 1897 in Grapevine, Texas.  He attended his second year at Texas' A&M Campus when he entered WWI in November 1917.  He had taken competitive exams for West Point MA, but before he was accepted he enlisted for the duration of the war.  He was sent to France as part of a Field Signal Battalion of the 5th Infantry Division.  During the battle for the Argonne in 1918, he was selected to compete for appointment to West Point.  PFC Cavender was one of the lucky 18 who were selected to be shipped to the States and attend West Point Military Academy.  Cavender graduated a member of the class of '23 as a 2nd Lieutenant.  During the interbellum, Cavender served a variety of posts in the US, as well as Hawaii and Panama.  After Pearl Harbor, Cavender became the Regimental Commander of the 423rd Infantry Regiment of the newly formed 106th Division.  During the Battle of the Bulge, Cavender's regiment was surrounded by German forces and the 423rd was forced to surrender to the enemy on December 19th, 1944.  In order to save the lives of his men, Cavender surrendered alongside with the soldiers of his regiment and marched up to Germany, where he was interned in Oflag XIIIC, Hammelburg.  His POW Camp was liberated by Patton's forces on April 5th, 1945. During the liberation, Cavender sustained injuries bacause of a British saturation bombing.  He underwent surgery in England and continued the war doing occupational duties in Japan.  Cavender returned to the US in 1950, where he was a post commander at Fort MacArthur.  He retired in 1953.  Cavender died at the age of  97 in 1995.Among his decorations are the Combat Infantryman Badge, the Bronze Star Medal, the Purple Heart, the POW Medal, both WWI and WWII Victory Medals and the Legion of Merit for his delaying action during the Battle of the Bulge.