The 106th Infantry Division "Golden Lions"
BIOGRAPHY: Major-General Alan W. Jones, Sr.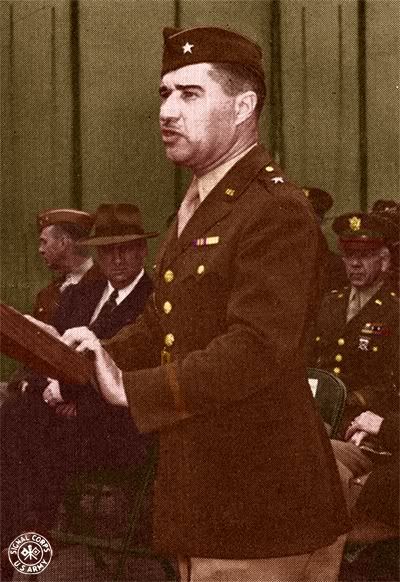 Major-General Alan W. Jones, Sr.
1893-1969
Webmaster's Collection 
Alan Walter Jones was born in Glendale, Washington and attended the university of Washington at Seattle where he was educated as a Chemical Engineer.  During WWI in 1917, Jones was commissioned as a 2nd Lieutenant in the army.  He served in Europe with the 43rd Infantry.  After The Great War he also served with the 45th Infantry.  He attended several Infantry and Artillery schools and after he made a tour in Hawaii, he was assigned Assistant Division Commander of the 90th Infantry Division.  In early March of 1943 he organised the new 106th Infantry Division at Camp Jackson ,S.C., trained it and went over to Europe with his division to participate in the Battle of the Bulge.  General Jones commanded the 106th till the 22nd of December 1944, when he suffered a heart attack and was succeeded by his assistant Commander, Brigadier-General Herbert T. Perrin.
Among General Jones' decorations are: the purple Heart, the Legion of Honor and the French Croix de Guerre. He was a member of the Army and Navy Club and the 106th Infantry Division Association, where he was a gladly seen guest at reunions. General Alan Jones passed away at the age of 73 on January 22nd, 1969 after struggling with cancer.  He is buried at Arlington Military Cemetery, section 11.