January 31, 2018

NOTE: all news is listed in the order of most recent
Updates
Here is some amazing video shot by Trackside Model Railroading:
https://www.youtube.com/watch?v=RHKCwwk9pRY
https://www.youtube.com/watch?v=QjP_oTcxqTs
https://www.youtube.com/watch?v=PIP4BYbtQZw
https://www.youtube.com/watch?v=61IWV42arGU
They also did a DVD, and my layout is on the cover!
Then, this is video shot by the first group during "Oly Ops" in October:
I made this video for a railroad slideshow, using a real Bud Light radio commercial and photos from my layout. Oddly, I posted this in a few places online but nobody apparently got the joke of the odd facial expressions or the shot of me using a 1930s Speed Graphic camera to take model train shots:
BIG NEWS!
My stuff has been in three model railroad publications since 2017, and more to come!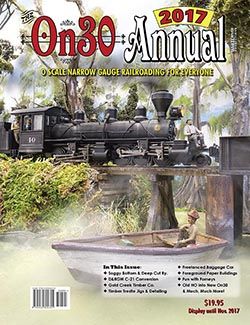 Here's what I have had published so far in order of most recent:
Trackside Model Railroader published an online magazine article on my layout, with great photos. they also released a DVD of all the video they shot.
The 2017 On30 Annual did a feature article I wrote on the layout.
Model Railway Hobbyist ran two photos taken on the layout in 2017, in the March and December issues.
This is Ross from the Trackside publication, getting stills and video on my layout on December 9, 2017.
While not model RR-related, I got a photo published in the December, 2017 issue of Fine Scale Modeler! It's of my Dad's amazing 1/6 scale Civil War James rifle field gun. Ironically, I was visiting my parents in Florida when I found out and was standing right next to my Dad when I got the news!

In the March 2018 issue, The Narrow Gauge and Short Line Gazette will be running a new article on my layout! I can't go into details yet but this will be something I doubt anyone's ever seen in the hobby press before.

Cow pen and memorial
Recently, I took a good look at an awkwardly open space on my layout across from the Unaka building at Winner that I felt needed something in it. For a while, I'd been thinking of making a cow pen, using the type of gate my parents described to me in use from their youth in the 30s and 40s, through the 60s or so. People would make pockets for boards to go across an opening as nobody could afford a 'new-fangled' gate of any kind. Here's what a real gate like that look like along the ET&WNC, taken on it's last run in 1950, along Stateline Hill: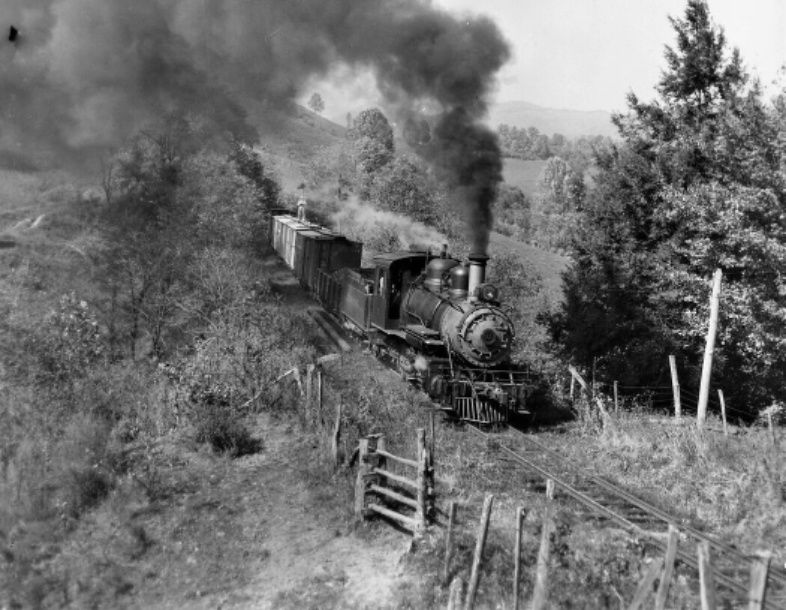 Adjacent to that, I had my "war of Northern Aggression"? (Yankees know it as the Civil War) memorial that was between two spurs as I could never find a place that looked right for it. My article in the 2017 On30 Annual shows it in that odd location. Once the pasture came to be, I noticed a small copse of trees adjacent to that. It looked like a great spot. So, I moved it and I think it looks way better there.
God help me, I bought a diesel...
I bought a Bachmann Whitcomb diesel from Tacoma Trains, on the very last day of that hobby shop's operations. I'm so sad to see it go as it was the primary hobby shop I went to during the layout build. All the track, a lot of rolling stock and plenty of supplies came from there. I guess it makes sense that the most expensive purchase I ever made there was on the final day there were in business.
It's a brand of locomotive that the Army did buy during WW2 overseas and stateside. The ET&WNC had no diesels until 1968, but this is an alternate-reality concept and I think will allow for it. In op sessions, it'll only be used to haul Army rolling stock and/or tank cars.

Sheds and the (fictional) past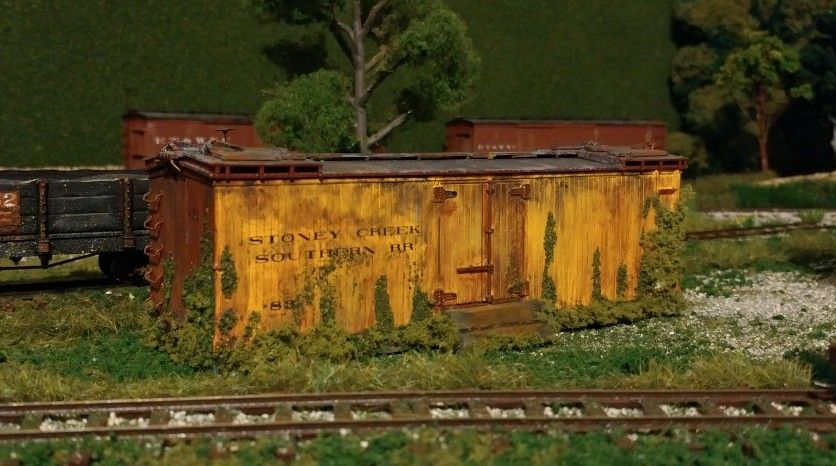 I decided I really wanted a shed on the layout made from an old RR car. As the ET&WNC never had refrigerated cars and I wanted to show the history of the (fictional) original RR that my layout represents, I wanted to model a car that'd been made into a shed before the ET&WNC bought them out, as I couldn't imagine they'd bother to re-letter a car turned into a shed. I like how it turned out.
"Wow, it's really green.."
-Steve Carter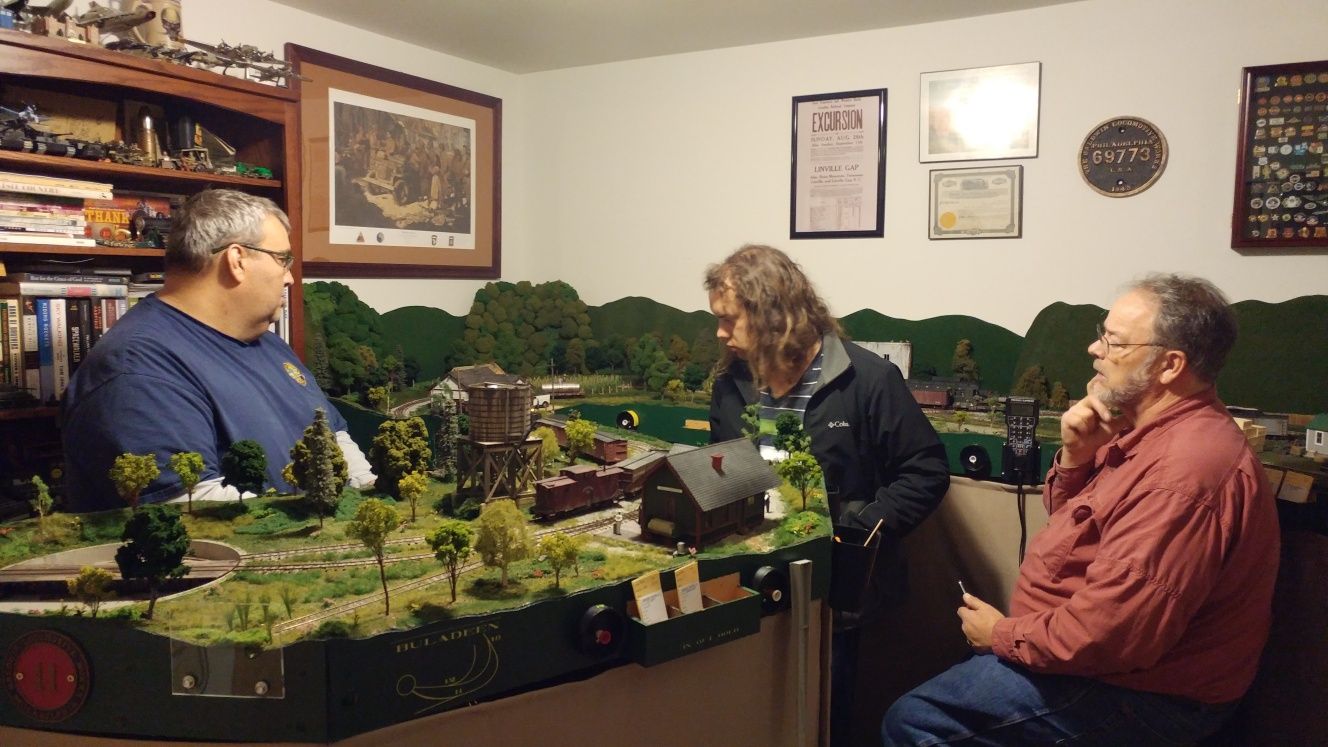 I had an open-invite op session on March 11. Robert, Dale and Steve showed up. It started a little shaky, as when I turned the master power switch on, nothing happened. Turns out, one of the DCC throttles apparently wasn't plugged in all the way. Thank goodness Steve (the guy in the red shirt in the first shot) was there, as he's the one who wired this layout for DCC to start with. So after that scare, everything went great. We ran two whole trains and everyone seemed to have a good time.
Between trains, everyone watched a DVD of the real ET&WNC during the 40s, which seemed to give a good context to everyone. Steve, never having seen the scenery before, first noted how green everything was. I think after seeing that DVD, it all made sense to him. The Blue Ridge area is indeed that green! Sadly, Dale (the younger guy in the center of the shot, very much in need of a haircut) was badly hurt in the Amtrak cascades crash at DuPont, WA in December. He's on the mend now but it's a long road. And no, it hasn't diminished his interest in trains one bit.
Wall space revisited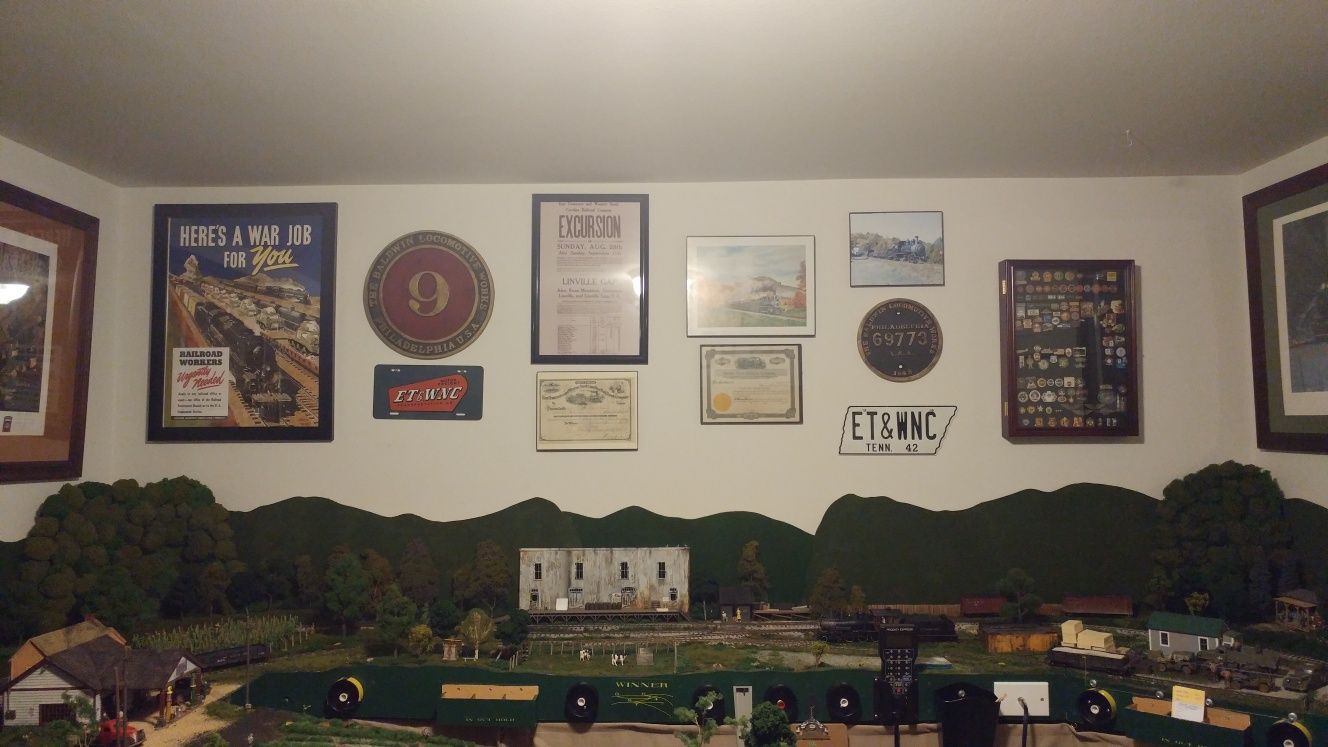 The 'war job' poster is a reproduction, recently added to the wall. The number plate on the right of that was nabbed off eBay, which is made from a plastic-covered foam substance. It's as light as a piece of like-sized cardboard and was easy to hang up and looks great on the wall (I assume it will fool a few people who see it without knowing the story ahead of time) and is a great replica of the ET&WNC's # 9 number plate. The reproduction 1939 poster to the right of that came from the Avery County Museum in NC (along with a really neat t-shirt commemorating ET&WNC caboose number 505, which is now in their collection). It dropped right into an inexpensive frame I bought on the following morning and it was up on the wall in a few minutes. The certificate to the lower right of that is an original stock certificate from the Linville River, a ET&WNC subsidiary. The painting above that is a Howard Fogg print. The 1943 builder's plate to the right of that is an aluminum reproduction which I painted and weathered. And to the far right is a frame with various pins from railroads, museums and various places I've been (including unit insignia from my Army days on the bottom row).
More trees and scenery
What would the Blue Ridge Mountains be, without trees? I used a mixture of Scenic Express "Super tree" plants and premade ones from various vendors. Then, I cut up some pre-made static grass mats for high grass and I loved how those turned out.
Curtains and fascia work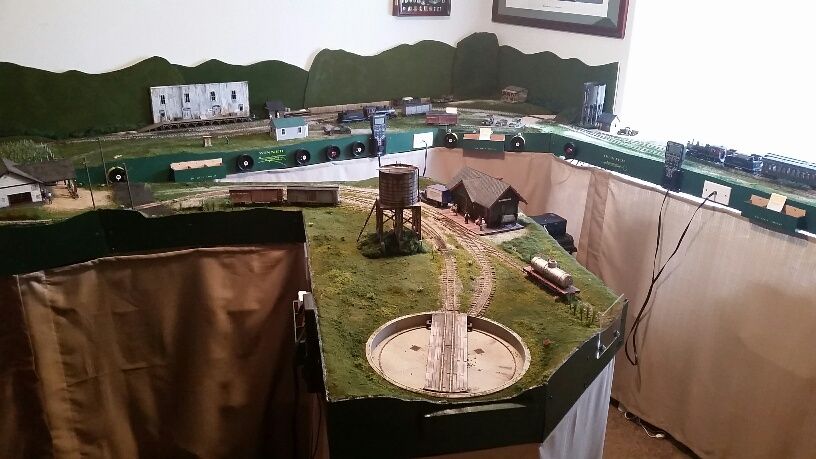 My wife surprised me by making a full set of curtains to hide everything underneath the layout. I had no idea she was going to do this. They look great and I think the layout room really look like it should, in no small part due to her efforts. In the above shot, you can see the trees and undergrowth hadn't been added yet.
Soon after the curtains went in, black cups (actually, pencil holders) were added at various spots along the fascia to place the bamboo skewers I use for uncoupling, and other items. I also used some of the extra hooks my wife had left over from the curtain project to put in place to hang the re-railers. I use Kato HO ones as they work great for On30 track. Most other HO ramp re-railers have 'wings' to the outsides of the rail and don't work well on On30 track at all.
From one war to the next...
The Civil War memorial (keep in mind, East Tennessee was almost half

pro-Union

at the time) went into place in Winner, opposite the Unaka factory, though I'm not 100% sure if it's going to stay there. My Father made the barrel on a lathe for this, and is an accurate rendition of a M1857 12-pounder "Napoleon" barrel. In the 40s, this is the only type of Civil War memorial you'd likely find, other than a statue of a soldier. Battlefields didn't have replica cannon carriages on them until the late 50s and an original carriage would have rotted away after 70 years. So a pedestal is historically accurate. There were two barrels placed on similar pedestals in downtown Elizabethton, which are still there today. Look to the right of the base of the memorial in this photo below: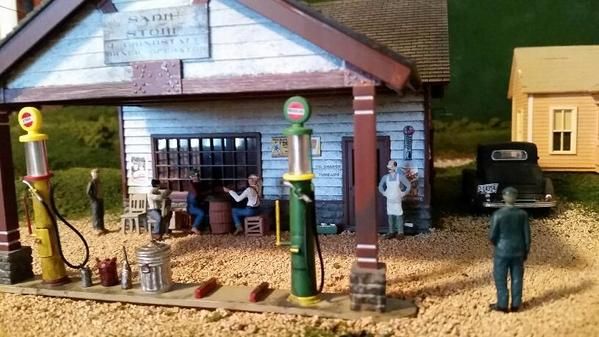 The first people on the layout showed up at Jessie Grindstaff's store along Stoney Creek road. All are in static poses as people frozen in action always seemed odd to me on a model railroad. Most of the males are either RR employees or too old-young to be in the military. There are a lot of old folks and women around, as there would be in real life in 1943.
The cornfield on the Ensor farm was completed with almost 400 plants in this little field, but planted tightly together as they are in real life. I really like the way it looks. This makes for a good 'view block' to trains going around that sweeping curve behind the farm and store.

I also placed a clothesline and a 'washer woman' getting ready with a basket of clothes to hang out on the line, once she removes the two quilts already airing out. The quilts were printed on paper, from online photos of 1930s Appalachian quilts in a museum. They even weighed down the lines like they would in real life. In case anyone asks, I never intended for anything funny there like red long johns hanging on the line. With all the Ensor men off in the military (note the blue star flag in the front window to the right of the front door) and the women tending the farm or working at the rayon mills in Elizabethton, there wouldn't be any reason to see that. And women wouldn't be hanging their "unmentionables" outside to dry for all to see. Normally, a clothes line would be in the back of the house, but with the tracks in the back, with the coal-burning locomotives going past, nobody would have placed a clothes line back there!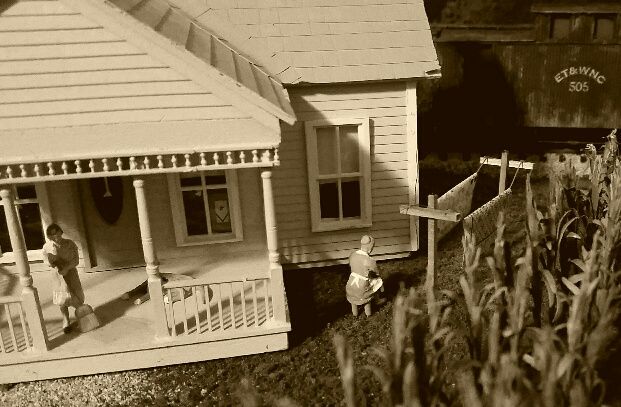 Op sessions...
Several folks were invited to come over to run trains on the layout after the scenery started taking shape. The photo below is of one session that took place before the backdrops and trees had been added (what I now refer as the layout's "green desert" phase).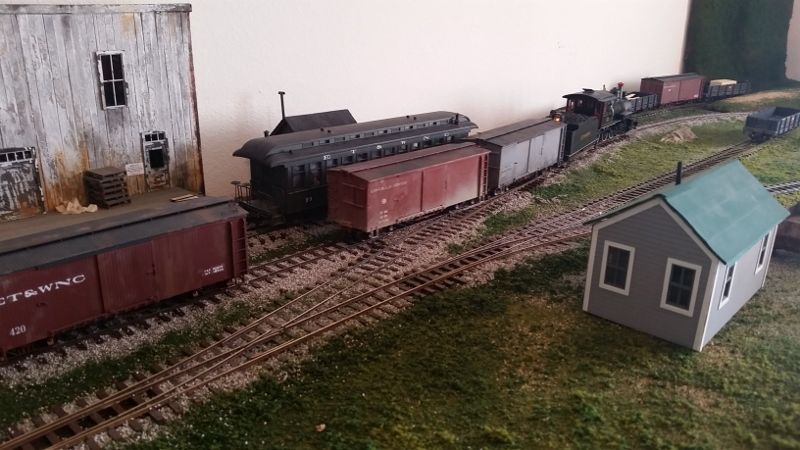 I still can't believe I managed to find a train order sheet from the ET&WNC, but better still, it has locomotive # 12 listed on it, and is from the year and time of year my layout takes place!
Below, this is a photo showing where I hung the ET&WNC print my loving (and eternally patient) wife got me for Christmas, 2015. It's hanging right above the first bend on the mainline. In early 2017, I met the artist, who seemed very interested in the photos of his painting hanging in the layout room.
Thanks to a seller on eBay, I found some stock certificates, one from the ET&WNC and two from the Linville River RR (which was a subsidiary of the ET&WNC early on). The ET one (which now hangs on the wall of the layout room) is from 1887, the LR one is from 1922 and the other LR one is unissued.
The session lasted just shy of 3 hours and went through two changes in rolling stock.
I knew ahead of time I was out of my depth and told them so, in that this was a work in progress and was mostly to determine the best course in operations.
They seemed to enjoy themselves, and gave me a lot of really good ideas. I can't imagine anyone comes up with a good operating scheme on their own the first time, and with the suggestions of these guys I got a much greater grasp of how to keep two people solidly busy on a layout the size of mine. My current basis for operations came mostly from what they came up with in that first op session.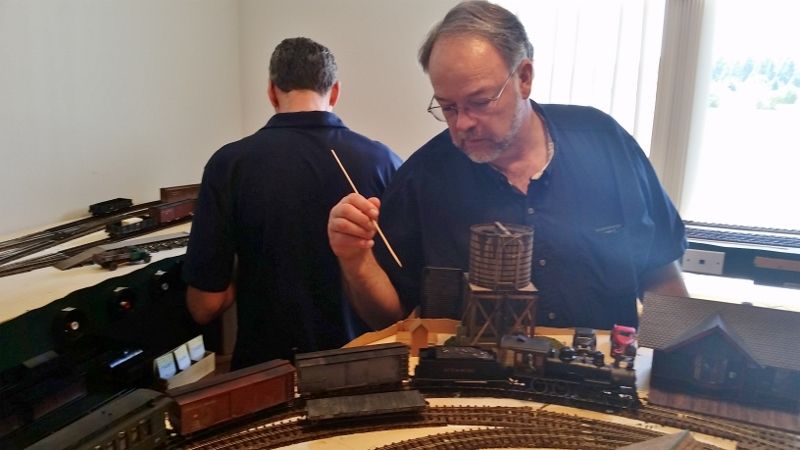 I have a notary embossing stamp from Carter County, TN from the 1920s, so each one will be marked with that.
This sign is right above the door to the layout room, put in place a couple of weeks before the first op session.
I wasn't very happy with all the problems I had with putting in the track, most of which was made by Micro Engineering. While I do agree it looks good when put in place, it's very fragile stuff. If I had to do it over again, I might have gone with Peco code 100 On30 track, instead.
I couldn't resist this off eBay, as there can't be too many of these out in public hands, from the Tweetsie RR park in Blowing Rock, NC. But in all honesty, I'm still not really sure what I'm going to do with it:
In January of 2017, I drew this track plan for the On30 Annual article and colored it on the computer. This is how you'd see the layout, oriented for when you walk into the room:
The first real 'Train' ever over the line to the turntables and back was run by Robert, with locomotive # 12 and coach # 23, on November 17, 2014. This was ironic, as they represent original rolling stock from the ET&WNC that I've actually seen in person in the past. This locomotive was later re-numbered to # 9, though. Note that this section looks very different other than the addition of scenery. Some of these structures in the photo are gone and none are now in the same spots you see here:
This was the first train to make the entire trip up to the turntable approach tracks on August 18, 2014: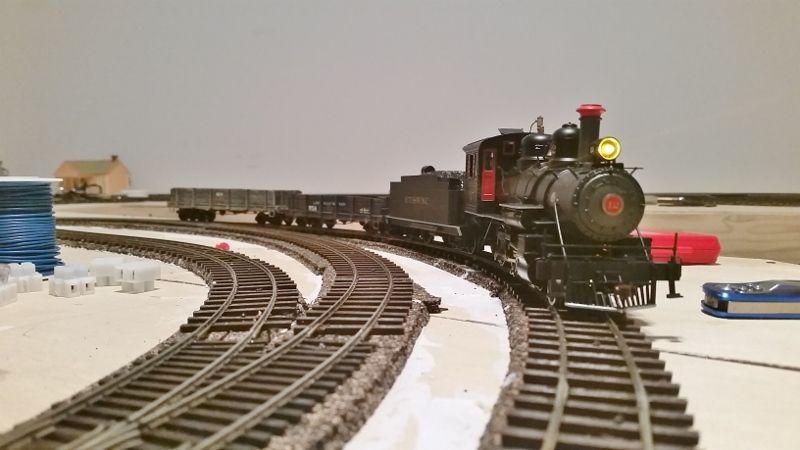 I ran the very first train over a small portion of the layout on August 12:
With a lot of help from my pal Robert Scott, the bench work was installed, bolted together, levelled, and track laying started before dinner time that same day. I was worried that my measurements were off and the thing would be too big to fit the room. I still have no idea how, but I was actually four inches short in the back corner, but better short than long. It worked out as it placed the center section a little further away from the book case, so I was fine with that (and added some to that edge later on). The hole for one turntable was cut out and the pit test fitted as well (it dropped right in, no changes were needed). The area where the tool box is sitting is where the majority of the sidings and the one passing tack are now located (in the Winner section). The section in the center of the room became the end of the track. You can see one of the ten-wheelers to the left of the center of the photo. I almost couldn't handle standing in the center of it all, that first evening. I'd been dreaming of this for the better part of 30 years.
This was the completed benchwork, assembled for the first time before installing them into the layout room. This was done on our back deck to ensure everything fit (and that I could walk around in it easily) before the legs were painted and the sections then went into the room: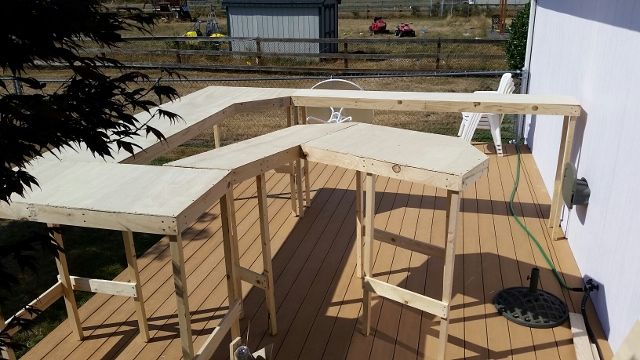 This was the original (and overly ambitious) track plan for the layout, drawn by Robert Scott. While the sides along the walls became much thicker than this plan called for, only the center section had to be totally changed as there wasn't room down the aisle to the left in this drawing once the bench work was built to fit the room and the tracks I needed. I also changed the depot names to reflect the names of the real locations that are used today and were station stops for the real Stoney Creek RR:
Here are the important dates so far:
February 9, 2014: Original idea for track plan completed by Robert Scott, after a discussion in the snow while waiting to photograph a Northbound Amtrak Cascades train at the Northwest corner of the Summa Street grade crossing in Chehalis, WA

July 26-27: Benchwork started/completed

August 2: Test fitting and measuring outside, then modification of the center section to better fit the room

August 9: Installation of the benchwork and track laying began, one turntable pit hole cut out

August 12: First test run of a locomotive (ET&WNC # 12) over a short section of the layout

August 14: Wiring of the individual sections of track began

August 16: The last of the mainline rails were laid, second turntable pit hole cut out and test fit

August 18: First run over the entire mainline, with # 12 and two gondola cars

November 17: Approach tracks to the turntables done, all wiring to the dead spots and turntables completed and ran the first train from one end of the layout to the other, turned around, and returned

January 18, 2015: Fascia cut and mounted
February 14: Fascia was painted, DCC throttle holders installed, DCC plugs put back in place and blue point turnout pull sockets installed. Blue Points were completed individually and prepped for mounting
February 22: Mounting of the blue points for the turnouts started
March 1: Pulls for the blue points installed
March 8: Final blue point installed and two turnouts replaced due to breaks
March 9: First locomotive run from each end of the line with fill turnout controls from the blue points along the way
March 17: Track work complete and layout officially ready for operations
April 27: Caboose #505 model completed and test run around the layout
June 14: First operating session on the layout
August 2: Turnout numbers and track plans with those numbers were installed along the fascia
September 14: Mounted the train order chalk board on the wall overlooking the Hunter interchange turntable
February, 2016: Scenery forms started, over several days
April 17: First laying of ground cover, starting in the Buladeen section
May 3: Ground cover and ballast for all tracks completed
May 11: Corn field completed, which was the last major scenic element
May 15: Backdrops installed, finished 2 weeks later
August 7: First ever 3-person op session ran
August 19-20: Curtains for underneath the layout were made and installed by Jennette
August 28: Added cups for various tools and hooks for re-railers along various spots on the fascia
September 22-November 17: Most of the final trees, bushes and undergrowth was added to the layout
November 22-25: Weathering done to all the wartime-configuration locomotives
January 1, 2017: Track plan drawn for the article for the On30 Annual, showing the exact layout of track and structures within the room. Several flowers and other plants added to the landscape
January 8: On30 Annual article on the layout completed and sent to editor
March 6: First published photo of the layout appears, in the March edition of the online Model Railroad Hobbyist magazine
March 11: First op session with an open call after the scenery was completed, with 3 operators
April 2: Refrigerated car lettered for the Stoney Creek Southern is heavily weathered and placed on the layout
April 23: Whitcomb 50-tonner diesel locomotive purchased, to represent an Army locomotive
May 2: The 2017 On30 Annual reaches the first pre-order readers with the article on this layout enclosed. Fan email on my article sent to the editor three days later
December 9: Trackside Model Railroading came out from the Spokane area to shoot my layout for about 6 hours
January 1, 2018: Trackside Model Railroading article is 'published' online with photos and video of the layout
January 24: DVD from Trackside Model Railroading with my layout as the primary subject arrived
So, why was it built in sections?
My layout is in a finished room with my collection of military and RR stuff. It's not an empty space you can haul lumber and saws into. It's also a relatively smaller room, about 10X11 feet. So, I built the layout in 4 sections. They were be bolted together between sections with two carriage bolts at each seam. Track was laid over top of that, and scenery placed over that as one large structure.
Why, you may ask? This is just in case we ever have to move. All I'd have to do would be to cut through the scenery with a knife, snip the rails, yank out the bolts and unplug the wiring to take it out of the room. Even the legs are held into sockets with bolts. I built it as if it were a module display that never moves.
I've seen too many heartbroken people having to destroy their layouts when they've moved. While I don't anticipate that happening (at least for 5-10 years the way things are going for my employer), I don't want to risk it. Sure, I could still destroy it if I wanna start over, but I'd rather have the option. It was built with 1X4 and thin plywood (the blue point switch machines were anchored with thicker wood under the points).
Why couldn't the layout be bigger?
It could have been larger, to be honest. My wife even agreed to an earlier plan of mine to get a shed constructed for the layout and placed on the 'back 40' of our property. The more I thought about that, the less of a good idea it seemed. I've known people with layouts that are out of the way of normal occupation of their homes, and the builds on these layouts always seemed to take forever. Even my friend Robert (who designed the initial track plan) has a HO layout in his garage which he admitted he rarely ever walked into the room.
I didn't want that. I wanted the layout in a place that was comfortable, easy to get to and in a place I wanted to go. By sacrificing size, I think I now have a layout which is in a place where I went far more often than if it'd been in the garage or a shed out back. I can't imagine I'd be nearly this far into construction if the layout was tucked away from sight. So if it means it's way smaller than it could have been, I'm just fine with that. And besides this, if I ever had to move, I never could have picked up a large shed and had that moved as well, with the layout inside.
Rolling stock
All 'mainline' locomotives are Bachmann On30 ET&WNC 4-6-0's, all with sound. Here's the roster:
4-6-0 # 9 in wartime black, with sound

4-6-0 # 11 in wartime black, with sound

4-6-0 # 12 in wartime black, with sound

4-6-0 # 14 in green and gold, with sound (I'm unsure if I'll weather this one of not, as I'm not sure what I'll be doing with it, other than running 'backdated' trains for the pre-war era. Yes, I know 14 was in Alaksa by then, read my layout concept for why it's on this layout in 1943)

Whitcomb 50-tonner diesel # 7611, with sound, lettered as an Army Transportation Corps locomotive
I still need some hopper cars of the ET&WNC type. I haven't found a good way to model a bunch of them just yet.
The short Bachmann passenger coaches are neat looking but they just don't look right for the ET&WNC's ones. With that in mind, I bought an AMS On30 coach. It was a nightmare taking one apart without any idea how to do so (you must de-solder the pickup wires to the trucks to take the body off), but I had to get in there to get the windows out for re-painting and to put passenger figures into the seats. Floquil Pullman Green was a very close match to the paint already on the car, so I just sanded down the markings and blasted the remainder of the coach with that after masking off portions of the roof. The decals took a while but worked out okay. Before assembly, I added a passenger to each of most of the seats. I didn't put the wiring back as I wasn't impressed with the lighting anyway (it flickered badly on the test runs on the layout before I took it apart).
I decided to mark the first coach as # 23. Number 23 wasn't a Jackson & Sharpe coach, as the ET&WNC was rid of their J&S coaches by then (except for Linville River # 4, but I didn't want to model that one first. I did that later). 23 was also off the property by 1940, but I wanted it anyway on the layout, as that's the only ET&WNC coach I ever got to see in person, as it was sold to be a diner in Newland, NC. I got to see it in 1981 and it burned in a fire a few years after that (see the photo below). No ET&WNC coaches have survived, but combine # 15 still exists in a museum in NC. I would like to make a model of that one someday as I saw it at Tweetsie RR as a kid when it was still there on display there. My Bachmann coaches are all gone now except for the one shorty 'Stoney Creek Southern' marked one that I still don't know what I'll do with. Maybe I'll turn it into a shed...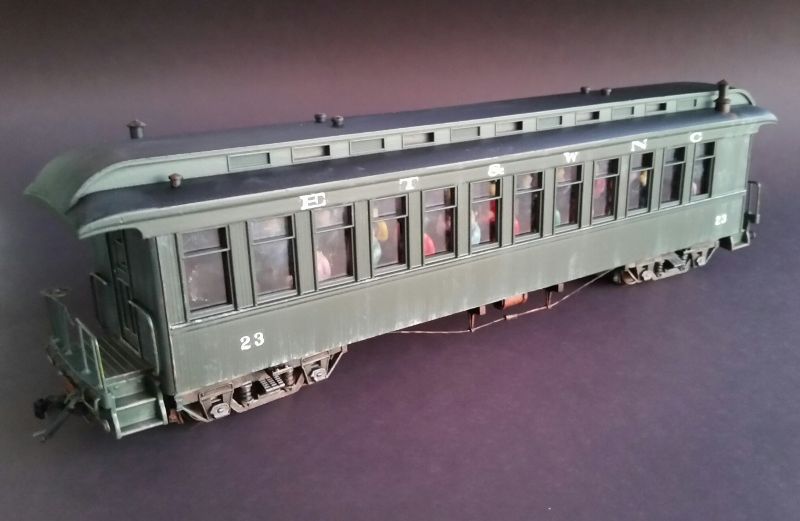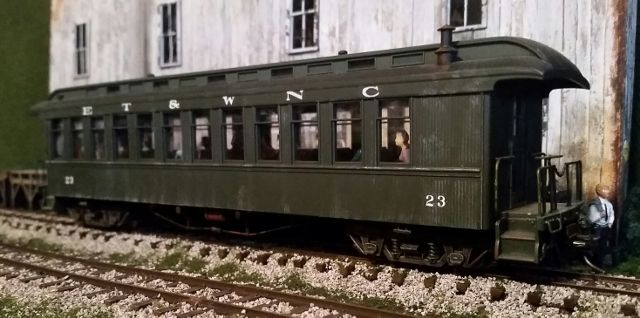 After having only one coach on the layout since I first started running trains, I decided to finally modify, paint and decal the other AMS coach I had into Linville River # 4. This coach was on the property as late as 1944, but I haven't determined if it was being used on trains as late as 1943. It's not a perfect representation of the coach as the AMS coaches have different window types, number and placement and other details, but I still like how it turned out. The only problem is that two of these AMS coaches won't make it through the S-curve heading into the Buladeen depot at the end of the line. The frames are simply too long to allow for the swing of the bodies of the coaches through those two turns. So, passenger trains must be limited to one coach when going past the Winner depot. The second photo is a 1942 photo of the real #4, probably at the coach yard in Johnson City.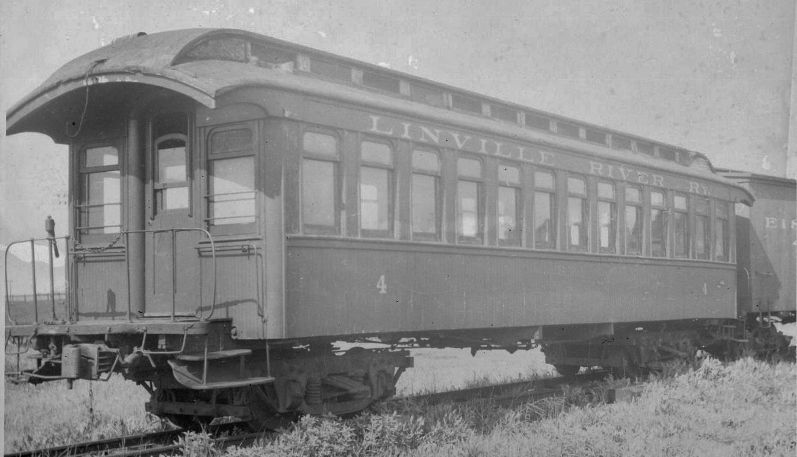 I have two tank cars, numbered 600 and 604. The ET&WNC only had two tanks on the property by 1943, and I have created reasonably accurate decals of the tank body markings for each. I like how this turned out, especially with the weathering, which used weathering powders for the rust.
Of course, they're not perfect models of the original cars, but Bachmann's tank cars aren't that far off for the real ones, as seen above. Someday, I'll be replacing a lot of these cars I currently consider, "representational" of the real ones with far more accurate looking rolling stock.
I finished caboose # 505 at the end of April 2015, from a kit by Deerfield River Laser. The real 505 had badly peeled paint in 1943, and I made it look like the road-worn hack it was at the time. Thankfully, the real 505 still exists, at the Avery County Museum in Newland, NC.
To get an idea how much work went into the other freight cars, look at this photo. This is a split photo showing the exact same car. To the left is how it looked coming out of the box. To the right is what I had after I was done re-creating a pre-war ET&WNC low gondola (most have the wartime-era sheet metal number plates on the center sides). All I really did was cut down the sides, add some decals and do a lot of paint work. Though few of the gondolas have road names, I wanted a couple of Linville River marked cars for the heck of it.

One thing you'll not be seeing are all the 'whimsical' stuff many other people into On30 have on their layouts. The primary reason I got into On30 was because Bachmann came out with affordable narrow gauge stuff and especially the ET&WNC 4-6-0s in factory paint. If it weren't for that, I probably never would have gotten back into model trains again. If anyone had come out with ET&WNC locomotives in On3 instead, that'd be the gauge of my layout right now.
Structures
Any layout needs structures, and since I wanted to have everything done that could be done before the layout was actually built, I'd taken on some structure projects. I had some kits and scratch-built some stuff. One of my favorite structures is the Buladeen depot. It's made of a mix of basswood, thick cardstock and plastic for the roof and door/window castings. I painted the trim color close to the ET&WNC red they trimmed their depots with prior to 1945. And the rest, I blasted with Floquil Pullman green. I then created a scale train bulletin chalkboard. If you take a magnifying glass, you can actually read the thing. I made three of these boards, for each of the three depot/flag stop structures. I then placed figures around each depot with a critical eye, judging what looked more correct. All figures on the layout are in 'static' poses as I can't stand figures frozen in action poses when the trains alone are moving.
The two flag stops were Grandt Line kits. I decided to model one with the door closed and shades drawn, and the other with the door open and a reasonable interior with stove and wall hangings. I like how they turned out. Note the 1943 calendar and the pin up on the wall of the depot. There's also a stove in there connected to the stovepipe.
Etc...
Any WW2-era layout needs military vehicles. I took some MTH 1/43 scale Jeeps and did some work to them. This shot of them isn't all that good as the flash makes them toy-like looking but it gives you close idea what I did. First, I painted the seat covers the correct color (nobody made tan seat covers for Jeeps in WW2), removed the bumper and (postwar) tire pressure markings. Then, I applied custom-made unit markings, and weathered the heck of them. I was sure to remove the 'invasion' stars on the hoods with the surround, as stateside Jeeps never had those. I also made windshield covers out of napkins and painted them the right color. The command car got weathered a lot more than a real one likely would have been, but I just couldn't resist.
These vehicles are all in parked poses. I also have a few civilian cars, with 1943 TN license plates (most have the county code for Carter county, where the layout takes place).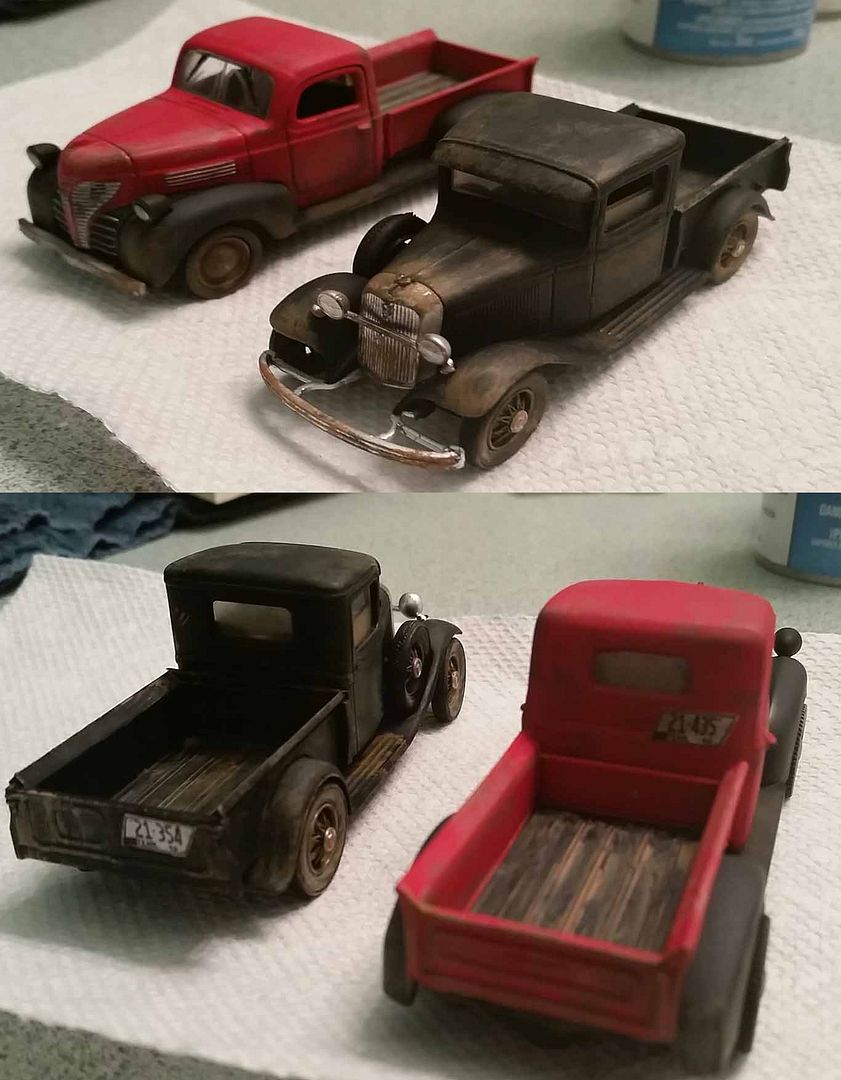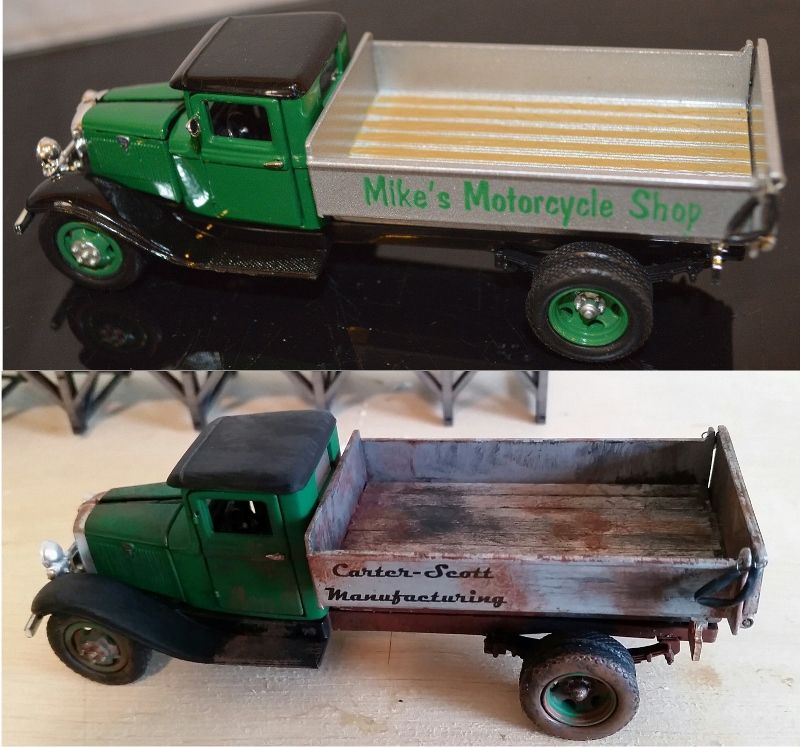 What about Moonshine stills?
As I am building a layout that takes place in Tennessee in the 1940s, you'd think a moonshine still would be a requirement. The problem there is that at least a few relatives of my parents were moonshiners, but any moonshine still they would have had would have been way up in the woods where nobody could see it until they were standing next to it. My Dad spent a great deal of his youth hunting and trapping up in those hills and he confirmed that he never once stumbled across a still that was being used at the time or had been used recently. Mom told me she once saw parts of a busted up still when she was a kid but never anything else like it.
There's also the issue on moonshining during WW2. You'd need a lot of rationed supplies to make moonshine and with many of the young men off fighting the war, I strongly suspect that moonshining wasn't that big a thing in that place and time.
I'm actually disappointed that putting a moonshine still out where a visitor to the layout could see it would be so incorrect as I was looking forward to building one.