(If you arrived on this page directly from a link on a search engine or another website and want to take this online vintage images tour of Waterbury from the beginning or create your own customized tour, click here)
"OUT EAST" VIEWS
Sacred Heart High School was established on Wolcott Street in 1922 by Sacred Heart Parish as a continuation of the parish elementary school. During the early years, Sacred Heart was an all-girls school; however, in 1938 boys were admitted. In 1975 Sacred Heart moved to its present facility on South Elm Street in the former Waterbury Catholic High School building.
No, this is not a quaint English village. It's Wolcott Street near Manor Avenue in Waterbury in the early 1900s, when it was a dirt road. About 14 feet tall in the center and 20 feet deep, the stone-block tunnel on the right was a carriage house of a farm owned by Hobart Victory Welton, one of the Waterbury's leading men in the mid-1800s. Until recent decades, there was a stone fountain on one side of the carriage house, fed by a pipe extending from the hillside. Thousands of city residents went here to collect fresh water after the Flood of 1955 disrupted city water service. Even when the city service was running smoothly, the fountain was a popular place to retrieve water for locals who believed the natural source to be more pure. Apparently it wasn't, because the city Health Department eventually took the fountain apart
First National Stores was one of America's largest grocery chains. The company operated First National (later Finast) stores throughout the northeast. In the early 1940s there were 15 First National Stores in Waterbury, 2 of which were on East Main Street.
The Scovill Manufacturing Company's East Main Street entrance. The Century Brass Products Company was formed in the late 1970s and bought some of the old Scovill buildings in an attempt to revive the failed brass industry in Waterbury, but curtailed operations in 1989.
John D. Johnson was the owner of some of the land on the Mad River before the time of the Scovill Manufacturing Company. Johnson maintained a woolen and metal business alongside the Scovill's between 1833 and 1848. His early connection with the water system is apparently the reason for the name of "John D's Pond" for the Mad River reservoir at the eastern end of the Scovill brass factory site.
Originally Walsh's Brown Derby in the 1940s, Joe Begnal's Brown Derby Restaurant & Bar at 461 East Main Street across from the Scovill factory was a popular watering hole for Scovill workers. The building is now an Auto Parts store.
My aunt and her son owned Fitzgerald's Tavern on Hamilton Avenue in front of the Scovill factory, and lived in the house next to the tavern. Eminent domain put them out of business and their home when the tavern and house were taken by the state in 1952 for the construction of ramps for the Waterbury Expressway, which later became a part of Interstate Route 84. They went to work at Scovill and moved to a house in the Hopeville neighborhood in the South End.
The Colonial Bottling Works made carbonated beverages in their plant on Hamilton Avenue across the street from Old St. Joseph's Cemetery in the 1940s and early 1950s
Rogers & Brother (top photo) and Rogers & Hamilton were founded on Silver Street in Waterbury in 1858 and 1886 respectively and were acquired, along with several other silver flatware manufacturers, by the International Silver Company of Meriden in November 1898. The Rogers & Hamilton factory was closed in 1900, and the Rogers & Brother factory continued to operate until the 1930s. No evidence of either factory remains on Silver St. today.
Wenzel & Collins on Meriden Road was the Maxwell and Chalmers dealer in Waterbury in the early 1920s. Maxwell/Chalmers was a Chrysler subsidiary, and when production of the Maxwell ceased in 1925, Wenzel & Collins became Waterbury's Chrysler products dealer. Partner John J. Collins opened a DeSoto and Plymouth dealership on Willow Street in the 1930s, and Louis Wenzel retained the Chrysler dealership.
The former Pleasant Nook Diner on Meriden Rd was the headquarters of the infamous Rat Pack Motorcycle Club.
A view of the stone bridge in Hamilton Park, the city's first "purpose-built" park, established in 1898. Like most of the city's parks, it was donated in memory of a beloved family member, in this case David Hamilton, whose silver mill, Rogers & Hamilton, was nearby. His widow gave the city an initial 45 acres, and other wealthy families, including Caroline Platt and the Goss family, added to it, more than doubling the size of the park to 92 acres. In its heyday, the park contained a playground, an ice skating rink, quoit courts, pool and a crude zoo with wolves, seals, bears and monkeys.
The ruins of the first brass mill in America, the East Brass Mill of the Waterbury Brass Co., were on Idylwood Avenue at the eastern edge of Hamilton Park until the 1930s
A wooden water wheel of the East Brass Mill of the Waterbury Brass Co. was displayed in the park after the ruins were removed. Time and termites have taken their toll, and all that's left of it now is the steel center shaft.
The swimming pool opened in 1907
The historic stone pavilion in Hamilton Park. The Seven Angels Theater is now on the site of the old skating rink in the park.
Dick Clark never did a show here
Dancing to the music of live big bands at the Pavilion on Sunday nights was popular in the 1940s.
Hamilton Park was the venue for the annual KofC easter egg hunt
The other "swimming" pool, which had a maximum depth of about 3 feet, was really a wading pool.
A postcard from the early 1900s showing a view of the brook in Hamilton Park by moonlight.
Most of the members of the Crosby High School Class of 1959 gathered at Hamilton Park on Arbor Day to plant a tree and pose for a class photo.
The Saxe & Floto Florists' greenhouses on Hamilton Avenue at the corner of Idylwood Avenue were an East End landmark. There have been many businesses on the site since the greenhouses were demolished, including an auto repair business.
The East Mountain Reservoir on Hamilton Ave. is on the Prospect town line
The Frost Rd / Meriden Rd trolley on East Main St in 1934. Strauss Hardware was at 395 East Main St.
Borrelli's was a popular Restaurant and Night Club in the '40s & '50s.
George "The Mad Bomber" Metesky worshipped at the Hellenic Orthodox Holy Trinity Church on Maple St.
"Billie" Fitzpatrick sold used cars on East Main Street near Hamilton Park from 1944 to 1957.
Built in 1925, the Chief Two Moon Laboratory building is still on East Main Street, near Hamilton Park. Born Chico Colon Meridas, Chief Two Moon lived in Waterbury from 1914 until his death in 1933 and claimed to be a full-blooded Pueblo Indian but many doubted his assertions. He sold Chief Two Moon Tonic, laxatives, ointments, creams and herbal powders that were made in his laboratory and distributed throughout the United States and Europe. Whether the arts of Chief Two Moon derived from the lore of Indian medicine men as he himself steadily maintained, or from such traditions as those associated with the name of P.T. Barnum, as his less kindly critics were want to allege, at all events, he was endowed with a strikingly interesting and to many a strangely alluring personality. So much nobody will deny. Where he originated, who and what he was, never ceased to be a mystery to his fellow townsmen in all the years of his residence in Waterbury. The incongruity of his presence in such a community as this was something of a mystery in itself. He chose never to dispel it by revealing any simple and self-sufficient account of himself. He was astute enough, beyond question to have sensed that his seeming inscrutability was an invaluable asset to him in the singular enterprise in which he found it profitable to engage.
The Chief Two Moon Building has been occupied by a furniture store, several bakeries, and a Peruvian restaurant during the past fifty years.
The original Chief Two Moon Herb Co. Laboratory was in a storefront at 1898 East Main St.
Men of Fire Department Engine Co. No. 5 on East Main Street opposite Southmayd Road show off their new fire engine in the early 1900s.
The Mattatuck Manufacturing Company was a manufacturer of upholstery nails, ammunition, handcuffs and leg irons. They also produced billions of cartridge clips for the Springfield rifle during World War II. Their factory at the corner of East Main Street and Southmayd Road stood empty and abandoned for many years before being demolished by implosion in 2002.
LesCare Kitchens Inc. was a builder of custom and semi-custom cabinets, and was the largest privately owned cabinet manufacturer in North America. The company originally started out as a family operation in Waterbury in 1945, and was a privately owned company, headed by CEO James C. Lestorti. The company grew considerably and had plants on Lescare Drive in Waterbury, Southington, and Statesville North Carolina and employed over 350 people when it went bankrupt in 2005. The company started sponsoring NASCAR race cars in 1994.
Segre's Iron Works on Reidville Drive was the principal site for transforming sculptor Alexander Calder's small aluminum maquettes into towering steel plates and sheets, starting with "La Spirale," placed on the grounds of the UNESCO headquarters in Paris in 1958.
Our Sunbeam Bread (which also happened to be Gene Autry's favorite bread) was baked by the Reymond Baking Company on East Main Street.
Metal goods manufacturer Cly-Del on Sharon Road, founded in 1939, specializes in precision high volume drawn shells, metal stamping, eyelets and ferrules.
1960 and 1961 Connecticut Department of Transportation maps of Waterbury. The Waterbury Expressway (shown in yellow on 1961 map), which was built from South Elm Street to Harpers Ferry Road in the late 1950s, is now part of Interstate 84. Though a few segments of I-84 were open in 1960, including the segment from Harpers Ferry Road to Route 70 in Cheshire, the maps don't show I-84 markers anywhere. The Route 8 freeway is about seven years in the future; its interchange with I-84 is featured on the cover of the 1969 state map. Toward the end of the 1960s, as I-84 was completed, Route 70 was cut back to the I-84 interchange in Cheshire, and much of US 6A (Meriden Road, East Main and West Main Streets) in Waterbury turned over to the city.
Interstate Route 84, the modern multi-lane divided highway that would cut through the center of Waterbury in the 1960s, was envisioned in the 1946 Annual Report of the City of Waterbury.
After more than forty years on West Main Street near Downtown, Loehmann Chevrolet moved to a five acre site on Scott Road next to I-84 in 1968.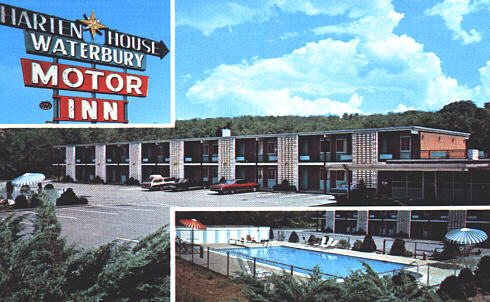 1970s era postcard of the Waterbury Motor Inn on Scott Rd.
Groovy decor! 1975 postcard claiming Harten House as "Waterbury's Finest Restaurant"
Schrafft's, a 55-restaurant chain with outlets in eight Eastern states from Massachusetts to Florida, opened a restaurant and motel near the Scott Rd exit of I-84 in 1968. The city named the new road it was built on Schrafft's Drive.
The Maple Hill Dairy on the corner of East Main St. & Pierpont Rd. was owned and operated by the Pierpont family. Crosby High School is now on the site.
---
EAST END MEMORIES
From Rosanne Daddona (RosanneDaddona@msn.com) :


You are to be congratulated on a job well done! Would like to see more info about the East End of Waterbury. I grew up there and graduated from East Farms Grammar School, attended Sacred Heart High School and graduated from the "New" Crosby High School on Pierpont Road. What I remember most of all were the families and friends in the East End back then. Here's just a sampling of the family names I remember (in no particular order): Mastrofrancesco, Cardella, Dunn, Morelli, Mahony, Stanco, Ercoli, McKay, Pannone, Walsh, Marinaro, Dunphy, Bonacassio, Sugrue, Ciotti, Farino, Bosco, O'Day, Carangelo, Connell, Daniell, Scopino, Rinaldi, Napoli, Showers, SanAngelo, Sharkis, Cocchiola, Perugini, Gibilisco, Poveromo, Albini, Cristofano, Dillon, Laliberti, Nappi, Serra, Palmieri, Sambucco, DelMonico, Miller, Crocco, Biondi, Riccardi... my apologies to those I have omitted.
From Richard Kruse (richardkruse@sbcglobal.net) :
I was born at Waterbury Hospital July 14, 1950. We lived at 17 Neil St., a tiny dead-end street with five houses on it. It was off Meriden Rd., between Frost Rd. and Capitol Ave. My parents, Richard Kruse and Betty (formerly Gonya), were Waterbury natives. My father went to Driggs School, my mother to several grammar schools. They both went to Wilby - my father finished in 1940, my mother 1941. I went to Chase School, or H.S. Chase School, located on the corner of Meriden and Woodtick Rds. Some of my memories of my years there include: having to wear ties to public school every day; my teachers: Miss Darling, Miss Flaherty, Miss Foley, and Mrs. Sprecker; walking home for lunch and back to Chase every school day; older kids at Chase walking across the ice on the frozen Mad River during the winter.
Some of the last names of families I remember: Crane, LaChance, LeBlanc, Whibey, Haddad, Walsh, Deegan, Amatruda, LaVallee, Barbieri, Maxwell, Dugay, Sexton, Descoteaux, Pronovost, Oliver, McKnight. Mrs. McNight, who lived at the corner of Neil St. and Meriden Rd, was Rosalind Russell's aunt. She used to make cookies for eveyone on Neil St. during Christmas.
I remember going to the dentist and having work done on my teeth with no novocaine - awful. The dentist had an office above Martin's Drugstore near Chase School. He would give you a coupon to redeem for a free ice cream cone at the drug store downstairs. I remember going to visit my aunt and uncle (Clayt and Loretta Winters) who lived on Bunker Hill Ave, and having to hold our noses as we went over the polluted Naugatuck River. Other memories: the carnivals held at the A&P parking lot; the sound of church bells all over Waterbury on Sundays; the flood of 1955 and having to use our neighbor's well (the Crane family) to get drinking water; having to get a typhoid shot at Anderson School during the flood; attending St. John's Lutheran Church on Cooke St.; saying the Lord's Prayer to start off everyday at Chase School; it seemed like everybody but me at Chase School went to St. Peter and Paul's RC Church; my father playing basketball on Friday nights with his buddies at Kingsbury School; Bill Goldstein - my father's friend who owned Ideal Jewelers; wandering downtown with my neighbor Joanne Crane at age 3, unbeknownst to our mothers, resulting in our picture making the front page of the Waterbury Republican.
It seemed like no one ever moved from our neighborhood or into our neighborhood when I was a child. Things always stayed the same, so it was a big event when my family left Waterbury for Montclair, CA in June 1959.
Click here to continue your online tour around Waterbury >> WEST SIDE VIEWS