SUPPLIES NEEDED
Favourite tube of choice - I'm using one by Keith Garvey which I love!
For more info on Garv's gorgeous tubes
- visit PTE
(Not to be used for any other purpose except when creating your tags
ie. Not for PSP supplies, no other tutorials, no kits etc)
I have uploaded and hosted this wordart on this website so you shouldn't have
any problems when getting it - however, if you get a page of text
come up instead of the wordart download (!) try using either Google Chrome
or IE when viewing this site and you should find the download happens with no probs
Rounded Rectangle and Heart Preset Shape - both should come with your PSP program
Ornate Shape - I used one by Shawna which
you can get from her gorgeous collection
HERE
or use a favourite one of choice
FILTERS needed...
Mehdi Kaleidoscope 2.1 - free filter
Xero Graphics Radiance - free filter
Xenofex 2 Stain - not free
Mura Meister Copies - free filter
Use your search engine to find these if you don't already have them in your stash
This is a tutorial for more experienced tag makers as you'll be making your playing card from scratch :)
So, this isn't really suitable for taggers who are template only/copy and paste fans.
However, if you're game to do something a little different...read on!
**********
In PSP
Open a New Image - 700 x 600 pixels (Resolution: 72 dpi)
In your Materials Palette, have the top colour box on Nil and the
bottom box on #f8f6f7 (Off White)
Go to Preset Shapes Tool
Find Rounded Rectangle (comes as standard I believe?)
Draw out a card shape
Use your checkerboard background as a guideline
Starting with the left of a dark square, start your shape and make
your shape go along horizontally at least 7 dark squares across and finish
on the right of the white square one after that
Hope that makes sense?
Or in pixel size terms, it's about 228 across and 357 down :)
OK?
Layers, Convert to Raster
So there's our starting point
Edit, Copy the card shape
Edit, Paste as a new IMAGE
Minimize for now
Right, back to our main canvas
and on this one
Selections All
Selections, Float
Selections, Defloat
(Don't forget to Defloat)
Selections, Modify, Contract by 30
Selections, Load/Save Selection, Save Selection to Alpha Channel, Save
then
Add a New Layer
Floodfill this selection with Black (or a darkish colour of choice)
Keep Selected
Selections, Modify, Contract by 1
Hit Delete on the floodfill layer
Selections None
OK
Now open your chosen tube
Copy
and Paste as a New Layer
Now
Resize your tube if needed - I went down 90%
Adjust, Sharpness, Sharpen when resized if needed
Now,
Go to Mehdi, Kaleidoscope 2.1
And apply my settings as below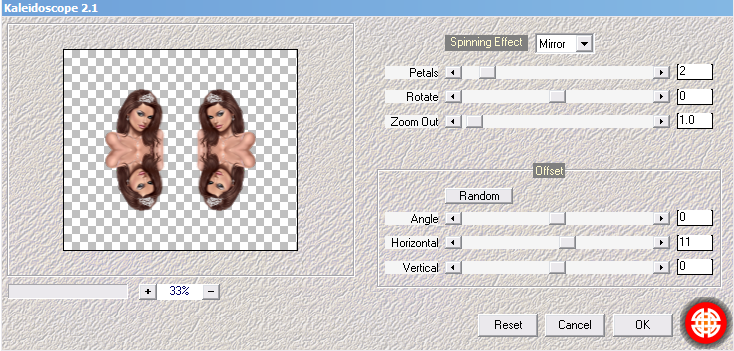 Now
Once applied
Take your Rectangle Selection Tool
Cut out the right hand side duplication of the tube effect
Edit,
Paste as a New Layer
and place above the other one
Moving your tubes as needed so you end up with
a placement like mine - see above
Move both of these tube layers
below the rectangle frame layer
Selections, Load/Save Selections from Alpha Channel, LOAD Selection
and you'll find the Rectangle selection we made earlier
Selections, Invert
and hit Delete on both tube layers
Selection None
Now
Merge the two tube layers together
On the top tube layer
Adjust, Blur, Gaussian Blur, 2.00
then
Xero - Radiance on the default setting
then
Change the Blend Mode on this top layer to Soft Light
and the Opacity of the layer to 38
Repeat the Selection, Invert, Delete as you'll now have blurred bits of tube on the
outside of the rectangle area
Now, click on the original tube (the unblurred layer)
Right click in the Layer palette
View, Current Only
then
Un-hide the blurred layer
and go Layers, Merge, Merge Visible
Right click again and View, All
OK
Activate/Highlight/Make Blue lol! - the Card Layer
Xenofex 2 - Stain
And apply my settings as below...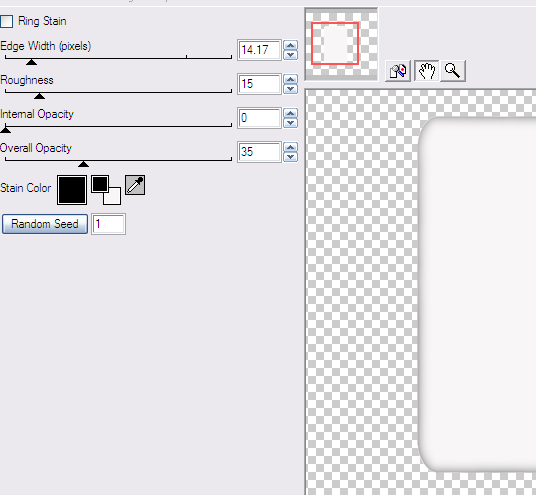 Adjust to taste if you'd prefer :)
OK so now...
Take a colour (dark) from your chosen tube or you can go with traditional red like I did
And place the colour in your bottom box of your Materials Palette - top colour on Nil/Null/Nothing etc
Find your Heart preset shape
Draw out a smallish heart
Convert to Raster
and place on the top left of the inner rectangle area to size it up
Convert to Raster
and depending on how large you made your Heart - Resize down so
it fits on the white area of the "card" on the left side edge
I went down by 40%
But amend this setting to see what yours needs
OK
So once resized
Move over to line up as mine
then
Image
Mirror
and line it up once more on the right
Merge these two smaller heart layers together
then
Duplicate
Image
Flip
Line up as needed at the bottom leaving room for the letter
I used - Q for Queen
in Red, Size 36
Font I used: Special Elite
OK
Line up on the top left
Then repeat the steps for the smaller heart layers
EXCEPT! Don't do the first Image, Mirror or your letter will be the wrong way round lol!
Just do a Duplicate and move over
So now then
All happy with how it looks?
All spare stuff deleted etc
Yes?
Right,
Layers, Merge, Merge Visible
And that's the front of the card done - yaaaaaaaaay!!
But we're not finished yet - oh no we're not
Perhaps have a break? A nice cup of tea? Or plough on...either way lol!
SO
Minimize that canvas for now
and back to the spare one from the beginning - the plain copy image we made
We're making the back of the card! So, a tip before we start
Make sure that each floodfill has it's own layer and don't deselect
'til we're done :)
OK
So, it's
Image
Canvas Size
600 x 600
Selections, All
Selections, Float
Selections, Defloat
Now,
in your Materials Palette - the colour boxes
Top one on Nil, Bottom one make it a colour from your Tube (or the Red from your heart etc)
With your Selection
Modify, Contract, 15
Add New Layer
Floodfill with Colour
Selections, Modify, Contract, 2
Hit Delete
Keep Selected
Modify, 2
Add New Layer
Floodfill with colour again
Modify, Contract by 8
Hit Delete
Keep Selected
Selections, Contract by 1
Add a new Layer
Floodfill again
Selections, Contract by 1
Hit Delete
And now as we did on the previous card
Save the Selection to Alpha Channel
Selections, None (for the moment)
Phew!
OK
Now you want an ornate shape for the card pattern
I used one of Shawna's - called SK Random 168
Draw your shape out very small using the colour as before
Convert to Raster
then
Apply Mura Meister Copies to it - use the Tiling Preset
Once applied
Selections, Load/Save Selection, Load Selection from Alpha Channel
Invert
and on the pattern layer - hit Delete
Now, once more on the card layer - Apply Xenofex 2 Stain as before
Ta-da!!!
One upturned card
So, Layers, Merge Visible
then
Edit, Copy
Edit, Paste as a New Layer on the other main large canvas
You can close this 2nd card image now - we don't need it anymore
(or you can save your hard work seperately to use as a card in the future)
Right then...
Firstly, I'm going googly-eyed looking at all that checkboard
so add a new layer at the bottom and floodfill white
Now
Move the tube card over to the left of the canvas a little more
and line your back card up on the right
reasonably central to the tag canvas middle
OK
Click on the tube card in the Layer Palette to activate it
Duplicate
Hide the bottom copy
and
Move this duplicate to the middle of the canvas
then move down to the bottom right a little
(We need room to apply this next filter)
and then go to Mura Meister Copies and look for Cards preset (!)
And apply the default
So, we don't want it touching the sides
If yours is in your Mura's preview - don't apply
Hit Cancel
Go back to your card
Move the card a little then
Try to apply again
When you've got it so there's 8 cards
and neither side is touching the canvas edge - Bingo!
OK
Now
Unhide the original tube card
Move up the canvas
and line up the layers as mine showing
OK so now do the same for the other card we made - duplicate first
then do as before
then
Image
Flip
Move down the canvas to place as mine
and unhide the back card
and move to the top
Compare your tag to mine and see how it's looking
OK?
Good - on we go...
Copy and Paste your tube
Duplicate
on the Duplicate one
Adjust, Brightness and Contrast
-255 and 0
It's black!
Move it slightly over to the right of your tube
then
Move it under your tube in the Layer Palette
and drop the Opacity to 30
Shadow!
OK
Open the wordart I've supplied (you know the score by now, ladies and gents - please
do not use this wordart I've made for any other purpose except your tagmaking - thank you xx)
Copy and Paste
Place behind the tube and shadow layer as mine
And then finally
Add your Name in a font of choice (to use the same as mine? It's Engravers MT)
and apply a subtle shadow to your name
Add your artist copyright info etc
Delete the white background
Crop the excess
and save your tag as a PNG
All done!!

Hope you enjoyed this tutorial and have fun making tags for you and your friends
Hopefully, this will give me the tut writing taste once more and I'll see you soon
This tutorial was written on the 8th of March 2012 by Vix
It is a tutorial written as I went along this morning
and any potential similarities to other tag tutorials that
may be available is wholly unintended and completely coincidental.
Any items supplied to use to create your own tag with this tutorial are supplied
in good faith - if I have used something not intended
for usage in this way, please contact me via email.
Any items created by me for the purposes of this tutorial MAY NOT be used in
any other tag tutorials or for PSP Supplies you create (wordart, brushes, masks, templates, kits)
Links to tube/scrap blogs or sites are added either through necessity or creator courtesy,
and it is entirely up to the individual (ie. You!) if you choose to visit these sites and/or download/purchase from them.
Scraps used in my tutorials that I've obtained from PTU purchased scrap kits are NOT supplied
in my tutorials supplies.
This website is intended for educational/entertainment purposes only
If you have problems downloading the supplies I provide on my site, please try using a different browser to
view this site and download (Recommended: Google Chrome or Internet Explorer)
NO linking to my tut examples, screen shots, files or graphics permitted
All of my tutorials are registered with TWI