GOLDEN GIRLS
One of my favourite American TV shows of all time
and a fantastic theme tune - so...hence, this tut hehe
SUPPLIES NEEDED
A few tubes of your choice
- all by the same artist, obviously
About 5 or 6
Free or PTU, whoever you'd like to use.
Make sure they permit colour changes to the tubes/images though
I'm using some of my faves by the truly wonderful Barbara Jensen -
who does allow colour amendments, and not just all over saturation - for
this Barbara and much more - thank you xx
Barb's art must be purchased if used
Google her name and find her site.
(Can't active link here as it's adult)
Gold gradient
I don't know who made this, if you do know - please let me know so
I can credit or remove.
Place in your Gradients folder
all made by me - please don't use in other tag tutorials, thanks xx
Mask - Vix_Mask147 - can be downloaded from my Goodies page
under Masks
Eye Candy 4000 Gradient Glow and HSB Noise
_____________________________
Open a new Image in PSP - 550 x 550
Floodfill White
Add a New Layer
Floodfill with the gradient I provided
Angle 0
Repeat 0
Now, open a few tubes of your choice
Copy and Paste them on new layers of their own
Add dropshadow 1, 1, 50, 11, Black
to each tube
And place the ones who's faces you want to show through a lot
more to the centre of the canvas
Maybe ones you don't often use?
Ones you've forgotten about hehe?
I used 5 in a cluster around the middle
of the canvas
Bunched together like mates hehe
OK
Now crop the canvas to the size it is already 550 x 550
and Hide the White Background
Merge Visible the rest
Unhide
Now add a new layer at the top of the Layer Palette
Go to the Gradient settings -
Same gradient but change to Angle 315
and Repeats 5
and change the Blend Mode of this layer to Burn
If this looks odd for you or not to your liking, try a different blend mode
Preferably one that gives a golden or golden-ish hue
The one I got was golden-bronzey :)
Hide the White Back again
Layers, Merge Visible
Unhide
Now on the merged layer
Apply Effects, Texture Effects, Weave
on these settings
Now apply the mask Vix_Mask147
Apply as mine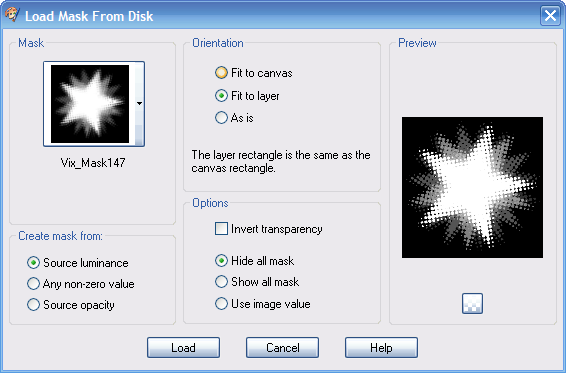 and Layers, Merge, Merge Group
At this point, if you prefer working larger you
can increase your canvas size to 600 x 600 if liked
Image, Canvas Size - 600 x 600
Placement - Central
and then floodfill White again on the bottom White Background
Open the wordart I've provided
Copy and Paste and Place as a New Layer
above all the others
Line up as liked - see mine for reference
Now apply Eye Candy 4000 Gradient Glow
Glow Width 3.00
Soft Corners 0
Overall Opacity 100
Apply
Now apply dropshadow to the words
1, 1, 50, 7, Black
Open the Stars I've provided
Copy and Paste and place as a New Layer
Move into position and move the layer under the words layer
Duplicate
Image
Mirror
Merge the two stars layers together
and apply the same dropshadow
Open the heart I've provided
Copy and Paste and Place in the centre of the stars
Add Dropshadow as before
Open your scripty font of choice
No Stroke, Fill Black
Type out your name
Stretch to size
line up in the middle bottom of the tag
Convert to Raster
and apply Gradient Glow and Dropshadow as before
Add the copyright info now
Crop the canvas a bit if you sized up earlier on
Now to Animate
Duplicate the stars layer twice to total 3 layers
On the first (bottom) layer
Apply Eye Candy 4000 HSB Noise on my settings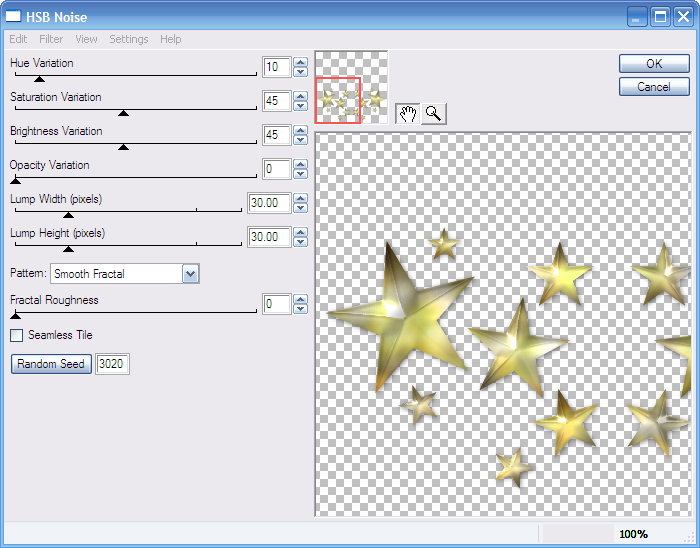 On the 2nd stars layer - hit Random Seed a couple of times before applying
on the 3rd layer - same again
Animate the usual way - Animation Properties on Opaque, White
and Frame Properties on 35
Save as .GIF
That's it - all done
On my 2nd example, I did as above but also added another tube
(Same as the central one on the masked layer)
and placed it under the heart layer
Erased any poking out from underneath and applied
a dropshadow to it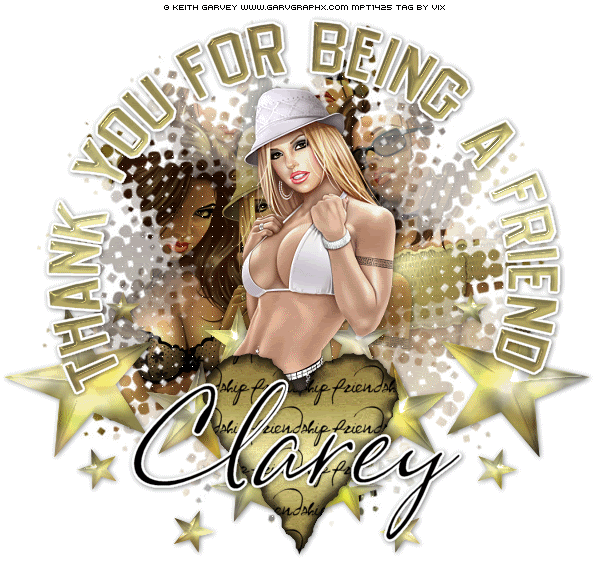 This tutorial was written on 21st May 2008 by Vix
It is a tutorial based on a tag of my own design and
any potential similarities to other tag tutorials that
may be available is wholly unintended and completely coincidental.
Any items supplied to use to create your own tag with this tutorial are supplied
in good faith - if I have used something not intended
for usage in this way, please contact me via email.
Links to tube/scrap supply sites are added either through necessity or courtesy
and it is entirely up to the individual if they choose to visit these sites.
This website is intended for educational/entertainment purposes only
NO linking to my tut examples, screen shots, files or graphics permitted
All of my tutorials are registered with TWI