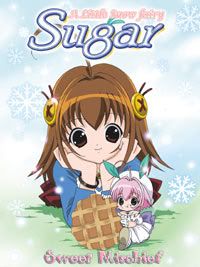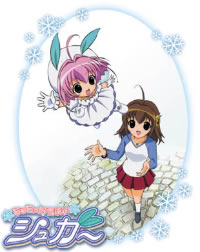 Sugar: You can hear about where to buy Sugar stuff here!
Where to buy the anime:
The best place to buy "A Little Snow Fairy Sugar" is on eBay.com, because you can get the whole series (24 episodes, and the 2 special episodes) for about $20 and no shipping and handling. That is where I got my DVDs, and people sell different kinds of box sets for pretty cheap all the time. The DVDs have an audio choice of English or Japanese. Subtitles are optional.
You can also buy it at a few stores that sell anime (such as FYE).
Info on the manga:
There are three volumes to the series, which you can now buy in English online or in most stores that sell manga (like Borders).
Soundtracks:
There are 2 main soundtracks, Sugar Music Note 1. and Sugar Music Note 2. You can buy both at AnimeCastle.com. There are also a few other Sugar CDs, but they don't have many songs, and I don't know a good place to get them.
Other:
There is a really good website called AnimeGamersUSA.com that sells tons of neat Sugar things! Buy stationery etc. at VeryCoolThings.com, too.
Cosplay:
EBay.com also sells cosplay outfits on occasion. That's where I got mine! ^^