Site Navigation
Guest Book

Juancho Aguirre

Marcelo Aguirre, Jr.

Elisa Bronola

Rebecca D. Camporazo

Gilbor I. Camporazo

Louie Costales

Jerry Delicano

Jeffrey Ferrer

Stephen Jaud

Marino & Espanola

Jacob Liansing

Dandy de Paula

Kelly Sonio

Nenito Reyes Tinagan

Thomas Goodwin III

Pert Toga

Katrina Gatucao

Julius Mariveles


&nbsp
Gilbor I. Camporazo
---
Gil Camporazo
The following are some of the accounts of life and works of Gil Camporazo, whose real name is GILBOR I. CAMPORAZO, who writes in the Negros Daily Bulletin, a vigilant community newspaper in Bacolod City, Philippines.
More on Camporazo's life & works:
A TRUE FINISHER
by Venus D. Lariosa and Dymphna A.Gelveson

Bemedalled Camporazo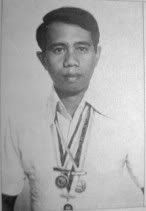 A true finisher has six marks, according to Elder Thomas S. Monsoon: "A mark of vision,a mark of effort, a mark of virtue, a mark of courage, and a mark of prayer." These signposts remind us of a Church member. He is brother Gilbor I. Camporazo, the busiest man in the ward and a man with diverse talents.

Born in La Carlota City on October13,1951, Bro. Camporazo was baptized in The Church of Jesus Christ of Latter-day Saints on April 20, 1980. Before he became the member of the Bishopric (as the first counselor to Bishop Joaquin Villarias), he was called as the President of Elder's Quorum, Ward Clerk, Elder's Quorum Secretary, and teacher of Gospel Doctrine, Priesthood, Temple Preparation and Member-Missionary classes.

Bro. Camporazo is always busy being the chapel custodian, yet he has never neglected his family nor his various church callings. His wife, Rebecca and their five children namely: Greg, Dona Greece, Genevieve Aura, Gynrey, and Geeree are all active in the church, and are supportive of him especially in his church assignments.

On March 31, 1985, Bro. Camporazo earned the degree of Bachelor of Science in Elementary Education (BEED) in La Carlota City College with honors. He was awarded a Gold Medal as the Most Outstanding Student of Class '85 and was named as the Top Academic Awardee of the Year.

Also he also received recognition from the Office of Media Affairs, Iloilo City, Region VI - Western Visayas for having done a remarkable performance in the promotion of national development goals both in school and in the community through campus journalism. An "Iwag" Award, a prestigious recognition to outstanding campus editor, was given to him.

His extra-curricular activities made him an active student leader. He had been the President of Education Department (for two consecutive years), Junior and Senior Class Organizations, Speaker of Supreme Student Republic, Assemblyman to Student College Assembly,and a Group Leader of Education Student interns.

In his stint as a college campus journalist, he was the Editor-in-Chief of the "College Voice," (the official publication of La Carlota City College),for two consecutive years, and Associate and News Editor.

Bro. Camporazo manifesting the mark of "a true finisher" in September 1984, he was sealed to his wife, Rebecca and children in the Manila Philippine Temple for time and eternity.

As a teacher, he always emphasizes the six marks of a true finisher. As a guest speaker during their Recognition Day in college, he expounded fully the essence of Elder Monson's "Finishers Wanted." Towards the end of his speech he bore testimony of the truthfulness of Christ's Gospel and his membership in the Church.

(Note: This article was published in Tambuli, the magazine of The Church of Jesus of Latter-day Saints on August-September 1985. Venus D. Lariosa and Dymphna A.Gelveson are members of La Carlota First Ward, The Church of Jesus Christ of Latter-day Saints, Bacolod Philippines Stake)
Posted 22 December 2006
by Gil Camporazo

URL:http://www.freewebs.com/ndbvibrations
TOP


Leaving a comment? Please indicate this article. Thanks. The Administrator



More on Gil Camporazo's articles:
My Years in NDB: Still vibrating
in 15 years!
It has been said that success cannot be won at any price, nor can it be measured by the number of trophies or medals that can be accumulated at a given time, but it can only be felt by one's feeling of satisfaction and of achievement.
It's absolutely true. That's how I feel in my 15 years of attachment to Negros Daily Bulletin. Out of that faithful and trying years, I have no doubt that success attained by NDB is "purely a labor of love, a product of sheer guts and desire to prevail against all odds." More so it is the "independence of mind, pioneering spirit and perseverance of its founders (of NDB) on with no hidden agenda, except the desire to be of service" in information dissemination.
As the NDB Ed, Pert Toga, puts it: "without relying on anyone or any vested interest, but on own hard work, sacrifices and sheer determination through the years." I do uphold that assertion.
It's my honor to be one of those 12 first corporate officers when NDB got her legal corporate entity as Negros Bulletin Publication, Inc. on September 19, 1995.
I was one of those who shared with the NDB's success when it received the "Best Environmental Reporting" (daily category) as conferred by the Philippine Press Institute (PPI) and the Konrad Adenauer Foundation (KAF) of Germany in for 3 years (2000, 2001, and 2003).
How I joined with the NDB was worth remembering. It was sometime in 1991 that I was tapped as a Negros Bulletin (weekly) news stringer in La Carlota City. Fred Brizuela, D' Lifeblood columnist, and BIR Collection Agent of La Carlota, was instrumental in introducing me to Editor Pert Toga. But before that, I used to request Fred to submit my news to the paper on what's the news and interesting happenings in La Carlota City. As a BIR man. Fred was always busy. So I had to submit my news articles personally. Every week then I had to commute to Bacolod to get my write-ups in print.
In one occasion, I got interested with writing a column upon seeing Leo Claridad's From a Distance. I talked to Sir Pert how Leo became an instant columnist. Without so much ado, he just simply urged me to write a column and I started it with Random Vibrations, which later came out in print as Vibrations, which as of this writing I am maintaining it.
Thru thick and thin, I survived the tests of time as a part time columnist of the said paper. I am now a virtual member of Negros DailyBulletin family. I am a living testimony on how Negros Bulletin grew from bi-weekly, tri-weekly and now a daily newspaper.
In that 15 years of community journalism and acquaintance with the staff and personnel of NDB, I value the companionship, camaraderie of the late veteran-columnists Monet Padilla (Bull's Horn), Gene Flora (Bulletin Board), Porfirio Lopez, blind columnist (Treat 'em Right), and also the late vernacular writers Ric Sumagaysay and Octavio. I am grateful with the warm friendship of Rolly Espina (The Observer), Armand Toga (Freelancer), the fellowship of Nestor Padesio (NDBs Sports Editor), and the understanding and tutelage of Pert Toga (Bulletin Ticklers).
To be a journalist has a good and bad effect. I remember when I wrote about the conviction of a prominent family in La Carlota City, who was convicted by the court of illegal possession of prohibited drugs, I was then virtually ostracized by my college mentor because of that press release I made about his brother. However, on the other hand, I fell complete and satisfied when I wrote without reservation the conviction of my teenage nephew and his bosom friend of illegal possession of prohibited marijuana grass. The court meted them life imprisonment. It was a headline in the NDB. But the innocence is always exonerated. After serving their term for 2 years in Muntilupa jail, they filed thru a lawyer a review of their case in the Supreme Court. The high tribunal reversed the decision made by the lower court and they're acquitted. It's God's will I know.
My connection with this prestigious vigilant newspaper as a community writer, I have reaped success in my job. I have written various articles on community, education, government, and health, that has helped me a lot on my job promotion from classroom teacher to head teacher, and head teacher to full-pledged school principal 1 for a span of 15 years in the education field, for that time I changed employment from private to government.
Actually before I was connected with the government, I was an employee of the defunct Rural Bank of La Carlota, Inc. for 5 years (1975 – 1980). In this period , in a certain social gathering, I met Edmundo Aspero, news anchorman of dyHB, Radio Mindanao Network before. We became fast friend and he introduced me to the late Nat Sitjhar, RMN News Director who assigned me in La Carlota as stringer. Thru the effort of the late RMN Manager Ramon de la Luna, I took the KBP accreditation examination for newscaster and I passed.
When I became member of The Church of Jesus Christ of Latter-day Saints in 1980 to 1991, I hungered for news reporting. Later in 1991, I made a comeback in news reporting when Fred Brizuela introduced me to NDBs Editor Pert Toga. And that's why until now I'm still vibrating.
Yes, whatever matters I'm still vibrating in Negros Daily Bulletin, for I know God has something for me to do, be it social, emotional, psychological, or spiritual!
Published in the Special September Issue
of Negros Daily Bulletin
by Gil Camporazo

URL: http://www.freewebs.com/ndbvibrations
TOP


Leaving a comment? Please indicate this article. Thanks. The Administrator



More on Gil Camporazo's articles:
GIL CAMPORAZO Exonerates His Name
GIL CAMPORAZO of VIBRATIONS in the Negros Daily Bulletin IS NOT in any manner the same, identical, synonymous person with "Gil Camporazo" who was one of the accused in Criminal Case No. 340, violating Section 4 of Republic Act No. 6425, otherwise known as the "Dangerous Drugs Act of 1972" in March 1987 and later found guilty beyond reasonable doubt by the Regional Trial Court, 6th Judicial Region, Branch 63, of La Carlota City, and later upon appeal (G.R. No. 101333 March 2, 1993 PEOPLE OF THE PHILIPPINES, plaintiff-appellee, vs. LUIS SAMSON Y CAMON and GIL CAMPORAZO, accused-appellants. The Solicitor General for plaintiff-appellee. Joselito R. Enriquez for accused-appellants.) he was acquitted by the Supreme Court sometime in March 2, 1993.
Gil Camporazo of VIBRATIONS wants to clear his name for possible EXAMPLARY DAMAGES, which the court's decision may implicate on him as bad example to his friends, associates, co-workers, relatives, his own family, and even to the whole society/country where he lives.
The real GIL CAMPORAZO just later knew this possible gross mistake of the court's scribe or typist of writing his name on the court's proceeding as the co-accused, and convicted of the crime mentioned, when he on 16 December 2006 made a dry run of his newly created website (URL: http://www.freewebs.com/ndbvibrations) by sending his name to different search engines like Yahoo, Google, MSN, Alta Vista, among others; and was surprised and taken aback upon seeing a highlighted name similar to his on the directory of mentioned search engines. What a shame! What a damage!
The real story is: Gil Camporazo in the said controversal court's proceedings is JILL CABUAY CAMPORAZO in real, who happened to be the nephew of GIL CAMPORAZO, whose real name is GILBOR ILIGAN CAMPORAZO, who writes in the NDB under VIBRATIONS column.
Presumably, the court's typist typographically mistook the name GIL CAMPORAZO as JILL CAMPORAZO, who was the real accused person. In the court's proceedings mentioned, however, it was noted by the court that name JILL CAMPORAZO with sic, meaning incorrect or questionable, but in reality it was the real name of the co-accused. So there was inconsistency in writing his name, but nobody verified it and rectified as to its correctness. That arose the controversy, which recenlty affected GIL CAMPORAZO, the author of VIBRATIONS.
So, may this information exonerate the real GIL CAMPORAZO from further examplary damages because of the said typographically error of court's proceedings as far as GIL CAMPORAZO's name is concerned.
Posted 28 December 2006
by Gil Camporazo

URL: http://www.freewebs.com/ndbvibrations
TOP


Leaving a comment? Please indicate this article. Thanks. The Administrator



More on Gil Camporazo's articles:
©2006-2008 Gil Camporazo NDB Vibrations e-mail add: ndbvibrations@yahoo.com