Item
Description
Picture
Menuki 1
Nicely designed and executed pair of mantis menuki. Has lots of gold zogan inlay (slightly fading). Not sure of school, but I think I have seen similar style assigned to Hamano(?). Length is 3.5 cm X 1.5 cm. Guess age would be Mid - late Edo
Menuki 2
Nice dark Shakudo pair of menuki. Probably mid to late Edo period.  Most likely Mino school.
Menuki 3
Small Mantis set made from shakudo and gold. Middle Edo period. Width is 25.3mm, height is 11.9mm & thickness is 4mm. This size is for a little tanto or could even work for a kogatana.
Menuki 4
Large Menuki set size 5.7x1.2cm. Has classic Mino school attributes from Edo period.
Menuki 5
Similar but smaller set to menuki 4. Has same classic Mino attributes from Edo period. Probably could pass for a daisho set with menuki set 4.
Menuki 6
Edo Period menuki set of mantis with wheels and waves. Large size with Dimensions of 4.65 × 1.5cm, 4.54 × 1.48cm.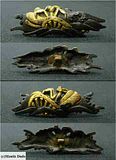 Menuki 7
A pair of mantis menuki papered to Mino by NBTHK. Set is Shakudo. Very similar one in Haynes catalog #3: page 19 number 45 circa 1700.